Embarking on the exhilarating world of wakeboarding requires not just skill and enthusiasm, but also the perfect vessel that can take your experience to the next level. Whether you're a seasoned rider seeking to conquer challenging waves or a beginner eager to learn the ropes, the choice of boat can significantly influence your journey. Among the array of options, a few remarkable contenders have surfaced as Best Boats for Wakesurfing in the wakeboarding community.
The Axis A20 stands as a shining beacon for beginners, delivering an inviting entry into the world of wakeboarding with its user-friendly design. Meanwhile, the Super Air Nautique G23 and G25 Paragon introduce a touch of opulence to your rides, redefining luxury on the water. The MasterCraft XStar S impresses with its prowess, while the Yamaha 222XD showcases the innovation of jet-powered boats. From the Supra SE to the Malibu 26 LSV, each vessel offers a unique blend of performance and design.
As we delve into what makes the mejor barco for wakeboarding, we'll explore factors like seating capacity, engine power, wake-shaping technology, and additional features that elevate your experience from ordinary to extraordinary. So, let's dive into the world of wakeboarding boats and uncover the elements that set the stage for an unforgettable ride.
What makes the best boat for wakesurfing?
In essence, a good wakesurfing boat is characterised by:
Specialized Design cool design with wake tower
Water jets or forward mounted propellers. No stern-mounted propellers. Starter boats have a 300 HP Engine and the best boats for wake surf are equipped with 600 HP or even a little more.
Ballast System
Can form Customizable Waves:
$70,000 and over $400,000 for Best-in-class wake surfing Boats
Make a great Day Boat with ample seating
Wakesurfing boats are not suitable for rough seas or fishing
Wake surf boats are powered by inboard engines with V-drives and shaft-driven propellers mounted forward, or by water jets with side-mounted exhausts to avoid potential dangers near the stern. Wake surfers ride close to the stern, making stern-mounted propellers from outboards or outdrive legs hazardous. Avoiding gasoline fume exposure is another reason to avoid wake surfing on traditional motorboats.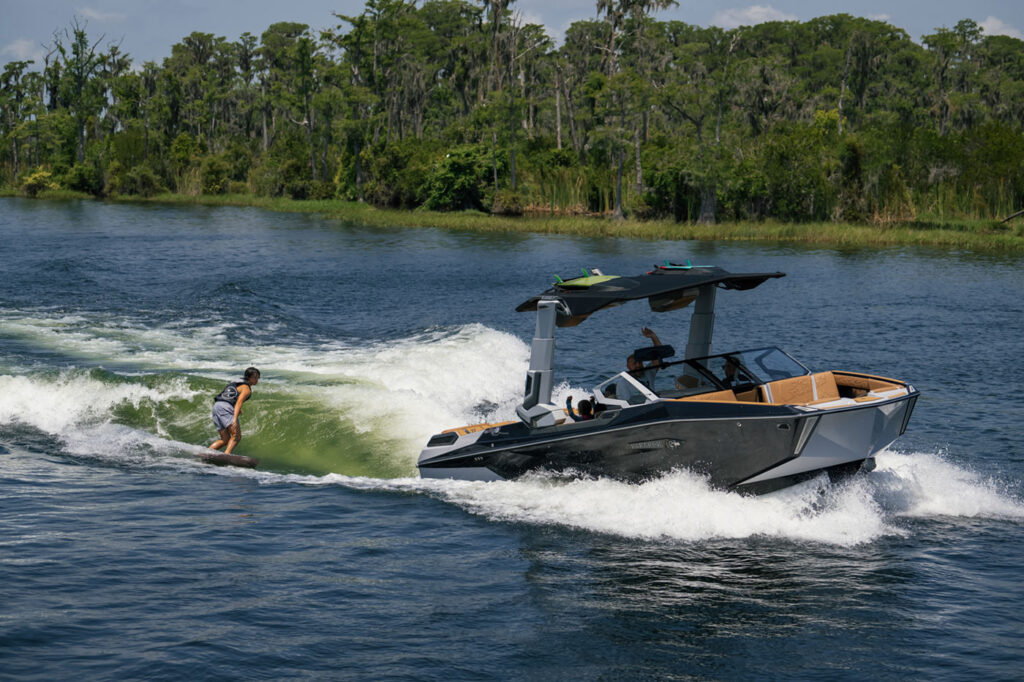 Wake surf boats use ballast tanks, drop-down wedges, and side-mounted hydraulic fins controlled by touch pads to create ideal wake shape and size.Advanced models allow for dialing in asymmetric wakes tailored to specific rider preferences and abilities on either side of the boat. Cheaper models require more user adjustments and are often based on tournament ski boat design principles.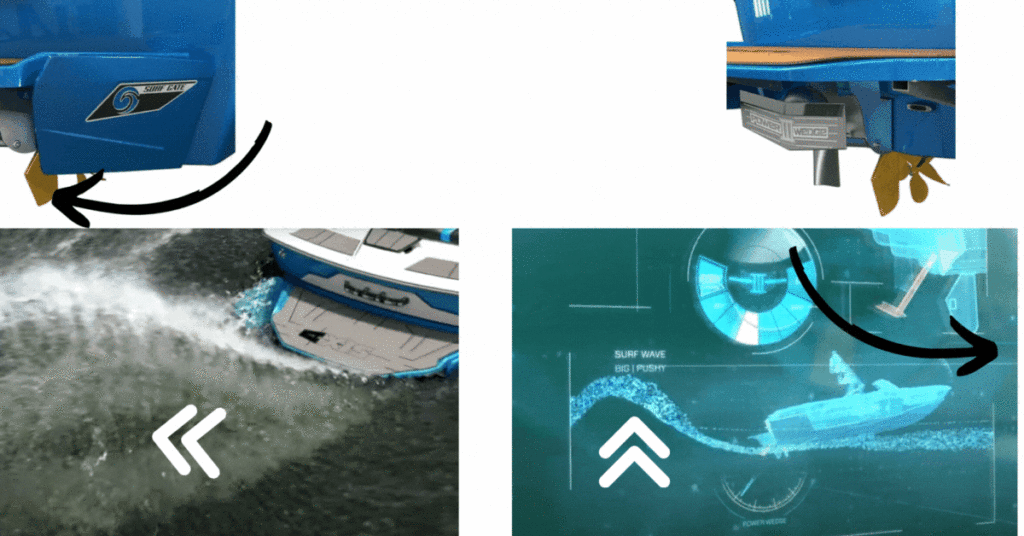 Wake surf boats have high-powered, shaft-driven engines with small skegs down the keel for directional stability and propellers designed for acceleration. Expect to invest between $70,000 and over $500,000 for the best boats for wakesurfing like the G25 Paragon. Wakesurf boats double as day boats, offering ample seating for guests, storage for equipment, and features like marine speakers and high-performance engines with 400 hp and more. The best boats for wakesurfing also offer enough space onboard to tow away your watersports life jackets.
You might want to note that wake Surfing boats are not suitable for rough seas or as fishing boats. Like every boat, they also need proper maintenance to prevent fouling of underwater components.
14 Best Boats for Wakesurfing
1. Axis A20
A Budget-Friendly Wakesurfing Delight for Beginners: Discover the perfect blend of affordability and excitement with the* Axis A20 *– an exceptional choice designed to make waves for budding wakesurf enthusiasts.
Capable of accommodating up to 11 individuals, this vessel creates an inclusive and dynamic atmosphere on the water. The power and torque of its engines, including the Monsoon M5Di and M6Di, ensure a thrilling ride for wakeboarding novices. While the M5Di provides a solid starting point, the M6Di offers an extra punch for those seeking an even more exhilarating experience.
Boasting hydraulic surf gates on both port and starboard sides, the Axis A20 effortlessly tailors the wake's formation to match your style. A trailer comes as part of the package, simplifying transportation logistics, while optional board racks keep your equipment organized and accessible.
Elevate your juego by adding a dampened wake tower, marrying aesthetics with functionality. With its impressive value proposition and feature-rich design, the Axis A20 emerges as the ultimate gateway to an unforgettable wakesurfing journey.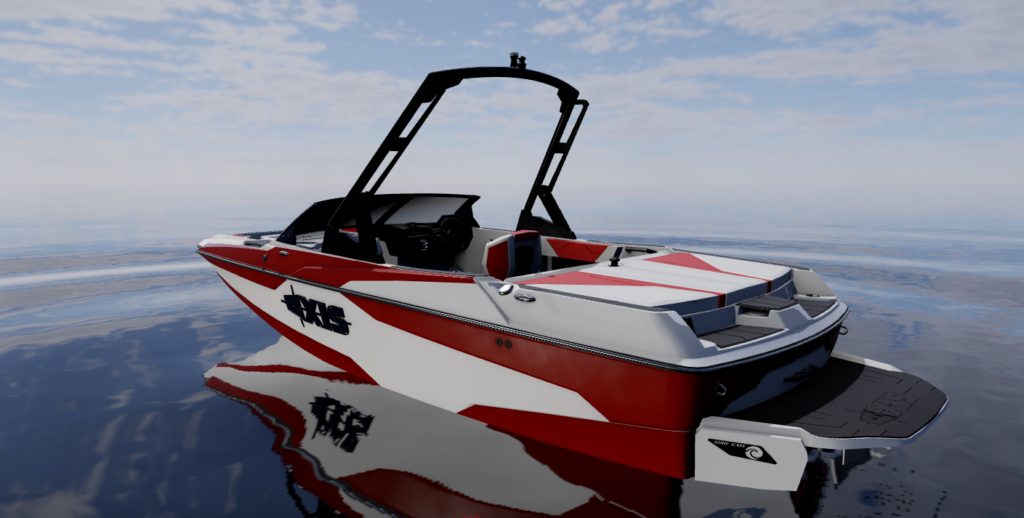 2. Super Air Nautique G23
Elevating Your Wakesurfing Experience For fellow wakeboarding enthusiasts, let's dive into the exceptional Super Air Nautique G23, a true marvel and the sibling to the opulent Super Air Nautique G25 Paragon. A gateway to aquatic exhilaration, this vessel effortlessly accommodates a spirited group, setting the stage for unforgettable wakesurfing escapades. Beyond its captivating aesthetics, the G23 boasts a heart of raw power and torque that ignites every ride.
A range of engine options, carefully tailored, promises an optimal fit for various wakeboarding styles – whether you're a novice or a thrill-seeker craving intense action. Innovative hydraulic surf gates positioned on both sides grant you the power to shape your wake, adjusting it to perfection with minimal effort.
Worries of logistics are laid to rest with the provision of a trailer, ensuring you're ready to hit the water at a moment's notice. Embrace organization with board racks and consider the option of a dampened wake tower, the epitome of style and functionality. From one wakeboarding lover to another, the Super Air Nautique G23 is more than a boat; it's an embodiment of the passion and pursuit that drive us to explore the limitless possibilities of wakesurfing.
3. Super Air Nautique G25
Embark on a world of luxury and wakesurfing excellence with the extraordinary Super Air Nautique G25.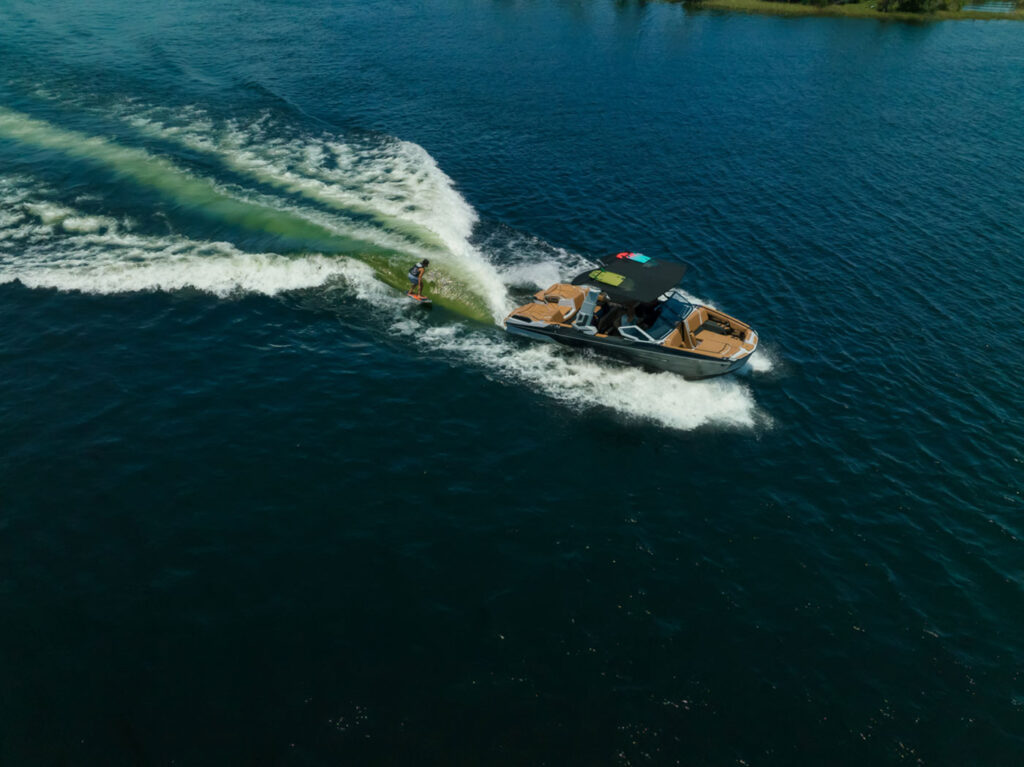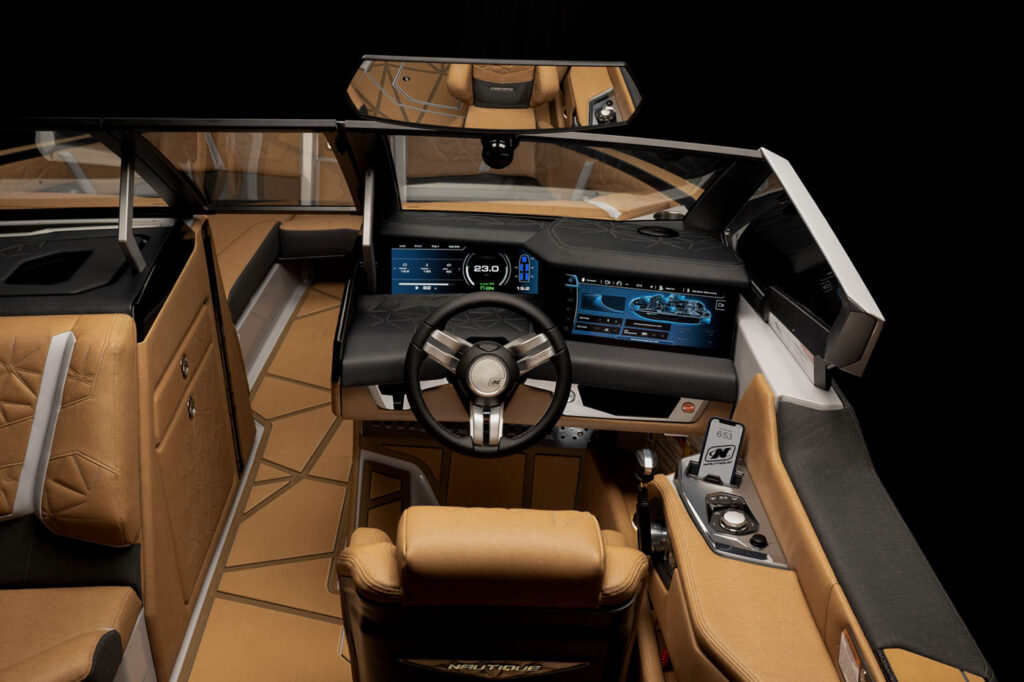 The Brand-New G25 Paragon has changed slightly in design and looks awesome. The design is practical and will grow on you for the looks. This masterpiece from Nautique isn't just a boat – it's a haven for wakeboarding enthusiasts who seek both opulence and high-octane action on the water.
The G25 boasts a spacious layout that comfortably accommodates a vibrant crew, transforming every outing into a grand wakeboarding affair. Anchored by its formidable engine power and torque, this vessel propels riders to exhilarating heights, delivering the perfect wave every time. With engine options catering to various wakeboarding styles, you'll find the perfect match whether you're a beginner or a seasoned pro.
Hydraulic surf gates on both sides of the G25 ensure effortless wake customization, adapting to your every move. Trailer convenience comes standard, enabling easy transportation to your favorite waterways, while board racks and the possibility of a dampened wake tower enhance your organization and style.
When it comes to the ultimate wakesurfing experience, the Super Air Nautique G25 stands as a beacon of luxury, innovation, and unbridled adventure – an invitation to embrace the thrill of the waves in unparalleled comfort.
4. MasterCraft XStar S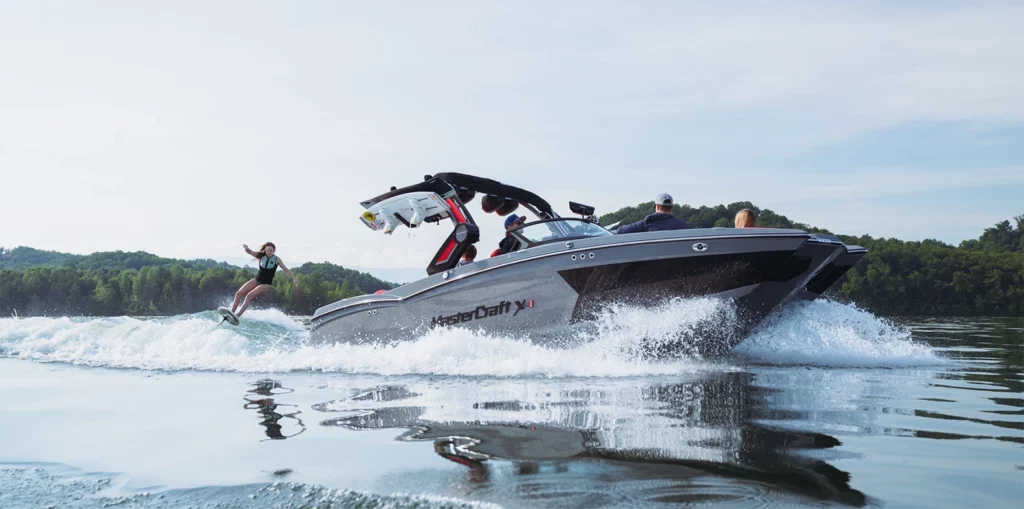 Renowned for its versatility, the XStar S stands tall as the epitome of wake surfing excellence. As the ultimate vessel for riders of all levels, this boat promises an extraordinary journey on the water. The MasterCraft XStar S offers an expansive 23-foot length and a generous beam of 102 inches, providing ample space for an impressive 16 people to revel in the excitement together. With a boat weight of 5,800 pounds and a fuel capacity of 76 gallons, this powerhouse is built to deliver a thrilling and enduring experience.
Engineered to perfection, the XStar S boasts a remarkable capacity of 2,230 pounds (ca. 1 t), making it a true heavyweight in performance. This boat is powered by an impressive 630 hp engine that ensures a harmonious blend of power and torque, guaranteeing an exhilarating and consistent ride. With a range of engine options available, including a smaller one tailored for your wakeboarding needs, the XStar S caters to every preference.
The boat comes for half the price as the G25 Paragon. This boat can be bought for less than 250,000 USD. However, if you want some extras, you are looking at more than 350,000 USD easily.
Equipped with hydraulic surf gates on both port and starboard sides, the XStar S effortlessly transforms the wake to suit your unique style and skill level. Moreover, the boat comes complete with board racks and the option to install a dampened wake tower, enhancing both functionality and aesthetics. The XStar S is not just a boat; it's a manifestation of innovation, design, and performance.
You can also get this allrounder boat in a saltwater version. This version comes with an encapsulated water cooled engine.
As you embark on your quest for the perfect wake surfing companion, look no further than the MasterCraft XStar S. With its impressive 630 hp engine the boat makes an exceptional wakeboarding experience. The XStar S is poised to redefine your relationship with the water. Get ready to carve out unforgettable memories on the waves with the MasterCraft XStar S – your gateway to wake surfing perfection.
5. Yamaha 222XD: Jet-Powered Boat
Best Boat for Wakesurfing with jet-power.
Embark on an exhilarating journey into the world of wakesurfing with the Yamaha 222XD—a fusion of jet propulsion and cutting-edge wake sports technology, offering an accessible entry into the realm of wakeboarding excitement. This exceptional boat marries sought-after jet advantages with the allure of a dynamic wakesurf system, making it an ideal choice for both beginners and seasoned riders seeking an unforgettable experience.
The Yamaha 222XD boasts a 12-inch extension from its predecessor, unlocking a redesigned cockpit layout that redefines space and comfort. This enhancement enables unobstructed movement from bow to transom, while the innovative low-profile engine design grants an unmatched transom walk-through experience that sits lower than competitor models, ensuring effortless water access.
Signature rumble seats at the bow provide a unique connection to the water, perfect for young passengers eager to embrace the thrill of the ride. The 222XD's interior is thoughtfully crafted with storage compartments scattered throughout, including convenient wet-storage compartments within the rear loungers—ideal for stowing wet gear and life jackets.
Equipped with features tailored for wake packages, the 222XD boasts a new tower complete with integrated speakers and board racks. The 2023 models feature a wireless phone charger at the helm, alongside the new right-justified Simrad multifunction display, enhancing visibility and ease of control. The Connext system, though slightly less intuitive for wave setup compared to other surf systems, provides comprehensive monitoring and control of onboard systems, including the surf system itself.
Having experienced this boat firsthand, I can attest to the Yamaha 222XD's remarkable performance both on and behind the wave. The wave it produces strikes a harmonious balance—ideal for beginners while still offering a satisfying lip for more advanced riders experimenting with foil or longboard techniques. The Yamaha 222XD excels in agility and comfort, making it an excellent choice for wakesurfers seeking a blend of low maintenance, affordability, spacious layout, and the unmatched maneuverability of a jet-powered craft.
High Points Yamaha 222XD
Amazing maneuverability and shallow draft thanks to jet propulsion.
Very low engine maintenance compared to traditional V-drive boats.
Affordable price in the wake-sports boat market.
Low Points Yamaha 222XD
Connext system requires some learning curve for surf wave setup.
Wave offers a sweet spot but may lack push for absolute beginners.
Limited wave customization options.
In the competitive landscape, the Yamaha 222XD shines as a top contender, offering an optimal combination of features and performance. As you explore your options for the best wakesurfing boat, consider the Yamaha 222XD as your gateway to an exhilarating and unforgettable ride. With a price point of $85,899 (MSRP), LOA of 22′, and twin 1.8L Yamaha HO marine engines propelling water jets, the Yamaha 222XD beckons you to embrace the waves and redefine your wakesurfing adventures.
6. Supra SE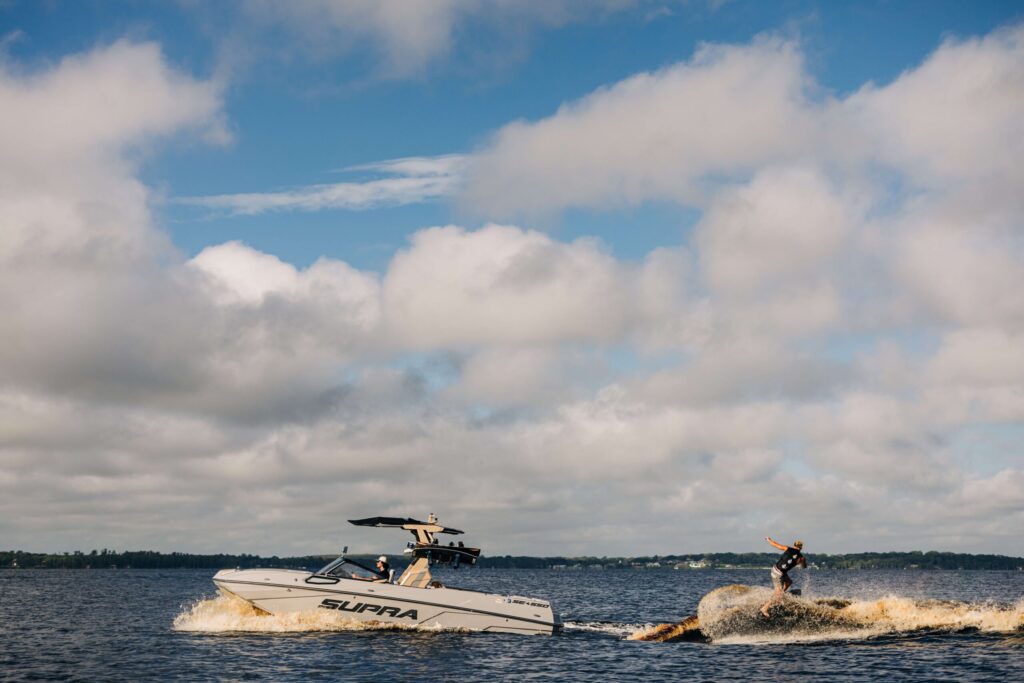 In a league of its own, the Supra SE stands as a testament to exceptional design, innovation, and performance. Priced at $203,000 (starting), with an LOA of 24'6″, a beam of 8'6″, and an impressive ballast capacity of 6,100 pounds (2.77 t), the Supra SE invites you to redefine your wakesurfing adventures with unmatched style and precision. As you embark on your journey to find the best boat for wakesurfing, consider test driving the Supra SE at least once.
This exceptional vessel seamlessly blends cutting-edge technology and superior craftsmanship to deliver an unparalleled performance on the waves. The Supra SE boasts a plethora of enhancements for 2023 that set it apart in the wakesurfing realm. Its captivating design includes longer lines and higher freeboard, giving it a commanding presence while accentuating the FxONE power tower.
The higher freeboard translates to deeper seating and a more comfortable ride. The innovative Switchback Seat in the bow adds a new dimension of versatility by transforming the wind dam into a backrest, creating a third seat without compromising on comfort. Customizable seating options, including a convertible rear bench doubling as a table, ensure comfort and functionality. Equipped with JL Audio speakers tailored to the SE's layout, this boat is ready to deliver an unparalleled acoustic experience. Accommodating up to 18 passengers and offering ample storage throughout, the SE is your gateway to memorable wakesurfing escapades.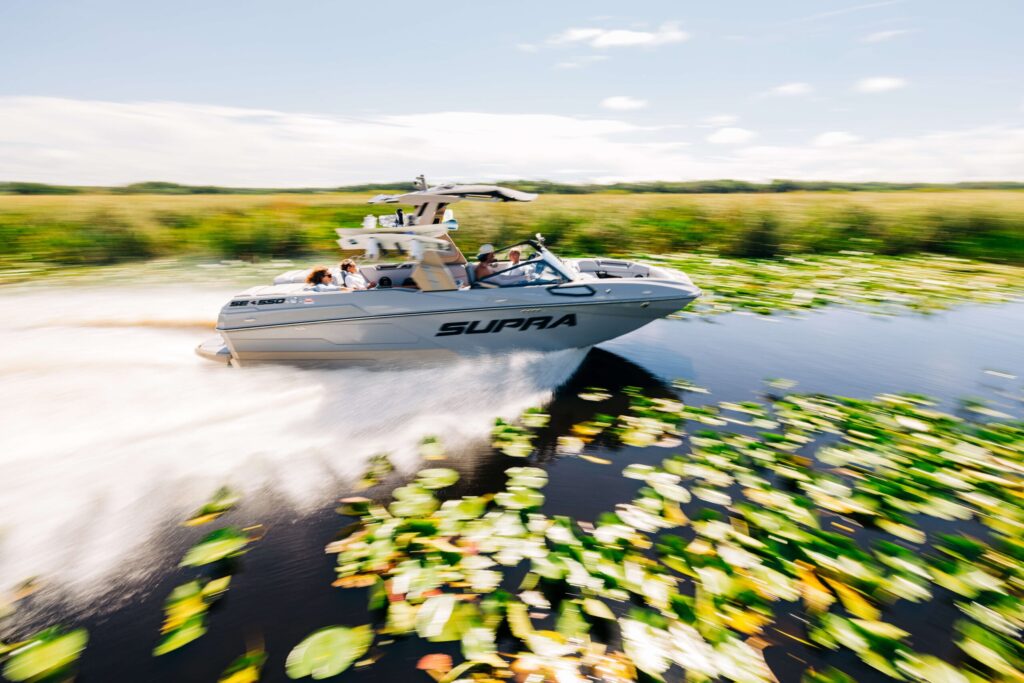 The heart of the Supra SE lies in its remarkable watersports performance. With a whopping 4,700 pounds (ca. 2,132 kg) of subfloor ballast and Supra's Swell Surf System plates, the SE creates impressive wakes and waves that can be tailored to your desired size and shape. Whether you're seeking smooth transitions, long faces, or a powerful pocket for wakesurfing tricks, the Roushcharged Raptor 575 V-8 by Indmar of the SE delivers promptly.
The patented AutoWake technology takes precision to new heights, automatically optimizing ballast and wake plates based on rider preferences, thanks to its advanced sensor system. The Vision Control Center allows effortless wave customization, putting the power at your fingertips. From its innovative touchscreens and intuitive controls to its spacious design and premium features, the Supra SE is the epitome of wakesurfing excellence. Its seamless integration of technology and comfort ensures an unparalleled experience both on and off the water. Explore the endless possibilities of the wakesurfing world with the Supra SE—a vessel that not only meets but exceeds the demands of the ever-evolving 24-foot wakeboat market.
High Points Supra SE:
Intuitive touchscreen controls for all aspects of the boat, from ballast to lighting.
Third touchscreen for audio and lighting control offers enhanced convenience.
Powerful ballast and surf system for customizable wakes and waves.
Switchback Seat adds versatility and seating options.
Low Points Supra SE
Flip-up backrests may pinch your finger
7. Malibu 26 LSV
Discover the epitome of wakesurfing excellence with the Malibu 26 LSV—a 26 ft (ca. 8 m) bow rider for wakeboarding.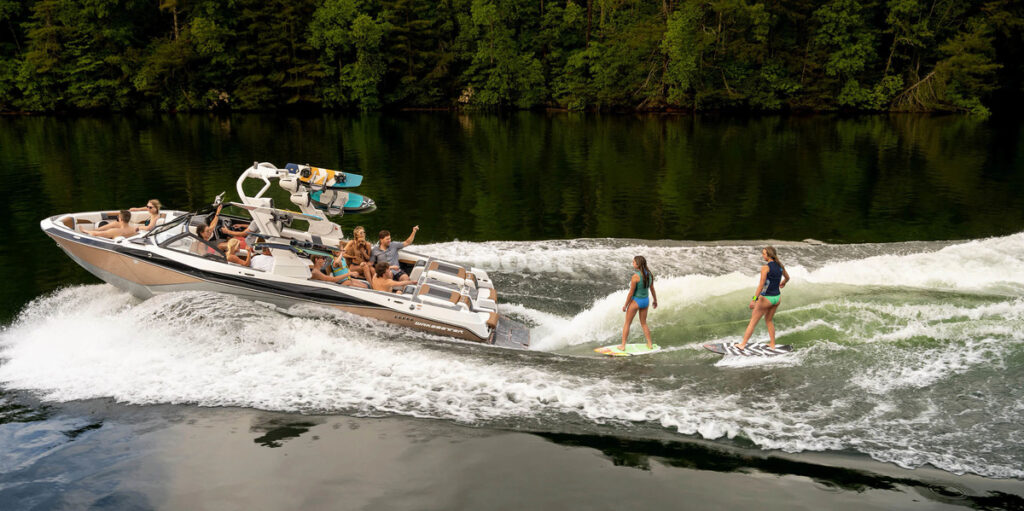 This remarkable vessel seamlessly fuses innovation, style, and performance to deliver a wakesurfing journey unlike any other.
The Malibu 26 LSV, introduced by the renowned brand Malibu in 2022, boasts an impressive array of features that set it apart in the wakesurfing world. With an accommodating capacity for up to 18 passengers, this 26'5″ bowrider ensures that no one misses out on the excitement. Its fiberglass hull, CE certification (Class C), and versatile design make it a versatile choice for both coastal and inland waterways.
At the heart of the Malibu 26 LSV lies its powerful shaft drive engine option, delivering 606 horsepower for an exhilarating and responsive performance on the water. Whether you're a seasoned wakeboarding enthusiast or a passionate joyrider, the Malibu 26 LSV is equipped to cater to your every need.
Impressively spacious with a beam of 8'6″, this boat offers ample room for you and your fellow riders to revel in the wakesurfing experience. The deep draft of 2'8″ ensures stability and control, allowing you to effortlessly navigate through the waves. With a fuel capacity of 435 liters, the fun doesn't have to end anytime soon.
The Malibu 26 LSV is more than just a boat—it's a vessel designed to enhance your wakesurfing endeavors. Immerse yourself in the thrill of the ride as you harness the power of hydraulic surf gates to seamlessly shift the wake from side to side, creating the perfect conditions for your next move. The boat comes equipped with board racks and the option to add a dampened wake tower, providing you with all the tools needed to take your skills to new heights.
Intriguingly, the Malibu 26 LSV offers a modern and mainstream design that's both aesthetically pleasing and functional. With a base price of $228.2 thousand, this boat represents a worthwhile investment for those seeking the ultimate wakesurfing experience.
As you embark on your journey to find the ideal wakesurfing boat, the Malibu 26 LSV stands out as a beacon of excellence, ready to carry you through unforgettable moments on the water. Experience the thrill, power, and versatility of the Malibu 26 LSV—a vessel that blends precision engineering with your passion for wakesurfing.
8. Tigé 24 RZX
Embark on a wakesurfing adventure like no other aboard the Tigé 24 RZX—an epitome of style, performance, and satisfaction that promises to elevate your on-water escapades.

Boasting a captivating pickle fork design, the 24 RZX from Tigé delivers impressive wakes for both wakeboarding and wakesurfing, all while catering to your budget and desires.
Measuring at a length of 24'5″ and a beam of 102″, the Tigé 24 RZX offers a spacious and inviting cockpit, capable of accommodating up to 18 passengers for a day of shared thrills. With a dry weight of 6,300 lbs and a fuel capacity of 246 liters, this vessel is primed to provide you with endless hours of excitement on the water.
Underneath its sleek exterior lies a powerhouse of performance, with options for engines that ensure an exhilarating ride. The Tigé 24 RZX offers a customizable experience, allowing you to tailor the boat's settings to your precise rider profile. The integration of Tigé's "Clear User Experience" touch screen and digital display empowers you to craft the perfect wave and wake for your unique preferences.
The 24 RZX is not only about performance—it's a vessel that exudes luxury and sophistication. Adorned with the distinctive "airframe elite" windshield and meticulously embroidered diamond stitching, the RZX captures attention wherever it goes. The Tigé Smart wheel adds another layer of convenience, placing control of audio, volume, zero-off, and the TAPS 3T surf system right at your fingertips.
Inside, you'll discover ingenious storage solutions and ample interior space, ensuring your crew's comfort and relaxation between thrilling rides. The optional flip-back transom lounge and center seats enhance the boat's luxurious appeal, while Tigé's renowned surf storage lockers provide a testament to innovation.
Customizability is key with the Tigé 24 RZX, offering a range of color options for gelcoat, tower, speakers, and flooring. This boat combines performance and value, making it an ideal choice for those seeking an all-encompassing wakesurfing experience without compromising on quality.
Experience the Tigé 24 RZX for yourself and witness the perfect blend of style, functionality, and affordability. As you explore the realm of wakesurfing boats, the Tigé 24 RZX stands out as a testament to Tigé's commitment to delivering a superior and satisfying on-water journey.
9. Moomba Mojo
Unleash your wakeboarding and wakesurfing dreams aboard the Moomba Mojo—an enchanting vessel that combines cutting-edge features, impressive ballast, and advanced technology to create an unparalleled on-water adventure. With a starting price of $89,893, the Moomba Mojo offers exceptional value without compromising on performance or quality.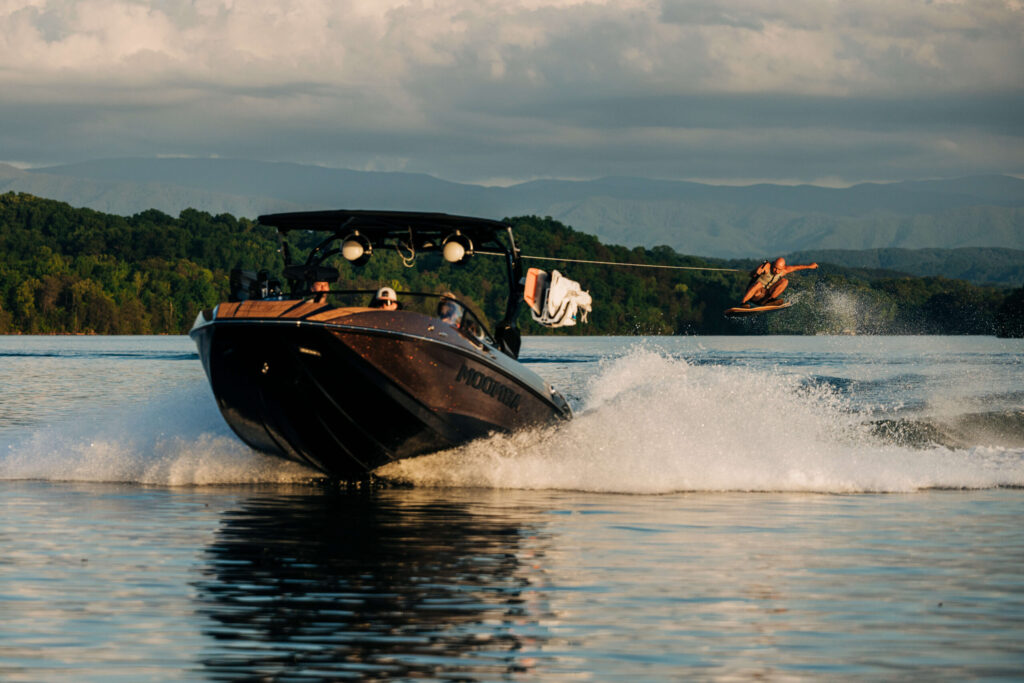 Spanning a length of 23 feet and boasting an 8'6″ beam, the Moomba Mojo provides ample space for up to 17 passengers, making it perfect for lively group outings. Its maximum weight capacity of 2,500 lbs ensures that you can bring along all your gear and friends for an unforgettable day on the water.
At the heart of the Mojo's prowess lies its powerful engine options, including the Single Indmar Raptor inboard engine capable of delivering up to 450 horsepower. This robust power source guarantees thrilling rides and impressive torque, catering to both recreational and advanced riders seeking the ultimate adrenaline rush.
Innovative wake-enhancing technologies elevate the Mojo's performance to extraordinary levels. The transom-mounted Smart Plate allows for precise adjustments to wake size and shape, enabling riders to tailor their experience to their preferences. Complementing this feature is the Flow surf system's dual surf tabs, which dynamically modify the boat's position in the water, enhancing the surf wave for a thrilling ride. Notably, the Mojo's AutoWake system takes the stress out of maintaining the optimal running attitude, automatically adjusting ballast tanks based on real-time sensor data.
Beyond performance, the Moomba Mojo boasts a well-crafted interior designed for passenger comfort and enjoyment. The hybrid-style bow cockpit and wraparound bench provide spacious seating arrangements, with innovative features like a lift-out filler cushion at the observer seat for added relaxation. The A3 Tower comes standard with board racks and fold assist, with the option to upgrade for a Bimini and surf storage.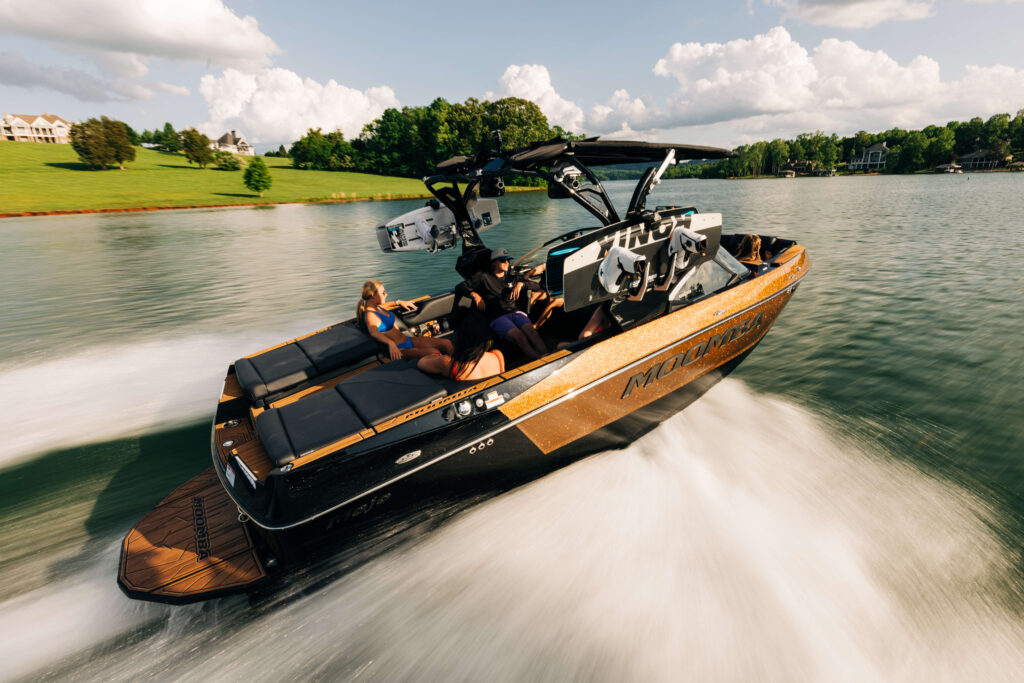 The Moomba Mojo's commitment to excellence extends to its attention to detail, including Gator Grip cockpit flooring, wireless phone-charging stations, and multicolor RGB accent lighting. With its impressive array of features and affordability, the Moomba Mojo stands as a top contender for wakeboarding and wakesurfing enthusiasts seeking a thrilling and unforgettable experience on the water.
10. Axis T25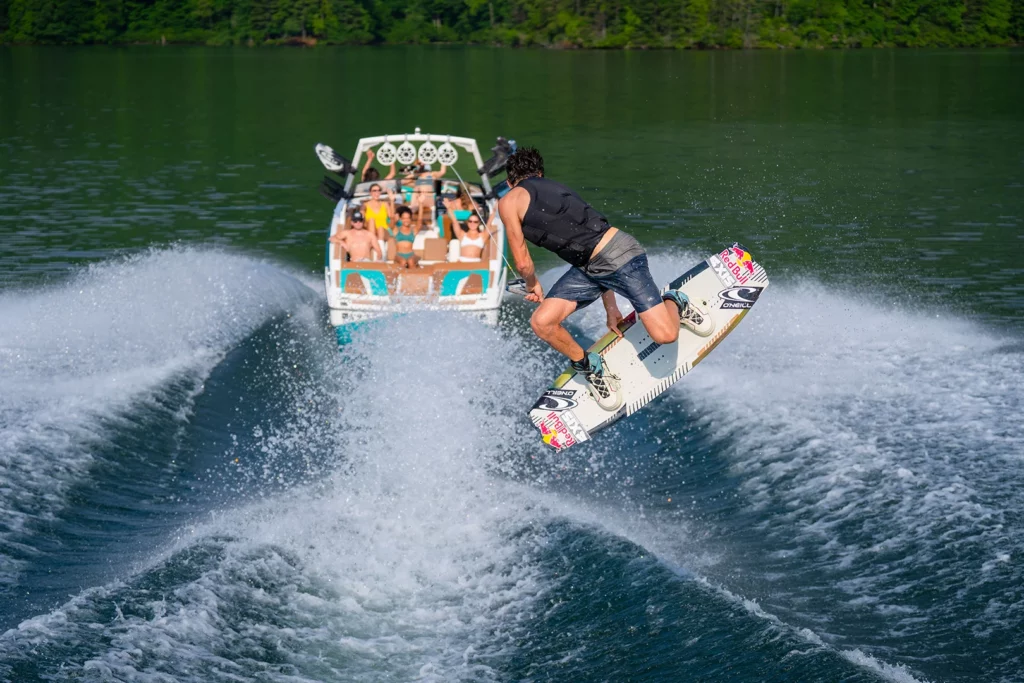 Experience the epitome of wakeboarding and wakesurfing excitement aboard the Axis T25—a powerhouse that masterfully crafts pro surf waves and wakeboard wakes, all in one impressive package.
As part of the renowned Axis line, which hails from the prestigious Malibu Boats, the T25 delivers unbeatable performance and versatility for watersports enthusiasts who seek exceptional value without compromising on quality.
Measuring a sleek 25 feet in length and offering a generous 8'6″ beam, the Axis T25 comfortably accommodates up to 18 passengers, ensuring you can share the thrill with friends and familia. The T25's remarkable power and torque stem from its engine options, including the Malibu Monsoon M5Di (360 hp), the M6Di (430 hp), and the supercharged 607 hp Malibu Monsoon LT4, all backed by Axis's five-year factory warranty.
The T25 effortlessly creates pro surf waves and wakeboard wakes, thanks to its 5,370 pounds of ballast, including simulated ballast from the Power Wedge III. This system allows you to customize wake characteristics at the touch of a button, while the Surf Gate creates user-choice wakes on either side that seamlessly cambiar without shifting ballast. The Axis T25's nimble water performance ensures rider pickups are a breeze, while its thoughtfully designed layout offers wraparound seating, comfortable proportions, and Axis Soft Grip flooring that ensures safety and easy maintenance.
At the helm, the skipper enjoys the intuitive Premium Sport Dash, complete with a 7-inch touchscreen for effortless control of cruise settings, ballast adjustments, and wake configurations. The Axis T25's attention to detail extends to its storage options, including an underseat cooler, and the convenience of the AW20 tower, which easily lowers for hassle-free storage and features a built-in Bimini top for sun protection.
Whether you're a seasoned rider or new to the sport, the Axis T25's exceptional features, robust power, and stunning design make it an irresistible choice for anyone seeking the ultimate wakeboarding and wakesurfing adventure on the water.
11. Regal LS2 Surf
Embark on a watersports adventure like never before aboard the Regal LS2 Surf—a forward drive boat designed to redefine the boundaries of wakeboarding and wakesurfing. Step into a realm of luxury, versatility, and exhilarating capability as you ride the waves with the Regal LS2 Surf.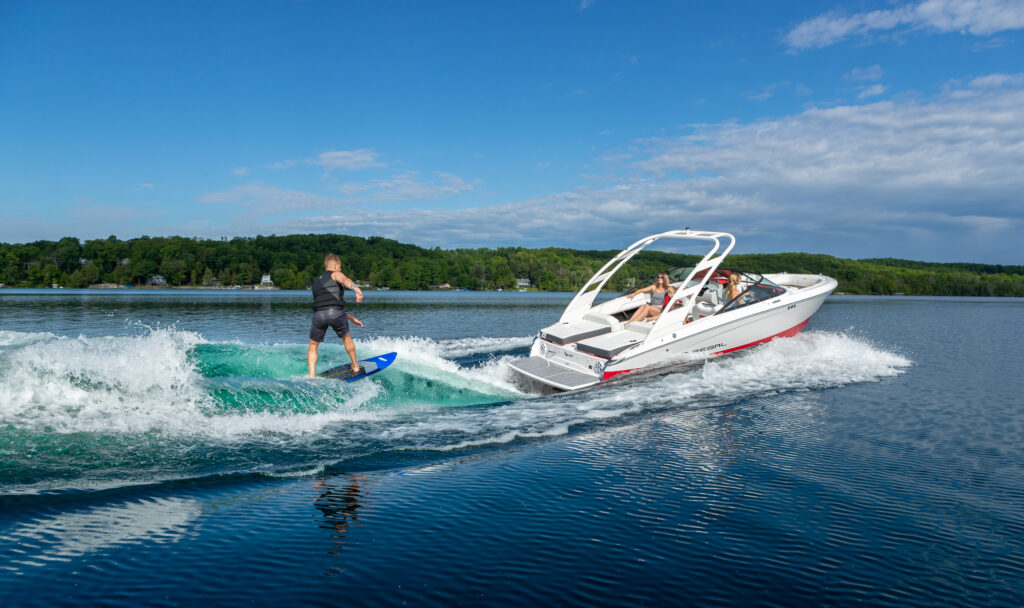 This remarkable vessel boasts a powerful Regal Surf System, a harmonious blend of wave shaping tabs, 1,800 pounds (ca. 816 kg) of ballast, Volvo's Forward Drive, and Water Sport Control. The result? An unparalleled and customizable wave that promises the ride of a lifetime.
los Deportes acuáticos Display places complete control at your fingertips, allowing you to effortlessly manage the entire Surf System, navigation, and system controls all in one place. Adjust your speed, fill ballasts, select your desired wave direction, and set the mood with your favorite tunes—all with a few taps on the user-friendly touchscreen display.
The Regal LS2 Surf offers more than just impressive technology; its design is tailored for maximum comfort and enjoyment. The thoughtfully crafted edge-to-edge seating in the LS2 Surf's cockpit ensures a wider interior beam, creating ample room for additional seating and storage, making every moment on the water even more enjoyable.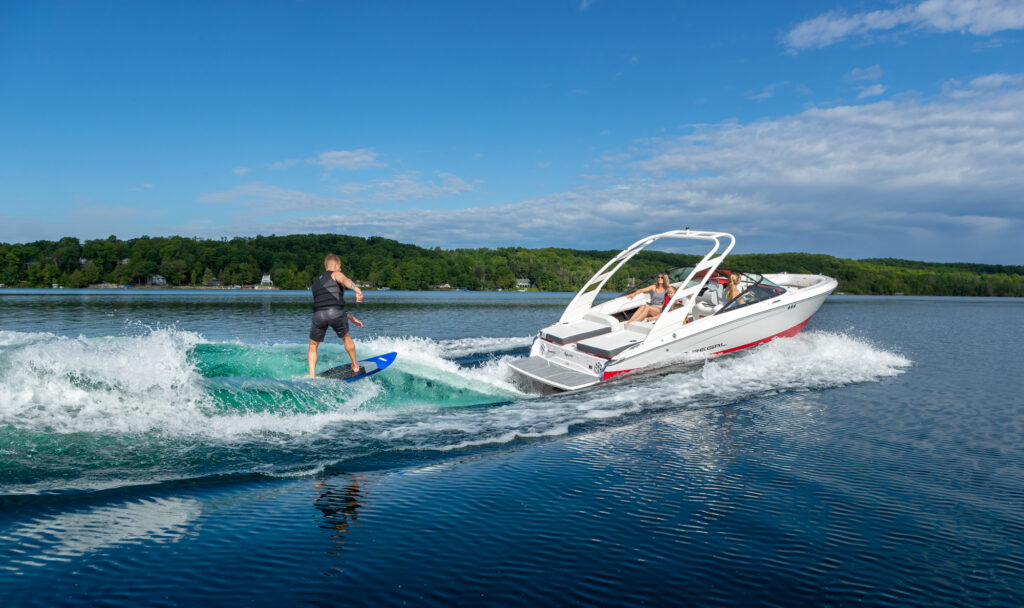 With a maximum horsepower of 350 and measuring 22 feet and 4 inches in length with an 8-foot 6-inch beam, the Regal LS2 Surf exudes a perfect blend of style and performance. With a draft of 2 feet and 10 inches and a dry weight of 3,900 pounds, it strikes a balance between agility and stability. The LS2 Surf can accommodate up to 12 passengers, and its generous seat/weight capacity of 1,640 pounds ensures everyone can share in the excitement.
Whether you're a seasoned wakesurfing enthusiast or a newcomer to the sport, the Regal LS2 Surf promises an unforgettable experience on the water. Immerse yourself in the thrill of endless wave-riding possibilities and discover the true essence of luxury, innovation, and adventure with the Regal LS2 Surf.
12.Centurion Ri230
Discover a new dimension of wakesurfing mastery aboard the Centurion Ri230—a vessel that encapsulates precision, power, and performance. With a redesigned hull and a commitment to innovation, the Ri230 is engineered to elevate your waterborne experiences to unparalleled heights.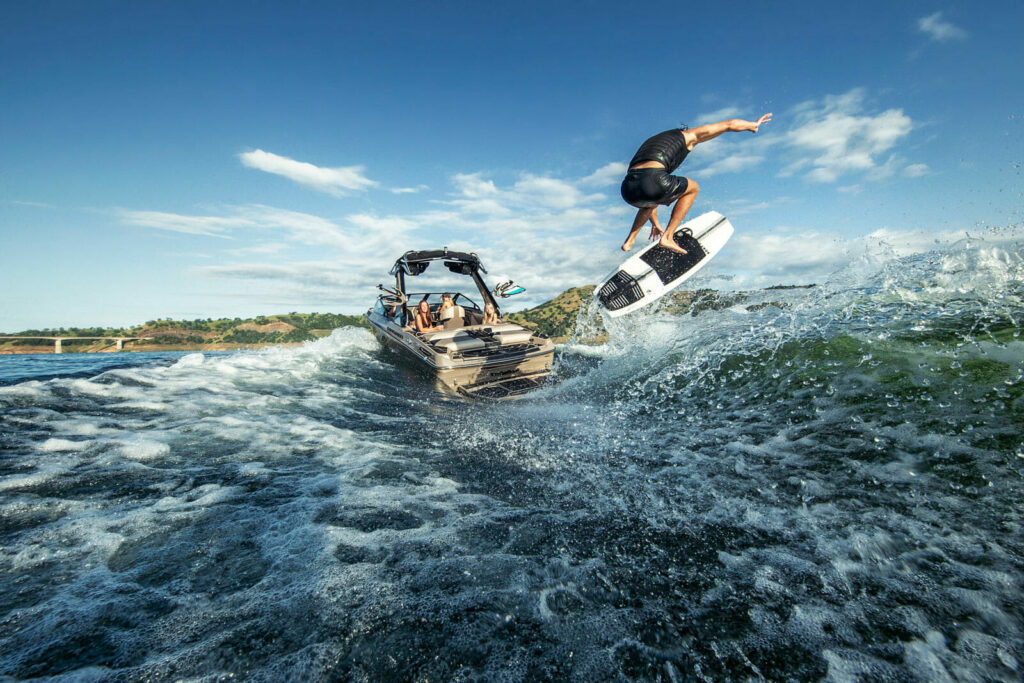 This 23-foot powerhouse boasts Centurion's cutting-edge Opti-V hull, featuring a remarkable 20-degree transom deadrise—the deepest in its segment. This architectural marvel not only ensures a smooth and comfortable ride but also shapes wakes and waves to perfection. The Ri230's on-the-water prowess is magnified by its 5,400 pounds of onboard ballast, creating waves that are destined to impress. As testament to its capabilities, the Ri230 was chosen to pull competitors at the prestigious World Wakesurfing Championship.
The Centurion Ri230's interior seamlessly combines comfort and customization, offering an array of features designed to enhance your experience. Centurion's QuickSurf technology, with its port and starboard transom-mounted plates, conjures sizable and endless waves that cater to your every whim. The wave's shape and size can be further refined using the centerline transom plate, ensuring a personalized aquatic playground. The intuitive Revo Side by Side 12-inch touchscreens provide effortless control over settings, empowering you to fine-tune your experience. Once you've discovered your ideal setup, it can be saved to a custom profile for convenient future use.
Whether your passion lies in wakesurfing or wakeboarding, the Ri230 delivers exceptional performance. The wakesurfing waves possess a formidable push—a hallmark of Centurion—while maintaining a user-friendly pocket that accommodates both novices and skilled riders. Wakeboard wakes, especially at rope lengths of 65 to 75 feet, showcase a smooth and elongated transition up the face, guaranteeing exhilarating moments on the water.
The Ri230's heart is its 6-liter GM Marine V-drive engine, delivering an abundance of torque for effortless acceleration in both wakesurfing and wakeboarding endeavors. Despite its enormous torque the GM V-Engine is pretty effiicent. At wakesurfing speed, the Centurion Ri230 sips less than just 7 gallons (ca. 26 l) per hour (gph). But that's not all – it also boasts a remarkable hush with a mere 74 decibels, ensuring a serene and enjoyable experience on the water.
Impressively, the Ri230 goes beyond expectations by creating impressive surf waves even when cruising at a mere 4 degrees of bowrise, showcasing its exceptional engineering and dedication to providing the ultimate wakesurfing adventure. The adjustable high-back captain's chair, equipped with a flip bolster and swivel capabilities, ensures comfort for every ride. The Ri230 offers versatile seating for up to 14 passengers, with the option to convert the back bench into rear-facing seating for optimal viewing of the action. An available table facilitates socializing and adds to the boat's multifunctionality.
For those seeking an unforgettable wakesurfing adventure, the Centurion Ri230 is a pinnacle of excellence. Its remarkable performance, innovative technology, and uncompromising design create an environment where adventure knows no bounds. Experience the future of wakesurfing with the Centurion Ri230 and redefine your relationship with the water.
13. Yamaha 255XD
Experience the epitome of Yamaha's innovation and power with the 255XD—an exceptional watercraft designed to elevate your wakesurfing adventures. Unveiling a fusion of cutting-edge technology and thoughtful design, the 255XD sets a new standard for performance and versatility, promising a waterborne journey like no other.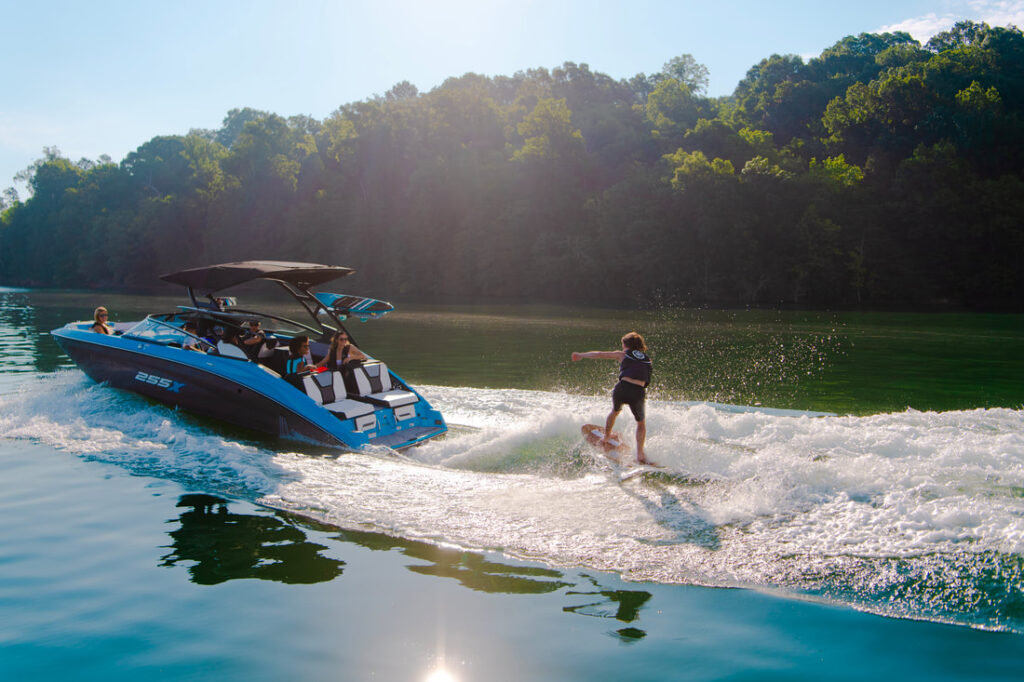 This 2021 Yamaha creation, the flagship of its 25-foot Wake Series, embraces a host of features that cater to both adrenaline seekers and leisure enthusiasts alike.
Central to the 255XD's prowess is its dynamic dual 1.8L SVHO supercharged powerplants, generating a formidable 500 hp. This impressive powerhouse resides within a spacious bilge area, ensuring easy maintenance and streamlined oil changes. A convenient transom flushing port safeguards the engine from saltwater exposure, offering quick protection in mere minutes. A distinct advantage of jet boats is their internalized drive system, eliminating the risk of injuries from traditional propellers, making it an ideal choice for swimming and water sports.
Yamaha's innovative engineering shines through with the addition of an articulated keel to each jet nozzle, addressing tracking challenges often associated with jet propulsion. This ingenious design feature acts as a small rudder, enhancing the boat's stability during turns and preventing skidding, even under the force of a wakeboard rider. The result is a true towed-sports vessel with the remarkable ability to facilitate wakesurfing, opening up a world of possibilities for riders.
Ballast becomes a tool for wave sculpting, as 1,600 pounds of ballast distributed across three tanks enhances wake quality. An automated surf gate further optimizes the riding surface, ensuring tailored performance for each adventure. The Connext touchscreen serves as the control center, granting access to an array of features, including the surf gate activation, ballast tank filling, acceleration settings, and top-speed rider profiles. The Drive system introduces a new level of control, allowing the skipper to manage throttle and shift effortlessly, even during docking maneuvers.
The 255XD seamlessly intertwines technological innovation with onboard comfort. Deep bow seating and forward-facing jump seats provide a thrilling view of the water, while a spacious cockpit accommodates a crew of surfers with ease. Whether you're embracing heart-pounding action or unwinding with friends and family, the Yamaha 255XD ensures an unforgettable ride.
14. ATX 20 Type-S
Discover a new dimension of wakesurfing excellence with the 2023 ATX Surf Boats 20 Type-S—an embodiment of versatility, innovation, and high-performance engineering. Defying the limitations often associated with 20-foot boats, the 20 Type-S redefines expectations, delivering an exceptional experience that transcends size.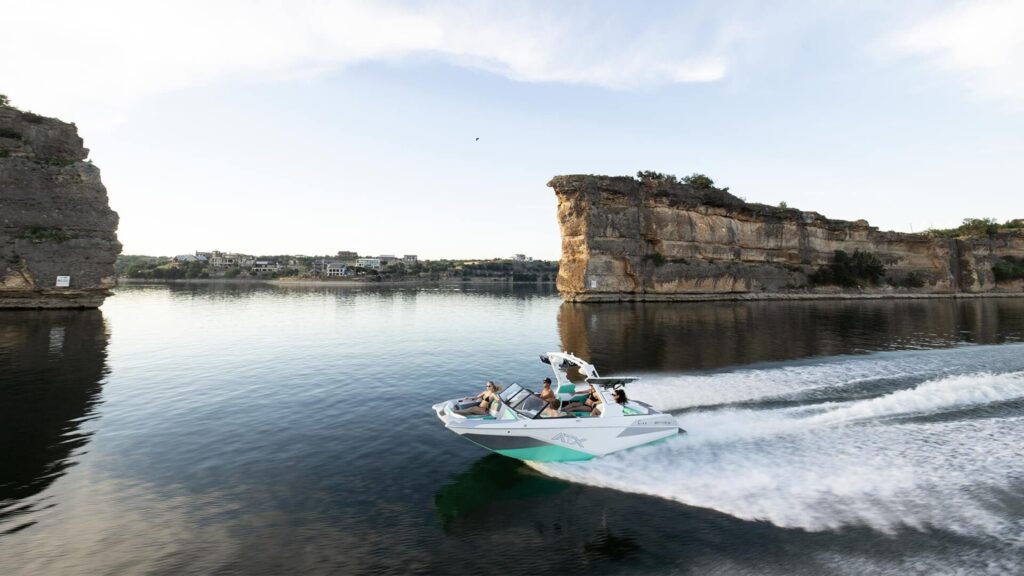 This marvel of engineering, presented by ATX Surf Boats, encapsulates a harmonious blend of power, agility, and cutting-edge technology, making it an ideal companion for water sports enthusiasts seeking an epic and effortless day on the water.
Equipped to conquer any sport and water condition, the 20 Type-S boasts a spacious and intelligently designed layout that accommodates a diverse range of activities. With the power to effortlessly generate rampy wakes, create the perfect wave, or master a slalom set, the 20 Type-S eliminates the complexities of manual adjustments. The revolutionary GO System powered by TAPS 3T ensures optimal settings at the push of a button, eliminating the need for intricate instructions or shifting passengers around. Featuring an impressive 2,750 lbs of ballast and the proven performance of the Convex V Hull, the 20 Type-S promises an unparalleled aquatic experience that seamlessly combines excitement and relaxation.
Inside the 20 Type-S, ingenious design elements come to life. Choose between the standard reverse-facing seat or opt for the walkthrough upgrade, transforming the transom area into a haven of comfort. Regardless of your choice, every moment aboard is marked by unrivaled comfort and convenience.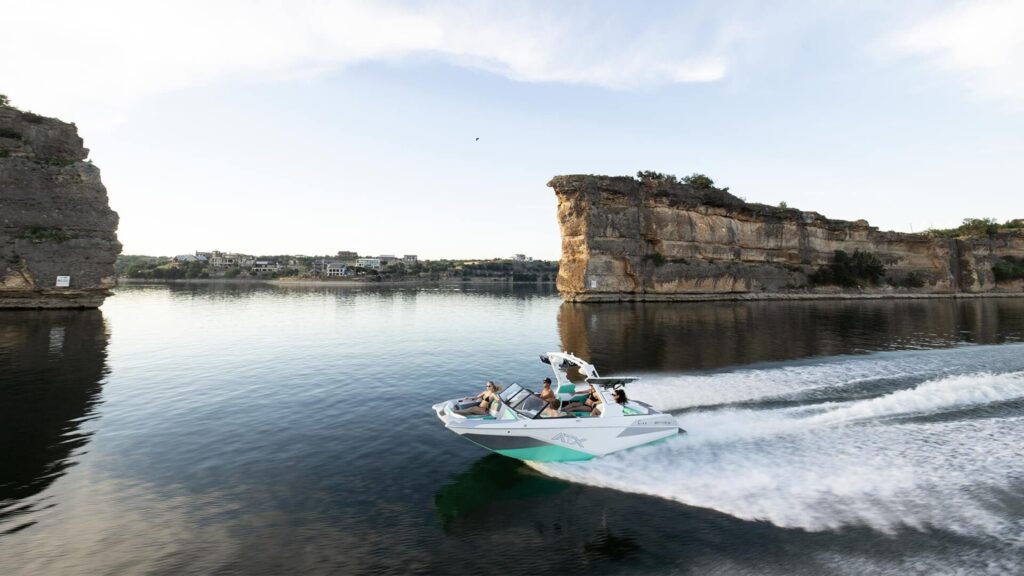 ATX Surf Boats has set a new standard in boating history, driven by a passion for performance, innovation, and distinctive design. The 20 Type-S embodies this ethos, inviting you to step into a realm of unparalleled style and capability. With ATX, the future of wakesurfing is within reach, and 'one day' becomes 'today.'
Final thoughts on the best boats for wakesurfing
In the realm of wakeboarding and wakesurfing, the quest for the perfect boat is a pursuit of innovation, power, and precision. The boats we've explored, each with their unique features and capabilities, offer a diverse range of options to cater to every wake enthusiast's dream. From the Malibu 26 LSV, impressing with its hydraulic surf gates, to the Tige 24 RZX with its luxury and customizable Smart Wheel controls, these boats cater to both seasoned riders and newcomers alike.
The Moomba Mojo stands out for its ingenious AutoWake system, taking the stress off the driver, while the Regal LS2 Surf dazzles with its water sports display and edge-to-edge seating comfort. The Yamaha 255XD, with its innovative jet propulsion and articulated keel, promises both power and safety, and the ATX 20 Type-S showcases versatility and simplicity, making every ride effortless and exhilarating.
Lastly, the Centurion Ri230's fuel efficiency, quiet operation, and impeccable wake shaping capabilities exemplify a perfect marriage of performance and innovation. Whether it's about dialing in the perfect wave, enjoying spacious comfort, or embracing advanced technology, these best wakeboarding boats are a testament to the ever-evolving world of water sports, ready to deliver endless excitement and unforgettable adventures on the waves.
¡Lamentamos que este post no te haya resultado útil!
¡Mejoremos este post!
Cuéntanos ¿cómo podemos mejorar este post?