no es sólo una técnica de pesca; es una actividad que requiere una mezcla de habilidad, paciencia y el equipo adecuado. A la hora de elegir el mejor barco for catfishing maneuverability, stability, and even storage capacity need to be considered. Specialized catfishing boats are tailored to cater to the unique demands of reeling in these formidable freshwater giants.
In this guide, we delve into the world of catfishing boats, exploring the key attributes that set them apart from other types of fishing vessels. Whether you're a seasoned catfish angler or someone eager to embark on your very first catfishing excursion, understanding what makes the best boats for catfishing is essential.
We'll navigate through the various factors to consider, from the type of boat hull that provides optimal stability, to the horsepower of the engine that propels you towards your fishing grounds. Along the way, we'll introduce you to some of the top boat models that have garnered acclaim within the catfishing community. These vessels have proven their worth not only through design and innovation but also by earning the trust of experienced anglers who have battled these colossal fish.
So, if you're ready to elevate your catfishing experience and equip yourself with a boat that's tailor-made for this thrilling pursuit, join us as we embark on a journey to uncover the best boats for catfishing. Whether you're aiming to conquer mighty rivers or peaceful lakes, the right boat could be your key to unlocking an unforgettable adventure with catfishing.
What makes the Best Boat for Catfishing?
In theory, you can catfish using any available boat. Nevertheless, using the right boat will boost your chances of catching catfish. For example, these boats are carefully designed to glide through the waters that these fish lurk in.
Advantages of Aluminum Boats
There are several reasons why aluminum boats are the kings of catfish fishing:
Weight: Aluminum boats are light, making them easier to get in and out of the water.
Plenty of Space and Comfort: Because catfish fight aggressively, having enough space is desirable. Aluminum boats offer comfortable seats and stability.
Features: Aluminum boats have various features that impact performance.
Boat Features and Considerations
When choosing an aluminum boat for catfishing, consider the following factors:
Boat Length: Longer boats offer more stability and room, but may be less maneuverable.
Boat Width: Wider boats offer greater stability and weight capacity.
Boat Engine: Choose a reliable motor based on your fishing needs.
Aluminum Hull Type: Flat-bottom hulls provide good primary stability.
Technical Features: Modern aluminum boats come with consoles, control panels, and other amenities.
Recommended Best Boats for Catfishing
Consider these boat models for catfishing:
1) SeaArk Boats for Catfishing
Known for quality and performance.
SeaArk Boats, an Arkansas-based manufacturer, has established itself as a prominent player in the catfish boat category. They have a history of innovation and have introduced several features that cater to the specific needs of catfish anglers. Let's evaluate whether SeaArk is among the best boats for catfishing based on the information provided:
Innovations and Features of Sea Ark Boats
Pioneering Size: SeaArk introduced one of the first 24-foot jonboats in 1994, and later added a 26-footer. This demonstrates their commitment to pushing the boundaries and providing larger platforms for catfishing.
ProCat Series: In 2009, SeaArk launched the ProCat Series, which quickly gained popularity among dedicated catfish anglers. The ProCat boats are designed to meet the demands of catfish tournament fishing.
Livewell Capacity: SeaArk's ProCat 200 and ProCat 240 models feature massive 80-gallon rear livewells. These spacious livewells are crucial for keeping large catfish healthy during tournaments.
Buoyancy and Stability: Dual flotation pods welded to the transom enhance buoyancy and stability, especially in shallow waters. These pods also serve as platforms, adding convenience for various activities.
Hull Design: SeaArk's boats feature a thick 0.125-inch aluminum hull that is all-welded for durability. The 15-degree hull design provides a smooth ride over rough waters.
Speed and Safety: SeaArk's boats offer powerful engine options, with capacities up to 250 horsepower. The ability to run at speeds over 50 mph (ca. 80 km/h) provides versatility, while the emphasis on safety is highlighted by the durable hull construction.
Bow Deck and Console: The spacious bow deck accommodates a bow-mounted trolling motor and provides ample space for various tasks. The side console houses essential gauges and equipment, offering functionality and control.
Customization: SeaArk offers an extensive list of options and accessories, allowing anglers to customize their boats according to their preferences. This includes paint patterns, flotation pods, grab rails, archery decks, and more.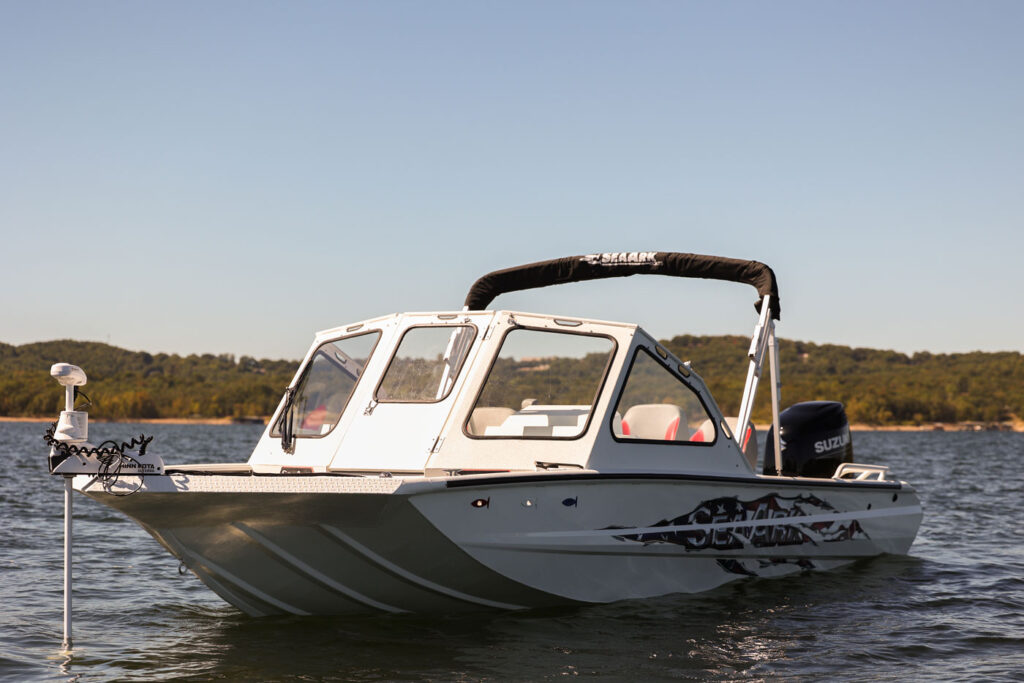 Sea Ark Catfishing Boats User Testimonials
Experienced catfish anglers like Phil King and the Masingale tournament team have praised SeaArk boats for their performance and catfish-friendly features. The endorsement from seasoned anglers suggests that SeaArk boats are well-suited for catfish fishing.
Sea Ark Boats: Is it the Best Boat for Catfishing?
SeaArk has positioned itself as a leading brand in the catfish boat category. The innovative designs, emphasis on catfish-specific features, and favorable feedback from anglers suggest that SeaArk boats are among the most suitable alternatives for catfishing. The ProCat Series, in particular, has garnered popularity in catfish tournaments, further solidifying SeaArk's reputation in the catfishing community. If you're considering a boat for catfishing, exploring SeaArk's offerings would be a wise choice.
2) Lowe Catfishing Boats
A top pick with excellent features.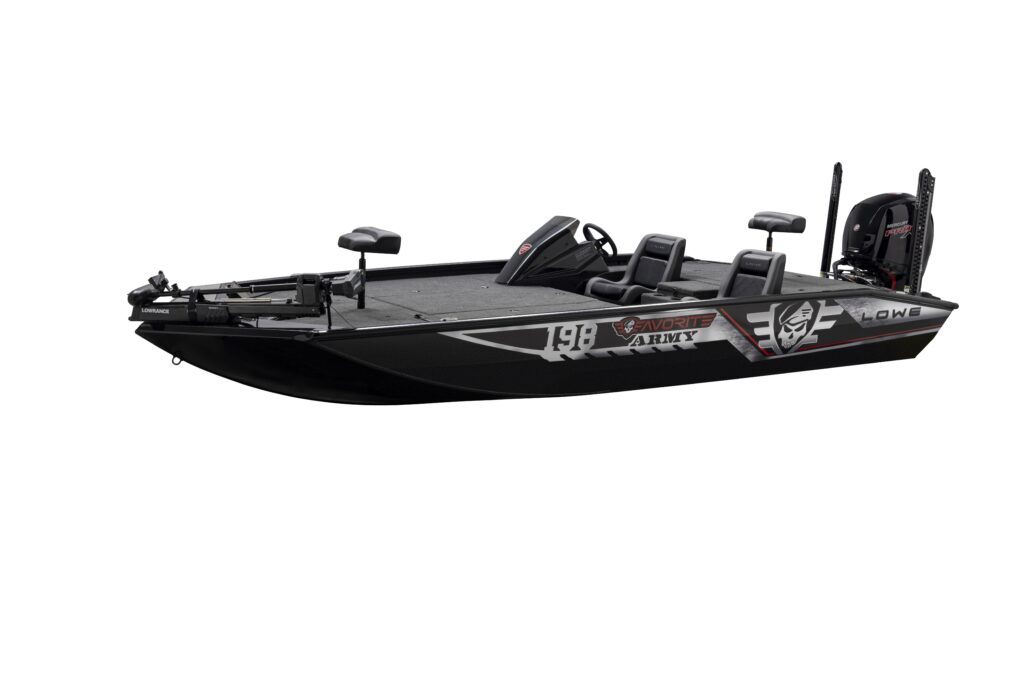 Lowe, a well-established name in the boating industry, offers a range of catfishing boats designed to cater to the needs of avid catfish anglers. Let's evaluate the famous Lowe Catfish 20 and assess whether the brand is among the best options for catfishing.
Key Features of the Lowe Catfish 20
All-Welded Aluminum Construction: The Lowe Catfish 20 boasts a rugged and durable all-welded aluminum construction. This design ensures longevity and sturdiness, crucial for enduring the demands of catfishing in various waters.
Side-Console Configuration: The side-console setup provides convenient control and visibility for the angler, enabling easy maneuvering and access to essential instruments.
Swivel Seating: Swivel seating enhances comfort and flexibility, allowing anglers to adjust their positions for optimum fishing angles and relaxation during extended hours on the water.
Catfish Rod Holder Rack System: The built-in rod holder/rack system is a valuable addition for catfish anglers, providing efficient storage and quick access to fishing rods, a feature highly valued during active fishing sessions.
Ample Livewell Capacity: The 60-gallon bow livewell and 16-gallon baitwell offer substantial storage for live bait and caught catfish. This ensures that fish remain healthy and vibrant throughout the angling experience.
Locking Rod Compartment: The locking port rod compartment, with an impressive 8-foot 6-inch rod length, is designed to securely house fishing rods, protecting valuable equipment during transportation and storage.
Wash-Down System: The wash-down system is a practical addition, enabling anglers to clean their boat efficiently after a successful day of fishing, maintaining a clean and well-maintained vessel.
150 HP Max Engine: The Lowe Catfish 20 is compatible with engines up to 150 horsepower, providing ample power for traversing waterways and reaching your favorite fishing spots.
Is the Lowe Catfish 20 among the Best Boats for Catfishing?
Lowe's Catfish 20 appears to be a well-equipped and thoughtfully designed vessel tailored to the specific needs of catfish anglers. Its all-welded aluminum construction ensures durability, while the inclusion of swivel seating, rod holder rack system, and ample livewell capacity underscores its catfishing-oriented features.
While the information provided focuses on the Lowe Catfish 20 model, Lowe as a brand is renowned for its commitment to quality and craftsmanship. They offer a variety of models that cater to different preferences and budgets, further solidifying their reputation in the boating community.
The affordability of the Lowe Catfish 20, starting at $26,000, makes it an attractive option for anglers seeking a capable catfishing boat without breaking the bank. However, as with any boat purchase, it's recommended to explore the boat's specifications, user reviews, and consult with fellow anglers to determine if it aligns with your specific catfishing requirements.
In conclusion, Lowe's dedication to designing catfishing-focused boats and the appealing features of the Lowe Catfish 20 model suggest that Lowe is indeed among the contenders for being one of the best boat brands for catfishing enthusiasts.
3) Xpress Boats
Specializes in catfish fishing boats and offers financing.

Xpress Boats, a renowned name in the boating industry, has gained recognition for its claim to be the original and best builder of all-welded, high-performance aluminum sport and fishing boats. With a versatile lineup of 6 different models ranging from 16 to 23 feet, Xpress Boats has made its mark in the world of catfishing vessels. Xpress Boats Catfish line was specifically designed to be th best boat for catfishing.
A Brief History Of Xpress Boats
Xpress Boats has been a family-owned and operated business since 1966, starting in a small schoolhouse in Friendship, Arkansas, under the name Aluma-Weld. The company's legacy has continued through generations, with Kermit Bryant's daughter and son-in-law, Debbie and Rodney Herndon, taking over in 1979. The company's commitment to innovation became evident in the late '80s with the introduction of the groundbreaking 'Hyper-Lift Hull,' revolutionizing aluminum boat performance and style.
Reliability and Durability
Xpress Boats have built a reputation for reliability over their more than 50 years in the industry. Their all-welded aluminum construction, utilizing the finest 5052 aluminum alloy, ensures durability and longevity. Welded aluminum sheets replace drilled holes, enhancing the vessel's resilience and minimizing potential leakage issues.
Older Models and Parts
While concerns about old welds on older Xpress boats exist, the company offers a structural warranty on transom and hull seam welds. Spare parts for both older and newer models can be obtained through registered Xpress boat dealers, online boating websites, and active boating forums.
Common Issues and Comparisons
Typical issues reported with Xpress Boats include occasional bad welding techniques, wet storage compartments, and some complaints about rough water performance. However, Xpress Boats generally enjoy a positive reputation compared to other aluminum boat brands. The high-grade 5052 aluminum alloy construction, meticulous craftsmanship, and rigorous quality checks contribute to their reliability.
Value and Current Production
Xpress Boats are known for holding their value well, with many boat owners experiencing minimal depreciation after a few years of ownership. The brand's commitment to producing quality and affordable boats continues to drive their success, with ongoing manufacturing at their 250,000 square foot facility in Hot Springs, Arkansas. Xpress Boats offer a diverse range of models tailored for various boating and fishing preferences.
Xpress Boats is a recognised brand to manufacture the best Boats for Catfishing
Xpress Boats have solidified their position as a reliable and respected brand in the world of catfishing boats. With a rich history, durable construction, and a commitment to value, Xpress Boats offer anglers a promising option for exploring waters and pursuing their fishing passions.
4) Other Center Console Boats that make best boats for Catfishing
Center Console boats make great boats for Catfishing. They are often more expensive and challenging to tow.
The center console design provides an open layout, allowing for easy movement and casting around the entire boat. This can be advantageous when catfishing, as it provides anglers with ample space to work with their fishing gear, especially when dealing with large and powerful catfish.
The open bow and stern decks on center console boats facilitate easy casting and catching. This is important for catfish anglers who may need to cast their lines to specific spots or engage in active fishing techniques.
Many center console boats come with integrated options such as rod holders, which can be beneficial for catfishing where multiple rods are often used. These boats can also be customized with additional features like bait wells, which can be useful for keeping live bait for catfish.
Center console boats are designed to handle rough waters, which can be advantageous for anglers who want to venture into larger bodies of water, such as lakes or rivers where catfish are abundant. The sturdy hull design helps provide stability and a smoother ride, even in choppy conditions.
Center console boats often come equipped with powerful outboard engines, allowing anglers to reach fishing spots quickly and efficiently. This can be beneficial for catfish anglers who want to cover larger areas of water in search of their catch.
While center console boats are more commonly associated with ocean fishing, their versatility and open layout can make them a suitable choice for catfishing. Especially, if you plan to fish in larger bodies of water or prefer an open deck for maneuverability. The manufacturers known to make good center console boats which are worth including among the best boats for catfishing are:
Boston Whaler
Caymas Boats
Contender Boats
Everglades Boats
Freeman Boatworks
Grady-White Boats
HCB Yachts
Invincible Boats
Pursuit Boats
Regulator Boats
SeaVee Boats
Solace Boats
Valhalla Boatworks
5) Non-Motorized Best Boats for Catfishing
A budget-friendly option that can be customized later.
When considering non-motorized boats for catfishing, factors like stability, durability, and practical features become essential. Here are a few options that are well-suited for catfishing:
Jon Boats: Jon boats are a classic choice for catfishing due to their simplicity and stability. They often come in various sizes, making them suitable for different bodies of water. Look for models with wide beams for added stability and ample space for gear.
Canoe: Canoes are versatile and lightweight options for catfishing in calmer waters. They offer easy maneuverability and can be paddled to your desired fishing spots. Many canoes come with integrated storage compartments for gear.
Kayak: Fishing kayaks, especially sit-on-top models, provide a stable plataforma for catfishing. They often have built-in rod holders, storage hatches, and ample deck space for your fishing gear. Kayaks are suitable for fishing in smaller lakes, ponds, and calm rivers.
Rowboats: Traditional rowboats can be a good choice for catfishing in larger bodies of water. They allow you to cover more distance with oars while providing a stable platform for fishing. Look for rowboats with comfortable seating and storage options.
Inflatable Pontoon Boats: Inflatable pontoon boats offer stability and a unique vantage point for catfishing. They often come with adjustable seating and storage compartments. These boats are versatile and can be easily transported and assembled.
Paddle Boats: Paddle boats with fishing-friendly features can also be considered. They combine the convenience of pedaling with fishing functionality, making them suitable for calm waters and leisurely catfishing trips.
Conclusion: Best Boats for Catfishing
In conclusion, selecting the ideal boat for catfishing is a decision that involves a careful evaluation of various factors to ensure an optimal fishing experience. Throughout this comprehensive guide, we have explored a range of boat options, each with its unique advantages for catfish enthusiasts. Let's recap some key points to guide you on your journey to purchasing the best catfishing boat:
Aluminum Boats: Aluminum boats have emerged as the go-to choice for catfishing due to their durability, stability, and versatility. They are designed to withstand the demands of catfish angling while offering spacious layouts for comfortable fishing sessions. The lightweight nature of aluminum boats, exemplified by the SeaArk and Lowe models, makes them easy to transport and maneuver, enhancing accessibility to prime fishing spots.
Center Console Boats: Center console boats, like those offered by Xpress Boats, bring the advantages of an open layout and a sturdy hull design. These features contribute to easy casting, maneuverability, and the ability to tackle rough waters. Xpress Boats, with their focus on performance and safety, provide a reliable platform for catfishing pursuits. The Caymas DV 19 for example has specialized fishing features, including a high-capacity rear insulated livewell with a divider, retractable rod buckles, and an integrated fish measuring board. This boat offers a balanced blend of functionality and innovation, ensuring you're well-equipped to handle various catfishing scenarios.
Non-Motorized Options: For anglers seeking simplicity and a connection with nature, non-motorized options such as canoes, kayaks, y inflatable pontoon boats offer a unique approach to catfishing. These boats are particularly suitable for calm waters and smaller fishing environments, providing an intimate experience with the water and the fish.
When comparing these options, consider your fishing preferences and locations. Aluminum boats excel in stability and durability, ideal for varied waters and conditions. Center console boats provide the versatility to venture into larger bodies of water, combining both performance and space. Non-motorized boats offer simplicity and a close connection to your fishing environment, making them a great choice for tranquil outings.
Before making your purchase, factor in your budget, preferred fishing style, and the waters you intend to explore. Ultimately, the best catfishing boat is one that aligns with your needs and enhances your catfishing adventures. As you embark on your journey to select the perfect boat, keep in mind the valuable insights shared in this guide, and set sail for memorable and successful catfishing experiences.
¡Lamentamos que este post no te haya resultado útil!
¡Mejoremos este post!
Cuéntanos ¿cómo podemos mejorar este post?