If you're looking for the perfect boat to take your family on a fun and memorable adventure, you've come to the right place. InSmoothWaters.com is the go-to source for expert insights and recommendations on the best family boats. We have all the information you need to make an informed decision about which boat is right for you. In this article, we'll review the Best Boats for Family Fun that are unconventional. We take a look on the different types of boats available, the size and motor options, essential features, safety considerations, budgeting tips, and the best places to buy a boat. So, read on to learn more and start exploring the possibilities today!
Unconventional Best Boats for Family Fun

Unconventional best boats for family fun introduce a sense of adventure and uniqueness to water outings. Amphibious boats take family exploration to new heights, seamlessly transitioning from water to land and allowing for exciting adventures in both environments. Glass-bottom boats provide an extraordinary opportunity to explore the underwater world without getting wet, captivating families with marine life sightings. Hydrofoil boats offer an exhilarating experience with their ability to lift above the water's surface, providing a smoother and faster ride for an adrenaline-packed outing. For a touch of luxury and unconventional living, floating homes combine the comfort of a house with the freedom to move on the water, making family vacations truly extraordinary. Lastly, floating movie theaters create unforgettable family movie nights, as the boat transforms into a captivating cinema under the stars. These unconventional boats ensure family fun like no other, fostering unforgettable memories and forging unique bonds with the water and natur
Party Barges: Ultimate Fun on the Water
Party Barges are the epitome of family fun on the water! These upgraded versions of pontoon boats come equipped with exciting entertainment features that turn any outing into a lively party. With built-in water slides, mini-golf courses, and music systems, everyone in the family can enjoy a day full of laughter and excitement. Whether you're celebrating a special occasion, hosting a gathering with friends, or simply seeking an unforgettable day on the water, a party barge guarantees an unforgettable experience for everyone aboard.
Amphibious Boats: Adventure on Water and Land
Unleash your family's sense of adventure with amphibious boats! Imagine a boat that effortlessly transitions from water to land, allowing your family to explore both aquatic and terrestrial environments. These versatile vessels open up a world of exciting and unconventional adventures, enabling you to venture from the water directly onto remote shores or unexplored islands. Amphibious boats offer a unique opportunity to experience nature like never before, making them a top choice for adventurous families seeking new horizons.
Floating Homes: Luxury Living on the Water
Take your family's boating experience to new heights with a floating home! These extraordinary vessels blend the comfort of a house with the freedom to move on the water. With multiple stories, spacious interiors, and luxurious amenities like rooftop decks, floating homes offer a one-of-a-kind way to live and explore the water. Imagine waking up to breathtaking views, enjoying dinner on the deck, and falling asleep to the gentle rocking of the waves. Floating homes redefine family living and create lasting memories on the water.
Glass-Bottom Boats: A Window into the Underwater World
For a truly mesmerizing family excursion, step aboard a glass-bottom boat! These unique vessels provide a clear view of the marine life beneath, allowing your family to explore the fascinating underwater world without getting wet. Kids and adults alike will be captivated by the colorful coral reefs, playful marine creatures, and mysterious shipwrecks visible through the glass floor. Glass-bottom boats provide an educational and awe-inspiring experience, making them a fantastic choice for curious and nature-loving families.
Hydrofoil Boats: Innovation and Thrills on the Water
Hydrofoil boats are an exciting addition to your family outings! These innovative vessels use wings or foils to lift the hull above the water's surface, resulting in a smoother and faster ride. Enjoy the thrill and excitement as your hydrofoil boat glides effortlessly through the water, providing an unforgettable experience for your entire family.
Catamarans with Trampolines: Bouncing and Relaxing Fun
Catamarans with trampolines between the hulls offer a unique and entertaining experience for your family. Not only can you enjoy bouncing and playing on the trampolines, but they also provide additional space for sunbathing and relaxing while anchored in calm waters. These catamarans ensure endless fun and relaxation on the water for everyone.
Submersible Boats: Dive into the Underwater World
Take your family's water adventures to the next level with a submersible boat! These incredible vessels can dive underwater, allowing your family to explore and experience the wonders of the underwater world. Discover marine life up close and enjoy an immersive and educational experience that your family will cherish.
Electric Boats: Eco-Friendly and Quiet Family Outings
Choose an eco-friendly option for your family outings with electric boats! These environmentally conscious vessels offer quiet and serene rides, allowing your family to enjoy nature without disturbing the environment. Enjoy peaceful cruising and create lasting memories on the water with an electric boat.
Retro-Styled Boats: Nostalgic and Stylish Family Adventures
Add a touch of nostalgia and style to your family's boating experiences with retro-styled boats. Choose a vintage-inspired boat design with retro colors and furnishings, creating a unique and charming atmosphere for your outings. Enjoy timeless elegance and classic appeal while making unforgettable memories on the water.
Floating Movie Theaters: Family Movie Nights Under the Stars
Transform your boat into a floating movie theater for delightful family movie nights! Install a large screen and a projector onboard to enjoy movies under the stars while anchored in a peaceful cove. Combine the magic of cinema with the serenity of the water for an unforgettable family experience.
Conventional Best Boats for Family Fun
Conventional best boats for family fun typically include versatile and spacious vessels that cater to a wide range of activities. Bowriders and deck boats are popular choices, offering ample seating and open areas for socializing and water sports. Pontoon boats are favored for their stability and comfort, providing a great platform for leisurely cruises and picnics on the water. Cabin cruisers are perfect for extended family trips, offering comfortable accommodations and amenities for overnight stays. Sailboats provide a unique and tranquil experience, allowing families to bond while sailing on the open waters. For families seeking exhilarating adventures, ski boats and wakeboard boats offer thrilling water sports opportunities. These conventional boats ensure that every member of the family can have a great time together, creating cherished memories and experiences on the water.
Bowriders: Versatile Family Fun Boats
Bowriders are perfect for family fun, offering ample seating space, a spacious bow area for lounging, and a versatile design suitable for water sports, fishing, and leisurely cruising. They provide an enjoyable experience for the whole family, whether it's a day of tubing, picnicking on the water, or simply relaxing in the sun.
Where to Purchase: You can find various models of bowriders for sale in the United States on reputable boat sales websites such as BoatTrader.
Deck Boats: Spacious and Entertaining Family Vessels
Deck boats are designed to maximize space, providing a large, open deck area for family members to relax, socialize, and enjoy water activities together. With generous seating and amenities, these boats are ideal for hosting family gatherings, water parties, and watersports adventures.
Where to Purchase: To explore and purchase deck boats in the United States, visit BoatNation to find a selection of available boats.
Pontoon Boats: Stable and Relaxing Family Cruisers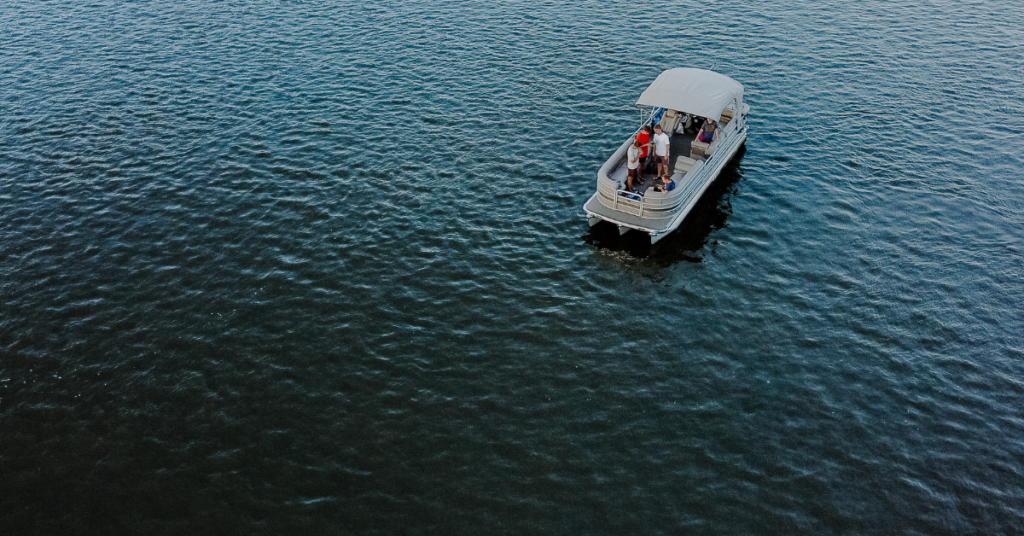 Pontoon boats offer stability and comfort, making them perfect for leisurely family cruises, fishing trips, and swimming outings. Their spacious layout allows everyone to spread out and enjoy quality time on the water.
Where to Purchase: Discover a wide range of pontoon boats available for purchase in the United States on PontoonsOnly.
Cabin Cruisers: Family Adventures on the Water
Cabin cruisers are designed for extended family trips, providing comfortable accommodation, amenities, and protection from the elements. They offer the opportunity to explore new destinations, create lasting memories, and experience family bonding on the open seas.
Where to Purchase: For a selection of cabin cruisers available in the United States, check out YachtWorld.
Personal Watercrafts (PWCs): Adrenaline-Packed Family Thrills
Personal watercrafts, or jet skis, offer exhilarating water adventures for the whole family. Whether it's riding the waves, exploring secluded coves, or towing inflatables, PWCs are an excellent choice for adrenaline-packed family fun.
Where to Purchase: Browse a variety of PWCs for sale in the United States on PWCTrader.
Sailboats: Family Sailing Adventures
Sailboats provide a unique and serene experience for families who enjoy the tranquility of sailing. Cruising on a sailboat allows your family to connect with nature, learn sailing skills, and explore new horizons.
Where to Purchase: Find a selection of sailboats available for purchase in the United States on SailboatListings.
Boat Types
Different types of boats offer different levels of performance and capabilities for family adventures. Choosing the right boat type is key to having a memorable and safe experience on the water.
Cruisers are larger vessels, designed for comfort, stability, and storage space, and are ideal for overnight trips with the family. Pontoon boats are great for relaxed days on the water, and provide space for lounging, fishing, and entertaining. Bowriders are perfect for speed and maneuverability, with comfortable seating for a family. Catamarans are ideal for calm waters and provide a stable ride with plenty of seating. Wake boats are perfect for watersports, and personal watercraft are great for a thrilling adventure.
Each type of boat offers unique characteristics and capabilities, so it's important to consider all the options when choosing the best boat for family adventures.
Boat Size
Finding the right size boat for your family's adventure is essential for your safety and enjoyment. Size is determined by the length, beam, and number of passengers it can accommodate. When looking for a boat, consider the length of the waterway you plan to travel, the size of your family, and if you will need it for overnight trips.
Length is an important factor when selecting the perfect boat. A smaller boat is ideal for shorter waterway trips while a larger boat is best suited for longer ones. The beam refers to the boat's width and affects the stability and maneuverability of the boat. The maximum passengers your boat can accommodate should be taken into account when shopping for the perfect size. Finally, for overnight trips, you'll need to make sure your boat is large enough to provide comfortable sleeping accommodations.
Motor Options
When it comes to motor options, there are several that provide different benefits. Outboard engines are the most popular choice for boats, given their ease of use, affordability, and overall reliability. Inboard engines provide a lot of power and can be used to tow skiers or wakeboarders. Electric motors are great for applications such as fishing or cruising, and they're also environmentally friendly. No matter which option you choose, make sure it's suitable for the size and type of boat you're looking for. You can learn more about motor options and other essential features on InSmoothWaters.com.
Essential Features
When shopping for a boat, there are certain essential features to look for. Transom storage allows you to store items such as life jackets and other supplies. Helm seating is important in order for the captain to have a comfortable and secure spot to sit. Rod holders are great for anglers, allowing them to store their rods while still having their hands free. Bimini tops provide protection from the sun and can be easily stored away when not in use. For those who like to listen to music while out on the water, a sound system can be a great addition. All of these features are significant for an enjoyable experience on the water. With the right boat, you can make lasting memories and enjoy the views of the open waters.
Safety Considerations
When purchasing a boat, there are a few safety considerations to keep in mind. First and foremost, make sure to equip your vessel with Coast Guard approved life jackets for everyone who will be onboard. Additionally, it's important to have an appropriate number of fire extinguishers and first aid kits onboard, as well as any other necessary emergency signaling devices. All of these items are essential for ensuring everyone's safety and peace of mind when out on the water. Make sure to check with state and local laws to confirm all safety items that must be present on your boat.
Budget
When looking to buy a boat, it's significant to set a budget that works for your needs. Determining the right budget for the type of boat you're looking for is a key part of the purchasing process. It's also important to consider what features you're willing to sacrifice in order to stay within the budget. Shopping for used boats can be an effective way to stay within your budget, while still getting the features you want. InSmoothWaters.com has a wealth of resources to help you find a boat within your budget. With their expert insights, you can find the perfect boat for your family's next adventure!
Where to Buy
When looking for a boat, there are several options available to shop from. Boat dealers provide comprehensive services and a variety of boats to choose from. There are also online classifieds and private parties that may offer deals on certain boats.
Boat dealers offer a range of boats, from fishing boats to sailing boats, and they also offer services such as boat maintenance and repairs. They also provide additional safety and navigational equipment for the boat. Online classifieds are a great way to find used boats that may fit your budget. Private parties may also offer boats at a lower cost and may be willing to negotiate on price.
No matter where you decide to shop for your boat, it is important to research the options available and compare prices. Doing your research ahead of time will help you find the perfect boat for your family adventures.
Wrap Up
It can seem overwhelming when it comes to selecting the perfect boat for family adventures, but with the right guidance and expert insights, you can find the ideal vessel for your family. When deciding on your perfect boat, consider the type, size, motor, and features to ensure that your boat is safe and suitable for the activities you plan to do. Budgeting for a boat is also essential, so make sure to think about the cost and look for used boats or sacrifice features if you want to stay within your set budget. There are several places to purchase a boat such as boat dealers, online classifieds, private parties, and more. Ultimately, with the right research and recommendations, you can find the perfect boat for your family at InSmoothWaters.com. So what are you waiting for? Start exploring today and find your perfect vessel for family fun.
We are sorry that this post was not useful for you!
Let us improve this post!
Tell us how we can improve this post?