Perfect for Baby Girl or Boy
Swimways
❤️ What we love about this product:
- More affordable than most
- Creative design
- Thicker exterior materials than most other products
- Pump included
- Durable design
- Wide canopy
- Straps included to keep infants in place while they're enjoying the pool
Best Value
❤️ What we love about this product:
- More affordable than most
- Creative design
- Thicker exterior materials than most other products
- Pump included
Perfect for Baby Girl or Boy
❤️ What we love about this product:
- Durable design
- Wide canopy
- Straps included to keep infants in place while they're enjoying the pool
Finding the best infant float suit is an essential part of taking any small child down to the water. These infant float suit reviews focus on options for children 6-12 months old, and this article also includes some other considerations to consider before you go shopping.
This guide focuses on Baby Float suits for 6-12 month old Infants. If your kid's age is older, consifder the following:
The Best Baby float suit 6-12 months
This section includes our seven top infant float suits. These reviews are in a numbered list, but the numbers themselves are not a ranking, and the reviews are not in any particular order.
Parner Swimming Baby Float Inflatable Baby Swimming Pool Floats Ring with Safety Bottom Support and Swim Buoy, Great Baby Water Float Suit for Newborn Baby Kid Toddler Age of 6-36 Months, Large
360°All -round Protection:2020 New upgraded baby swimming floats, equipped with the detachable float, Soft bottom support, provides triple buoyancy. Protecting your babies from tipping over and slipping out. So that to swim more balanced. One button to take off the float quickly!
Baby Safety Material:Parner baby float is made of high quality PVC material, which thickness is 0.35mm, enough durable. The surface of our inflatable baby float is soft and no harm for babies skin.
2 Swimming Modes:Our baby inflatable swimming floats are suitable for 40°breaststroke and backstroke. Ideal for creating a correct swimming posture of your babies in their childhood. Added a drag rope allow to play with your children. And increase the interaction between parents and children, making family activities more interesting.
Parner's swimming baby float is a flexible and creative approach to pool safety for toddlers, and it stands out in an industry dominated by simple ring floaties. This product uses unusually wide floats to help prevent rollovers while also adding soft bottom support with an extra detachable float.
The front side is particularly nice here, with a raised bumper that encourages good posture and natural swimming motions. A robust harness ensures babies can't slip out of the unit, either, and that's essential for a high-quality product.
The exterior of this product uses 0.35mm PVC, which is reasonably durable and safe for infants to play around with. However, you should keep in mind that this is not a real safety device like a life jacket, and it requires oversight from an adult at all times.
Pros:
More affordable than most other pool safety devices
Creative design is easy for babies to use and helps prevent accidents
It has thicker exterior materials than most other products
It comes with a miniature air pump for inflating
Cons:
This is not a life-saving product, just a flotation aid
Inflating it incorrectly could lead to overturning
Only suitable for teaching the breaststroke or backstroke movements
Sale
LAYCOL Baby Swimming Float Inflatable Baby Pool Float Ring Newest with Sun Protection Canopy,add Tail no flip Over for Age of 3-36 Months
【Removable Canopy】The baby float for pool come with a breathable and removable UPF50+ sun canopy to protects baby's skin away from sun,enjoying summer time anytime,anywhere
【Baby-safety material】Made of durable leak-proof PVC material,passed the CPC Standards which is the highest and strictest international safety standards of toys,making it 100% safe and non-toxic,friendly to baby's skin
【Multi-Flod Safety Protection】Double-layered Air Chamber,Raised Front,Widened Sides,Shoulder Strap,Abdomen Support,Bottom Croth,keeping infant in place to advoid forward overturning,flip over or sliding out,safety is always the first
First off, the sun protection canopy is a real winner. Knowing that my little one's delicate skin is shielded from the sun's rays gave me tremendous peace of mind. We were able to enjoy our time in the pool without worrying about sunburn. The canopy is also removable, so on cloudier days, we can take it off and let my toddler soak up the sun.
The construction of this float is impressive. It's made from durable, safe PVC material that's passed all the strict safety standards. Once it's inflated, you can feel its sturdiness, and the multiple safety features like the double-layered air chambers and shoulder straps truly keep my child secure in the water. As a parent, safety is always my top priority, and this float checks all the boxes.
The best part? The two swim styles – backstroke and breaststroke – have made pool time a blast. My toddler loves the variety, and I've noticed that it's helped build his confidence in the water. It's like a mini swimming lesson every time we use it!
As for the cons, I did notice that finding the right inflation level took a bit of trial and error. However, once we got it just right, it provided the perfect balance of stability and comfort for my little one. And yes, adult supervision is a must, as with any water activity involving kids.
All in all, the LAYCOL Baby Swimming Float has made our water adventures safer, more enjoyable, and memorable. It's become an essential part of our summer fun, and I highly recommend it to fellow parents looking to create lasting water memories with their toddlers.
Pros:
Reasonably affordable
Especially good for babies who are prone to flopping around
The canopy is an outstanding addition
Cons:
It doesn't have safety straps built-in
Not a life-saving device
Could generate small amounts of static electricity
Sale
SwimWays Baby Spring Float with Adjustable Canopy and UPF Sun Protection, Green Octopus
BABY POOL FLOAT: Features soft seat with adjustable 3-point harness to keep baby secure as well as a mesh play space so your little one can splash and play with pool and water toys
PATENTED INNER SPRING DESIGN: Inner spring sewn along the edge of the outermost inflation chamber of the float provides a comfortable and secure water introduction experience
ADJUSTABLE SUN CANOPY: Removable sun canopy offers a shady spot with UPF 50+ sun protection, and the mesh sides allow you to maintain eye contact with your baby at every angle
There's something to be said for products that minimize their use of air for flotation. This product doesn't entirely avoid that, but it relies far less on air than most of the other products on this list, which makes it much better for anyone who doesn't want to pump things up as much.
SwimWays' floating device is particularly useful for introducing children to the water. The thoughtful design helps them stay mostly out of the water, although they may be able to kick their feet in it just a little as they grow. Meanwhile, a sturdy strap helps them stay in place, which a tall, non-inflatable cover provides shade similar to a stroller.
However, this product is also more expensive than many of our other options, and it's not as useful as choices that let you set a newborn in the pool itself. For that reason, it's hard to recommend this over some other options, though it could be useful for several months or for children who have a particularly hard time getting comfortable in the pool.
Pros:
A durable design that doesn't rely as much on air flotation
The wide canopy offers a familiar stroller-like feeling
Includes straps to keep infants in place while they're enjoying the pool
Cons:
More for floating on a pool than going into it
Most children will outgrow this product fairly quickly
Still requires some air
iGeeKid Baby Inflatable Pool Float with Canopy, Safty Seat for Toddler Infant Car Shaped Babies Swim Ring Pool Spring Floaties Summer Beach Outdoor Play (Blue)
Inflate Boat Size & Material : approx 21*32*23inch; Inner Seat Size: approx 9.5*13.5inch; Leg Hole Size: approx 2.8*4.7inch. Load bearing 0-44lb. The baby pool inflatable car boats are made of eco-friendly PVC material special for kids design(thicker than normal) and environment friendly ink printing, colorful and cute design is deeply loved by babies, just enjoy the fun of summer swimming.
Sunshade Canopy Design: Sunshade canopy offers protection for your baby from the sun and ultraviolet rays. Our swim car boats also have the similar design of automobile with a cute steering wheel that does spin and an adorable horn that beeps in the middle, which give more fun for your baby in the pool.
Upgrade Comfortable Seat: The boat aren't any sharp edges. The seat of swim float boat is comfortable, because thicken and inflatable seat cushion makes baby bottom feel no tight and takes good care of baby's tender skin. Effectively prevents baby get hurt during moving and playing.
iGeeKid's pool float is essentially the opposite of our previous product. Rather than minimizing inflation space, it maximizes it with thick walls and canopy tubes that provide soft yet resilient support for playing in the pool.
The main hard part of this item is a steering wheel similar to the one on our #2 product, complete with a child-friendly beeping horn to help them stay involved. This float otherwise has no sharp edges and relies on soft supports and a wide base to keep young children upright.
Unlike most of the other products here, iGeeKid's float comes in two colors: blue/green and pink/yellow. This is a surprising level of variety for products in this category, but it's nice to have a choice here.
Pros:
Large size offers excellent flotation support as newborns continue growing
Wide shade offers protection from the sun
Difficult to fall out of thanks to its high walls
Cons:
More vulnerable to punctures than some other options
The horn could get annoying if kids keep pressing it
Does not come with a fast inflation device
Shark Shape Baby Swimming Pool Float Ring with Removable Sun Canopy Safety Seat, Newest Inflatable Babies Spring Floatie Double Airbag Swim Trainer Newborn Infant Toddler, 6-36 Months
【Cute Shark Design & UPF 50+ Removable Canopy】Cute shark baby pool float with realistic teeth and eyes. Comes with a removable canopy which can attach and detach easily. Retractable to achieve a range of 120° UPF 50+ sun protection, better care for the baby's growth. Interactive pool toy for kids to swim learning and having fun in the pool.
【Sizes for Your Baby】Measures 33.4"L x 25 "W x 19.7"H. Suitable for the age 6-36 months, baby, infant, toddler, children, kids, in the range of 15.4-33 lbs. Folded Canopy size is 43.3"L x19.6 "W. Comfortable seat length is 9.4 inch.
Multiple protection, Prevent Baby From Flipping】Dual airbags provide an ideal swim position with abdomen support and bottom cloth, protect baby in all aspects. It is mainly supported by the strength of the shoulder and equipped with soft cushion support to protect the bottom of the baby from slipping out or backwards.
Camlimbo's floater is a strong competitor for the first item we reviewed, but a few details distinguish it from its competition. First, the large size is suitable for children ranging from 6 to 30 months, which offers plenty of use time after you buy it.
Second, the combination of shoulder straps and crotch supports minimize the possibility of sliding around uncomfortable, forcing the floater to instead move with your child. A dual airbag setup provides extra support and protection, as well as making it easier to adjust the feel of the float without significantly impacting its effectiveness.
However, this does have one major drawback compared to the first product we reviewed: it doesn't have an extra back float. That's not a huge problem, but we value safety more than anything else when considering products for children. That said, this toy does come in three different colors, which is a nice bonus.
Pros:
It has a robust and efficient design
An abdomen support panel provides a comfortable resting place
The placement of the airbags encourages a natural swimming motion
Comes in several colors
Cons:
Has less flotation power than the first product we reviewed
Can be hard to find the small version for 6-12 month infants
Good, but hard to justify over the slightly better overall product we reviewed first
Swimschool 2-in-1 Swim System, Baby Boat & Tot Trainer, Adjustable Safety Strap, Raspberry/Pink
Baby boat level 1: introduce baby to water Blue 2-in-1 pool float swim training brings the joys of water to baby; recommended for ages 6-24 months.
Tot trainer level 2: Tot trainer supports your child in feeling comfortable in the water, recommended for ages 24-48 months.
Buoyant baby boat: adjustable and removable canopy baby boat inflatable float; measures 25" (63.5 cm) in diameter.
I was really excited to try out the SwimSchool 2-in-1 Swim System, Baby Boat & Tot Trainer with my little one, and I must say, it's been a wonderful addition to our pool time adventures!
This product is designed with both babies and toddlers in mind, making it a versatile option for different age ranges. The Baby Boat is perfect for introducing your baby to the water, and the adjustable and removable canopy provides excellent sun protection. The Tot Trainer is great for toddlers who are still building their confidence in the water. It features a quick-drying fabric inner tube with dual air chambers, making it comfortable and safe for your little one.
What I really appreciate about this system is the adjustable safety strap. It ensures a secure fit for both the Baby Boat and Tot Trainer modes, allowing you to position your child at the right water depth. This feature provides peace of mind and ensures that your child is comfortable and safe while enjoying their time in the water.
In terms of usability, this swim system is easy to inflate and deflate, making it convenient for portability and storage. I found the size to be suitable for my child's age range, as it's recommended for 6 months to 48 months. The pink color and overall design are appealing, and the quality of the product seems sturdy and well-made.
While I haven't encountered any major cons with this product, it's important to note that adult supervision is always necessary when using any type of floatation device with young children. It's also worth mentioning that the outer floatie might require careful handling to prevent deflation, as some customers have reported issues with that.
Overall, the SwimSchool 2-in-1 Swim System has enhanced our pool time experience with our toddler. It's a versatile, safe, and enjoyable option for introducing young children to the joys of water. Whether it's the Baby Boat or Tot Trainer mode, this swim system has provided us with great moments and smiles in the pool.
Pros:
The system includes both a Baby Boat and a Tot Trainer, catering to different age ranges and swimming abilities.
Adjustable Safety Strap: The adjustable safety strap ensures a secure fit for your child, allowing them to be positioned at the right water depth in both modes.
Sun Protection: The removable canopy on the Baby Boat provides excellent sun protection for your little one's sensitive skin.
Quick Drying Fabric: The Tot Trainer's quick-drying fabric inner tube is convenient for use in and out of the water.
Ease of Inflation and Deflation: The system is easy to inflate and deflate, making it convenient for portability and storage.
Comfortable and Secure: The design and materials used provide comfort for your child while ensuring they stay secure in the water.
Sturdy Construction: The overall build quality seems sturdy and well-made, contributing to the safety and durability of the product.
Cons:
Outer Floatie Deflation: Some users have reported issues with the outer floatie deflating or getting punctured, which might require careful handling.
Adult Supervision Required: As with any floatation device, adult supervision is crucial when using the SwimSchool system to ensure your child's safety in the water.
Limited Use: While suitable for babies and toddlers, this product might not be ideal for older children who have already gained more confidence in the water.
Size Constraints: The size might not fit all bathtubs, especially if using the inner tube only.
Potential for Tipping: Depending on your child's movements, there might be a slight risk of tipping over in certain situations, emphasizing the need for vigilant adult supervision.
Inner Tube Maintenance: The inner tube might require periodic inspection and maintenance to ensure it remains securely inflated.
Durability Concerns: While the build quality is generally good, some users have expressed concerns about the durability of certain components over time.
Mambobaby Float Upgrade Add Tail Baby Float with Canopy for Infant Waist Swimming Ring Swim Trainer Non-Inflatable Floats Toys with Adjustable Safety Strap (Flamingo)
【360° FULL PROTECTION】Add removable tail, Prevent baby from flipping backward. Upgraded safety buckle, The Upgraded safety buckle provides 5 support points and perfect 40°angle to keep a balance to avoid baby flip over and fall off. Upgraded into 2 swim ways which are backstroke and breaststroke with different buckle method. Backstroke Suitable for 3~6months baby, breaststroke Suitable for 3~24months baby.
Fits for Children weight from 13 to 40 lbs. Suitable for Kids 3~24months. Adjustable buckle at the back to suit most infant sizes. This is very easy to Adjust. Unfasten safety clip and easily slip on. You can tighten up as necessary to avoid any slipping. Helps move freely in a comfortable position.
【3RD UPGRADED VERSION】HECCEI Deluxe Edition Baby Swim Float comes with a removable canopy. The removable assemble UV-PROOF canopy sun canopy covered with UPF 50+ sunscreen coating protects baby's skin away from the sun. Make baby enjoy the swimming fun in summer.
All six of the other products on this list are inflatable. HECCEI's baby float, in contrast, is a foam float similar to life jackets that offer significantly more reliable support for enjoying the pool.
The outside is covered with swimwear fabric and TPU film wrap, both of which are soft and comfortable on the skin. It's also usable in two ways, allowing your child to learn both the breaststroke and the backstroke.
There is some risk of flipping with this product, although that isn't actually a huge problem since babies should never be in the pool alone or unsupervised. The main drawback is the price. This item is several times more expensive than the other floaties on this list, but it's also better at floating for long periods and far more durable against punctures and other harm.
Pros:
It has outstanding flotation power
Its solid body has no air leaks
It is suitable for long-term use
It's available in several colors
Cons:
Significantly more expensive than other options
It still has some risk of flipping
Not as good for larger kids
(You might be interested in reading our article on Best Child Float Suits)
Newborn Floatation Device Buyer's Guide – Your Guide To Selecting The Best Product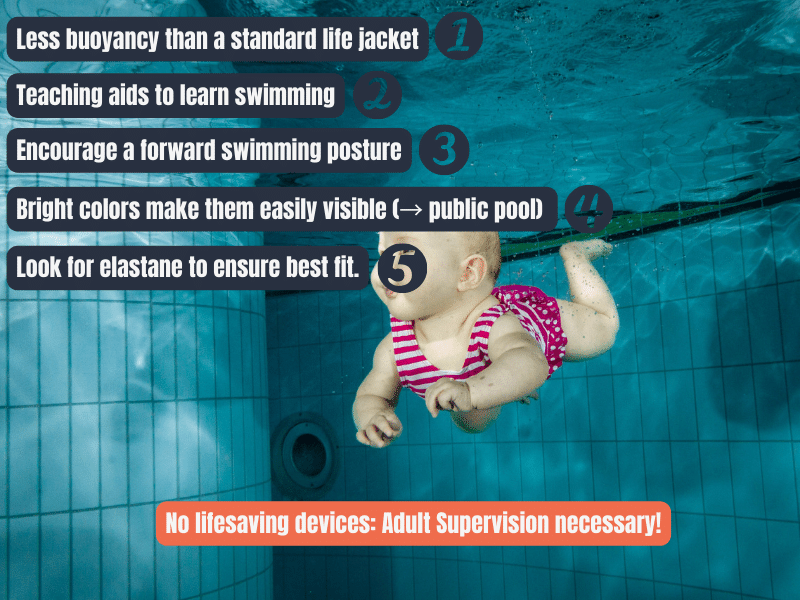 Here are the things you should know before you go shopping for a flotation device for a child under one-year-old.
Where Are All The Floatie Suits?
They don't exist. Children can start wearing float suits at one year old. Before that time, which is the period this guide is focusing on, children should use some type of larger ring float that offers added protection and support. However, options like the #7 are fundamentally similar to float suits in that the child can wear a swimsuit and be ringed by flotation supports.
The main reason float suits themselves aren't useful before one year old is that infants below this age generally don't have the strength or the stamina to hold themselves up properly. It's much easier for them to sit or lean on a larger item, rather than moving their own body around to keep their head out of the water.
Types Of Baby Flotation Devices
All flotation devices for babies less than one-year-old have the same general design: a ring of floating material (usually air, sometimes foam) with or without a canopy to protect them from the sun.
The major distinguishing feature between flotation devices is how much of the child's body they put into the water, and therefore how much they can help a child swim and exercise. Some devices keep them almost entirely out of the water, while others put up to half of their body into the pool.
Which device is right for your child depends on how you want them to spend time in the pool. If you want to teach them how to swim, then floaties that put most of their body in the water are better. On the other hand, if you want them to play a little but also relax, then get something that lets them sit down instead. This is better for longer pool sessions.
Safe Play Areas for an Infant wearing a Baby Swimsuit with floats
The play area on a newborn flotation device is the area between the outside of the float and the area where the child sits. Many dual-ring floats have a durable mesh here that lets water through but is sturdy enough to hold lightweight toys that a child may want to move around.
Play areas are extremely useful for encouraging activity in the pool because they give a safe if limited area where a child can reach out and interact with things. Encouraging children to reach out and move is important for their overall development, so anything that does this is fundamentally helpful.
Play areas also serve as a buffer between the child and any obstacles in the pool, such as a wall. Most infants don't have the leg strength to do more than slightly paddle themselves around, so having a wide area between them and the outside of the float helps ensure they'll be safe even if they charge directly at a wall.
Some floats do not have a proper play area, just a bumper ring that serves as the main body of the float itself. In general, play areas are correlated to how much of the child's body will be in the water. Chest-depth devices, like the Camlinbo trainer, have no proper play areas. The SwimSchool shark float, on the other hand, has a particularly large play area.
Sizing Options for Baby Float Swimsuits
Most floats for babies under a year old come in several sizes, designed for children of different weights and ages. Most err slightly towards the large size so they can be useful for a longer period. This is particularly true for sit-in floats, which are usable for a much longer period.
Ring-style options, such as the HECCEI float described above, are useful for a much shorter period. Children will outgrow these fairly quickly, although how fast that occurs depends on factors like diet, genetics, and the amount of exercise they receive. No product guide is truly universal, so don't assume it will hold exactly true for your child.
Size names vary when options are available, but most companies use the standard small, medium, large, and occasionally extra-large names. On rare occasions, you may see products labeled 2xl, 3xl, 4xl, 5xl, or even 6xl. These are unusual for infant-focused devices, but may be used for products designed to last for longer periods.
Weight And Flotation Devices
Most flotation devices for newborns less than a year old are suitable for children weighing up to 44 lbs, and they may not be appropriate beyond that point. If your child is on the heavy side, you may need to switch to a floater that suits larger children.
The main flaw in baby flotation devices is the exterior materials used to support them. Unlike regular life jackets, baby devices may need to support most of their weight along seams, and that can lead to holes and tears if they get too big.
Solid flotation devices may also be able to support people weighing over 200 pounds, over 250 pounds, or even over 300 pounds depending on the amount of buoyancy provided.
Are Canopies Important?
That depends on how long your baby will be in the pool. Children are fine for short periods, but if they'll be in the pool for a while, it's better to have a canopy that can protect them from the shade. Keep the shape of the canopy in mind while you're going shopping.
Floats with overhead canopies work best for mid-day pool sessions when they can block the majority of light coming from above. However, these tend to have openings near the bottom where the sun can come straight in during the early or late hours, so they're fundamentally flawed.
Better canopies, including the one on the SwimSchool shark float, offer added coverage and can be used at any time of day. If you don't have full control over your pool times, look for floats with larger canopies and fewer gaps.
While bigger canopies are generally better, they do have one flaw: they also block your line of sight. Depending on the design, your baby could be entirely out of your sight for a little while, and that can be a problem in its own right. There's rarely an issue as long as you can right them if they flip, but it's worth deciding how to balance protection and visibility before you buy.
Why Do Babies Need Flotation Devices?
Babies can't swim on their own, so they need flotation devices to keep their heads above water. This is especially true for children under one-year-old, who don't have the muscular development to support themselves in the water.
It's possible to teach children to swim from a young age, but this requires gradually introducing them to the water as they grow. You may need to buy several different types of flotation devices over the months and first few years if you're teaching them how to swim.
Drowning is a real threat in pools regardless of age. For more information on this, check out our interactive resource for US drowning statistics, worldwide drowning statistics, and drowning prevention.
How Long Will A Baby Float Last?
That depends on the exact float. Many options are designed for infants and children up to two years old or so. Some may last longer, while others could stop being useful as early as twelve months. Regardless, most floats should last through your baby's growth period as long as you take proper care of them.
Air-based floats are less likely to last for multiple children, although they're affordable enough that this is rarely an issue. Solid foam floats will last much longer than any inflatable option.
Can I Let My Baby Play In The Pool Unsupervised If They're Using A Float?
No.
Baby floats, in general, are not life-saving devices. They are not designed to rescue children from rough waters, and most of them are not suitable for extended periods of use. Even solid floats like the HECCEI are not the same as a life jacket.
As such, you should never let a baby play in the pool without adult supervision, preferably no more than two or three seconds away if the child flips their toy over. Most baby floats are resistant to flipping, but this isn't guaranteed, and they generally have no ability to right themselves.
The best baby floats have straps of some type that can keep them in place. If they're only sitting in a chair-like contraption, they may crawl or pull themselves out of the float and into the water. Harnesses eliminate the possibility of this happening, so we generally recommend products using those above all the alternatives.
Maintaining Your Infant Float
Floats require different types of maintenance, so always check the manufacturer's instructions. However, there are a few basic principles to follow.
First, clean all floats after use. This usually involves washing them with clean water and sometimes using a child-safe sanitizer. Most floats will contain trace residue of chemicals after use, particularly chlorine, so cleaning them immediately helps avoid problems.
Next, air dry all floats after cleaning them. Solid floats tend to dry quickly, while air-based floats should dry well enough after you deflate them. Make sure they are fully dry before you put them away, or they could grow mold or get damaged while left in storage. We also want to avoid unpleasant smells, which could make infants reluctant to go back into the pool.
Finally, store your floats in a cool, dry place while they're not in use. Most floats are moderately tolerant to heat, particularly because they're meant for outdoor use in the summer, but cycles of heating and cooling from direct exposure to sunlight in storage could wear them out much faster.
Outside of these principles, be sure to regularly check the float while it's in use to be sure there are no leaks or other problems. Solid floats generally don't have issues at all, but air-based floats are more prone to failure.
If the float seems like it's deflating, remove it (and your child) from the pool immediately. If the float is new, it may still be covered by the manufacturer's warranty. Discontinue use immediately, and do not let your child back into the pool until you have a replacement.
Drawbacks Of Infant Floats
There are no drawbacks to infant floats bad enough to avoid using them if you're in a pool. However, products may have individual drawbacks that make them worse than competing options. Here are some problem points to consider when you're buying a float for a newborn.
Lack Of Straps
Straps are undoubtedly one of the key parts of infant safety while they're in the pool. They keep children locked in a good position and minimize the risk of tipping by preventing them from moving their weight too far.
Straps aren't limited to upright seats or lying back, either. Teaching floats, which encourage a natural body position, also use straps to keep children in place. You never know what a child is going to do next, so it's better to use straps on a float if you can get them.
Durability Of Materials
Nothing is more durable than a solid flotation device. The HECCEI product described above is vastly more resilient to punctures and other damage, and it's the only product on the list that's likely to last through several children if needed. You may need to sew new fabric onto it, but it more than gets the job done.
Most other floats use some variant of PVC, a high-strength plastic polymer that can hold pressurized air for extended materials. Most air-based floats only need about 90% inflation to work well, and should not be inflated to their full capacity. That puts extra, unnecessary pressure on the seams.
The average thickness of PVC for infant floats is about 0.25mm, which is adequate but not amazing. If it's too thick, it can't bend and fold while deflating, so there are realistic limits on what you can do with it. Higher-quality products may have up to 0.35mm of PVC, which is noticeably more durable and likely to last.
However, don't limit your attention to the main float material when you're buying. Many floats for infants also have a secondary material covering the places infants are most likely to touch. The best products use swimsuit fabric designed for infants, which is exceptionally soft and broadly better than any competing material.
Color Options
These aren't as important as direct safety measures, but most infant floats only have one or two color options. This can be a problem if you're going to a public pool, where a lack of variety in toy colors can make it harder to spot your child if they get lost in a crowd.
We prefer products with bright exterior colors, such as orange or pink. These are easier to spot than blues or greens, especially in a crowd. Since colors can affect how quickly you can find a lost float, this is fundamentally a safety issue, and you should treat it as such when deciding between products.
Should I Also Get A Neck Float For My Baby?
Absolutely not.
Experts agree that neck floaties, which function similarly to life jackets, are fundamentally dangerous for infants. The main reason for this is that babies this young aren't done developing their neck muscles, so flotation devices could put unnecessary strain on their bodies. It is always better to avoid this.
Similarly, avoid using flotation armbands or other devices for infants below one-year-old. The only suitable floats for children this young are seats (like most of the products we reviewed) or rafts that provide neck and body support while they're in the pool.
The neck support is especially important because young children may not be able to hold their heads out of the pool on their own.
Best Infant Float Device Comparison Chart
Product Name
Price
Size in Inches (LxWxH)
Weight capacity (Pounds)
Distinct Features
Parner Swimming Baby Float


Check Price

8''x7.5''x2.5''
38 lbs

Passed by ASTM, CPC, and CE Certification. 100% Safe and Non-toxic
Philonext Baby Swimming Float

No products found.





No products found.



21''x32''x23''
44 lbs

Extremely durable PVC material and non-toxic ink printing, waterproof, easy to inflate
SwimWays Infant Spring Float


Check Price

34''x30''x20.5''

44 lbs

3-point adjustable harness, dual inflation chambers, child safety valves for security and a patented inner spring for stability
iGeeKid Baby Pool Float


Check Price

32''x21''x23''

33 lbs

Inflatable car boats are made of eco-friendly PVC material special for kids
Camlinbo Baby Swim Trainer


Check Price

18.9''x18.11''x3.9''

33 lbs

Made from high quality eco-friendly PVC grains,shoulder strap, back airbags, abdomen support and bottom croth for protection
SwimSchool Sparky The Shark

No products found.





No products found.



6.13''x15.75''x13''

30-50 lbs

Rare, extra-wide removable canopy provides best protection from sun
HECCEI Baby Float


Check Price

46.99''x43.69''x8.89''

13-40 lbs

High-quality swimwear fabric and TPU film wrap which looks like leather but touches like skin.
Wrap Up of Best Infant Float Suits
By this point, you know more about infant floats and what separates these products from each other. We touched on this earlier, but the most important part of picking a pool float for an infant is deciding how much you want to immerse them in the pool. Each product functions exactly one way, from keeping them entirely clear of the water to giving enough immersion for swimming.
You should also consider factors like sun exposure, your child's speed of development, and whether or not you want to reuse the float for other children. Price-wise, you can expect most pool floats for children to be less than $50, with some being as low as $20. We don't recommend paying more than $50 for an air-based float.
We are sorry that this post was not useful for you!
Let us improve this post!
Tell us how we can improve this post?
Last update on 2023-11-30 / Affiliate links / Images from Amazon Product Advertising API