Pools, beaches, and lakes are all full of potential dangers to your little one's feet, such as rocks, shells, glass, and slimy surfaces. Many parents opt-in for a cute, durable pair of toddler water shoes but often have a hard time making a final decision on their purchase.
This product roundup covers the best water shoes for toddlers and dives into all the vital information you need to know, such as shoe material, sole durability, and ease of use—everything you need to make the right shoe choice.
This water shoes for toddlers review is followed by a buyer's guide that covers the advantages, disadvantages, and maintenance ins-and-outs of water shoes. Keep reading to find out which pair of water shoes is the best pick for your little one's feet.
(We also have an article on our top pickups of Toddler Boat Shoes)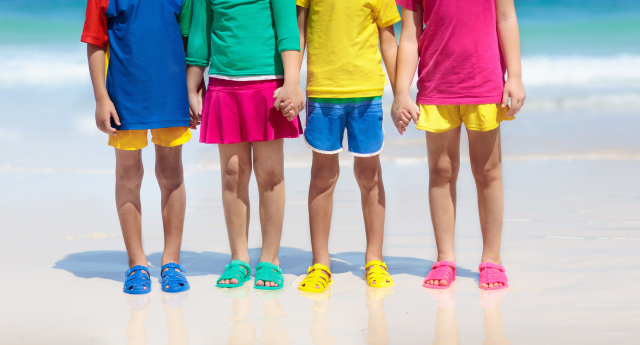 The Best Water Shoes for Toddlers (Top Picks)
Let's dive into our top picks! These product reviews are in no particular order, and you're sure to find quality and comfort for your little one in any of the below options.
KEEN Unisex-Child Newport H2 Closed Toe Water Sandals, Rainbow Tie Dye, 7 Toddler US
WATER-RESISTANT: Washable polyester webbing featuring quick dry lining and a fully enclosed design for all day use and protection
TRACTION: Multi directional lugs with quick water channeling help provide superior grip on slippery and wet terrain; Non marking rubber outsole leaves no imprint when walking indoors
COMFORT & PROTECTION: Compression molded midsole for enhanced long lasting comfort; High abrasion rubber toe cap for added durability and protection
Keen's Newport Closed Toe Water Shoes are revered by parents worldwide, and for a good reason. They can be worn both in and out of the water, with quick-dry webbing that adjusts quickly.
If you've been hoping to teach your toddler some independence, then these shoes will do the trick; the cord lace is elastic, and there is a hook-and-loop strap mean that they can put these on and take them off themselves with no extra help.
They're confirmed to be true to their size, so you can order your toddler's regular fit. The shoes come in a plethora of creative colors and patterns to make for easy outfit matching. You won't have to worry about aching feet at the end of the day either, as an EVA footbed supports the synthetic sole with arch support for absolute comfort.
Lastly, these shoes are eco anti-odor to prevent foul mildew smells after days at the beach and pool, with PFC-free durable water repellent material. They're also washer safe for times when they need a little refresher.
Pros
Affordable price
Great shoes for both in and out of the water
Extremely durable
Available in a wide variety of colors and patterns
Deters waterlogging and mildew odors
Cons
Some parents have reported the shoes are a bit too heavy for their toddler to walk and play comfortably.
Some children might be sensitive to synthetic material.
A little bulky
Native Shoes, Jefferson Child, Kids Lightweight Sneaker, Jiffy Black/Shell White, 10 M US Toddler
LIGHT DESIGN: Perfect for play, our Kids Jefferson loafer features ventilating perforation details, a round toe silhouette, and an EVA upper, lining, and sole making these shoes lightweight and comfy.
VEGAN MATERIALS: Certified Vegan edition of the classic Jefferson features a perforated EVA upper, a shock-absorbent sole, and a rubber toe cap made with vegan materials.
ODOR-RESISTANT: Odor-resistant shoes feature an EVA upper that is flexible and features all-over perforations to control temperature and to allow airflow around the feet so feet don't get smelly.
The next pick on the list is Native Shoes Jefferson Junior Water Shoes. While these shoes may not look like they belong in the water, you'll want to do a double-take. These loafers are made of water-friendly, fast-drying, lightweight foam with a durable rubber sole, rand, and toe cap.
They come in lots of fun, bright colors, with choices like crayon yellow, grasshopper green, and Hollywood pink. These shoes appear to have a similar rubber material as crocs molded into a converse-style pair, ready for a day at the park, pool, beach, or mall.
The shock-absorbent material makes sure that any leaps or bounds your toddler makes while having fun won't hurt their legs or ankles. There are no straps or laces, making it easy for them to slip their shoes on and off without any help. They're odor-resistant and easy to clean, although they have to be hand washed and cannot be machine washed.
Pros
Stylish
Made with fast-drying, lightweight foam
No intricate straps or laces
Odor-resistant
They come in plenty of fun, unisex colors.
Cons
Need to be hand-washed, cannot go in a washer.
Some purchasers have received pairs made in China and not by Native, so parents need to look closer upon arrival.
Can shrink if left to dry in a warm, humid area
Sale
Looking closer to a pair of adult water shoes, UBFEN's Aqua Socks match the feeling of going into the water barefoot while still providing a barrier of protection.
The enhanced rubber sole has a short platform height of a half-inch. Wearing UBFEN's Aqua Socks feels similar to wearing socks, as both the insole and outsole are incredibly flexible and comfortable, helping them conform to bumpy or grooved surfaces but still reinforced enough to protect against rocks or sharp objects. The anti-collision tip of the shoes keeps little toes protected against stubs and kicks.
They're non-slip, so you can rest assured knowing that there won't be any unfortunate poolside accidents. The upper material is made of quick-drying, breathable diving material. Unlike many other toddler water shoes, these Aqua Socks are geared strictly towards beach and water activities, including walking on the beach, beach volleyball, boating, and a day at the water park.
Pros
Affordable, making them an excellent choice for a vacation shoe
Lightweight, but the outsole is heavily reinforced and designed to protect small feet.
Made of a quick-dry diving material
You can remove the inner sole easily for drying purposes.
Non-slip soles
Cons
Not recommended to be worn during everyday use, only water-related activities
Some may not enjoy the platform.
Not suitable for pool
When we updated the article, we noticed, that this product is currently not available.
Speedo isn't just known for making swimwear; they also offer an excellent pair of water shoes for toddlers, known as Tidal Cruisers.
The shoe's upper housing is made of 100% flexible neoprene material, which holds its form well across a multitude of temperatures and provides excellent insulation in cold areas. The collar is also constructed from neoprene, allowing for an easy slip-on slip-off at the start and end of the day.
The open mesh promotes quick ventilation and drying once your little one is out of the water, but the insole is also easily removable if needed. These cannot go in the washer or be used with Woolite and need to be carefully hand washed in cold water to maintain their quality.
Overall, Speedo's Tidal Cruisers are practical, well-made water shoes for toddlers.
Pros
Affordable price for name brand shoes
100% neoprene upper and collar
Quick-drying, open mesh
Lightweight yet very comfortable
Cons
Need to be hand washed in cold water
Not too many color choices
Might be too high-maintenance for some parents
If your toddler isn't a big fan of wearing shoes, consider these water shoes from OshKosh B'Gosh. These water shoes sport a minimalistic design, giving feet a chance to breathe with open sides and breathing room for toes.
The soft material is 100% synthetic and water-ready. The adjustable strap makes these shoes easy to put on and remove, and the rubber soles are sturdy and reliable. These shoes are washer-safe, so you can throw them in with bathing suits at the end of the day and not worry about having to hand wash them under any particular directions.
Pros
Six breathable cutouts on each shoe allow feet to breathe.
Able to be placed in the washer
Adjustable strap closure
Cons
Higher price than other available water shoes for toddlers
Some children may be sensitive to synthetic material.
Not many color choices
Sale
Another honorable mention are these simply adorable yet practical water shoes by manufacturer Nerteo. Before you get excited to choose from many of the whimsical patterns, including unicorns, whales, mermaids, and sharks, you should also know the specifics of these shoes.
Easily encourage independence by teaching your toddler about the heel pull tab, which makes taking these off a breeze, and slipping into them requires an easy adhesion of the hook and loop strap.
The soft material is comfortable and water-ready, with two breathable cutouts on each side of the shoe. The insole is padded and removable, and these shoes are made of 100% non-toxic synthetic material, so they can be tossed into the washer at the end of the day without a second thought.
The anti-collision toe cap keeps your little one's feet from getting hurt, as well as the rubber soles that conform to the surrounding surface. These shoes can also be used as indoor slippers and during light outdoor activities but are best used during aquatic activities.
Pros
Come in a variety of cute, unique patterns.
Made of non-toxic material
Easy on and off with heel pull tab and hook and loop strap
Anti-collision toe cap and durable soles keep feet protected.
Very affordable price for high-quality construction
Cons
Lighter shoes can experience some color bleeding, but it does not affect performance.
Some kids may have difficulty putting them on.
Some children may be sensitive to synthetic material.
When we updated the article, we noticed, that this product is currently not available.
The last pair of water shoes for toddlers to round out our list are these Aquatic Sport Sandals by Hobibear.
The synthetic soles are bendable, durable, and are rounded off by an anti-collision toe guard. The overall shoe is made of soft, stretchable material with waterproof uppers. The cloth dries quickly for when your toddler is coming in and out of the water frequently.
The soles are also slip-resistant, which provides you with peace of mind when someone decides to break pool rules and do some running. Two holes on each side act as both a drainage system and a breathable system to deliver air to the feet.
Pros
Non-slip, durable soles
Easy on and off mechanics
Quick-dying, patterned fabric
Breathable cutouts for draining and air circulation
Cons
Made in China
Parents have claimed that sizing is very off, but the seller does offer free returns for trial-and-error.
Some children may be sensitive to synthetic material.
(You might also be interested in reading about Best Toddler Beach Sandals)
Water Shoes for Toddlers Buyers Guide (Making Sense of it All)
There are plenty of water shoes on the market to choose from, and browsing online makes it even more challenging to make a suitable decision for yourself and your little one.
Best Water Shoes for Toddler: Material
One factor that you should look at when deciding on a pair of water shoes is their material. Condensed or tightly packed fabric will keep in water and cause nasty smells or deterioration. Some of the best materials that water shoes can be made from include:
Most importantly, you should not purchase a pair of water shoes that do not have a stiff sole because this is an essential feature for foot protection.
Advantages of Toddler Water Shoes
Many parents are perfectly fine with letting their toddler hit the beach or the pool barefoot, and that's acceptable, but there are many advantages to having your toddler wear water shoes.
The beach, the lake, and sometimes the pool is full of sharp rocks, shells, and other objects that your toddler can easily trip over or cut their foot on. Water shoes protect the soles and many times have anti-collision toe guards built-in, which avoids accidents. These soles are also frequently slip-resistant, which means that running poolside is perfectly safe.
Water shoes are also excellent for tropical or water park vacations where you'll be moving from wet areas to dry areas frequently. The quick-drying material means that you don't have to worry about constant shoe changes with a squirming child while trying to follow a daily itinerary.
Disadvantages of Toddler Water Shoes
There aren't many disadvantages to water shoes, but some parents prefer to steer away because their toddler finds them uncomfortable, and it becomes more of a hassle to keep them on than off.
Additionally, if the water shoes are not made of high-quality, breathable material, then after each use, they won't dry out completely. This can lead to foul odors, mildew, and even mold. You should wash water shoes frequently, and some aren't able to be thrown in the washer, so they need to be hand-washed.
Maintaining a Pair of Water Shoes
Once you've settled on a pair of water shoes for your toddler, performing minor "maintenance" keeps them in great shape and gives them the possibility of lasting as long as your little one doesn't outgrow them.
After each use, you should make sure there is no debris inside the shoe or trapped in the sole. If there is, remove this to avoid any potential injuries. If the insole is removable, then both the shoes and the sole should be left in a warm, sunny area to dry out completely. If the shoes pick up a foul smell, then you should wash them according to manufacturer directions.
Best Water Shoes for Toddlers Comparison Chart
| Product | Price | Material | Sole Material | Unique Features |
| --- | --- | --- | --- | --- |
| Keen Newport Closed Toe Water Shoe | $ | Polyester | Rubber | Affordable price, great shoes for both in and out of the water |
| Native Shoes Jefferson Junior Water Shoes | $ | Ethylene Vinyl Acetate | Rubber | Stylish, made with fast-drying, lightweight foam |
| UBFEN Aqua Socks | $ | Lycra Elastic | Rubber | Affordable, lightweight, nonslip soles |
| Speedo Tidal Cruiser | $ | Synthetic | Synthetic | Affordable price, quick drying, lightweight |
| OshKosh B'Gosh Water Shoes | $ | Synthetic | Rubber | Able to be placed in the washer, adjustable strap closure |
| Nerteo Water Shoes | $ | Synthetic | Synthetic | Made of non toxic material, unique pattern |
| Hobibear Aquatic Sport Sandals | $ | Synthetic | Synthetic | Non slip durable, quick dying |
Wrap Up: Best Water shoes for Toddlers
Whether you're jetting off for a family vacation or heading to the town pool, a pair of water shoes is a must-have for protecting your toddler.
All of the water shoes covered during this review are excellent choices. Still, we particularly love the Keen Newport Closed Toe Water Shoes for activities both in and out of the water and the Nerteo Water Shoes for anywhere from the water park to a bubbling stream.
We are sorry that this post was not useful for you!
Let us improve this post!
Tell us how we can improve this post?
Last update on 2023-10-03 / Affiliate links / Images from Amazon Product Advertising API