If you have a passion for the open waters and want your little one to experience the joy and beauty that boating has to offer, you may be in the market for a safe and reliable shoe for them.
Boat shoes have hit the scene, not only for their sleek looks but for their functionality, durability, and comfort. Why should adults have all the fun in wearing these popular shoes?
If you're looking for the best toddler boat shoes on the market so that your toddler can follow in your footsteps (no pun intended), you've come to the right place.
Below, we have put together our best boat shoes for toddlers reviews, as well as a buying guide and tips that will help you find the perfect fit for your little sailor.
(Having a small baby and looking for best shoes is a bit difficult, we have a solution Best Baby and Infant Boat Shoes)
The Best Toddler Boat Shoes Reviews (Editor's Picks)
We've taken a lot of the guesswork out of searching for the best toddler boat shoes for you below. Though we have provided a numbered list, these reviews are in no particular order and are all excellent options!
Sale
The Tombik Canvas Sneaker Boat shoe is the perfect candidate for any little one that is always on the go.
These boat shoes are man-made and come in your choice of 3 different colors: Brown, navy, or pink. They feature a practical hook and loop closure, making them easy to slip on or off, which any parent can appreciate when it comes to shoes for toddlers.
The Tombik Boat Shoe has a flexible, slip-resistant sole and handcrafted insole, making these both safe and comfortable for the active toddler. They are also machine washable, making for an easy clean up for days when your little one wants to explore everything.
Pros
Easy slip on design
Slip-resistant sole
Machine washable
Man-made materials
Cons
Not waterproof
Sizing may run small.
Only a few color options
If you want a long-lasting boat shoe, then this shoe is the perfect choice for you and your toddler. As expressed in the title, these shoes are washable, which means they are awesome for busy, rambunctious toddlers who always happen to find a mess to get into.
They have the signature Sperry design with the leather-look, elastic laces, and velcro pull tab closure, making them easy to slip on and off. You also have more options since these shoes come in three different colors: Tan, grey, and navy.
With their chic look, durability, and functionality, these shoes are considered some of the best of the best.
Pros:
Washable
Fashionable
Sperry brand
Cons: 
More expensive
Runs Small
Canvas material may let water in.
One of the top brands on the children's market, OshKosh B'Gosh, has come out with this adorable version of the boat shoe. Though these shoes are more for looks than for a boat shoe's true function, they have a lot to offer.
The light brown boat shoe comes with faux leather detail throughout to give those little feet a sophisticated look. They are constructed of durable canvas material with a mesh knit and fabric overlay upper shoe to keep the feet comfortable and dry.
Their elastic laces and locker loop closure allow for a fast and easy slip on shoe that can help build independence in your toddler.
Pros
Stylish design
Mesh knit and fabric overlay keep feet dry.
Easy slip on design
Cons
More for the style than practicality
Not slip-resistant
Only one color option
Josmo Boys' Shoes – Casual Boat Shoe Loafers (Toddler/Little Boy/Big Boy), Size 9 Toddler, Brown/Tan
BOYS BOAT SHOES: Classic boat shoe shape with soft padded tongue and collar to support small ankles while giving him a great look for casual or dressy occasions; Perfect for playing with friends, visiting the family, or traveling
DURABLE: High-quality synthetic outsole provides sturdy support and durability while the cushioned insole delivers all-day comfort; The ideal shoes for your toddler, little boy, or big boy for all occasions
NON SLIP: Wave lines pattern on the sole of these toddler boys' boat shoes offering safety on slippery surfaces
Josmo has created an affordable, classy design to pair with your toddler's Sunday best.
This sleek shoe comes in your choice of dark brown and tan, or a light tan shade. They feature a moccasin-style toe with whip-stitch detail and tie laces.
The rubber sole offers flexibility, while the lightly padded insole provides comfort on days where your little one will be on their feet for long periods.
Though these shoes are stylish, they may not be practical for slippery or wet surfaces, as they don't provide any water or slip resistance. They also are spot clean only, so if you have a messy toddler, you may be better off with a machine washable shoe.
Pros
Classy design
Rubber sole for flexibility
Comfortable padded insole
Cons
Runs Small
Not suitable for wet areas
Spot clean only
As one of the most affordable options on our list, the CoXist Lace-Up Deck Shoe will not disappoint. CoXist made these shoes of durable, high-quality materials that will make you question their price tag.
The 100% synthetic material replicates an authentic leather look, as the stitching provides some extra detail and accentuation to the overall product. These shoes come in four different colors: Black, brown, camel, and navy, giving you an array of options to choose from.
They feature a lightweight comfort footpad to keep your toddler's feet dry and comfortable all day long. Though these mimic a boat shoe style, they are best used on dry asphalt, as their thick plastic sole can be very slippery on wet surfaces.
Pros
Very affordable
High-quality materials
A variety of options
Cons
Slippery plastic soles
Runs large
Best suited for dry environments.
Sale
This boat shoe gives you the traditional, sporty look of an adult size Sperry. They have durable leather on the top as well as a 360 lacing system and rubber soles for traction. They offer a memory foam footbed for additional comfort.
This particular shoe offers a lot of different sizing for toddlers, as well as coming in the traditional light oat color of original Sperry's. They are a bit pricey, but it is worth it if you want the classic design and look of a true Sperry.
These shoes can run pretty small, so it is essential to take some extra time to look at the size guide before purchasing.
Pros:
Traditional Sperry look
Good quality
Large size range
Cons:
May be not be true to size
Velcro may not lay correctly.
Not waterproof
(You might be interested in reading Best Water Shoes for Toddlers)
Sperry has earned a few places on our list, and there's no doubt as to why. Their brand is the crème de la crème in the boat shoe market, and this shoe is no different.
Sperry constructed the Sperry Lanyard Boat Shoe of 100% leather with a non-marking rubber outsole that features wave siping for incredible traction. The fabric air mesh panels allow breathability to reduce odors while the fabric linings increase comfort. Equipped with a 360-degree lacing system, these shoes are sure to fit perfectly without the risk of slipping off.
They come in the classic contemporary Sperry boat shoe style, giving them an original look. The durable leather material is sure to last for countless adventures while becoming more favorable over the years.
Pros:
Contemporary Sperry look
Comfortable cushioned heel tab
Durable leather material
Cons:
The look wears with age.
Not true to size
Leather is harder to clean.
(Want to have more softies for those beautiful feet? must visit Best Toddler Beach Sandals)
Toddler Boat Shoes Buyer's Guide (Making Sense of it All)
Now that we've gone over some of our top picks for the best toddler boat shoes available on the market, you should know what to look for when making your final decision.
Materials
Depending on what you plan your daily activities to be, it is crucial to consider the shoe's material. Will you be around water? Will they just be for style? These factors will determine what material to look for when choosing a boat shoe for your toddler.
Synthetic
Synthetic or man-made materials are often one of the best materials for an authentic boat shoe. Though we often think of synthetic materials as a negative, this couldn't be further from the truth when it comes to choosing a boat shoe for your toddler.
Synthetic materials such as nylon, polyester, or rubber offer durability and the potential to be submerged in water without significant damage. This gives them an advantage over their leather or canvas counterparts.
Leather
If you're more in the market for a stylish shoe, leather is probably the top choice for you. Though there are various forms of leather, it's safe to say that all leather is an extremely durable and versatile material.
Though leather is extremely long-lasting, it requires special care to keep it in good condition. It also cannot be submerged in water, otherwise, it has the potential to shrink or stiffen in the drying process. Thus, it is important to note that leather should be considered more for style and durability than for functionality.
Canvas
Canvas boat shoes are some of the most affordable on the market. Derived from cotton, canvas makes for an extremely breathable and lightweight shoe.
Because canvas is a breathable material, you don't have to worry about a build-up of odors within the shoe. Though canvas is not waterproof, it is often a washable material, making for easier cleanup, which is essential if you have a messy toddler.
Be sure to always read the shoe instructions prior to throwing them in the washer, as some shoes may consist of materials that alter in heat.
Features
Aside from materials, there are some essential features you may want to consider specifically for your toddler.
Breathability
Because boat shoes are often worn in wet or humid environments, you must consider breathability to prevent odors or microbes from forming inside the shoe.
Boat shoes that utilize canvas material or mesh lining are perfect for providing the extra breathability necessary for little active feet.
Slip-Resistance
If you know you will be frequenting the boat deck, swimming pool, or other slippery surfaces, it is important to find a boat shoe that offers a slip-resistant sole to keep your little one safe from troubling falls.
Shoes that offer a gummy rubber outsole provide additional traction that will grip slick flooring, making them excellent options for a day out on the water.
Slip On Design
As any parent knows, the faster and easier you can get your child into their clothes, the better a day it will be.
Because of this, you want to find a shoe that is both flexible and easy to put on when your toddler has a case of the wiggles. Shoes with a velcro strap, elastic laces, and a hook and loop design offer practicality for both you and your toddler.
Benefits of Using Boat Shoes
Boat shoes originated with durability, functionality, and comfort in mind. Paul Sperry found inspiration in his Cocker Spaniel, Prince, when he noticed he didn't slip on the ice. He wanted to design a shoe that wouldn't slip, either.
The sturdy rubber soles make boat shoes safe for all kinds of surfaces, from hard concrete to slippery, wet floors. Their toughness and style make them ideal for messy and playful toddlers alike.
Disadvantages
Boat shoes with the best value come from notable brands such as Sperry because they specialize in that particular design. While these shoes provide exceptional quality, they can also be quite expensive.
It is also essential that you thoroughly research any boat shoe you plan to buy as many boat shoes are now catered towards the style as opposed to functionality. Some shoes on the market today may not offer the slip-resistance or durability you'd see in original brands rendering them useless for their original purpose.
Best Toddler Boat Shoes Comparison Chart
| Product | Price | Fabric Material | Sole Material | Unique Features |
| --- | --- | --- | --- | --- |
| Tombik Canvas Sneaker Boat Shoes | $ | Cotton Textile | Rubber | Can wash through machine |
| Sperry Kids Spinnaker Washable | $ | Cotton | Rubber | Stylish, easy to wash, available in many colors |
| OshKosh B'Gosh Albie Boat Shoe | $ | Synthetic | Rubber | Stylish, keep feet dry, comfortable |
| Josmo Slip On Boat Shoes | $ | Faux Leather | Rubber | Lightweight and comfortable, water resistant |
| CoXist Lace-Up Deck Shoe | $ | Authentic Leather | Rubber | Easy to afford, comfortable |
| Kids' Sperry Toddler & Little Kid Shoresider Jr Boat Shoes | $ | Synthetic/ Leather | Synthetic | Have good quality, available in various sizes |
| Boys' Sperry Toddler & Little Kid Lanyard Boat Shoes | $ | Leather | Rubber | Super Comfortable |
Wrap Up
In today's time, boat shoes have popularized everyday wear. They have been seen on tons of preppy college kids and have worked their way into future demographics. People love them for their sturdiness and style.
Because of their popularity, they have become available for all ages in unisex styles. Purchasing these shoes gives you peace of mind as a parent, knowing that these shoes will last. Not to mention, your toddler can wear them to almost any and every occasion, making them a great option for parents and toddlers. We have also reviewed the best boat shoes for men, the best boat shoes for women, and the best boat shoes for sailing.
We have also reviewed the best boat shoes for women, and the best boat shoes for men. Let's not forget the best boat shoes for Fishing which keep you safe while catching fish and the best boat shoes for sailing which keep you "glued" on the deck – even in the stormiest weather.
Use our buying guides to equip your family with high-quality garments for your next time on the deck!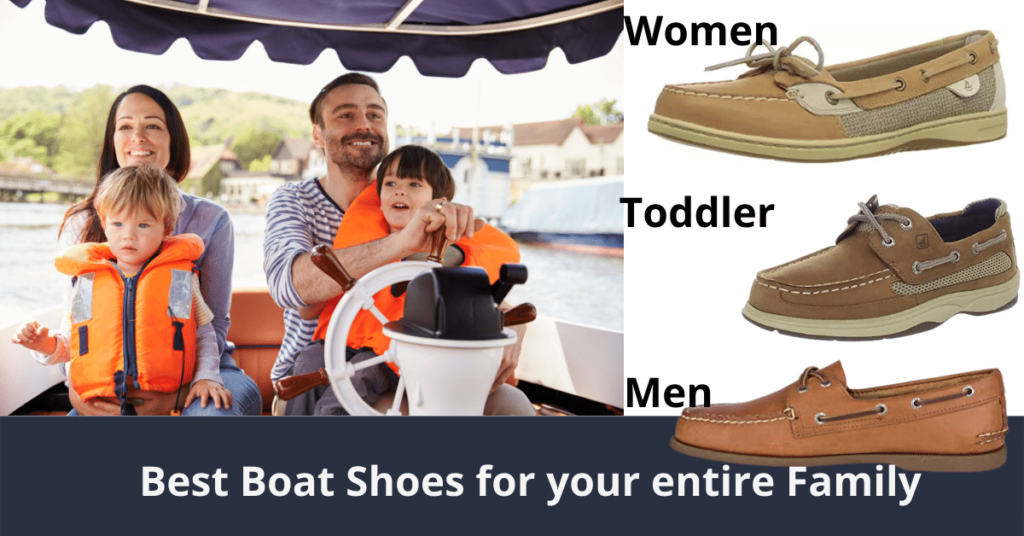 We are sorry that this post was not useful for you!
Let us improve this post!
Tell us how we can improve this post?
Last update on 2023-05-29 / Affiliate links / Images from Amazon Product Advertising API