Heading out to sea is always a fun adventure with the family. However, the little ones need extra attention, and to be comfortable, they need a boat seat.
It's a bit challenging to find the right seat for your child, which is why we've created this guide of the ten best baby boat seats.
Most boat seats on the market are more similar to booster seats, as a full high chair is not suitable on a boat. These seats must position safely and securely, such as on the corner of a bench seat. Some baby seats have multiple harnesses to attach for more security.
Let's dive into baby boat seat reviews, where we give an overview of multiple products and other aspects such as benefits, maintenance, features, and safety tips.
After you come back from boating your baby probably needs rest. Check the Best Baby Beach Beds to grant your baby what it deserves, besided our Best Baby Boat seat picks.
The Best Baby Boat Seats Reviews (Top Picks)
There are many different baby boat seats to choose from, as each product is unique with various features, pros, and cons.
Next are the reviews of multiple baby boats in no particular order. We choose seven of the Best Baby Boat Seats that are available online.
Sale
Baby Delight Go with Me Venture Portable Chair | Indoor and Outdoor | Sun Canopy | 3 Child Growth Stages | Teal
YOUR ON-THE-GO SOLUTION: Life takes you many different places, so we designed this toddler chair with a portable carry bag. Perfect for any sporting event, beach vacation, or camping weekend. Take the Venture Chair with you on any adventure!
EXTENDED USE: As your child gets older, the chair continues to fit their needs. The Venture Chair converts from sitting, to standing, to big kid mode. Seats from baby to an average sized 8 year old.
VERSATILE DESIGN: Comes with a removeable snack tray and sun canopy. Also, made with fabric that is resistant to fading, stains, and mold making it just what you need when you're on the go.
The Baby Delight Go with Me Chair is a versatile, portable chair that is weather-resistant, making it a solid baby boat seat.
Its patented feature allows the chair to convert to three child growth stages by removing Velcro that reveals two leg holes as the baby goes from infant to toddler.
The three stages include:
Stage One: Sit and Relax; 3 to 6 months
Stage Two: Stand and Play; 6 to 12 months
Stage Three: Sit and Play; up to 75 lbs
The 5-point removable harness keeps the baby comfortable and secure, great for when the boat slightly rocks.
The polyester fabric is resistant to stains, fading, and mold, excellent for fighting the elements out to sea, mostly saltwater.
The sun canopy provides ample shade and protection from the sun.
Pros:
Sun canopy
Three different stages
5-point removable harness
Polyester for a weather-resistant device
8 points of contact on the footed platform for stability
Cons:
Complaints of quality
Problems with the tray
It may be too small in height for some
Summer Infant Pop 'N Sit Portable Booster Chair, Green – Booster Seat for Indoor/Outdoor Use – Fast, Easy and Compact Fold
INDOOR/OUTDOOR USE – The Summer Pop 'n Sit Booster Baby Seat is an activity floor seat and booster all in one, and can be used both indoors and outside! For 6 months – 4 years (up to 37 pounds).
ALL-IN-ONE SOLUTION – Whether you need booster seats at a restaurant, a chair at the park or even a floor seat for activity time at home, this portable booster seat can do it all! Plus, the compact fold and included carry bag makes storage simple.
COMPACT FOLD – With an innovative pop and fold design plus a fast, easy and compact fold, you can have a space saver high chair and even use the Pop 'n Sit booster as a travel high chair at restaurants and more.
The Summer Pop and Sit Portable Booster seat offer an easy design to set up as a baby boat sea.
It has multiple uses, such as an activity floor seat and booster for indoor and outdoor use. This seat is versatile enough to convert from a boat to a restaurant on the same day.
Children 6 months to 4 years or 37 lbs can use the seat.
Its compact fold is an innovative design that "pops" the chair open for an effortless set-up and trouble-free storage.
The Summer Pop and Sit Portable Booster has a removable tray that is easy to clean and BPA free. The material is also stain resistant.
It includes a 3-point safety harness, carrier bag, chair straps, and a storage pocket.
Pros:
Easy to use
Versatile
Holds up to 37 lbs
Affordable
Great for traveling
Cons:
Complaints about strap security
Quality concerns
Too low depending on age
Sale
hiccapop OmniBoost Travel Booster Seat with Tray for Baby, Dining Table, Camping, Beach, Grandma's | Folding Portable Tip-Free Design Straps to Kitchen Chairs
PORTABLE/TRAVEL-FRIENDLY | Planning a day at the beach, a weekend camping, a visit to Grandma's house, going out to dinner or spending a quiet evening at home? OmniBoost will conveniently, comfortably and safely provide the perfect space for baby to sit, eat, and play. Lightweight FRUSTRATION-FREE folding frame expands and compactly folds down for travel. The rear pocket for bibs & spoons, plus a shoulder carry bag for sanitary storage make the OmniBoost the ideal travel booster chair.
COMFORT FIT SAFETY HARNESS | Keep your child fully secured with hiccapop's gentle restraint system, ergonomically designed to keep even the most wiggly toddler in place and cozy. Plus, the buckles are easily released using only one hand!
MACHINE WASHABLE COVER | We all know that babies are messy eaters! Our portable booster seat is designed to effortlessly wipe clean, allowing more quality time with your precious tot. To assist with the inevitable mess, the fabric cover slides off the frame for machine washing - a must have for sanitizing and spaghetti stain removal.
The Hiccapop Omniboost Travel Booster Seat is a portable booster seat durable enough as a baby boat seat. The straps on the bottom are solid to attach the seat to another surface.
This chair is portable and travel-friendly, useful for other occasions besides boating. It's lightweight with a frustration-free folding frame that pops open.
There is a rear pocket on the back, which can hold travel-size items or small baby accessories.
The cover slides off the frame with ease and is machine washable. It comes with a removable swivel tray that is dishwasher-safe and BPA-free.
It's wide, stable-base allows for superior tip-free stability, as it has "duck-feet" to distribute weight evenly. This is an excellent feature for the beach as it can stabilize on the sand.
Pros:
Stabilization for sand and land
Machine-washable and dishwasher safe parts
It comes with pockets on the back
Travel-friendly
Easy to use
Cons:
Complaints about the stitching
Too small for some
Latch needs improvement
The Searock Marine-Grade Baby Seat & Swing is in a class of its own, as it is currently the only crafted seat specially designed for infants in boats, making it an authentic baby boat seat.
The boat seat is designed for infants six months to 48 months, or if they can securely sit in the seat with the safety belts securely strapped.
The Searock resists the elements of salt and weather, building a baby seat that may last generations.
This baby boat seat is easily transferable from the dock to home. Sturdy straps attach to the boat seat to suspend the seat.
Overall, the Searock Marine-Grade Baby Seat is one of a kind and has become a favorite amongst boating enthusiasts with kids.
We recommend it as the Best Baby Boat seat.
Pros:
High-quality
Authentic baby boat seat
Versatile
Resists the elements out at sea
Considered the most secure and safe
Cons:
Very expensive
Not for casual boaters
It may be too small for some children if they wear a life jacket in the device
Sale
The Ingenuity Baby Base 2-in-1 Booster has a solid base, with maximum comfort as a baby boat seat.
It is a portable feeding seat that works excellent enough at the table or floor, with a removable tray that stores neatly under the booster seat.
It's wipeable for easy cleanup, and the tray is washable, safe for the dishwasher.
The 3-point harness ensures your baby is safe and secure, keeping the baby snug.
The foam insert is comfortable for babies and best when your baby can hold its head without assistance. Once the baby outgrows the base, remove the foam insert to adjust. This allows the seat to turn from an infant seat to a toddler seat.
It comes in five colors, with a minimum age requirement of 6 months and a max weight recommendation of 50 lbs.
Pros:
The foam insert provides comfort
Transforms from an infant to toddler seat
Self-storing tray
Easy to clean
Lightweight
Cons:
Short straps
Complaints about missing parts
Bulky
When we updated the article, we noticed, that this product is currently not available.
The Summer Deluxe Comfort Folding Booster Seat is a transportable device that works great as a baby boat seat. It is a simple booster seat with straps to secure onto any chair or surface due to its 3-point restraint system.
The 2-in-1 feature allows the seat to turn into a feeding seat with a removal tray. The safe dishwasher tray has three positions.
There are two-level height adjustments to conform to your growing child.
Its ultra-compact folding design allows for portability and storage, with a machine-washable, removable seat pad.
It's lightweight, with hassle-free assembly, and saves space. Its small and compact design allows parents to transport the seat from the boat to grandma's house.
In all, this affordable booster seat gets the job done without too much effort.
This is our best pick for the Best baby Boat seat if you have a small budget.
Pros:
Great price for the budget-conscious
Small and compact
Easy design to transport
Removal tray to turn into a feeding seat
Machine-washable seat pad
Cons:
Complaints about quality
Too high for some
Buckle may be hard to use
When we updated the article, we noticed, that this product is currently not available.
The Fisher-Price Healthy Care Booster Seat has all the qualities of a reliable, affordable baby boat seat.
This booster seat is easy to use and versatile, with its 3-point harness for safely securing on any chair or surface. The straps are widely adjustable, with one on the bottom and one around the back, with simple attachment clasps.
It comes with a removal, easy to clean tray. The armrests provide excellent reinforcement, with a sturdy back and side support.
The hard-plastic build resists wear and tear, creating sufficient upper body support and resists most elements.
The straps are the only fabric on the design and can be hand-washed. The seat requires an easy wipe down for hassle-free cleanup.
Pros:
Easy to use
Affordable
Hard-plastic build sufficient for resisting elements
Clean-up is effortless
Provides support
Cons:
Complaints about quality
Bulky
Heavier than other seats
The Best Float Suits:
Best Baby Boat Seats Buyers Guide (Knowing What to Look For)
Now that we've covered the best baby boat seats, it's essential to know what you're looking for when getting the right seat for you.
Benefits of Using Baby Boat Seats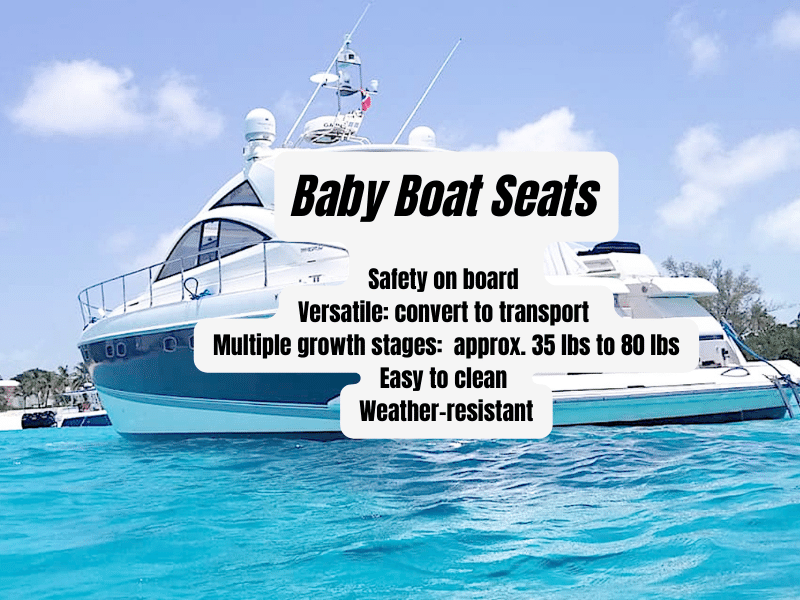 Having a device that secures your baby on a boat has its benefits, such as:
Safety: Having an area where your child is safe and secure at all times gives parents peace of mind while out to sea
Versatile: Many seats can convert to transport between different locations, from boat to a home
Multiple growth stages: Some baby boat seats are functional enough for when the child grows to 4 years old, or a max weight between 37 lbs to 75 lbs, depending on the product
Easy to clean: Most seats are hard-plastic or a high-quality material that allows for easy wiping
Weather-resistant: Some designs allow for resisting the elements, such as salt, which is ideal for boating
How to Use Baby Boat Seats
Most baby boat seats are easy to use and install, with hassle-free assembly.
However, some tips on how to use baby boat seats include:
Securely tighten the seat to a chair or surface. Most harnesses are adjustable with a clip-on buckle
Adjust the seat until your child is comfortable, upright, and the chair is sturdy with minimal movement
Secure the child with the attachable straps inside the seat, snug enough to keep the child from moving too much
For the child to have more room, remove the feeding tray
Supervise the child at all times
Features the Best baby Boat seats have in common
Every baby boat seat is different, although there are features to look out for to get the best out of your product:
Resists weather: Most seats do not come with this feature, as most are for indoors. However, outdoor seats may withstand particular weather elements, increasing the longevity of the product
Clean-up: Easily wipeable with machine-washable or dishwashable parts
Portable/Transportable: A seat that can transform and move one place to the next, besides the boat
Lightweight: A seat that weighs 1 to 2 lbs or less makes portability easier
Maintenance to keep the Best Baby Boat Seat in shape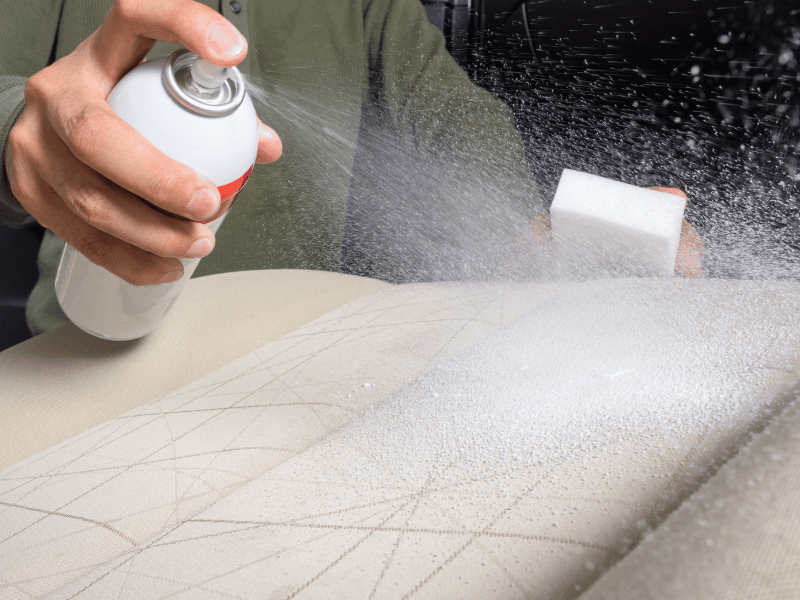 Baby boat seats are easy to maintain, requiring minimal effort.
Some tips for maintaining your baby boat seats include:
Use a safe, all-purpose cleaner to safely clean the assembly
Store in a cool, dry place when not in use
Clean the straps and remove any food, as most straps are fabric and require quick wipe downs
Observe the different parts and assembly of the product, such as no wear and tear, no plastic warping, or slack stitches on the harness
Safety Tips so you can enjoy our picks of the Best Baby Boat Seat
Most baby boat seats are secure and safe, but additional safety tips include:
In 2002, the United States Coast Guard (USCG) published a rule requiring children under 13 to wear a USCG approved life jacket while a recreation vessel is underway
Keep the baby in your lap when the vessel is underway, not in the boat seat
Baby boat seats are designed for keeping the child secure when the boat is anchored, not while underway
Always secure the baby boat seat to a surface, another chair, or suspended safely using harnesses
Keep an eye on the child at all times
Have other floatation devices on hand for emergency
Periodically check the baby boat seat to see any changes, such as strap, fabric, plastic breakages
Best Baby Boat Seats Comparison Chart
Product Name
Price
Material
Age
Unique Features
Baby Delight Go with Me Chair with Sun Canopy
$
Polyester
3 months
Sun canopy, 5-point removable harness
Summer Pop and Sit Portable Booster
$$$
Waterproof
6 months
Easy to use, versatile
Holds up to 37 lbs
Hiccapop Omniboost Travel Booster Seat with Tray for Baby
$$$
Nylon
2 years
It comes with pockets on the back, travel-friendly, easy to use
SearocK Marine-Grade Baby Seat & Swing
$
Bimini
Under Age of 6
High-quality, authentic baby boat seat
Summer Deluxe Comfort Folding Booster Seat
$
Cotton
6 months and up
Small and compact, easy design to transport
Fisher-Price Healthy Care Booster Seat
$
Poly Fiber
6 months and up
Easy to use, affordable
Ingenuity Baby Base 2-in-1 Booster
$
Foam
6 months
Self-storing tray, easy to clean, lightweight
Wrap Up of the Best Baby Boat Seat
Browsing the best baby boat seats for your needs and lifestyle is a daunting task, but it doesn't have to be once you are informed of the features, pros, and cons.
Every baby boat seat is different, and some are more suitable for the job than others, but most seats provide a stable, secure, and comfortable experience for babies.
Baby boat seats are easy to clean, versatile, and require minimal effort to maintain.
Overall, baby boat seats give parents a better sense of security while anchored out at sea. Choose one of our Best Baby Boat Seat and enjoy the water with your kid being safe.
We are sorry that this post was not useful for you!
Let us improve this post!
Tell us how we can improve this post?
Last update on 2023-10-03 / Affiliate links / Images from Amazon Product Advertising API