When you're a fisherman, you want to have all the proper gear before you hit the water. But there's one crucial piece of equipment many people don't give too much consideration to – the proper footwear.
Going out on the boat for a day of fishing is a great time. But when you wear the wrong shoes, your fantasy could turn into a nightmare fast. The wrong shoes increase the risk of falling due to a slick, shifting surface and leave you with sore feet and blisters. Many people turn to boat shoes, which have unique features. We've found the eight best boat shoes for fishing.
We've reviewed the best eight boat shoes for fishing. We provide a brief review of each and listed the pros and cons of the fishing boat shoes. We have also provided a detailed buyer's guide that will explain the various features and types of boat shoes for fishing.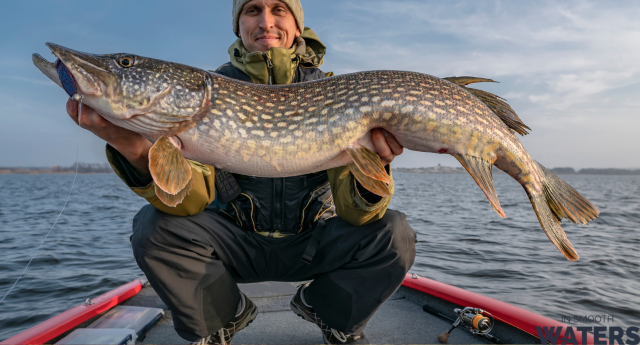 The Best Boat Shoes for Fishing Reviews (Editor's Picks)
We've numbered our list of boat shoes for fishing reviews, but these numbers do not reflect any ranking. We are not listing these in any particular order.
Columbia Men's Tamiami PFG, Mountain/Voltage, 10 Grey, Green
OMNI-SHIELD: Go ahead, try and get dirty. Omni-Shield helps you stay clean and dry by resisting the absorption of liquids. Unlike most fabrics that absorb moisture, Omni-Shield repels moisture and dries quickly—avoiding stains and keeping you clean
MADE TO FISH: For the modern PFG enthusiast who wants a shoe that pairs well with our Slack Tide shirts and fits their everyday style, the Men's PFG Tamiami Shoes are just the ticket
VERSATILE STYLE: This men's stain resistant boat-shoe delivers style and durability with subtle contrasts of treated mesh and synthetic overlays
This Boat Shoe from Columbia is excellent for fishing. It provides magnificent traction on teak and fiberglass decks. Furthermore, it's super comfortable, if you need to wait a little until the fish come. The upper mesh has synthetic overlays with midsole ports for venting and breathability in hot summers. The shoe can be ordered in several color patterns.

Sale
If you like the traditional moccasin loafer design of boat shoes, you can't find anything better than the Sperry A/o, a 100% leather boat shoe.
Your feet will stay dry and comfortable with the wide toe box. However, be aware that these shoes run small to size, so you may want to go up a size.
And I can say from personal experience that you should use shoe freshener because the inside of these shoes can start to smell bad after getting wet.
These shoes come in multiple two-tone color options, with a different colored, leather collar, two-hole rust-resistant eyelets, and hand stitching.
Sperry knows what a shoe needs to be safe for fishing, and they've excelled at it time and again, with a thick, gripped rubber sole so you won't slip when it's wet.
Pros
100% leather, hand-stitched construction
Dozens of color choices
A well-known brand for boat shoes
Siped sole
Spacious toe box
Cons
Can smell bad after getting wet
Size runs small
Can't relace if damaged
Columbia PFG Men's Bahama™ Vent Relaxed PFG Shoe, steam, Electron Yellow, 13 Regular US
ADVANCED TECHNOLOGY: Men's Bahama Vent Relaxed PFG Boat Shoe features our waterproof and breathable construction, lightweight, durable midsole for long lasting comfort and high energy return, and our advanced traction rubber sole for slip-free movement on rough ground
HANDY FEATURES: Days out on the water are comfortable and worry-free with this boot's waterproof, breathable full-grain leather and canvas construction
ADJUSTABLE FEATURES: This boat shoe features a lace-up closure for an adjustable, secure fit
The Columbia Bahama PFG boat shoes are a stylish mix of breathable leather and canvas, with a synthetic wet grip outsole with razor siping to keep you steady on your feet. These shoes have a unique Omni-Grip sole that is non-marking.
These shoes are a lightweight 9 ounces with stain-resistance and waterproof properties, so your shoes stay looking good, even from murky water, fish scales, guts, and blood.
A Techlite vented midsole offers extra cushioning and foot support while draining any water that gets into your shoes.
Laces ensure these shoes fit tight enough not to slip off. And paracord loops make these shoes easier to put on your feet.
You have multiple color options and sizes. The classy design with detailed stitching around the leather and the PFG logo on the tongue means you can wear these shoes for more than fishing.
Pros
Stain-resistant and waterproof materials
Vented midsole keeps feet cool and dry
Lightweight design maximizes comfort
Multiple colors
Lace-up design allows for a tighter fit
Cons
The sizing is not accurate, so it's best to try these on for size
It only comes in men's sizes and styles
Canvas takes longer to dry
DLGJPA Men's Lightweight Quick Drying Aqua Water Shoes
Solyte midsole provides an exceptionally lightweight midsole with excellent bounce-back and durability.
Water Grip outsole provides exceptional traction in wet and slippery conditions.
Open mesh on the upper and hole on the sole provides for superior breathability and quick drying.
If you need a budget pair of shoes that won't break the bank, the DLGJPA Aqua Water Shoes can be yours for less than forty bucks.
While the design is pretty basic with a solid colored upper, the many vent holes of the mesh (Fluidflow technology) make these shoes fully drainable and quick drying. So, don't be scared to wade into the water to get your fish.
These boat shoes have a springy rubber sole with intricate water grip holes designed to provide traction without hindering your movements. The design of these shoes allows you to slip them on, and you can adjust the fit with the bungee lace.
You can get a wide range of sizes and 15 color options, but these are men's shoes. However, the simple design does mean that women could wear them too without looking too manly. Sizing is tricky with these shoes, and many customers say to buy a size down.
(You might also be interested in reading our article specially on Best Boat Shoes for Men)
Pros
15 color options
Budget-friendly
Designed to wear in the water
Fluid flow technology keeps feet dry
Water grip outsole provides traction and grip
Cons
Sizing isn't accurate
Many users felt these were too narrow
Not for women
If you're looking for a durable pair of sandal boat shoes, allow us to introduce the Shimano Evair fishing shoes or sandals if you'd prefer. Awesome fishing shoes for boat
These shoes have open slots along the upper, similar to a traditional sandals design. But they have an enclosed toe box with plenty of room, so your feet don't rub. We recommend avoiding wearing socks with these. Not only does it look horrible, but it will give you blisters too.
The lightweight EVA material of these shoes means they're waterproof, and the open design keeps your feet cool. However, we wouldn't recommend wearing these in cold weather.
An ergonomic arch and solid one-piece design mean these shoes absorb shocks associated with standing for long periods.
A neat feature about these sandals is the removable waterproof inner sole, cleaning and drying a breeze. However, many people said the soles fell out while wearing it.
A half-velcro strap allows slight control of fit. You can get these in six neutral man colors, including camo, which looks more like a paint job gone wrong.
Pros
Removable insole makes cleaning easier
100% waterproof
Enclosed toe box to protect feet
Ergonomic arch for extra support
Open design allows for water drainage and airflow
Cons
Many users said these shoes ran wide
The insole may come out while wearing
Not adjustable
Sale
For you ladies who want to keep your style while staying safe on a boat, check out the classy design of the Skechers Go Walk Lite Boat Shoe.
These shoes are a fabric and synthetic design with a rubber sole. These shoes are machine washable, so you don't have to worry about them smelling horrible.
However, there are no vents to drain water out, so these shoes aren't for jumping in the water. But they're cute enough to wear on the boat or off.
Available in four colors, with a different colored color than upper and a white sole with moderate gripping. These shoes have e-z fit elastic laces so that you can slip them on in a hurry. And an air-cooled Goga mat insole keeps your feet cool and comfortable.
(Best Boat Shoes For Women, you will find it worth reading)
Pros
Cooled insole keeps feet comfortable and cool
Classic fashionable moccasin design
Machine washable but air-dried
Slip-on design
Four fun colors
Cons
Not waterproof
The grip on the sole isn't the best
Fabric/synthetic material
RUGGED SHARK Boat Shoe for Men, Bill Dance Pro, Premium Leather Moc-Toe, Fishing, and Outdoor Shoe Grey
ALL DAY CUSHIONING: Step into this men's boat shoe and you can feel the comfort, thanks to its fully cushioned, breathable molded footbed. It cradles your feet and helps absorb any shock. These shoes are lightweight with a soft midsole -- the part of the bottom that provides shock absorption -- made from a specially molded CMEVA material.
ALL-DAY COMFORT: Supple nubuck leather upper has breathable mesh panels to keep feet cool and comfortable all day long.
WATER DRAINING SOLES: The Bill Dance Pro's bottom has built-in drainage: any water that comes into the shoe will drain from ports on each side of the bottom, making this a great shoe for boating. The Shark Grip rubber pads on the bottom are built to reduce slipping, and are made from a non-marking rubber -- no scuffs on the floors or boat decks!
Say the name Bill Dance around a fisherman, and they're sure to know who you mean. They might also be interested in the Rugged Shark, a line of boat shoes by Bill Dance.
Now, these shoes aren't the most attractive, with a thick rubber outsole and nubuck leather, mocassin box toe, mixed with a tennis shoe cushioned collar combined with the lacings of a Top Slider.
But they are comfortable, supportive, and slip-resistant. However, the laces are not adjustable or replaceable.
There are mesh panels to allow air circulation, drainage ports to release any water that gets in, and Shark grip rubber pads on the bottom to prevent slipping and scuff marks.
A soft midsole of molded CMEVA material absorbs shocks and cushions your feet. But it's not removable, so you may want to use a foot fresher to keep odors away. There are five colors to choose from and various men's sizes.
Pros
The molded midsole absorbs shocks
Slip-resistant, scuff-free rubber outer sole
Ports to drain water
Vents to allow air
100% leather upper
Cons
Not the most attractive shoe
Not replaceable or adjustable
Non-removable sole
Sale
Crocs unisex adult Classic (Best Sellers) Clog, Slate Grey, 16 Women 14 Men US
Crocs For Women And Men: The Crocs Classic Clogs Are Not Only The Most Comfortable Shoes For Women And Men But Also Easy To Clean Just Using Soap And Water And Allowing For A Quick Dry.
Lightweight And Fun: The Crocs For Men And Women Feature Lightweight Iconic Crocs Comfort. Ventilation Ports Add Breathability And Help Shed Water And Debris Quickly.
What Size Should I Buy?: These Men'S And Women'S Crocs Offer A Roomy Fit And We Recommend Ordering A Size Down To The Next Largest Whole Size.
Crocs is an everyday accessory for all fishermen, whether on or off the boat. Many people wear them all the time, although some people consider this a fashion no-no.
These shoes are a clogged design that slips on and has a rounded closed toe with an open heel. There's a flip-up strap that you can wear around your ankle or flip to the front, so your shoes are backless.
Cleaning is as easy as soap and water due to the synthetic material, which is 100% waterproof and fast drying. You can get these in a variety of colors.
The gripped sole means you won't slip, while the textured inner sole massages your feet with tiny nubs. These are perfect for wide feet and run true to size. But some people prefer a bit loose, so you don't get blisters.
Pros
The textured insole feels good on feet
Movable strap for backless or ankle strap
Gripped bottom for support
Open vents for draining and air circulation
Easy maintenance
Cons
May cause blisters
Slips off some people's feet
Not very supportive for feet
(We also have our top pickups of Best Sailing Boat Shoes)
Best Boat Shoes for Fishing Buyers Guide – (Making the Best Purchase)
With so many different types of boat shoes available, it can be mind-boggling trying to narrow down the choices. We've put together a guide breaking down the various features you should consider when shopping for a boat shoe for fishing.
Types of Boat Shoes for Fishing
There are many types of boat shoes you can wear for fishing. Which type you choose is an individual preference. Let's look at some common variations.
Mocassin
Boat shoes are leather or canvas material that many people wear for fishing and casual attire. Most of these are Top-Sider, which is a mix of moccasin and loafer. They have a rubber sole and a leather upper. Cross-trainers are also an option.
These shoes are easy to slip on and gripped, so they're slip-resistant and waterproof. Many have quick-dry abilities designed for getting wet.
Fishing Sandals
Sandals are a great solution when you're fishing on land. Sandals let your feet breeze, so your feet don't sweat while strapping in place.
And many sandals have grips to help keep your footing while reeling in a fish. Some materials dry quickly and are water-resistant, so no worries if the tide comes in over your feet.
Fishing Boots
If you're fishing in cold or rough weather where there's chances water may come on the boat, you may want to invest in a quality pair of fishing boots. These can come at ankle-height or as high up as your knees.
Slip-on
Slip-on water shoes are stretchy material designed for water. These have a rubber, gripped sole on the bottom. And a soft upper (usually mesh) that dries quickly and slips on without tying. Many people refer to these as aqua socks.
Materials
Boat shoes come in multiple materials. Leather, canvas, and rubber materials offer the best water resistance. But mesh provides the fastest drying times and is lightweight. In comparison, thermoplastic resins are lightweight, flexible, and often less expensive.
Parts of a Fishing Boat Shoes
Boat shoes have multiple design components that you should consider in a boat shoe. Read the product description for each shoe you consider and debate these criteria.
Sole
The sole is the most significant component of your shoe design. The best boat shoe for fishing will have a siped sole, which is when there are intricate patterns carved into the bottom to create grip, similar to a tire tread. The original siping design came from Sperry himself, who created shoes with the feature to stop slipping on deck.
Upper
The upper part of the shoe is the part that covers the sides and top of your feet. Traditionally, this part is leather, which repels water, so your feet stay dry. But newer designs use many different materials.
Stitching
Many boat shoes have stitches along the seam of the upper and around the tongue. This stitching is similar to moccasins, which makes the toe box more comfortable without socks.
This unique toe box design reduces chafing and rubbing of your toes against the shoe. Socks aren't recommended with boat shoes as they can trap water.
Benefits of Fishing Boat Shoes
There are many reasons why you would want to invest in a pair of boat shoes for fishing instead of wearing a pair of flip flops or trainers. Here are a few benefits of boating shoes.
Fishing Boat Shoes are Waterproof
Most boat shoes are waterproof, which means your shoes won't get damaged if they get wet. Wet shoes can be uncomfortable and make your feet hurt. But boat shoes can block the water, so your feet stay dry.
Boat Shoes for Fishing dry Quick
Many boat shoes can dry quickly, so you aren't stuck wearing yucky damp shoes the next morning after you've spent all night fishing. And fast drying also reduces the foul odor that accompanies wet sneakers.
Fishing boat shoes have a non-slip Sole
Boat shoes have a gripped sole that helps you keep your footing when it's wet. Anyone who's ever snagged a fish while standing on a damp deck knows things can get slippery. Regular tennis shoes have a smooth sole that makes things dangerous.

Best Boat Shoes for Fishing Comparison Chart
| Product | Price | Lacing System | Material | Unique Features |
| --- | --- | --- | --- | --- |
| Sperry Men's A/o | $ | 360 degree lacing | Leather and Textile | 100% leather, hand-stitched construction, dozens of color choices |
| Columbia Bahama Vent PFG Boat Shoes | $ | No lacing | Canvas and Leather | Stain-resistant and waterproof materials |
| DLGJPA | $ | Elastic straps | Fiber | 15 color options, budget-friendly |
| Shimano Evair Marine Fishing Shoe | $ | Both lacing and straps | Ethylene Vinyl Acetate | Removable insole makes cleaning easier, 100% waterproof |
| Skechers Women's Go Walk Lite Boat Shoe | $ | Elastic straps | Fabric and Synthetic | Cooled insole keeps feet comfortable and cool |
| Rugged Shark Bill Dance Boat Shoes | $ | Elastic straps | Leather | Ports to drain water, vents to allow air |
| Crocs | $ | No laces | Croslite | Gripped bottom for support |
Wrap Up: Fishing Boat Shoes
We hope we've helped you understand the importance of wearing the appropriate boat shoes when fishing. Each of our recommended shoes has unique pros that put them on our list. We've also mentioned the cons of each and told you everything you need to know about shopping for the perfect fishing boat shoes.
We are sorry that this post was not useful for you!
Let us improve this post!
Tell us how we can improve this post?
Last update on 2023-10-03 / Affiliate links / Images from Amazon Product Advertising API