Capture your own live bait with one of the best fish traps on the market. All anglers know that the most effective bait comes from the local environment when artificial bait and metal lures don't do the trick. Fish traps play a crucial role in naturally sourcing bait so you can hook the big one.
Whether you've planned a weekend fishing trip or would like to prepare for a survival situation, a baitfish trap will add extra ammo to your arsenal. Once you pick out a fish trap for yourself, you can feel very smug every time a passerby asks what you're using for bait. Then, pull your fish trap out of the water and show off your secret weapon.
Which fish traps work the best? Well, you'll soon find out as you read our reviews for seven of the best fish traps that successfully and consistently catch small baitfish. Then, check out our detailed Buyer's Guide below to learn about the types of fish traps, how to use them, some benefits and drawbacks of using them, and much more!
The Best Fish Trap Reviews (Top Picks)
Best overall
strong material
❤️ What we love about this product:
Durable
Camouflaged
Large access door
Also works to catch snakes
Durable, due to strong wire mesh
Available in two mesh sizes (¼" & ⅛")
Made in the U.S.A.
Best overall
❤️ What we love about this product:
Durable
Camouflaged
Large access door
Also works to catch snakes
strong material
❤️ What we love about this product:
Durable, due to strong wire mesh
Available in two mesh sizes (¼" & ⅛")
Made in the U.S.A.
All the fish traps in our best fish trap reviews are portable, affordable options that would work best during a casual fishing trip or survival scenario. Although we have numbered our choices, the list is in no particular order, and numbers don't indicate a ranking.
Catch countless minnows in open water with the sturdy Frabill minnow trap. This well-built, vinyl-dipped, steel mesh fish trap will serve as your workhorse out at sea or on the lake. Its compact size (18.5" x 8.5" x 8.25") and lightweight construction (~2 lbs.) relative to other non-folding traps make it easier to pack before your fishing trip.
The Frabill trap's black, vinyl-dipped, steel mesh cage improves the unit's durability and 'camouflagability.' Frabill tests this minnow trap in both saltwater and freshwater; so, you can take it from coast to coast and everywhere in between. In terms of pure performance, this trap puts in a strong bid for the best fish trap of 2023.
The trap is rectangular and can therefore also be used on land to catch snakes. Simple put the trap on a flat surface (in a chicken-house for example) to protect your animals from snakes,
Pros
Durable
Camouflaged
Large access door
Also works to catch snakes
Cons
Uncollapsible
Less portable than folding traps
More expensive than folding traps

For over one hundred years, New York's Tackle Factory has produced the GEE'S Galvanized Minnow Trap (G-40), aka Gees Feets G-40 Minnow Trap and GEE'S Improved Wire Minnow Trap. Patented in 1903, this tried and true fish trap consists of a galvanized steel frame and wire mesh. Consumers have the option of ¼" mesh (G-40) or ⅛" mesh (G-408M).
If durability is your primary concern, then this GEE'S trap might be the best fish trap for you. Its two-piece, semi-collapsible design allows for easier stowing than fixed fish traps. As one of the simpler fish traps to use, it works great for family fishing trips with the kids.
Plus, GEE'S manufactures it here right in the good ol' U.S. of A.
Pros
Durable, due to strong wire mesh
Available in two mesh sizes (¼" & ⅛")
Made in the U.S.A.
Cons
Only semi-collapsible
Uncamouflaged
Less portable than folding traps

Sale
RESTCLOUD Fishing Landing Net with Telescoping Pole, Strong Stainless Handle Full Extended to 48 Inches
Fishing landing net is made of sturdy netting and strong stainless handle, it does not bend or broke, ensure long term performance and reliable use. Great for use fishing in salt water and fresh water!
The telescopic handle extends from 18" to 36", total handle with hoop expend to 48 inches, allows for the extra reach needed to get to your catch, great for kids and adults.
Lightweight soft mesh will not damage fish, making it a perfect tool for both beginner and advanced fishermen to use for catch and release.
Affordable, lightweight, and collapsible, this Portable Folding Fishing Net is a trusty bait catcher. This Restcloud model can trap crabs, crawfish, shrimp, lobster, eels, and more in addition to minnows. Its lightweight nylon construction makes it ideal for bringing it along on long, multi-day hikes, making it also useful for real survival situations.
Use caution when packing and unpacking this trap because the nylon netting can tear if it gets snagged during transit. The fact that this fish trap collapses until flat helps save a lot of space. We'd like the zipped access door to include velcro, but the Restcloud fish trap represents a great value at its price point.
Pros
Affordable
Lightweight
Collapsible
Cons
Less durable than aluminium fish nets
No velcro on the access door if the zipper fails
The included rope is short.

Frabill is the only fish trap company to appear twice on our list. The Frabill Torpedo Minnow Trap makes an appearance as another rugged, non-foldable fish trap. Unlike the rectangular trap, the Torpedo comes in either vinyl-dipped steel or galvanized metal, allowing greater flexibility for your specific fishing conditions.
Its two-piece design differentiates the Torpedo from the other Frabill offerings, as it makes it even easier to bait the trap and remove minnows. Its spring-clip closure makes it a snap to secure the unit, and the hydrodynamic torpedo shape helps quite a bit in stronger currents. It might be the best fish trap when it comes to versatility.
Pros
Hydrodynamic
Camouflaged (vinyl-dipped steel only)
Inexpensive compared to other non-folding traps
Cons
Only semi-collapsible
Less portable than folding traps
Less durable than one-piece designs

Sale
One of the most recognizable brands in the tackle industry, Eagle Claw offers a galvanized minnow trap that has become a popular option for catching certain slithering land creatures. While this two-piece, galvanized fish trap might look similar to the others, for some reason, it has caught on as both a fish trap AND a snake trap.
With a diameter of 9" and a length of 16.5", this trap breaks down into a semi-collapsible state for easy storage. While there are some concerns about the loose fit between the two pieces, we're sure you'll catch enough minnows to remain unperturbed if one or two escape.
Pros
Trusted brand
Doubles as a snake trap
Galvanization
Cons
Loose fit
Only semi-collapsible
No vinyl-dipped steel

Sale
The Promar American Maple Minnow/Craw Trap stands out as the only rectangular, folding fish trap on our list. Constructed with long-lasting, polyethylene netting, the Promar fish trap is both tough and lightweight. Plus, its spring pop-out design helps you get set up in a matter of seconds. Just place a little food in the bait pouch, toss the trap into the water, and minnows will come to you.
The dual entrances to the Promar trap create an increased likelihood of catching baitfish. The large, zippered access point allows for easier extraction of your catch. If you intend to catch minnows and other small fish, you'll want the TR-501 model with its dual 2.5" entrances. Other models by Promar offer much larger 5" entrances.
Pros
Collapsible
Rectangular shape sits nicely on lake beds
Lightweight
Cons
Less durable than metal fish traps
The included rope is short
Can suffer damage from crawfish, turtles, etc.

If you want a fish trap with a novel design, look no further than the KUFA fish trap. This unique-looking piece of tackle doubles as a shellfish trap.
You might catch minnows, prawns, and crayfish all at the same time. Plus, it's semi-collapsible; so, you can stack the two pieces to save valuable space while packing for your fishing trip.
The vinyl-dipped metal of the KUFA fish trap's cage adds extra durability when confronted with heavy usage or corrosive seawater. Its all-black color adds an element of camouflage to avoid scaring away the baitfish. If you want to turn a couple of heads at the lake or on the ocean, this trap's unconventional design will almost certainly accomplish that for you.
Pros
Vinyl-dipped
Camouflaged
Can be used to catch shellfish
Cons
Only semi-collapsible
Less durable than one-piece designs
Less portable than folding traps
(You might also be interested in reading about the Best Fish Attractants)
Best Fish Trap Buyer's Guide – Find the Right Fish Trap for You
Finding the right fish trap depends on personal preferences regarding price, durability, portability, functionality, etc. This guide should assist casual and experienced anglers in making the right purchase for their needs.
We'll discuss the various types of fish traps, how to use them, their benefits, drawbacks, features, and a whole lot more.
Minnow Trap Bait
To catch fish with a fish trap, put a little piece of bread in the trap and the minnows will absolutely destroy it.
The technique that I found out works best is making small balls of bread and leaving one piece to float in the trap, which really draws the minnows in quickly.
Types of Fish Traps
Ingenious fishermen the world over have invented a wide variety of functional fish traps. From large, permanent, and semi-permanent structures to small, lightweight, portable cages, fish traps have evolved and improved over the course of several millennia.
This guide focuses on portable fish traps for the average fisherman, but you'll still find many offerings on the market that aren't what hobbyist fishermen typically need. We have not covered crab, lobster, or cod pots. Nor have we discussed octopus or eel traps.
All of the devices reviewed in this guide fall into the category of the basic bottle trap. Yet, basic bottle traps differ from each other in a number of ways. Here are just a few:
Metal vs. Plastic
Fish trap companies create both metal and plastic options for the average consumer. Deciding between them means sacrificing one virtue for another, and, sometimes, consumers might find it hard to choose.
If you choose a polyethylene or vinyl fish trap over a metal one, it might mean you value convenience over durability. Conversely, selecting a metal trap indicates you might be looking for reliability. Either way, you will catch baitfish.
Typically, a metal fish trap will cost more than a plastic one. So, if you're looking to save money, a plastic fish trap might work for you. However, you can still find a few metal fish traps that won't break the bank, and they will last a long time, so you'll get a return on investment.
Fixed vs. Two-piece
One of the more significant differences between metal and plastic fish traps relates to their construction. Some metal trap manufacturers weld their cages into one piece, while others fabricate a two-piece system that fastens together. These different styles of metal fish traps come with their own sets of benefits and drawbacks.
Without question, the fixed, one-piece fish traps represent the most durable options in the industry. Fewer moving parts and permanently joined connections mean that things are less likely to go wrong. Then again, the fixed fish traps do take up a lot of space.
The two-piece fish trap allows users to cut in half the amount of space the unit takes up. However, some people have found that the lack of a proper seal between the two halves can sometimes let a minnow escape. If that matters to you, you might want to avoid the semi-collapsible fish traps and go for the fully collapsible or uncollapsible varieties.
Collapsible vs. Semi-collapsible vs. Uncollapsible
Save yourself some cargo space with collapsible and semi-collapsible bait fish traps. While many of the best fish traps come in fixed form, collapsible and semi-collapsible fish traps can get the job done, too. For many fishermen, the decision comes down to logistics.
If you plan on driving the family to the lake in a Mini, you probably need a fully collapsible trap. Or, if you have a little space left in your trunk and you prefer the durability of metal traps, then a semi-collapsible unit might serve your purposes. Finally, those who drive trucks or SUVs might want to take advantage of all that space and buy a traditional, fixed trap.
Rectangular vs. Cylindrical
You'll discover a couple of trade-offs when it comes to the shape of fish traps. Rectangular fish traps sit nicely at the bottom of a lake or stream.
You'll notice a lot less movement than you would with a cylindrical fish trap. Also, the risk of a rectangular trap rolling down the shore or riverbank and washing away remains less than that of a cylindrical trap.
Cylindrical traps work great in a strong current. Most of the cylindrical fish traps you can buy slightly taper towards the ends, creating an improved hydrodynamic effect. You have to keep in mind that almost all cylindrical traps involve a two-piece construction.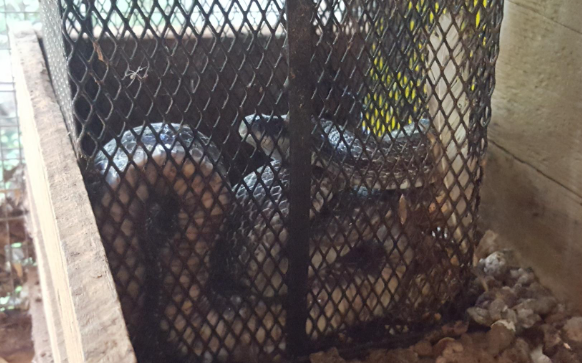 Benefits of Using Fish Traps
Experienced fishermen already know the advantages associated with using fish traps. Large, permanent traps provided a much-needed food source for early man. The advent of small, portable fish traps allowed for flexibility and range of movement when sourcing their next meal.
However, in modern times, the benefits of using portable fish traps have expanded.
Individuals who fish as a hobby rarely use fish traps to catch food. Instead, they utilize traps to avoid the cost of store-bought bait or to capture natural, local baitfish. On a fishing trip with kids, it helps that they are fascinated by fish traps. They can't wait to check the trap for a catch.
Saves Money
Every fisherman has taken an early morning trip to the bait shop before a day of fishing. While bait doesn't cost that much, if you fish often, it can add up over the course of a year. A fish trap provides all of the bait you could possibly use for free.
Even the best fish traps are rather inexpensive. For one low price, you can enjoy free bait for several years into the future.
Then again, for avid anglers, you can't put a price on the experience of a successful fishing trip using local bait. Capturing live bait that the bigger fish eat on a daily basis represents the real benefit of a fish trap.
Provides Natural Bait
Although modern, manufactured bait and tackle often work better than natural bait, every angler has encountered a situation where the fish won't bite. When the artificial bait and fancy lures don't seem to work, using bait harvested from the natural environment serves as the next best option.
If you've gone half a day without a single strike from a fish, you might want to turn to locally sourced, live bait. Small minnows constitute a major part of the diet of game fish. Once you bait your fish trap and set it into the water, you'll have no shortage of your target fish's favorite food.
Kids Love Them
Parents who bring their kids along for a day of fishing know it can prove impossible to keep the little ones entertained. Fishing represents a quiet, peaceful pastime with long periods of inaction interspersed with brief moments of excitement. It doesn't provide much stimulation for the active minds of children.
However, the concept of catching live fish that the kids can hold and inspect captures the imagination of all children. In fact, you can expect your kids to keep checking the trap every 5 minutes. It certainly decreases your chances of catching baitfish; but, there's no replacement for keeping your little ones occupied for a little while.
Disadvantages of Using Fish Traps
The disadvantages of using fish traps are few, but they're worth mentioning. Depending on the type of fishing experience you prefer, a fish trap is either a useful tool or just another item you have to drag along with you. Also, even the best fish traps don't guarantee that you'll catch anything.
As usual, everything has upsides and downsides; and fish traps are no exception. We go through a couple below.
Requires Storage
Whether you like it or not, fish traps do require storage. Based on the type of fish trap, the amount of storage space required can range from that taken up by a vinyl record or a medium-sized suitcase. It all depends on whether you decide to purchase a collapsible, semi-collapsible, or non collapsible fish trap.
Obviously, the size and shape of a non collapsible fish trap do not change. But, with a semi-collapsible, two-piece unit, you can cut the storage down to nearly half. A fully collapsible fish trap takes it even further by folding down flat, which makes them the most portable and easily storable units.
No Guarantee
While modern fish traps represent the best way to catch a bunch of baitfish, success is not guaranteed. A number of factors determine whether you'll catch anything with your fish trap, including your skill level, currents, and the bait used.
You can't just throw a fish trap anywhere in the water and expect it to catch fish. It does require a little thought. For example, a strong current will make it less likely that you haul in a school of minnows.
The type of bait you use will have a big impact on your results. Of course, visual confirmation of the presence of baitfish always helps.
How to Use a Fish Trap
All portable fish traps serve as an easy-to-use tool to catch live minnows. However, just because fishermen find them easy to use, that doesn't mean the traps catch fish all by themselves. You need careful observance, critical thought, familiarity with your tool, and a little patience.
First, most anglers will survey the surrounding area, looking for the perfect place to lay the trap. Then the setup process begins, and it should take only a few minutes. With setup completed, careful deployment is essential.
Once you've caught a few fish in your trap, you need to know how to harvest the baitfish.
Reconnaissance
Picking the right spot to lay your trap makes all the difference. Throwing your trap out while ignoring environmental conditions can work, but it usually doesn't. You want to find a nice pool with minimal current, a little shade, and, of course, plenty of minnows.
Minnows like to congregate in places with less of a current, so they can rest. Typically, they prefer cooler areas of shallow water that enjoy a little shade. Naturally, if you see a giant school of minnows exposed to the sun and swimming against a moderate current, go ahead and slowly drop your trap.
If you don't have visual confirmation of baitfish' presence, then calm, cool, shaded, and protected waters represent the best place to lay your trap.
Setup
Depending on the type of portable fish trap you use, setup can mean nothing more than placing some bait in the trap. Other units require some assembly. Generally, setup shouldn't take more than a few minutes, regardless of the particular fish trap you intend to utilize.
An uncollapsible or fixed fish trap calls for minimal setup. Open the access door, place your bait, and close the access door.
A fully collapsible fish trap only adds the additional step of releasing a clasp, and the unit will open up and take shape automatically. The semi-collapsible fish trap requires the most setup.
With a semi-collapsible, two-piece fish trap, you must unstack the two halves and join them together using a variety of standard fasteners. Then, just place your bait as you would with other fish traps and begin deployment.
Deployment
Once you've got a location picked out and set up your fish trap, it's time to deploy your unit. Generally speaking, any fish within a couple of feet of your deployment will get scared away.
That's not a reason to make a splash. A slow-and-steady approach makes it far more likely that the fish will come back sooner.
With your fish trap now submerged, you need to decide whether you want it near the surface or on the lake bed. If you've already spotted some minnows, you can make this decision based on your visual assessment. Otherwise, you might want to employ trial and error. After that, stick with what works.
Harvest
Harvesting your captured baitfish is the most exciting part of learning how to use a fish trap. It feels rather satisfying to catch a minnow with your bare hand, place it directly onto your hook, and make your first cast. You'll have a hard time finding a substitute for free, live bait.
Once you have cast your line, just redeploy your fish trap with the remaining minnows inside. They'll survive all day long in your fish trap. Finally, go ahead and release the lucky minnows back into the stream or lake.
Cleaning
Now that your day of fishing has ended and you've hauled in the legal limit, it's time to clean your fish trap. It should go without saying that you need to rinse your fish trap with fresh water after a day at sea. All of that salt water will mix with oxygen and accelerate the chemical reaction that leads to rust.
You should probably rinse your fish trap after a day at the lake or river, too. Doing so will minimize the already low risk of spreading disease. This goes for vinyl-dipped metal fish traps as well as plastic ones.
Features of the best fish traps
Despite the overall simplicity of even the best fish traps, they come with a wide range of features. From mesh size to vinyl-dipped steel to wire gauge, these features can impact your ownership experience.
Deciding which features are a priority for you depends on your level of experience, expected frequency of use, and intended target fish. Check out some of these more important features:
Mesh Size
Your intended target fish determines the size of the mesh you need. That extends from portable fish traps to large, commercial units used to catch bigger fish. For minnow traps, ¼" is industry standard. You can also find some with ⅛" mesh size.
If you already know the size of the minnows you'll target, then you can make an informed decision. Otherwise, you'll probably need to start with ¼" mesh size and adjust from there, if needed.
Wire Gauge
The wire gauge of your fixed and semi-collapsible fish traps will affect their overall strength, durability, and price. Most traps consist of wire gauges greater than 20. Please remember that the higher the gauge, the thinner the wire.
If you tend to get a little rough with your tools, you might want to spring for a high-end fish trap with a lower wire gauge. The additional thickness provided will allow you to toss it around while packing and unpacking. Apart from that, the standard wire gauge will serve most fishermen just fine.
Galvanization
Galvanization is the process of dipping steel or other metals into molten zinc. This creates a protective coating that will not rust. The zinc coating lengthens the lifespan of your fish trap, but it won't last forever.
Exposure to seawater or even the sulfur dioxide present in the air we breathe can damage the zinc protective coating over time. That's why it's important to rinse your galvanized fish trap after a day of ocean fishing. While it isn't perfect, galvanization is nice to have if you want to preserve your new piece of tackle.
Vinyl Dipping
Like galvanization, vinyl dipping serves as a temporary rust preventative. Sunlight and corrosive elements found in the air and water will result in the loss of some vinyl coating. Once that happens, the rusting process starts.
Vinyl dipping contributes one additional feature to your fish trap. Typically, a fish trap comes with a black vinyl coating, which acts as camouflage while it sits in the water. You might pay a little extra for it, but vinyl dipping has become a popular fish trap feature because the minnows are less likely to find an escape route if they have difficulty seeing the trap.
Automatic Pop-up Design
Polyethylene and vinyl fish traps offer a convenient, automatic pop-up design that allows fishermen to set up their unit with minimal effort. This time-saving feature saves users the extra step of fastening together the two main pieces of a semi-collapsible trap.
The automatic pop-up design does come with a somewhat comical downside. If the trap isn't secured while in the collapsed position or someone opens it in tight quarters, it can spring open and fill up a lot of space in a hurry. Under such circumstances, these types of traps are unwieldy.
Best Fish Trap Comparison Chart
Product
Price
Item size (Length)
Best to trap
Unique Features
Frabill Rectangular Minnow Trap
$
18"
Minnows
Durable, camouflaged, large access door
GEE•S Galvanized Minnow Trap (G-40)
$
16.5"
Small Bait fish
Durable, available in two mesh sizes
RUNACC Portable Folding Fishing Net
$
23"
Crabs, Fish, Lobster
Affordable, lightweight
Frabill Torpedo Minnow Trap
$
18"
Minnows
Hydrodynamic, camouflaged
Eagle Claw Galvanized Minnow Trap
$
16"
Minnows, Crabs
Trusted brand
doubles as a snake trap, galvanization
Promar American Maple Minnow/Craw Trap TR-501
$
23"
Minnows, Craws
Collapsible, lightweight
KUFA Fish Trap
$
24"
Cray Fish, Minnows
Vinyl-dipped Camouflaged
Wrap Up of the best fish traps
You should now have a good sense of the different types of fish traps on the market, how to use them, and the available features. Understanding the benefits and drawbacks of using a fish trap to catch live bait can help choose one and use it effectively.
Ultimately, the real test for your chosen fish trap will take place on the lake or at sea. There's nothing like testing a new fish trap in the field. So get your fish trap, go fishing, and be patient!
Good things come to those who bait.
We are sorry that this post was not useful for you!
Let us improve this post!
Tell us how we can improve this post?
Last update on 2023-10-03 / Affiliate links / Images from Amazon Product Advertising API