The humble boat shoe has evolved significantly over the years. What began as a practical way to stay safe on slippery boat surfaces has turned into a fashion accessory in its own right. Nowadays, you can see boat shoes just about everywhere. They're a versatile casual and smart-casual choice, and most boat shoes transition incredibly well from sea to land.
If you find yourself intrigued by the style and want to buy a pair, they make an excellent addition to any wardrobe. But just what are the best boat shoes for women?
With so many options to choose from, finding the right pair for your next sailing trip or vacation can feel daunting. Keep reading for our women's boat shoes reviews, where we'll take an honest look at the best options on the market. We'll also go over practical information about what to look for and how to style your shoes.
(You might be interested in reading our article on Best Boat Shoes for Men)
The Best Women's Boat Shoes (Top Picks)
Let's jump right in with an in-depth review of the best boat shoes for women, in no particular order.
Sale
Sperry was the first boating shoe company to exist, and their styles are so good that they have stood the test of time. The Top-Sider Angelfish is no exception. Thanks to its practical design, beautiful style, and unparalleled comfort, it's one of the best models on the market.
It has everything you need when sailing. For one, the leather is stain and water-resistant, with rust-proof eyelets to stand up to extended salt-water exposure. The shoe's rubber sole has an excellent grip to keep you safe walking on slippery surfaces and wet decks, and it also absorbs moisture to keep your feet dry.
And not only is the construction long-lasting, but these shoes also look fantastic with everything, which is why we needed to include them in our list of the best Boat Shoes for Women.
Pros
Transitions well from boat to land
Easy to slip on and off
Excellent price
Available in thirteen colors
Cons
May be too wide for narrow feet
Sizing can be difficult for first-time buyers
Not everyone likes the shiny details
If you're looking for a shoe specifically for boating and water sports, the Adidas Terrex Climacool Boat Shoe could be an excellent option. It's ideal for anyone who needs to get their feet wet, as it features a soft-lined interior with holes to drain water. The shoe is lightweight and very quick to dry, making it an excellent footwear for activities like canoeing, kayaking, and dinghy sailing.
The Terrex Climacool also delivers the stability you need, as it includes Traxion grip that holds onto a variety of surfaces. Adidas used Climacool open mesh on the uppers, made of neoprene, which gives the shoe maximum breathability. Overall, it offers a low-profile, sleek look that combines well with any outfit, which urged us to include them in our list of the best Boat Shoes for Women.
Pros
Excellent price
Wide range of colors
Non-marking sole
Cons
Shoe has a narrow fit
Not a good walking shoe
Doesn't offer fantastic arch support
You've probably heard of Clarks, a brand known for producing comfortable yet stylish footwear. Their boat shoe is no exception, featuring many details that will make you reach for these shoes over and over.
The first thing you'll notice is the thick, durable sole, which provides traction on all kinds of wet surfaces. Clarks also included its Ortholite footbed and Cloudstepper technology to deliver all-day comfort. Textile Upper construction completes the look with two-tone colors and decorative stitching.
Overall, the Jocolin Vista Boat Shoe has a beautiful design and robust construction—and it's available in classic neutrals that work in many wardrobes. Was this pick justified to be included in our list of the best Boat Shoes for Women? Let us know in the comments!
Pros
Transitions well from boat to land
Superior comfort
Keeps feet cool
Cons
Sole may lose cushion with lots of walking
Sizing can be tricky
No support
Skechers may not be the first brand that comes to mind when you think of boat shoes, but you may find yourself pleasantly surprised by all they have to offer. Customers love their boat shoes, specifically the Go Walk Lite Boat Shoe, which has received numerous positive reviews online.
Skechers designed the Go Walk to be comfortable and supportive while walking long distances. Some other brands' boat shoes irritate the feet if you wear them for a day of sightseeing, but not this one. The 5 Generation cushioning system offers impact absorption and cushioned support, and the Goga-Max high-rebound insole keeps you comfortable all day long.
It's also made from 100 percent textile, giving the shoe maximum breathability in warm weather.
Pros
Affordable pricing
Excellent reviews
Beautiful design
High traction soles
Keeps feet cool regardless of hot weather
Cons
Lacks high arch support
Getting the fit right can be tricky
More colors would be nice
If you're searching for a budget option, you may be interested in the Jabasic Women's slip-on loafers. It features a classic, round-toe look that's available in a variety of neutral colors, and they're made from a synthetic material that gives them durability. Reviewers highlight the slip-on style that's easy to get on and off yet stays in place when you're walking.
As you'd expect from any boat shoe worth its salt, the sole offers both support and anti-slip traction to keep you safe on wet surfaces. The Jabasic Slip-on Loafer also features a memory foam footbed, so they'll be comfortable for many hours.
Was this pick justified to be included in our list of the best Boat Shoes for Women? Let us know in the comments!
Pros
Low price
Assortment of colors
Classic look
Cons
No arch support
Not as high quality
Some complaints about the fit
Sebago Women's Bala Slip-On Loafer
Genuine Handsewn, Moccasin Construction
Unlined Premium Full Grain or Suede Upper
Premium Full Grain or Suede Leather Three-quarter Cushion Socklining with Laytex Foam
The Sebago Bala is well known for one significant reason: it's Kate Middleton's go-to boat shoe. The British princess helped catapult Sebago to fame, and with good reason—for anyone interested in purchasing a beautiful shoe, this one stands out for its beautiful, eye-catching design.
The Sebago Bala has a classic docksider style that features decorative stitching, around-the-collar lacing, and a dual eyelet lace system. But Sebago improves on this classic look with a few upgrades—namely, a delicate, feminine shape that pairs well with just about anything.
However, looks aren't everything. The shoe has practical features that you'll need on the water, such as a rubber sole, latex foam for comfort, and a cushion sock lining.
Was this pick justified to be included in our list of the best Boat Shoes for Women? Let us know in the comments!
Pros
Affordable
Durable
Goes well with any outfit
Cons
Only available in two colors
Some reviewers say they scuff easily
Some complaints about fit
Sperry Women's Bluefish Boat Shoe
Genuine all leather upper allows for years of wear
EVA molded midsole provides support and comfort
Razor-cut Wave-Siping delivers ultimate wet / dry traction with non-marking rubber outsoles
Sperry is so well-loved for their boat shoes that we had to include a second option from this brand. If you want a no-fuss shoe that will serve you for a long time, you can't go wrong with the Bluefish, which is a perfect marriage of comfort and fashion.
Sperry created this model from 100 percent leather, and it features a rubber sole that delivers the traction you need on boat decks. Comfort is the primary feature reviewers highlight; the shoes are so comfortable that people wear them when they have to be on their feet all day, like teaching.
Plus, its design is so beautiful that you can wear this shoe with practically any outfit, whether you're at the marina or out with friends.
Despite the bad review on Amazon, we were pretty certain that this model needed to go in this list of the best boat shoes for women. Was this pick justified to be included? Let us know in the comments!
Pros
Washable
High-quality
Stylish
Cons
Not a lot of color choices
They may stretch a bit after extended use
Sizing can be difficult
Best Boat Shoes for Women Buyer's Guide—Knowing What to Look for
Now let's take a look at everything you need to know to get the most out of your boat shoes.
What Are Boat Shoes?
Paul Sperry invented boat shoes in 1930 as a way to make walking on slippery sailboat decks safer. They were highly practical but only worn by boat crews initially.
However, other brands took Sperry's design and expanded on it, and the style has become popular with boaters and non-boaters alike. Now they're common in both men's and women's fashion.
Characteristics of Boat Shoes
Boat shoes are easy to recognize, thanks to their distinct design.
They feature a low-profile, below-the-ankle silhouette that you slip on. All boat shoes have high-traction, slip-resistant soles made from rubber and a supportive insole and shock-absorbing heel.
Hand-stitched uppers are made of leather or canvas. Though uppers were traditionally dark or brown colored, you can find boat shoes with uppers in all colors today. They are water-resistant and stain-proof, and all uppers feature some decorative stitching and lacing.
What to Consider When Buying Boat Shoes
Here are some things to keep in mind when buying boat shoes.
Comfort
If you're going to be spending hours wearing your boat shoes, they need to be comfortable. Proper arch and ankle support is a must, so look for something that's well-cushioned with padded insoles.
Material
As mentioned above, boat shoes are either made of canvas or leather. Leather is typically preferable to canvas, as it's longer-lasting and is more stylish. It's also easier to break in than other materials.
Grip
You don't want to worry about sliding around the boat deck when you're standing, so your boat shoes need excellent grip. This feature is critical, as it determines how comfortable (and safe!) you feel in wet environments. Besides maximum grip, the shoe should be made of non-marking rubber to avoid skid marks on the deck.
Traction
Similarly, a good boat shoe should keep you from slipping when walking on wet surfaces. The sole should be anti-slip to provide the traction you need.
Water Resistance
Look for a water-resistant model if you'll be spending lots of time sailing. A fast-drying shoe will also make you more comfortable should your feet get wet.
(You can also check our top pickups of Sailing Boat Shoes)
How to Style Boat Shoes
What makes this style so popular is that there are so many ways to style boat shoes! Here are a few ideas.
Jeans
Jeans pair fantastically with boat shoes, especially skinny and straight leg jeans. Add a button-down shirt for the perfect casual look, or pop a blazer over a t-shirt for something a bit more glam.
Shorts
Boat shoes work with practically any kind of shorts and a t-shirt or blouse. You can also add a polo for a playful summer look.
Chinos
For anyone who likes a bit of spice, colorful chinos and neutral-colored boat shoes make an excellent combination. Just make sure that the color of your chinos contrasts with your shoes to avoid an overabundance of color.
Skirts/Dresses
Skirts and dresses also work well with boat shoes, as long as they are casual. Throw on your favorite summer dress, and you can't go wrong.
Accessories
The right accessory can help your boat shoes stand out and create a more feminine style. A light scarf, jewelry, or a handbag in a fun print or color can all elevate and soften your look.
Do You Wear Socks with Boat Shoes?
Lots of people wear their boat shoes without socks, as their low cut makes it difficult to wear regular socks with them. However, if you prefer to wear socks, opt for a no-show style.
Where to Wear Boat Shoes
Despite being practical boating footwear, you can wear this style practically anywhere. When wearing them on land, they're best suited to casual and smart-casual occasions. Most people wear them in mild weather, so spring or fall months are ideal for their use. Boat shoes also make an excellent vacation and date shoe.
Though they're quite versatile, formal settings are the one occasion when a different type of shoe would be more appropriate. They should also be avoided in winter, as they're not very warm.
Caring for Your Boat Shoes
Caring for your boat shoes ensures they have a long life. Be mindful to store them in a cool, dry place away from direct sunlight and let them dry completely before putting them away. Brush them regularly to remove any dirt, debris, or salt deposits.
Best Boat Shoes for Women Comparison Chart
| Product | Price | Fabric Material | Sole Material | Unique Features |
| --- | --- | --- | --- | --- |
| Sperry Top-sider Women•s Angelfish Slip-on Loafer | $ | Leather | Rubber | Affordable, available in more than ten colors |
| Adidas Women•s Terrex Climacool Boat Shoe | $ | Textile/ Synthetic | Synthetic | Soft interior, lightweight |
| Clarks Women•s Jocolin Vista Boat Shoe | $ | Textile | Rubber | Sole is durable, gives cooling effect to feet |
| Skechers Women•s Go Walk Lite Boat Shoe | $ | Textile and Synthetic | Synthetic | Easy to afford, stylish designs, keeps feet cool |
| Jabasic Women•s Slip-on Loafers | $ | Ethylene Vinyl Acetate | Knit | Classic look, available in varieties |
| Sebago Bala Slip-on Boat Shoe for Women | $ | Leather | Rubber | Durable, feminine shape, easy to afford |
| Sperry Top-Sider Women•s Bluefish | $ | Leather | Rubber | Easy to wash, have high quality |
Wrap Up
Even if you never plan to set foot on a boat, there are plenty of reasons to love boat shoes. This casual style is fun, versatile, and easy—and in our opinion, it's a must-have in any woman's closet. We hope our guide of the Best Boat Shoes for Women gave you some useful inspiration to level up your wardrobe with one of our best picks.
We have also reviewed the best boat shoes for sailing, and the best boat shoes for men. Let's not forget the best boat shoes for Fishing which keep you safe while catching fish.
Use our buying guides to equip your family with high-quality garments for your next time on the deck!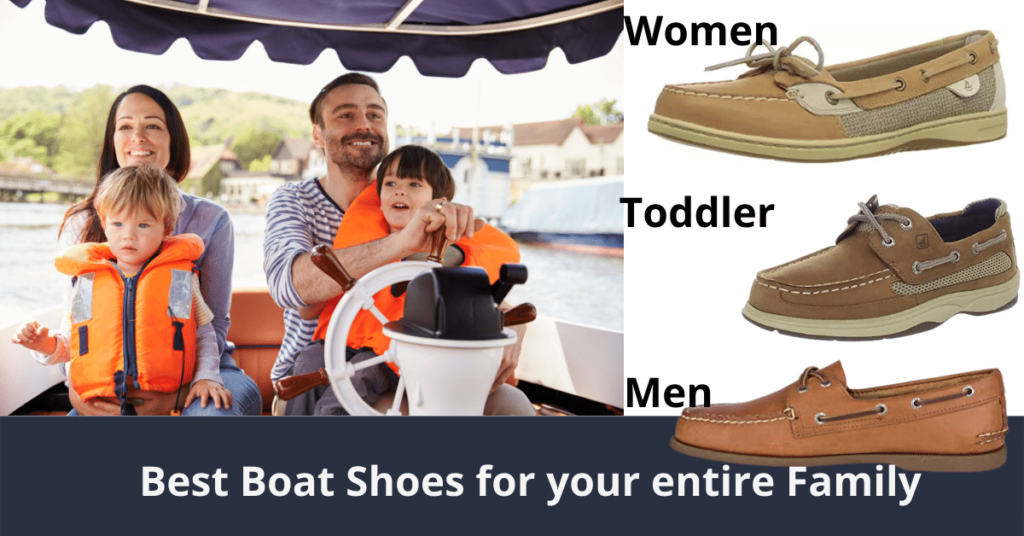 We are sorry that this post was not useful for you!
Let us improve this post!
Tell us how we can improve this post?
Last update on 2023-09-23 / Affiliate links / Images from Amazon Product Advertising API