Sailing is a fun and healthy outdoor activity, but if you aren't prepared with the proper gear beforehand, you might not be able to enjoy your trip out on the water to its fullest potential. There are many different ways to enjoy sailing, but they all have one thing in common: the necessity of wearing water-friendly clothing.
While boat shoes have become more of a style than a functional shoe in recent years, the originals were invented by Paul A. Sperry to help boaters retain their grip on the boating deck and other slippery surfaces. Many of the best boat shoes for sailing still retain this function today, so quality boating shoes are an excellent buy if you plan to go sailing.
In this guide, we'll go through some of the best sailing shoe options of 2023, and we'll look at sailing boat shoe reviews, too. Before we wrap up, we'll also go over some of the most critical differences between boating shoes, such as materials, styles, functionality, and more.
(If you are a sailor and care about safety, you should also read our article on Best Sailing Life Jackets)
The Best Boat Shoes for Sailing Reviews (Updated 2023)
In this next section, we'll show you some of our favorite boat shoes of 2023. The following are in no particular order.
As the original creator of the boat shoe, you'll see a lot of options from Sperry, both on this list and during any independent searches you do. Their men's Billfish shoe is one of their classic, time-tested styles and one of their most popular looks, too.
The Billfish stands out from other similar boat shoes because it has several fabric areas on the shoe's exterior. These fabric areas not only add style to the shoe, but also a bit of extra breathability.
Whether this breathability is a benefit or drawback depends on the wearer. Water soaks through fabric much more quickly than it does through leather, so if you tend to get wet shoes while sailing, you might not like it. The shoe does have an excellent non-slip tread that makes maneuvering a wet boat deck a breeze, though.
Pros
Leather and fabric outer for durability and breathability
Classic non-slip tread
Great for both recreation and casual wear
Cons
Fabric areas may be more permeable to water.
Leather upper is water-resistant but not waterproof.
Watch out for imitations and fakes.
Sperry's sports moc works via the same concept as the shoe above but in a more rugged package. Sperry designed this shoe to weather elements such as seawater and freshwater, but it lacks some of the formality of a classic boat shoe in exchange.
However, the Sea Kite shoe is much more comfortable for hot days spent out sailing. The shoe has mesh windows built into boat shoes, and while the mesh will let water in, it'll let moisture and sweat escape, too.
This Sperry also has the classic non-slip treads that the brand is known for, and it comes in both leather and suede options. While it takes on a slightly more "athletic" style compared to classic boat shoes, it performs better in wet conditions because of that, too.
Pros
Athletic styling is excellent for high-intensity activities, such as sailing races.
Mesh pockets allow moisture out easily.
Classic non-slip tread
Cons
Not as attractive for semi-casual and formal occasions
It has a removable padded liner, which is a noticeable comfort downgrade from leather-lined Sperrys.
Mesh areas allow water to seep in.
Sperry isn't the only name in town when it comes to quality boat shoes. Rugged Shark's model is attractive and great for sailing while still maintaining a formal boat shoe's function.
Like the previous shoe, the Rugged Shark combines some of an athletic sneaker's features with those of a classic boat shoe, giving it a slightly more casual look. However, the placement of the mesh areas of the shoe are a bit more tasteful, too; you still get the necessary air exchange, but with a slightly classier look.
Functionally, these shoes feel heavy-duty like a hiking shoe, but with all of the non-slip grip and appeal of a boat shoe. As such, they're not as lightweight as many classic boat shoes, but you may appreciate the extra grip while out on the water.
Pros
Bridges the gap between casual and formal
Mesh areas for breathability
Excellent hiking-style grip
Comfortable and durable
Cons
Heavier than classic boat shoes
Shoelaces are slippery and come untied often.
No alternative color or style options
Skechers is another big name in shoes that consistently puts out functional, high-quality boat shoes. These Elent-Mosen shoes are reminiscent of classic boat shoes, but with two main differences: they come in fabric rather than leather, and they rise higher on the ankle.
If you can accept these differences, these shoes have a lot of benefits. Firstly, they may provide a more comfortable and secure fit since they offer more ankle support. And second, don't forget that a canvas shoe will weigh less than a thick leather shoe, too.
They provide excellent grip for sailing applications, but we do have one complaint to make: because these shoes have non-adjustable elastic laces, they might not fit your foot as snugly as you'd want them to. This is easy to remedy by replacing the laces.
Pros
Ideal for both sailing/boating and casual wear
Better foot and ankle support due to the higher rise
Lightweight feel
Cons
Elastic laces won't work for everyone.
Canvas material isn't water-resistant.
They can be difficult to put on.
If you're willing to get a bit adventurous, these hybrid aqua-boat shoes from ALEADER are an exciting wet-wearing alternative. They are not much like regular boat shoes; in fact, if it weren't for the three eyelets that are one of the hallmarks of classic boat shoes, we'd be hard-pressed to call them boat shoes at all.
In essence, these shoes are meant to be lightweight, airy, and fast-draining shoes for any water-related use. If you like to swim or wade through the water while sailing, you'll enjoy how they drain quickly and don't retain moisture. However, we can't deny that they don't really fill the "style" niche of a formal boat shoe.
Additionally, stay away from these if you like to go fishing on your sailboat. Because of the open mesh construction, any sharp tools or fishing tackle on your boat deck could become hazardous while wearing these shoes.
Pros
Highly breathable mesh construction
Several colors to choose from
Lightweight and fast-drying
Cons
Holes in the sole can retain sand and rocks.
Not appropriate for fishing use
Not as non-slip as classic boat shoes
(You can read more on Best Boat Shoes for Men)
Sale
For women looking to invest in an attractive and functional boat shoe, this option from Skechers is a great place to start. As the name implies, these shoes are lightweight and easy-wearing, even if you use them all day.
Their feminine style makes them cute and attractive, and Skechers designed them to be comfortable from the first day you put them on. However, these shoes have departed quite far from the classic boat shoe style, and they're missing a few related features.
Firstly, these shoes do not have an advanced non-slip sole like many boat shoes do. It does have a non-marking sole, but it doesn't have the proven boat shoe tread pattern. Secondly, they almost entirely lack arch support, which may be a deal-breaker for those who need it.
Pros
Classic boat shoe look but adapted for women's style.
No break-in period required.
Easy-wearing all day long
Cons
No arch support
No non-slip treads
Watch out for imitations and fakes
Sperry Womens Angelfish Boat Shoe, Linen/Oat, 5
Genuine all leather upper allows for years of wear
EVA molded midsole provides support and comfort
Razor-cut Wave-Siping delivers ultimate wet / dry traction with non-marking rubber outsoles
Finally, we have one more Sperry shoe to round out this list, and this time in a women's style. These Angelfish shoes have all the attractive charm of a low-riding women's boat shoe, plus all the functions you'd expect, as well.
Like the Billfish Sperrys we looked at first, these shoes also have some fabric areas that help them breathe. They have the genuine Sperrys leather non-slip sole that you need out on any sailing expedition.
However, because these shoes are so low-riding, you may find that they don't grip your feet enough for any intense activities. They're great for relaxing sailing trips but could slip off if subjected to anything more extreme than that.
Pros
Feminine style, despite being a boat shoe.
Available in several colors and styles
Breathable and supportive
Classic non-slip sole
Cons
Low-rise upper is comfortable but not meant for strenuous activity.
Recent style changes have resulted in a less comfortable shoe.
Fabric patches are prone to water intrusion.
(You can read more on Best Boat Shoes for Women)
Best Boat Shoes for Sailing Buyers Guide – Your Guide to Selecting the Best Product
When selecting the best boat shoes for sailing, it's essential to keep an eye out for things such as:
Form
Function
Material
Quality
Of course, picking something out that is stylish enough to be worn outside the sailboat is important, but choosing something that can stand up to your harshest sailing conditions is essential, too.
Do you gravitate towards intense, competition-style sailing events? If so, look for a more aggressive boating shoe with good grip and better coverage. However, if you mostly sail as a leisure activity, you can probably get away with a more stylish shoe with less function.
Similarly, if you tend to get your feet wet, it may be a good idea to search for something water-resistant (or something fast-draining). There are many aftermarket shoe coatings out there that can help make your shoes water-resistant, but it's always better to start with a natively waterproof or water-resistant shoe if you need that feature.
Online Shoe Shopping: Benefits and Drawbacks
You may have noticed that one of the recurring cons on this list was to "watch out for fakes" or something along those lines. Unfortunately, buying shoes online is easily one of the worst ways to buy, even with the more generous selection of options available.
One of the reasons for this – as you may have guessed – is because of how easy it is to produce and sell fakes online. They might look exactly like what you'd get from the manufacturer, but the difference in quality and materials can become more and more clear over time.
If you must shop online, purchasing shoes directly from the manufacturer is the best way to make sure you get a genuine product. However, buying in-store is still the best way to make sure you get something that fits you well and feels comfortable.
As far as boat shoes for sailing go, trying them on in-store gives you the added benefit of testing the tread and sole to make sure they're genuinely non-slip.
Shoes from big-name manufacturers, such as Sketchers and Sperry, are especially vulnerable to this sort of duping. Smaller or lesser-known manufacturers, like Rugged Shark, are usually a much safer bet but still not a guarantee of legitimate quality.
If you're buying shoes directly from a reputable website, you can usually trust that the shoes will be real, and you might get a better deal, too. However, watch out for third-party sellers that may not be as trustworthy. Additionally, buying from the manufacturer will mean you'll always get the latest product, while other sites may mix old with new.
Best Boat Shoes for Sailing Comparison Chart
| Product | Price | Material | Sole Material | Unique Features |
| --- | --- | --- | --- | --- |
| Sperry Men's Billfish Three-Eye Boat Shoe | $ | Leather and air mesh | Rubber | Classic non-slip tread, great for both recreation and casual wear |
| Sperry Men's Sea Kite Sport Moc Boat Shoe | $ | Leather | Rubber | Mesh pockets allow moisture out easily, classic non-slip tread |
| Rugged Shark Men's Atlantic Boat Shoe | $ | Leather | Rubber | Mesh areas for breathability, excellent hiking-style grip |
| Skechers Men's Relaxed Fit Elent-Mosen Boat Shoe | $ | Leather and textile | Rubber | Better foot and ankle support due to the higher rise, lightweight feel |
| ALEADER Men's Quick-Drying Aqua Shoes | $ | Textile | EVA | Highly breathable mesh construction, several colors to choose from |
| Skechers Women's Go Walk Lite Boat Shoe | $ | Fabric and synthetic | Rubber | No break-in period required, easy-wearing all day long |
| Sperry Women's Angelfish Varsity Boat Shoe | $ | Leather | Rubber | Breathable and supportive, classic non-slip sole |
Wrap Up
In the end, which are the best boat shoes for sailing all depends on what you need in a sailing shoe. To make things even more complicated, you don't even have to limit yourself to boat shoes if you don't want to. Many outerwear companies offer shoes specifically branded and designed for sailing nowadays, and these could make your decision-making process even more challenging.
However, in the end, you really can't go wrong with any of the above choices. Classic boating shoes, such as the Sperry Billfish and Sperry Angelfish, offer the best mixture of style, everyday wearability, and sailing compatibility, but don't let your search end here!
There are hundreds of models on the market in 2023 and beyond for you to choose from, and this list of our top picks is just the beginning.
We have also reviewed the best boat shoes for women, and the best boat shoes for men. Let's not forget the best boat shoes for Fishing which keep you safe while catching fish.
Use our buying guides to equip your family with high-quality garments for your next time on the deck!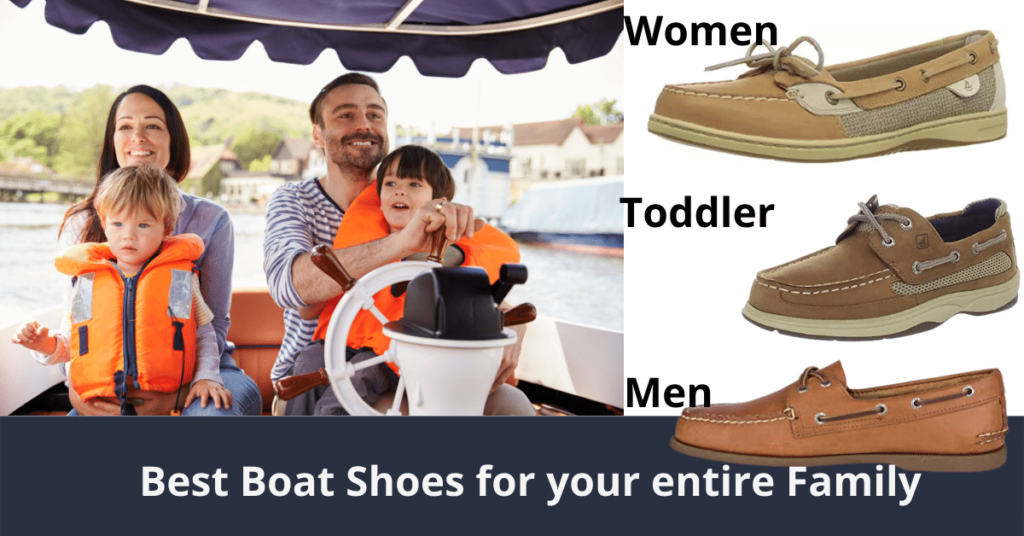 We are sorry that this post was not useful for you!
Let us improve this post!
Tell us how we can improve this post?
Last update on 2023-10-03 / Affiliate links / Images from Amazon Product Advertising API