Boat shoes, also called top-siders or deck shoes, are a classic piece of men's footwear. Initially, men's boat shoes were intended for seafaring. They featured a slip-proof rubber sole, a water-repellant leather construction, and a shock-absorbent heel cup — perfect for running up and down decks and docks.
The Best Boat Shoes for Men are pefect for running up and down decks and docks. They are slip-proof, water-repellant and absorb shocks.
Modern boat shoes likewise feature these characteristics, but they're worn just as frequently on land as at sea. Although they've been around since the 1930s, boat shoes first became trendy among landlubbers in the 1980s, thanks to the publication of "The Official Preppy Handbook." Today there are even toddler boat shoes and Infant boat shoes
Since then, this iconic footwear has become synonymous with preppy East Coast summer style. Today, the best boat shoes for men still boast the original moccasin-style design but come in a wider variety of colors. Most boat shoes have two to three eyelets, a 360-degree lacing system, and soles with a herringbone pattern.
If you're looking for the best men's boat shoes on the market, you have a broad selection to choose from. Whether you want a classic tan leather moccasin or prefer something bolder, like red or navy blue, there's a shoe out there for you.
We've put together some of the best men's boat shoes reviews below, narrowing down the selection and saving you the time of sifting through numerous reviews. Read on for a list of our seven favorite boat shoes for men, plus a buyer's guide and tips on how to wear and maintain your shoes.
(You might be interested in reading our article on Best Boat Shoes for Women)
The Best Boat Shoes for Men Reviews (Top Picks)
Below, we cover our favorite boat shoes for men in 2023. Note that although we present our favorites as a numbered list, this isn't a ranking — we love all these shoes equally!
Sale
Sperry's is the original boat shoe and renowned for its quality. The brand was founded by Paul Sperry, an avid sailor, in the 1930s.
He was inspired to develop the shoes' signature herringbone sole after examining the paws of his cocker spaniel, Prince — who never seemed to slip on ice.
The Sperry Men's A/o 2-Eye Tones Boat Shoe upholds the brand's tradition of quality craftsmanship. The moccasin features a leather body that conforms to the foot for maximum comfort and an EVA shock-absorbing sole, ideal for rough seas.
The non-marking rubber soles are designed to avoid scuffing boat decks. The rust-resistant eyelets and slotted collar will hold up in rain or shine, while the full-grained leather uppers are resistant to salt and freshwater alike.
These shoes come in a wide range of colors, allowing you to choose anything from classic beige to stand-out red. Sperry's also offers wide and extra-wide sizes.
Pros
Diverse range of colors
The cachet of the "original" boat shoe
Soft body conforms to the foot
Cons
Soles may squeak
Insole material disintegrates with time
Laces may fray
2. Columbia Boat Shoe – One of the Best Boat Shoes for Men
Columbia PFG Men's Bahama™ Vent Relaxed PFG Shoe, British tan, Tangy Orange, 12 Regular US
ADVANCED TECHNOLOGY: Men's Bahama Vent Relaxed PFG Boat Shoe features our waterproof and breathable construction, lightweight, durable midsole for long lasting comfort and high energy return, and our advanced traction rubber sole for slip-free movement on rough ground
HANDY FEATURES: Days out on the water are comfortable and worry-free with this boot's waterproof, breathable full-grain leather and canvas construction
ADJUSTABLE FEATURES: This boat shoe features a lace-up closure for an adjustable, secure fit
These sturdy boat shoes are a favorite among anglers. They feature waterproof fabric with a breathable design and a durable outsole that is great for gripping slick surfaces. You can safely and confidently wear this shoe on the boat or the dock, fishing pole in hand.
The Columbia Boat Shoe comes in seven different colors, offering a versatile design. Your feet will dry fast if they get wet, and you'll remain comfortable, thanks to the interior mesh.
These shoes are 100% synthetic, made of a mix of canvas and leather. The tech lite midsole is lightweight and offers superior cushioning, made for long-lasting comfort.
Columbia makes sizes 7 to 17 and also offers extra-wide models. The simple lacing system ensures a secure fit, no matter what size you get.
Pros
Wide range of sizes, including extra-wide models
Interior mesh enhances comfort
Lightweight midsole is excellent for long, active days
Cons
Some people don't like synthetic materials
Stitching may tear
Tight around the toe
Sale
For a sportier version of the traditional Sperry boat shoe, in case you prefer this kind of style, check out the Sperry Moc Boat Shoe. The design resembles an athletic shoe, with a higher side and back, providing additional support for the feet and ankles.
This sport mocassin comes in three shades, grey, tan, and navy. The upper is made of water-resistant leather and features a cool mesh upper for fast drying, preventing painful blisters.
If you need extra arch support, the removable cushioned footbed has you covered. The memory-foam insole molds to the shape of your foot over time, providing fantastic comfort.
Of course, you get the usual Sperry sole featuring a slip-proof EVA (ethylene vinyl acetate) footbed that will keep you safe on wet and slick surfaces.
Pros
A unique design resembling an athletic trainer
Memory-foam cushioned footbed
Higher sides and back than a typical boat shoe, for added support
Cons
The athletic style makes this shoe great for outdoors but not everyday wear
May cause sweaty feet
Material stains easily
These boat shoes stand out because a podiatrist designed them to alleviate aches and pains. It should come as no surprise that this is comfortable footwear. The Vionic Lloyd Slip-On Boat Shoe offers arch and heel support to accommodate extended wear.
The upper is made of pliable oil-treated leather, while the rubber sole features excellent shock absorption and grip.
If you have foot troubles like plantar fasciitis or overpronation, take a look at these boat shoes. Vionic is a brand of orthopedic footwear. The thing is, these stylish shoes are designed so that nobody will be able to tell you're wearing orthopedic footwear. You can be comfy and stylish.
You can get these in sizes 7 to 13. They are only available in medium width.
Pros
Excellent arch and heel support
An orthopedic shoe disguised as a boat shoe, meaning maximum comfort
Solid shock absorption
Cons
Limited sizing, only available up to size 13 and only in medium with
Only two colors available, navy and brown
Pricier than some other brands, likely because of the orthopedic extras
Sale
Dockers Men's Beacon Boat Shoe, Dark Tan, 11 Wide
Genuine leather uppers
Treated with Never Wet, a revolutionary water and stain guard that instantly repels liquids so you don't have to worry about spills or stains
Double goring on each side for an easy slip on and off the foot
Docker's is another brand name synonymous with the preppy lifestyle. These boat shoes are an updated version of the classic moccasin, offering a more robust sole and durable upper made of 90% leather and 10% rubber.
The shoes come treated with NeverWet, an anti-stain and water guard, so they easily repel spills. Plus, instead of just relying on eyelets for ventilation like some boat shoes, this model features mesh netting on the side to promote airflow.
Additionally, the footbed is treated with CleanSport NXT, a unique antimicrobial technology to prevent bacteria growth and control odor.
The Dockers Men's Beacon Boat Shoe shoe is stylish, functional, and affordable. The tie closure offers a secure fit. Double goring on each side ensures they are easy to slip on and off. The lightweight EVA sole is flexible yet comfortable.
Pros
Mesh inserts promote airflow
Treated with antimicrobial technology and a stain guard
Affordable price
Cons
Causes blisters if not worn with socks
Sizes tend to run smaller than average
The sole insert falls apart quickly
Timberland Men's Classic 2-Eye Boat Shoe, Rootbeer/Brown, 10 M
BOATING IS NOT AN ACTIVITY, it's an attitude. Match your style to your frame of mind on land or sea with a great new pair of boat shoes. These nautical beauties come in lots of colors, so they're great for a casual day out or an afternoon on the boat.
ON LAND OR SEA, our boat shoes for men add nautical style and cushiony comfort to your warmer-weather looks. Whether you're looking for athletic shoes or traditional leather boat shoes, we definitely have your next favorite pair of low-profile kicks.
TIMBERLAND BOOTS are synonymous with quality workmanship. Whether you're looking for mens boots, womens boots, or kids boots, Timberland has you covered. For the best in hiking boots, rain boots, work boots, casual shoes & boots & more, choose Timberland.
If you associate the Timberland name solely with hiking boots, you're missing out. The Timberland Men's Classic 2-Eye Boat Shoe offers a timeless and elegant design.
This brand is known for quality manufacturing, and these shoes are no exception. They feature a strong moccasin toe and a comfortable synthetic sole, outfitted with an EVA insert for added support.
The upper is made of genuine leather and can stand up to the harsh boating lifestyle.
If you plan to wear these shoes with regular cotton socks, order half a size up as they tend to run snug. If you want to wear them without socks, they will be closer to your usual size. Sizing ranges from 6 to 15, and there are also half sizes available. This shoe has an astounding look, and we would consider it one of the best boat shoes for men.
Pros
Top-quality manufacturing
Wide range of sizes
Elegant design
Cons
Sizes tend to run small
Take a long time to wear in
Stiff leather can cause blisters
For a more casual boat shoe, opt for the Sanuk Men's Casa Barco Boat Shoe. What sets these apart? They're made of fabric, allowing your feet to breathe.
A fabric upper also requires less maintenance than leather. Plus, it stretches and adapts to your foot shape even faster than leather, requiring less time to wear in. This canvas shoe features laces, but if you want more room, you can remove them.
The premium EVA insole has been treated with an antimicrobial wash, reducing odor. This is especially important for canvas shoes because they are less water-resistant than leather, and lingering dampness can cause odors.
The shoe comes in diverse shades, from subdued gray and navy to a bold dusty red. You can keep them fresh by merely washing the canvas with dish soap and water when they get dirty.
Pros
More casual-looking canvas upper
More comfortable to wear in than leather shoes
Simple to wash and maintain
Cons
Less water-resistant than leather
Prone to stains
Not suitable for more formal contexts
(You can also check our top pickups of Sailing Boat Shoes)
Best Boat Shoes for Men Buyer's Guide: Your Guide to Selecting the Best Product
Above, we've covered some of the best boat shoes for men. Still not sure which ones are right for you? That's what this buyer's guide is for.
Here's what to consider when selecting boat shoes:
Materials: Traditional boat shoes are made of leather, but you can also find modern models made of synthetic materials, canvas, and more.
Orthopedic support: If you have foot problems, prioritize boat shoes with good arch support and shock absorption.
Color: Traditional boat shoes come in beige or tan, but today's styles offer various hues, from red to navy and beyond.
Water-resistance: If you plan to wear your boat shoes on the water, you want them to be water-resistant and dry quickly. Look for assets like venting to deter moisture.
Fit: Different brands vary in terms of size offering, with some going up to size 17 and others stopping at size 13. Also, not all brands offer wide sizes.
Using Your Best Boat Shoes for Men The Right Way
You can wear boat shoes to the beach, for traveling, and even to the office if you work in a business casual environment.
There are no hard and fast rules for wearing boat shoes, but here are some basic pointers:
Only wear boat shoes with no-shoe socks. Socks detract from the stylish shoe.
Wear boat shoes with shorter-length pants. You can roll your pants if you want to. Opt for cotton trousers that skim the tops of your shoes and then cuff them for a casual look.
Pair them with a polo. Boat shoes are notoriously a preppy style. Run with it and wear them with a polo shirt.
Maintaining Your Boat Shoes for Men
It's critical to take care of your boat shoes and keep them looking fresh. If they are worn, they will start to look more like slippers than outdoor shoes. That's a little more casual than you probably want to look.
To help keep leather shoes looking their best, apply a protective spray before you first wear them. Let it dry for 24 hours before you take the shoes out.
If you get a stain on your shoes, use a dry brush to remove it. Don't use water or stain remover, which can worsen the mark. Instead, move the brush over the stain in one consistent direction to remove the dirt without scratching the material.
Finally, there's the issue of odor. Use baby powder to keep odors related to moisture and sweat at bay. You can also put dryer sheets into your shoes overnight. They will be fresh in the morning.
Best Boat Shoes for Men Comparison Chart
| Product | Price | Material | Sole | Unique Features |
| --- | --- | --- | --- | --- |
| Sperry Men's A/o 2-Eye Tones Boat Shoe | $ | Full grain leather | Rubber Sole | Diverse range of colors, soft body conforms to the foot |
| Columbia Boat Shoe | $ | Leather | Synthetic Sole | Wide range of sizes, interior mesh enhances comfort |
| Sperry Moc Boat Shoe | $ | Leather | Rubber Sole | Memory-foam cushioned footbed |
| Vionic Lloyd Slip-On Boat Shoe | $ | Removable leather | EVA Sole | Excellent arch and heel support |
| Dockers Men•s Beacon Boat Shoe | $ | Leather | Rubber Sole | Mesh inserts promote airflow, affordable price |
| Timberland Men's Classic 2-Eye Boat Shoe | $ | Leather | Rubber Sole | Top-quality manufacturing |
| Sanuk Men's Casa Barco Boat Shoe | $ | Cotton | Rubber Sole | More comfortable to wear in than leather shoes, simple to wash and maintain |
Wrap Up: The Best Boat Shoes for Men
As you can see from our guide on the Best Boat Shoes for Men, there's no shortage of options when it comes to boat shoes for men. Ultimately, the question of which shoe is "best" is a matter of personal preference. You're sure to find something to suit your taste based on our reviews. If you are a fisherman, you might also be interested in the Best fishing life jackets to keep you safe, when you have an accident on your fishing trip.
We have also reviewed the best boat shoes for women, and the best boat shoes for sailing. Let's not forget the best boat shoes for Fishing which keep you safe while catching fish.
Use our buying guides to equip your family with high-quality garments for your next time on the deck!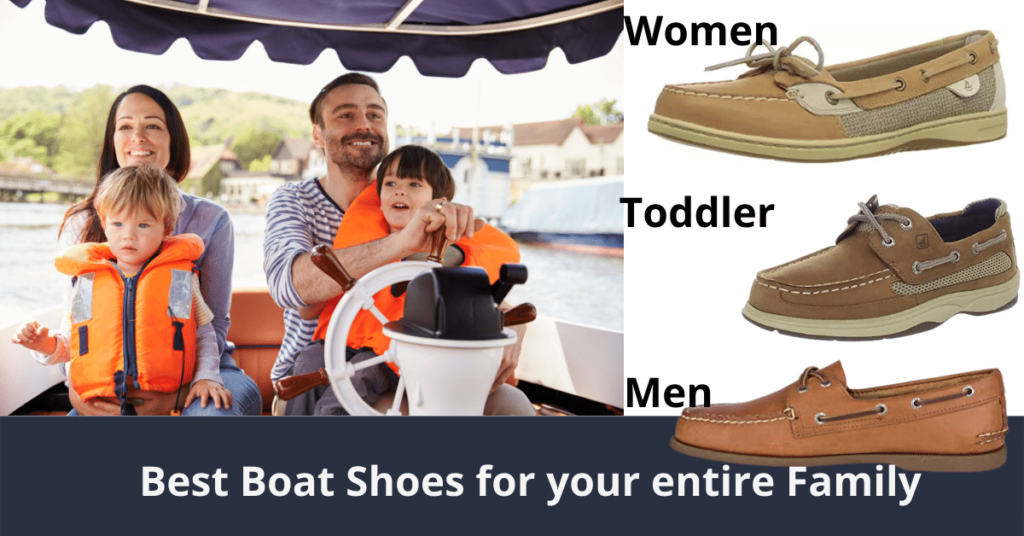 We are sorry that this post was not useful for you!
Let us improve this post!
Tell us how we can improve this post?
Last update on 2023-09-22 / Affiliate links / Images from Amazon Product Advertising API