When you come back from a fishing trip and tell people all about your record catch, you need to be able to defend your claim. Your double-digit weight claims require evidence, and there is no better way than the objectivity of a fishing scale.
A reliable fishing scale should be part of an angler's tool kit. Learning to use it properly should be part of an angler's education.
This article reviews the ten best fishing scales and highlights what an important fishing tool they are. We also include an informative buyer's guide to fishing scales. Whether you are new to this product or just replacing your old one, this guide should help steer you in the right direction.
The internet is full of fishing scale reviews, but we felt that many of these articles did not go sufficiently in-depth with each scale. Furthermore, few of these product reviews include information on selecting the right fishing scale for the type of angling you do.
This article will showcase 10 best fishing scales from different manufacturers, and we will give you all the information you need to purchase top fish scales.
Whether you fish competitively or only get to the lake a few times a year, you will know what kind of scale will work best for you once you have read this article. So enjoy our top 10 picks for the best fish scales on the market today!
The 10 Best Fish Scales (Reviewed)
Below we review our choices of the best individual fish scales. Although we have used a numbered list, the numbers do not reflect a ranking, and the products are listed in no particular order.
After the product reviews, you will find a comprehensive guide to fishing scales. If you'd like to get some pointers before making a purchase, the guide provides plenty of useful information.
The Booms G01 fish gripper spring scale is one of the best fish scales you can buy. It allows you to quickly weigh your fish up to 40 lbs.
The G01 is a multitool: both a fish gripper and spring scale all in one package. Many outdoor multitools do a mediocre job on various tasks, but this scale is good at all of its intended functions.
As a fish gripper, the rubber grip and lanyard keep you in control of the tool and your catch. As a spring scale, it is accurate and simple to use, and you can weigh a fish while you are in the process of removing it from the water instead of having to weigh it as a separate task.
The scale's metal components are made of stainless steel, so it has built-in corrosion resistance suitable for freshwater and saltwater applications.
Pros
Spring scale requires no batteries
Functions effectively as grippers and a scale
Easy to hold and control
One-handed operation
Cons
Heavier and larger than other scales
Difficult to use for those who have never used fish grippers
Stainless steel may still require corrosion-related maintenance
The Weston spring scale is one of the most simple spring scales you can buy. The design is tried and true, and when people think about spring scales for fish, this design comes to mind immediately.
However, this Weston has some features that early spring scales would have lacked: aluminum construction and a non-slip finish on the handle.
The aluminum construction provides strength and supreme corrosion resistance, and all without adding excess weight. The handle on the top is easy to hold, and the added friction material keeps the scale and your fish firmly in your grasp.
In combination with modern construction techniques and materials, this scale's timeless design makes this one of the best fish scales with a spring you can buy.
Pros
Simple design, likely to outlast other fish scales
Minimum maintenance required
Corrosion-resistant body
Various sizes available, up to 150 lbs
Cons
Scale can be difficult to read
The internal spring mechanism is stainless steel but has the potential to corrode
Units with higher weight ratings will be less precise
If you are looking for a scale that you can hang in one location, will hold up under challenging conditions, and can weigh heavy fish while still retaining a high degree of accuracy, the Klau industrial digital scale is for you.
The digital readout is easy to view, and it provides a high weight rating in a very small package. The range of operating temperatures is from 14 – 104 Fahrenheit, so this scale will serve you well on any sort of fishing adventure.
You can easily remove the stainless steel hook, so cleaning and replacing this component is simple. Aluminum is used in other parts of the scale, so corrosion resistance is a key feature.
A nice added and unexpected bonus of the Klau is that the LED screen has a backlight.
Pros
Accurate
Heavy-duty
Wide weight range
Available in different colors
Cons
The scale is best used from a hanging location (not easy to grip)
More expensive when compared to other scales in this article
More complicated to use than other scales
[Upgraded]FS01 Fishing Scale, Dr.meter 110lb/50kg Digital Hanging Scale with Storage Function and Numerical Comparison, Backlit LCD Display, Measuring Tape and 2 AAA Batteries Included
【Extreme Accuracy】: The Dr.meter Fishing Scale can weigh both small and large catches alike, from a mere 0.2 lbs to a jaw dropping 110 lbs! The state of the art weight sensor provides precise measurements (within 5g) and can convert from lb to oz or kg.
【Memory Storage and Record Comparison】: Don't worry about writing your catches down. This scale automatically records your nine most recent measurements! Want to know which one of your catches is the biggest? When browsing through your stored records, the largest value will flash three times.
【Easy Adding】: Not a fan of head math? Let Dr.meter do the work for you. Add all of your catches quickly and accurately with the handy summation function! Simply press the MEMORY button after browsing through them.
The Dr. Meter FS01 gives you the ability to accurately weigh fish from 0.2 – 110 lbs. The easy-to-grip handle and small size of the scale mean you can either hang or hold this top fish scale while weighing your catch.
This scale is another multitool: it contains a measuring tape. In no way is this feature a gimmick. The measuring tape is strategically located to weigh and measure a fish simultaneously, and the weight memory feature helps you keep track of numbers.
If you are trying to add up several different fish, this digital has a summation feature that allows it to add fish as you weigh them. The sum feature makes this scale a bit of a personal digital assistant while you are on the water, along with the memory function.
Pros
Versatile: hang or hold and suitable for big or small fish
Accurate top fish scale
Feature-rich: memory and summation features, and a built-in measuring tape
Cons
Potentially difficult to keep clean
Requires practice to use all features efficiently
The tape measure is limited to a length of 3 ft despite the scale having a 110 lb capacity
The Piscifun does an excellent job as a set of fish grippers and as a top fish scale, and even though these two functions are combined into one unit, there is no compromise.
The handle is well-designed and easy to grip. A lanyard is included, and the scale's screen placement on the opposite end from the gripper provides balance and a wider end to facilitate straight pulling: good features for a scale rated up to 60 lbs.
The digital scale display on the Piscifun has a backlight for easy viewing, and it can rotate, which makes taking pictures of the display and fish simple.
This scale is larger than others and will take up more space, but since it combines grippers and a scale and does both jobs well, you can leave other tools at home.
Pros
Durable and accurate
Easy to read and photograph
The grip is comfortable and secure
Cons
Expensive
Bulky
Awkward to use with heavy fish for some anglers
KastKing Waterproof Floating Digital Fishing Scale with No-Puncture Lip Gripper. Dual Mode - Pounds/Ounces & Kilograms. 0-50 Lbs/22.68 Kg, Lightweight ABS Frame, Non-Slip Handle.
Waterproof/Floating Digital Scale – The KastKing MadBite digital scale is both waterproof and it floats! Never lose another scale if dropped into the water with this durable and floating digital scale. Waterproof design keeps it functioning well in all weather conditions.
Lightweight, Durable handle – High strength ABS handle is strong and light weight and features TPR non-slip sides which give you a firm grip when weighing you're catch. The wide handle opening makes it easy to hold for any hand size, with or without gloves and the scale weighs only 5.6 ounces.
Dual Mode Digital Weight Measurements – Quickly and accurately weigh your catch in pounds and ounces from 0-50 lbs or easily convert to Kilogram measurements from 0-22.68 Kilograms. There is also a memory function where you can store up to 9 different weights so can refer to them at any time.
The KastKing digital scale, which includes a lanyard and no-puncture lip grippers, gives the user the benefits of a hook-style and gripper-style scale. The grippers can lock around the fish's jaw and then be hooked onto the top fish scale.
As shown in the link above, this product is more of a kit. We really like that you get two high-quality tools: grippers and a scale, which you can use separately.
The fact that this top fish scale floats and is bright orange makes it ideal for boaters. The lightweight ABS plastic design of both the scale and the grippers protects the tools from corrosion and makes for a long service life.
Pros
Two tools in one kit: separate grippers and scale
Floats
Waterproof
Lightweight
Cons
Hooking the grippers to the scale can be somewhat cumbersome
The plastic design may feel cheap to some
Cannot read pounds to decimal places: imperial options are pounds and ounces
Rapala Touch Screen Tourney Scale 15lb
Large Digital Touch Screen. Heavy-Duty Composite Weigh Clamp or Stainless Steel Hook. Back-Up Memory.
8 Piece Culling System. 3 Weight Display Options. Water Resistant.
Back Light
The Rapala Tourney digital scale is a premium electronic scale, and the price reflects this. Known for quality products, part of that price is likely for Rapala's reputation.
The touch screen makes using the top fish scale simpler than other devices, which may only have a few buttons to control multiple features. While it is only rated to weigh 15 lbs, you will be hard-pressed to find a more advanced scale in this weight range.
The scale allows you to use either a hook or composite clamp: both are included. Rapala has chosen to use a keyring as the device to switch between these two options, which is a little tedious to use when you are out on the water and want to switch.
The one-handed design works well within the weight range of this top fish scale. Flyfishers especially will appreciate having this lightweight and compact digital scale as part of their kit.
Pros
Multi-function touch screen
Accurate top fish scale
Hook and clamp options
Long battery life and internal backup battery
Cons
Expensive
The maximum weight rating is 15 lbs.
No hanging option
Sale
Rapala's take on a classic design is the Rapala spring tube scale, and they have done a good job building a corrosion-resistance and simple-to-use aluminum analog top fish scale.
The high-friction handle makes the scale easy to grip, and the handle can hang the scale while remaining centered. Since this scale has a weight rating of up to 25 pounds, some anglers may prefer to hang the scale, and Rapala has thought of this.
This spring scale may seem overpriced, but this design has been available since 2012, so the price has not been a turn off for buyers. Rapala makes quality equipment, so this spring scale will provide you with years of use (even if you are not that careful with it).
If you are an occasional angler looking for a simple top fish scale you can just throw into your tackle box, this spring tube scale is a great choice.
Pros
Simple to use
Classic design
Reliable
Corrosion-resistant
Cons
Expensive
Scale can be hard for some people to read
Bulky
RUNCL Waterproof Fishing Scale with Lip Gripper, Digital Hanging Scale with 40 Inch Built-in Tape, Three Mode-LB/OZ/KG, Non-Slip Big Handle, 110 lb/50kgs, Memory Storage, Backlit LCD Display(Green)
Water-Resistant Construction: The waterproof fishing scale is designed to meet IPX7 standards, which can be submerged up to 1 meter in water for 30 minutes; ensures accurate measurements even if it's accidentally dropped in the water, makes sure that it works well in most weather conditions
Fish-Friendly Gripper: Equipped with strong, easy-open jaws allows you to safely lift, weigh, photograph, and quickly release your catch without harming either yourself or the fish. Corrosion-resistant plastic construction extends the lifespan of the gripper in the rigors of avid angling
Backlit LCD Display: RUNCL fishing scale features an easy-to-read large digital display for enhanced viewing even in direct sunlight, and also comes with back light for low light and evening conditions out on the lake
The RUNCL digital scale with measuring tape combines an easy-to-read digital scale with a built-in measuring tape. When you weigh and measure fish that you can easily lift with one hand, this scale is great for getting all your numbers all at once.
This digital scale's design is very similar to the Dr. Meter FS01 we reviewed above, but it improves on the FS01's features by including a slightly longer tape measure – 40 inches – and the plastic fish grippers. If you are looking for a larger capacity at a low price and with a built-in tape measure, this digital top fish scale is well worth looking at.
An added bonus is that this digital scale is waterproof and meets IPX7 standards for durability. If you want a tough, easy-to-use digital scale, the RUNCL is a fantastic choice.
Pros
High capacity
Built-in temperature calibration
Rugged design
Includes fish grippers that work with scale
Waterproof
Cons
Not waterproof
Not the most attractive design
Tape measure only measures up to about 3 ft.
The Mango Spot digital fish scale takes a no-nonsense approach to weighing fish. While it's not feature-rich, it's simple to use and easy to read.
This scale is more of a multi-application scale than it is a dedicated fish scale. We included it in our list because it is a great choice for those on a budget who would appreciate a high-quality scale that can be used for more than fishing.
Pros
Simple design
Large display
Compact
Cons
Lacks features of other digital scales
Not waterproof
It feels cheaper than other designs
Choosing Your Scale: The Informed Buyer's Guide to Purchase a Top Fish Scale
Proper measurements for weight and size are important for describing your catch to others. If you are going after records, you will definitely need a quality scale to verify your catch to the proper authorities.
Many fishermen and women compete each year for various records, and such a competitor would never want to be caught without a high-quality and certified scale. The International Game Fish Association can certify your scale either in person or if you send it to them.
Competitive catch verification, scale certifications, and telling the difference between a high-quality and low-quality scale are important topics for many anglers. However, there is little point in getting further into these subjects without a solid understanding of scales themselves.
In the subsections below, we will discuss aspects of fish scale use and design. What we present here should help you make the right decision when you purchase your scale, and even if you are an experienced angler, there is likely still something here for you to learn.
How to Use Your Fish Scale
All of the fish scales we have presented in this article work the same way: they measure the weight of whatever is hanging from them.
Naturally, this method of operation requires a few key elements:
A way of securing the fish to the scale
Solid support for the scale
The ability to read and record the scale's reading
Further below, we detail the difference between hook and gripper fish scales. It's important to note that you must be able to attach a fish to your scale efficiently.
It can take some practice to use a fish scale with a live catch. If you use special gloves or any other tools for handling fish, make sure you have them on and ready to go when you weigh your fish so that you can get the weight as quickly as possible.
With the fish hanging from the bottom of your scale, the top needs to be supported so you can measure the weight.
With smaller fish, it's easy to hold the scale with one hand while you read it. Many of the scales we review above are specifically designed to be held like this. However, if you are after bigger fish, it may not be possible to hold the scale while also reading it. If you are with other anglers, one or two of them may be able to hold the scale while you read it.
If the catch is heavy and you intend to weigh it, you will need a scale anchor. A nearby tree branch or human-made structure can be used for his purpose if you are onshore, and if you are on a boat, look for strong, metal structures that can easily support the fish's weight.
Finally, you need to be able to read and record the scale's numerical output accurately. Practice weighing inanimate objects with your scale before you take it fishing so that you understand exactly how the device's display works.
Many anglers take pictures of their catch on the scale so that the scale's display is visible. If you plan on doing this, you will need to hold the scale steadily while taking the shot.
Different Types of Fish Scales
Not all fish scales are created equal. This does not mean that one style is better than another; just that the way you prefer to fish should influence your decision for what type of scale you buy.
We will walk you through some labels you may see on some scales so that you are aware of what type of scale it is and its strengths and weaknesses.
Spring vs. Digital Scales
The most obvious distinction between fishing scales is whether it is purely mechanical or electronic.
Spring scales use an internal spring to provide a weight reading. The heavier the weight applied to the scale, the more the spring compresses and the higher the number on the scale's readout.
Digital scales provide the reading electronically via a digital display screen. These scales use various internal mechanisms to convert weight into an electronic reading.
Many people assume that a digital scale is more accurate than a spring scale because the number display appears so definitive. However, spring scales can be very accurate, and both scale types can be certified and used in competitions.
When deciding on a spring or digital scale, batteries should be taken into consideration. Spring scales require no power source, so they can live in your tackle box indefinitely and are generally more reliable.
When selecting a digital scale, pay attention to water resistance ratings. Ideally, you want a digital scale that can survive fully submerged.
When choosing a spring scale, look for materials that are unlikely to become corroded. Rust and corrosion will make a mess of your scale and tackle box, but severe corrosion of the spring mechanism can make a spring scale less accurate and ultimately unserviceable.
Are Digital Fish Scales Accurate?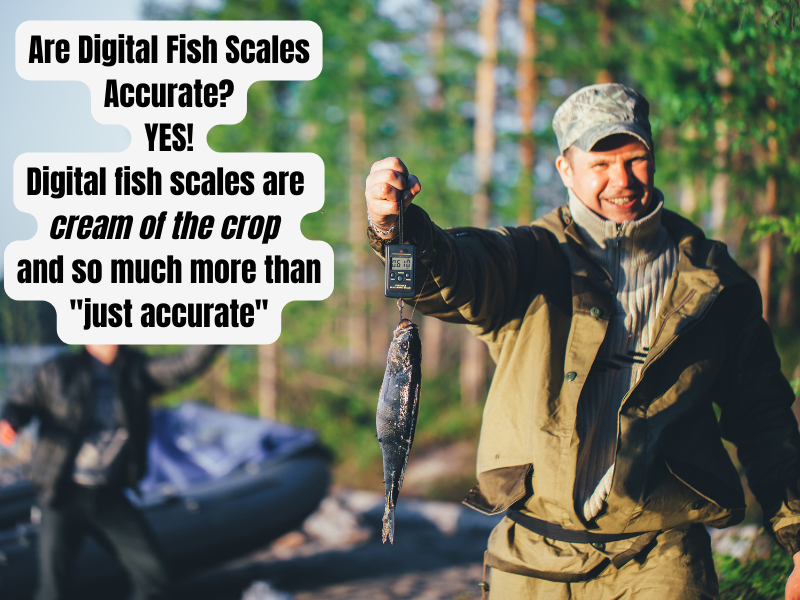 Digital fish scales are often considered the "cream of the crop" among fishing scales. There are several reasons why the best fishing scales measure the fish's weight digitally:
Precision and accuracy: Digital fish scales typically offer high levels of precision and accuracy in measuring the weight of fish. They are capable of providing measurements with decimal point accuracy, allowing for more precise readings compared to analog or mechanical scales.
Ease of use: Digital fish scales are usually easy to use, with clear digital displays that provide instant and easy-to-read weight measurements. Many digital fish scales also have features such as tare function, which allows for the deduction of the weight of the container or net, making it convenient to measure only the weight of the fish.
Programmable features: Many digital fish scales come with additional features such as memory function, unit conversion (e.g., switching between pounds, kilograms, or ounces), and backlight displays for improved visibility in low-light conditions. Some digital fish scales may also have built-in fish grips or hooks for easier handling and weighing of fish.
Portability: Digital fish scales are typically compact and lightweight, making them easy to carry in a fishing tackle box or pocket. They are often battery-powered, which allows for portable use without the need for external power sources.
Reliability: Digital fish scales are known for their reliability, as they are less prone to mechanical errors or inaccuracies compared to analog or mechanical scales. However, it's important to note that regular calibration and proper use are still necessary to maintain accuracy.
So, yes, digital fish scales are accurate and so much more compared to their mechanical counterparts. Therefore digital fish scales are popular among anglers due to their precision, ease of use, programmable features, portability, and reliability, making them a preferred choice for many fishing applications.
Dedicated vs. Multi-Purpose Scales
Some of the fish scales that we reviewed above do more than weigh your fish.
There are fish scales that you can also use as fish grippers. Other scales have built-in tape measures so that you can simultaneously weigh and measure your catch.
Multi-purpose tools are all the rage in the outdoor community, but sometimes they are more gimmicky than genuinely useful. Take knives, for example. Many multitools include a knife, but if you have heavy camp chores to do, a fixed-blade knife is hard to beat.
The fish scales that we reviewed above that offer multi-purpose design features are high-quality and useful. If you are looking at different scales, though, make sure that the tool does every job it claims to do well, instead of just doing everything mediocrely.
If you have the chance to look at different scales in a store before making a purchase, do your best to test each of the product's features. You may find that a certain scale and gripper combination will not work effectively for you as standalone grippers.
Hook vs. Gripper
The method by which a fish scale attaches to a fish deserves some attention.
Some scales use a hook to either attach to the hook used to catch the fish, be inserted into the fish's gills, or hook through the fish's jaw. Hooks are less likely to slip but more likely to cause injury. If the hook is sharp, it is also more likely to injure you.
Fish grippers are basically a set of pliers designed to grab and hold certain parts of the fish without piercing the animal's skin. These are more likely to slip and can be trickier to use but are better-suited to catch and release fishing where you want to minimize injuries to the fish.
Both styles of fish attachment points require practice, and we would not say that either is easy to use the first time. Before you decide which type is best for you, think about how you like to fish to see which makes the most sense.
Maintaining Your Fish Scale
Fish scales are tools, and tools require care and maintenance. While some scales are designed to take abuse, improper treatment can lead to premature failure and a loss of accuracy.
Digital scales should be stored in a dry location and preferably in their own case. It is not good to store them with other loose, heavy tools that could damage the scale's display.
Be sure to keep extra batteries on hand with your scale. Depending on the manufacturer's instructions, be prepared to remove the batteries from the scale before long-term storage to protect the electronics from battery corrosion.
Spring scales may seem more durable than digital scales, but they should still be stored in their case and away from loose objects. After all, spring scales are precision instruments, and careless handling can negatively affect their accuracy.
Depending on the material used to build your spring scale and the manufacturer's instructions, you may have to oil your scale after cleaning to prevent rust. Never store your fishing scale or any of your fishing gear when it is wet. Make sure all parts of your tackle are clean and dry before being put away.
Fish Scale Accuracy
The accuracy of fish scales varies between makes and models. Scale weight ratings should be selected to reflect the type of fish being sought since a high-capacity scale is less likely to weigh smaller fish accurately.
Once you have selected a scale type that makes sense for the type of fishing you do, pay attention to accuracy ratings. Scales usually come with a manufacturer's rating that defines their accuracy level.
For example, "+/- 0.2 lbs" means that the number the scale reads for any weight is only accurate within 0.2 lbs higher or lower than the number the scale reads. The lower the accuracy rating, the more accurate (and likely more expensive) the scale.
In addition to accuracy, scale displays require some attention. While a digital scale may seem more accurate because it displays a finite number, it is only accurate within the manufacturer's accuracy rating.
It is trickier to read the weight on a spring scale because the needle or measuring mark often does not lie precisely on a number. You often have to judge whether the measurement mark is closer to one of two different values.
Top Fish Scales: Fish Scale Construction Material and Durability
Always treat your fish scale as a precision instrument: do not just throw it in with all your other tools in a tackle box to be tossed around during transit.
Even though you should treat the scale carefully, you should still be on the lookout for a durable scale. For digital scales, look for manufacturer durability ratings and inspect its body for tight seams and a rugged exterior that appears built to withstand drops.
For spring scales, the material is very important because you want it to resist corrosion. Aluminum scales are ideal because they will not corrode the same way steel does. Stainless steel will require occasional maintenance to prevent rust from forming.
It is a good idea to look for standards ratings. For example, some manufacturers will go through the trouble of having an external organization rate their products, so they can use widely-recognized durability ratings. An example of a durability rating is IPX7.
Safety Considerations
Experienced anglers know fishing can be dangerous. You must take safety precautions anytime you are near or on the water. Not only does the water pose hazards, but fishing involves sharp tools and the possibility of falling when trying to get the fish out of the water.
When you are weighing your fish, it is common to become so focused on the process of weighing that you ignore your surroundings. Only use your scale when safe to do so: if you are in a boat, make sure it is calm, and if you are on the shore, step back from the water.
If your scale uses a hook to attach to the fish, you could get injured while holding the hook, especially if the fish is thrashing around. Take all the same precautions when weighing that you would when removing a hook from a fish.
The 10 Best Fishing Scales Comparison Chart
| Product | Price | Allowing Measures Weight (Pounds) | Gripper Body Material | Unique Features |
| --- | --- | --- | --- | --- |
| Booms Fishing G01 Fish Gripper Spring Scale | Check Price | 40 | Stainless Steel | Easy to hold and control, one-handed operation |
| Weston Spring Scale | Check Price | 100 | Aluminum | Simple design, various sizes available |
| Klau Industrial Digital Scale | Check Price | 600 | Aluminum | Accurate, heavy-duty, wide weight range |
| Dr. Meter FS01 110lb Digital Scale | Check Price | 110 | Stainless Steel | Versatile, Accurate |
| Piscifun Digital Fish Scale and Lip Gripper | Check Price | 60 | Aluminum | Durable and accurate, easy to read and photograph |
| KastKing Waterproof Floating Digital Fish Scale | Check Price | 50 | Stainless Steel | Floats, Waterproof, Lightweight |
| Rapala Touch Screen Tourney Digital Scale | Check Price | 15 | Stainless Steel | Accurate, hook and clamp options |
| Rapala Spring Tube Scale | Check Price | 25 | Stainless Steel | Simple to use, classic design, reliable |
| RUNCL Waterproof Fishing Scale with Fish Gripper | Check Price | 110 | Non Slip Rubber | High capacity, waterproof |
| Mango Spot Digital Fish Scale | Check Price | 110 | Stainless Steel | Simple design, large display |
Wrap-Up of the Best Fish Scales
We hope to have shed some light on the mysteries of the best fish scales and what you may want to look for when selecting a top fish scale for your fishing lifestyle.
A fish scale is unlikely to be the most expensive tool in your tackle box, as intense competition amongst manufacturers has driven prices down. Using our picks as a base, and once you've done a bit of research, you should be able to pick the best fish scales that will do the trick for you. Then, you can get back to doing what you love: fishing!
We are sorry that this post was not useful for you!
Let us improve this post!
Tell us how we can improve this post?
Last update on 2023-10-03 / Affiliate links / Images from Amazon Product Advertising API