Beach umbrellas are crucial to an enjoyable, relaxing day at the beach. You can spend hours lounging comfortably in the shade of an umbrella without getting sunburned, overheated, or sandblasted by heavy winds.
In addition to proper placement, a beach umbrella needs a good, sturdy anchor to ensure that you won't be continuously running after a windswept umbrella.
You want to be able to set up your beach umbrella and anchor it quickly and efficiently to the ground so you can start enjoying a peaceful and fun-filled day at the beach as soon as possible.
You also want to make sure you have a beach umbrella anchor to ensure that your umbrella stays put all day, no matter the conditions. There are many options for beach umbrella anchors, and we provide a list of the best beach umbrella anchors for 2023.
The Best Beach Umbrella Anchors (Editors Picks)
We review the seven best beach umbrella anchors below in no particular order. Although we will use a numbered list, the numbers are not indicative of rank.
Sale
Beachr Beach Umbrella Sand Anchor - Heavy Duty Outdoor Umbrella Base with Ground Anchor Screw | For Beach Tent, Parasol, Sun Shelter, Sun Protection, Shade, Strong Winds | One Size Fits All
BETTER THAN METAL - Metal anchors rust from the sand and salt of the ocean, get hot in the sun, and are sharp and dangerous. The product is built with sturdy ABS Plastic, which is stronger than metal and will last longer
EASY TO SET UP IN JUST SECONDS - Safely twists, stakes, and mounts in the earth. Simply screw the auger into sand, dirt, or grass, place your umbrella in the base holder, tilt accordingly, and relax in your chair
ONE SIZE FITS ALL - The universal base fits all umbrella pole sizes. Compatible with all brands. Lightweight, portable and compact. Easily fits into a travel accessories bag
The Beachr Beach Umbrella Sand Anchor is a plastic screw-styled anchor with a one-size-fits-all universal base, so you can pair any beach umbrella you have or plan to buy with it. The anchor is a screw with a "sand-grabbing" spike that manufacturers claim is windproof and wind-resistant, securing the umbrella's stability in up to 50 mph winds.
The Beachr anchor is made from ABS plastic, which is as indestructible as a metal at a fraction of the weight – so a beach cart for sand can be avoided. It also won't rust with constant exposure to wet sand, saltwater, and moist ocean air like metal anchors.
The Beach anchor is easy to use, effortlessly burying your umbrella deep into the sand with a few simple twists.
Pros:
User-friendly
Corrosion-resistant ABS plastic
Universal pole base
30-day money-back guarantee
Cons:
Pricey
Plastic can break if overly forced
Does not fit poles 1.5 inches or more in diameter
Sand Grabber 10009 Beach Umbrella Anchor
Put Sand Grabber into sand on beach then insert beach umbrella into Sand Grabber
This will protect beach umbrella from blowing away
Item Package Dimensions: 13.0" L x 8.3" W x 5.5" H
The Sand Grabber 10009 Beach Umbrella anchor is a small, lightweight metal anchor. Its sturdy, indestructible metal build offers a robust, secure anchor for your beach umbrella despite its small size and weight.
The Sand Grabber has a handy thumbscrew that you use to adjust the anchor to fit your umbrella pole snuggly. The anchor may be slightly shorter than the others on our list, but its tight metal coils grab sand more efficiently, securing your umbrella in place with less digging effort.
The Sand Grabber is one of the cheapest anchors on our list, so it will fit conveniently into any budget you may have for beach-going.
Pros
Affordable
Metal is more indestructible than plastic
Lightweight and small
Cons
No warranty
Metal corrodes
The handle is very small
The Copa Beach Umbrella anchor is an affordable plastic anchor with a five-tiered spiral screw. It has a 1.75-inch opening that fits most modern beach umbrella poles. We also like that its handles have indentions to facilitate a sturdy grip. The handles' width is also considerable, further contributing to a more comfortable, more powerful sand dig.
The Copa anchor is our most budget-friendly anchor because it comes in a package of three anchors. With three anchors, you will have a spare for yourself and a friend.
Pros
Most affordable
Three-in-one
Ample handle width with ergonomic finger indents
Five-tiered screw
Cons
Short length
Plastic screw tiers break off after multiple uses
Small, hard to tighten knob for pole size adjustment
Ultimate Summit Sand Beach Umbrella Anchor/Fishing Rod Holder
HEAVY DUTY ULTIMATE SUMMIT BEACH UMBRELLA SAND ANCHOR: is made out of strong ABS, and will withstand tropical force winds! The durable construction provides extra support for large wind gusts. The anchor allows for easy installation, to keep you and your family in the shade! You can now spend more time under your umbrella, and spending less time on the hassle of digging holes to install your umbrella!
EASY INSTALL ULTIMATE SUMMIT BEACH UMBRELLA SAND AUGER: The 15" sand anchor was designed with a screw-like tip to allow to install easily into sand or soil! This allows for quick and sturdy installation every time! We make it easy for family and friends to take a break from the sun while at the beach, fishing, gardening, or any other outdoor activities!
LIGHT WEIGHT ULTIMATE SUMMIT BEACH UMBRELLA SAND SCREW: You already have your beach chairs, towels, coolers, and beach toys for the family. Keep your beach trip easy on the back, and make sure you have the Ultimate Summit sand anchor. We kept you in mind when designing this ultra-light and durable sand anchor!
The Ultimate Summit Sand Beach Umbrella Anchor is an ABS plastic screw-in anchor that is both extra thick and considerably longer than competitor anchors. A longer anchor gives you optimal security against even the strongest winds. The thickness of its plastic is an additional security measure that protects and secures the umbrella pole in place.
Due to its ABS plastic make-up, it is lightweight and corrosion-resistant, making it easily portable with a longer lifespan than metal anchors. The ergonomic handle has three finger indentations on either side for efficient and injury-free use.
Ultimate Summit anchor manufacturers tout this anchor's multi-use potential as its large diameter and durable build can sustain beach umbrellas, as well as rods that support volleyball and badminton nets. Another enticing feature this anchor offers is a year-long replacement guarantee that covers any unlikely breaks or defects that could occur over multiple beach days.
Pros
Multi-use anchor
Thicker plastic for heftier protection
Longer shaft length for a deeper dig
ABS lightweight plastic make
Year-long replacement guarantee
Cons:
Requires physical exertion to get in and out of the sand
Small diameter does not fit larger beach umbrellas
Pricey
The Seabreeze Umbrella anchor offers a uniquely ingenious multi-use anchoring method that sets it apart from all other competitors on our list. This anchor kit consists of three sizable synthetic beach bags and a barrel with three hooks. You secure the barrel to your beach umbrella pole and then attach each bag to its respective hook.
You can fill the bags with sand or personal materials such as sun-tan lotion, books, water bottles, sandals, or any other combination of belongings that will effectively weigh down your umbrella. Not only will your umbrella stay securely anchored to the ground, but you have efficient storage for your belongings.
You will save time digging through the sand to find lost sandals, sunglasses, and lotion, as everything will be in one place. If you need to use the items you've placed in the pockets, simply scoop some sand into them to replace the weight. Each bag can hold 5 lbs of sand for a total of 15 lbs of anchoring power.
This kit is the smallest and lightest of all the anchors on our list. Additionally, you won't have to break a sweat trying to bury or unearth a screw-in anchor. After all, the beach is about relaxation.
Pros
Lightest anchor
Clever, multi-use capacity
Easiest, hassle-free installment
Cons:
Expensive
Not one-size-fits-all
Sandbags are thin
Simchoco Anchor001 Sand Anchor, White
⛱ WITHSTAND STRONG GUST – Made of sturdy ABS plastic, Simchoco sand anchor and hanging hook won't rust with exposure to sand or salt water. What's more, it will help beach umbrella to withstand gusts of up to 50 mph. Its ergonomic handle has been reinforced so that you can twist this sand anchor tightly into beach or ground without the need for any extra tools.
⛱ STURDY BEACH HANGING HOOK – This compact & sturdy beach umbrella hanging hook is made of high quality and durable polypropylene to ensure the 4 prongs not easy to snap or break. Perfect for hanging items such as sunglasses, keys, towels and beach bags.
⛱ ONE SIZE FITS ALL – This beach umbrella sand anchor fits any umbrella with a pole diameter of 1.5 inches or less. In addition, this This 4-prongs beach hook is adjustable and it firmly fits beach umbrella from 0.75" (19mm) to 1.26" (32mm) diameter beach umbrellas poles.
The Simchoco Sand Anchor has every angle covered with both a screw-in anchor and a hooked barrel. The screw-in anchor is a corrosion-resistant ABS plastic with an ergonomic handle and wind resistance of up to 50 mph, while the barrel attaches to the umbrella pole with four hooks for hanging beach towels, beach bags, or snorkel gear.
Not only do you secure your umbrella with a screw-in anchor, but by hanging your belongings on the barrel's hooks, you weigh the umbrella down further. The Simchoco is lightweight, weighing a mere 1 lb, and fits umbrella poles up to 1.5 inches in diameter.
Simchoco anchor manufacturers offer a 90 full refund return policy and a year-long free replacement warranty.
Pros
Screw-in ABS plastic anchor
4-pronged beach hook
Withstands up to 50 mph winds
Year-long free replacement
Affordable
Cons
Harder to twist into the sand than other anchors
Not very user-friendly
Does not fit all sizes of beach umbrellas
TheCozy Beach Umbrella Screw Sand anchor is another two-in-one anchor and hanger. The anchor is ABS plastic with a three-tiered spiral screw that safeguards stability against winds of up to 35 mph. The anchor has an ample 2-inch diameter, fitting every size beach pole on the market.
The four-pronged bag holder fits the umbrella pole for convenient storage and extra weight for the umbrella. TheCozy manufacturers are confident that their products are indestructible, offering a lifetime warranty for a free refund at any time after your purchase.
TheCozy also offers deals on this anchor if you buy in bulk, knocking off up to 15% of the price per anchor. We recommend rallying friends and family to collaborate on a collective order that saves everyone money while providing everyone with beach umbrella protection.
Pros
Discounts for bulk buying
Lifetime warranty
Biggest diameter for real one-size-fits-all feature
Anchor and towel hanger included
Cons
Cannot handle heavy beach umbrellas
Difficult to twist into firmer grounds
Tips over in loose sand
(We suggest you to read our article on Best Beach Umbrellas if you are planning to purchase one)
Best Beach Umbrella Anchors Buyer's Guide: Knowing What to Look For
When you start looking for the best umbrella anchor, there are a few features to watch out for to guarantee a quality product. We've broken it down into sections to cover every element.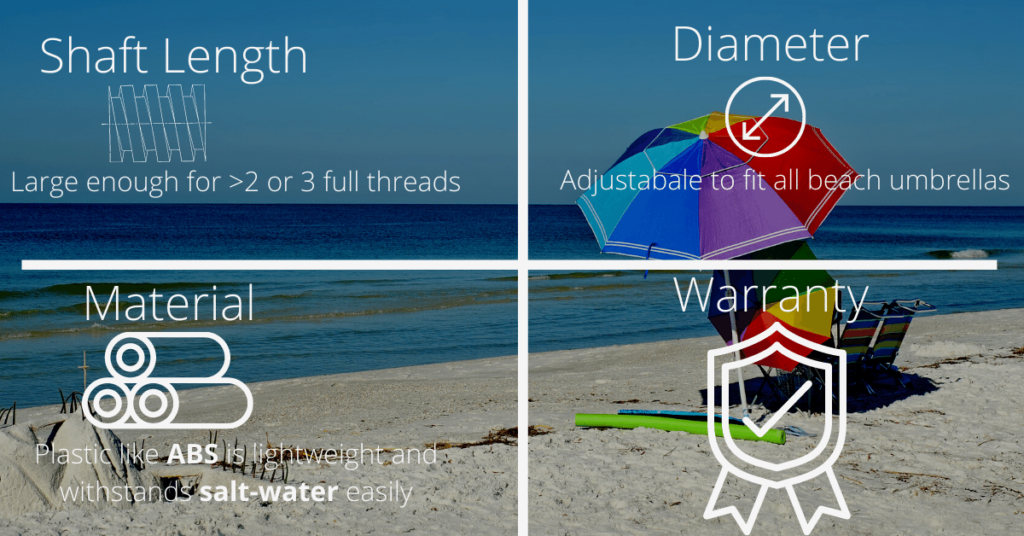 Shaft Length to make it the Best Beach Umbrella Anchor
The deeper an anchor goes into the sand, the better your umbrella's chances are to stay in the ground without tipping over or flying away, which are the two most common issues beach umbrella owners contend with. Also consider that for screw-in anchors, the more tiers in a screw's spiral, the more sand it will grab for a more secure anchor. The Best Beach Umbrella Anchors have a shaft length that holds 2 or 3 full threads.
Diameter is adjustable for the Best Beach Umbrella Anchors
The anchor should fit umbrella poles with a minimum of 1.5 inches in diameter.
Beach umbrella poles range in diameter from one to two inches, so a beach umbrella anchor should be able to accommodate that range if it touts a one-size-fits-all adjustment feature. The Best Beach Umbrella Anchors have a adjustable diameter to fit most beach umbreallas.
Material of the Best Beach Umbrella Anchors is lightweight and salt-water resistant
ABS plastic is preferable for durability. ABS plastic is the hardest grade plastic that will stand up to twists and pressure without bending or breaking off. However, we do not recommend anchoring on gravel or rocky beaches.
Metal is indestructible, but it also corrodes. Saltwater, sand, and sea breezes cause the metal to rust very quickly. While metal is more invincible than plastic, it isn't the best material for beach conditions, which is why we included only one metal screw-in umbrella anchor on our list.
The Best Beach Umbrella Anchors are made of a highly durable plastic material.
Warranty Coverage should be no-questions-asked for the Best Beach Umbrella Anchors
Warranties and refund policies are major pluses. They not only give you peace of mind, but they signify the manufacturer's confidence in the quality of their product.
The Best Beach Umbrella Anchors have a warranty of one year or more. Also, there should not be any additional conditions attached.
A Guide to Anchoring in a Beach Umbrella
Here's how to use your umbrella anchor for a delightful day on the beach.
Pick the Best Spot
It's always best to get to the beach as early as possible to get the best spot before the crowds and their big beach chairs come. It's even more critical with a beach umbrella. You want your beach umbrella to block the sun and the wind, so getting to the beach early will ensure that you can strategically locate your umbrella on the best spot of sand to do both.
For example, picking a spot in front of a large dune or a tall building will better your chances of wind protection, thus mitigating the events that your umbrella will blow away on a windy day.
Sand Consistency
The best sand consistency for optimal beach umbrella anchoring is firm and wet sand. Obviously, the closer to the shoreline you are, the wetter and more firm the sand will be.
Feel free to anchor your umbrella in dry, deep sand; just make sure that there is firmer wetter sand underneath by digging a bit with your hands.
Anchor and Umbrella Angle
Another important tip for ensuring your umbrella stays put is angling the umbrella anchor, and thus the umbrella against the direction of the wind. If you bend it in the same direction as the wind, it is more likely to fly away. You also want to make sure to twist your umbrella pole at least a foot and a half into the sand. The best beach umbrella anchors like this one make this easier with a longer thread.
Umbrella Type
Some people bring patio or grass umbrellas to the beach, which is a big mistake because patio umbrellas have a much bigger diameter than beach umbrellas and are thus more susceptible to catching wind and flying away.
You want to make sure you bring a beach umbrella that has these defining characteristics:
A minimum of a 1-inch diameter umbrella pole.
A 6-8 ft. diameter umbrella
Easily collapsible with an umbrella bag for storage and portability
We have summarized the Best Beach Umbrellas with these characteristics in another post, in case you do not have one at home.
Best Beach Umbrella Anchors Comparison Chart
| Product | Price | Size (LxWxH) | Item Weight (pounds) | Unique Features |
| --- | --- | --- | --- | --- |
| Beachr Beach Umbrella Sand Anchor | $ | 15" x 3.5" x 9.5" | 0.625 | Easy to use and user friendly |
| Sand Grabber 10009 Beach Umbrella Anchor | $ | 15.25" x 18.25" x 12.50" | 1.4 | Easy to afford, lightweight |
| Copa Beach Umbrella Anchor | $ | 9.7" x 4" x 15.2" | 0.705 | Easy to afford, three in one |
| Ultimate Summit Sand Beach Umbrella Anchor | $ | 15.2" x 9.37" x 4.09" | 0.771 | Lightweight, multiple uses |
| Seabreeze Umbrella Anchor | $ | 7.6" x 4.1" x 2" | 0.02 | Lightest product, could use for multiple purposes |
| Simchoco Sand Anchor | $ | 6" x 8" x 4" | 0.9 | Easy to afford, can hold more than 50mph wind |
| TheCozy Beach Umbrella Screw Sand Anchor | $ | 15" x 3.5" x 9.5" | 0.59 | Life time warranty, winy, durable |
Wrap Up of the best beach umbrella anchor
Beach umbrellas provide shade and shelter from the elements for a safe, relaxing day at the beach, but they require a beach umbrella anchor to keep from flying away. Our list of the seven best beach umbrella anchors runs the gamut in price range, materials, and anchor methods.
Using our guidelines for buying and setting up a beach umbrella anchor, we're sure that your beach umbrella will stay firmly in place all day so you can revel in the shade while listening to crashing waves no matter how hot, sunny, or windy the weather. Our picks of the best beach umbrella anchors help you achieve just that peace of mind.
We are sorry that this post was not useful for you!
Let us improve this post!
Tell us how we can improve this post?
Last update on 2023-06-08 / Affiliate links / Images from Amazon Product Advertising API