Spending time on the lake, at the pool, or on the ocean is an appealing part of the warmer months. That said, you don't need to get soaked to enjoy your time on the water. Floating water mats allow you to drift away and relax while staying above the surface.
Unlike previous iterations of floating mats and rafts, plenty of new floating lake pads don't require you to inflate them to stay afloat regularly. These water mats are always ready to go, and you just need to roll them out on the water to have a cool place to hang.
Lake pads come in plenty of sizes, with enough space for a few people or a whole party. You can also connect them to your boat and keep you anchored in place. In some cases, they can even serve as launch points for canoes or other small watercraft.
Whatever size or purpose you have in picking out the best floating mat for lake adventures, you're going to want a quality one to make the investment well worth it. Thankfully, we've done the work of finding the best for you, and we've brought them all together in our comprehensive buyer's guide.
The Best Floating Water Mat to Chill on the Lakes
Next up, we'll be diving into our reviews. Take note that, while we've numbered the products, this isn't in order of best to worst. We know that everyone has their own unique floating water mat needs, so the top pick for you might not be the same for someone else.
We hope that you can use this guide to find the best floating lake pad fit for your water adventure needs!
There's no missing the Rubber Dockie floating mat when it hits the water, thanks to the bright neon green and orange color choices. Since bright colors help with safety in crowded waters, this eye-catching design is already an excellent start. Rubber Dockie sweetens the deal by providing a one-year manufacturer warranty on this product.
This mat is a large one, with dimensions of 18 x 6 feet and a capacity of up to 1400 pounds and 7 people. Overall, the surface is highly durable, too, making it a good fit for watersports, including launching kayaks. It's even suitable for dogs with sharp claws, if you want to bring him along and look for the best floating mat for dogs. Aside from its scratch-proof design, the Rubber Dockie mat is slip-resistant, helping you stay upright as you move about the surface.
While a lot is going for this mat, it is a bit difficult to roll up for storage with only one person on the job thanks to its larger size.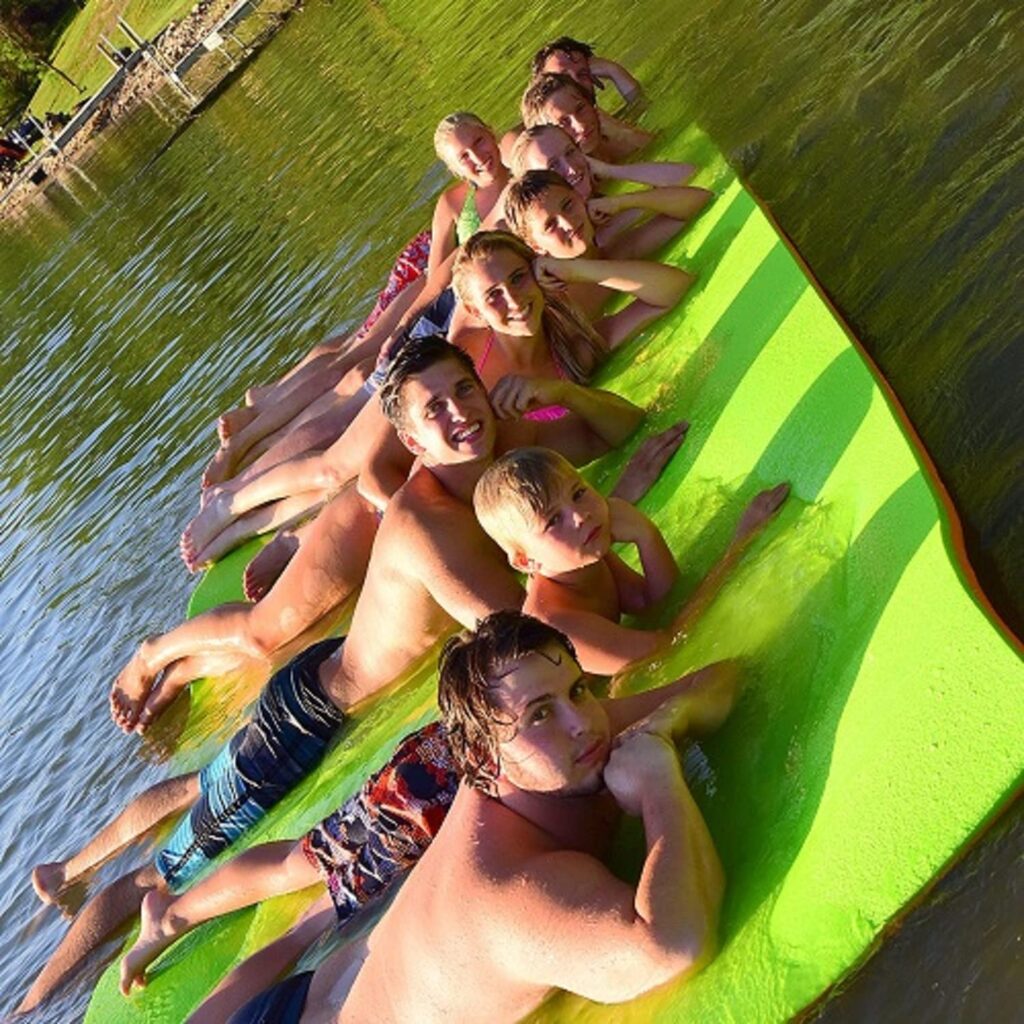 Pros:
One year manufacturer warranty
Bright neon colors for safety
18 x 6 feet in size
Supports up to 1400 pounds
Resistant to scratches and slipping
Cons:
Is a bit difficult to roll back up for storage
Will let some water on the pad at the higher weight capacity
2. Best Floating Mat on a budget: Intex Giant
If you're limited on storage and transport space, and you'd instead go for an inflatable option, then Intex is one of your potential choices. This inflatable mat is durable, and it's even sturdy enough to let pets on safely. That said, this mat is one with more of a focus on relaxing on the water than play, but you can still get some good use out of it.
The measurements for the mat area are nine and a half by seven feet. While Inflex doesn't provide a recommended weight capacity, it does note the pad for safe to use for up to three adults at a time. The design of this pad does let water on board, though it is an intentional decision, so you can have an extra cooling effect while you relax. Two distinct air chambers mean that, even if the mat springs a leak, it won't sink right away.
For those that want a pad that can reliably take an activity like jumping and bouncing, this mat won't be as reliable for those needs. Also, because it is an inflatable option, you'll need to check on it regularly to ensure it stays fully inflated.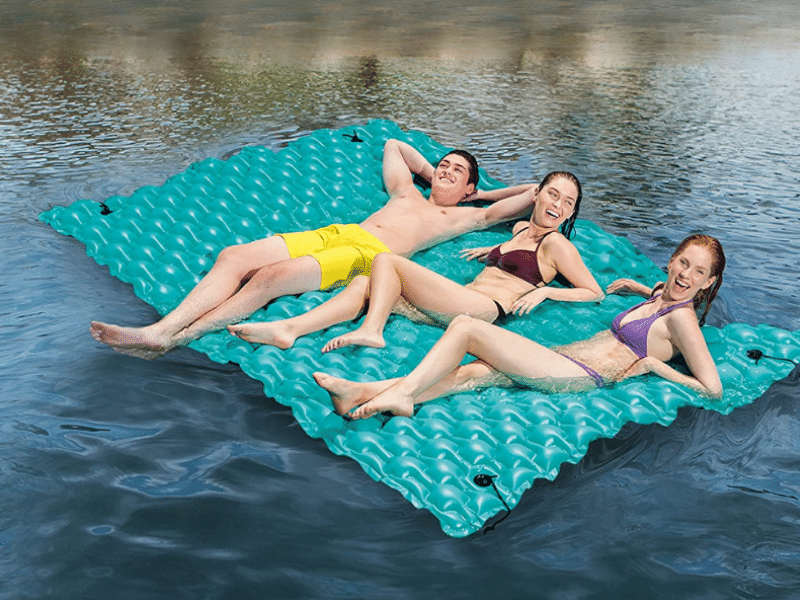 Pros:
Deflates and folds small for secure storage
9.5 x 7 feet in size
Pets can safely use it
Recommended for up to three adults
Two distinct air chambers
Cons:
Can't take much substantial activity
Regularly needs inflating to stay usable
World of Watersports takes a unique approach to their water mats: they come not with just connection points for use with a boat but also zippers along the edges. This feature allows you to connect multiple WOW mats, creating a larger lounge space or even a bridge between different ships.
If you only have one mat, the measurements are ten by six feet, and they connect on the shorter side. Among your options are four different color choices, which are all bright for extra safety. World of Watersports says that a single mat can hold up to five adults at a time, and the durable PVC plastic means that pets can also come on board.
While the color choices are fun, there is a massive brand graphic on the surface, which isn't the most appealing design choice. As there is only one air chamber, a puncture could put this mat out of commission, though the sturdy plastic does make that less of a concern.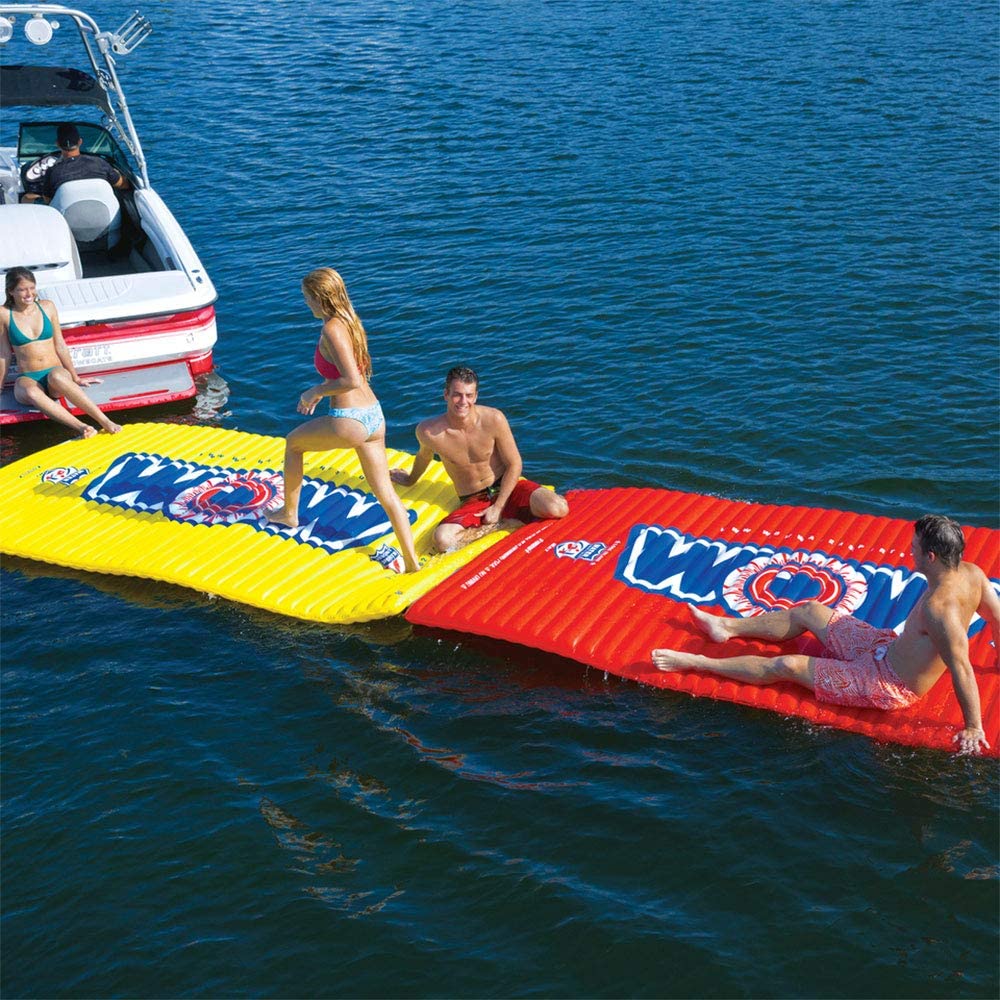 Pros:
Has zippers to connect to other mats
Comes in four distinct colors
Lightweight for easy transport
10 x 6 feet in size
Can hold up to five adults
Durable PVC makes it safe for pets to use
Cons:
Large graphics are a bit garish
Doesn't have distinct air chambers
SOWKT provides another water pad that is suitable for use in any body of water you want, whether it be the pool or lakeside. This one has a large size, stretching out for eighteen by six feet, with a max weight capacity of 1320 pounds. While it is on the larger side, the included fastener straps help with storage.
SOWKT has also included the gear necessary to secure the mat to a boat, letting you get to relaxation and fun without the hassle. There are four color combination variations available, and all of them have highly visible designs, adding to your water safety. SOWKT also provides a one year manufacturer's warranty, providing a replacement in the event of damage, and customer service is responsive.
At higher weight levels, you will start to have some water on the pad. It's not enough to sink, but this mat may not be your first pick if you want to stay dry while you relax.
Pros:
Comes in four different highly visible color combinations
18 x 6 feet in size
Supports up to 1320 pounds
One year manufacturer's warranty
Comes with fastener straps for secure storage
Cons:
First up on our list is the Floating Oasis Lake Pad from Floatation iQ. If you need a lot of space to work with on top of the water, this water mat has you covered. There's plenty of space for people to spread out and relax at fifteen feet long and six feet wide. The maximum weight capacity of the mat is 1500 pounds.
To make setting it up simple, Floatation iQ has included a D-ring, durable nylon straps, and a bungee anchor line. So you can have a bit of personality on the water, this lake pad comes in seven different colors and designs—which will hold up so long as you give it mat regular maintenance. This mat uses materials entirely made in the USA.
On the downside, this mat does get marked up a bit easier; it's not suitable if you want to bring your pets along for fun. It also won't do you much good if you're going to have a lake mat you can use for watersports.
Pros:
Has all gear to secure to your boat
Supports up to 1500 pounds
15 x 6 feet in size
Made in the USA
Comes in a variety of designs
Cons:
Does get marked up easily
Not the best for jumping on
Goplus's floating water pad offering puts a heavy focus on durability, and you can see that in the construction. Goplus boasts that it has three total layers of tear-resistant XPAE foam, which is hypoallergenic in addition to long-lasting. This mat's design is also suitable for use in lakes as well as pools, giving you some fun options.
As for the dimensions, Goplus's mat measures twelve by 6 feet, capable of supporting weight by up to 889 pounds. Though it has plenty of space, it isn't a hassle to move around. The mat just weights fifteen pounds, and it's simple to carry whenever you roll it up and secure the storage straps around it. While some other mats are bigger, this one still has plenty of space for up to six people at a time.
While you can use this lake pad in the ocean, it doesn't hold up to regular use in saltwater as well as it does in other waterfronts. Also, while Goplus does provide connector cables so you can keep your lake pad connected to a boat or dock, you may need longer ones.
Pros:
Three layers of tear-resistant XPE foam
Lightweight and easy to carry
Suitable to use in lakes
12 x 6 feet in size
Supports up to 889 pounds
Cons:
Does not handle saltwater as well
May need longer ropes than provided connections
While having a large float to enjoy with friends and family is appealing, but sometimes you just need something smaller to spread out on and enjoy relaxing on the water. The Airhead Sun Comfort Cool Suede pool mattress does that, with both a double and a single version. This design also comes with removable pillows, which stay attached to the bed via Velcro strips for extra neck support.
There are three color choices for this product, and they're all enjoyable options. The suede aspect of this design means you won't stick to the mat as quickly, and there's an extra level of coolness accentuated by the small sections at the bottom, which let a bit of water up to settle at the bottom. While it doesn't take up a lot of space, you can also deflate it for secure off-season storage.
While the colors on these designs are appealing, they start to fade over time quickly, so you shouldn't purchase it for that alone. The Velcro on the pillow pieces may not stick as well.
Pros:
Suede material keeps your mat cool
Let's in water for extra comfort
Have removable pillows
Comes in double and single options
Has three color options
Cons:
Color does fade easily
Velcro on pillows sometimes doesn't stick
Island Hopper's Water Walk floating water mat brings a lot to the table for those who want both size and durability. It uses triple layers of XPE foam for extra strength. The flexible core and the "tuff-hide" outer layer also add to durability, which allows you to use it for more active play than just lounging around. While Island Hopper does not provide a weight limit, the size is twenty by six feet for plenty of space, and it carries beyond 2,000 lbs. In the advertisement 12 people are laying on this huge water mat.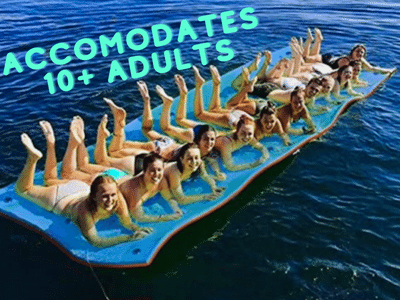 You'll also receive several accessories to safely secure your Island Hopper lake pad in place along with the mat. These pieces include Velcro connecting straps, anchoring grommets, and bungee cords. There are also cords to keep the mat rolled up when it needs to go into storage. Island Hopper sells this product with a two-year limited warranty.
While the grommets help secure your water mat in place, they are somewhat annoying to learn to use. Putting this mat away is also more of a two-person job, as its size makes it a bit unwieldy.
(You might be interested in reading Best Inflatable Islands)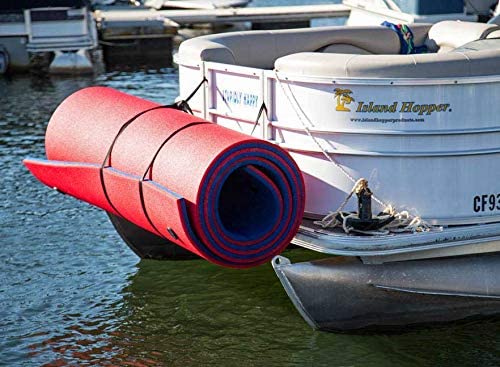 Pros:
Triple-layered XPE foam
Built for heavy activity
20 x 6 feet in size
Comes with Velcro connecting straps, bungee cords, and anchoring grommets
Two-year limited warranty
Cons:
Setting up the grommets is somewhat annoying
Takes two people to put away quickly
O'Brien provides another large-sized option that comes in a bright neon green color that's easy to spot in the water. This mat is eighteen by six feet, and it can hold up to six people at once. O'Brien's product description says that you can easily walk and play on it, but the weight support is more suitable for kids' activity than adults.
That said, the foam itself is durable enough that it can also let pets safely on board to join the water fun. Setting it up is simple, as you just let it roll out into the water and connect the included grommet kit. If you need a replacement grommet kit, O'Brien's customer service team can help out. There are also storage straps to help secure the mat between uses.
While there are connection points to secure your floating water mat, the single connection point makes it a bit tricky to keep perfectly in place as you use it. As with others, the rougher texture and large size also make packing it up more difficult. While the water mat itself is durable, the storage cords aren't as reliable.
Pros:
Has a capacity of up to six people
Comes with a grommet kit and storage straps
18 x 6 feet in size
Kids can easily stand on it
Safe for pets to enjoy
Cons:
Storage cards aren't the most durable
Challenging to pack up and transfer
Only has a single connection point
What is the Best Floating Water Mat?
In our guide we presented you our picks for the Best Water Mat. Those are the picks we would consider the Best:
1. Best overall: Rubber Dockie
2. Best Floating Mat on a budget: Intex Giant
3. Best Inflatable: WOW Inflatable Water Walkway
4. Best Floating Mat for Dogs and Families alike: Rubber Dockie
5. Best Floating Mat for Babies
Our guide to the best inflatable baby water mats can help you find the ideal water mat to enhance your tummy time with your baby, making it both fun and safe.
Floating Water Mat and Lake Pad Buyers Guide (Knowing What to Look for)
So far, we've revealed plenty of excellent floating water mat options—but how do you make the best pick for your needs? Never fear; we've got all the details in this buyers' guide so that you can make the best choice.
Types of Floating Water Mats and Lake Pads
Generally, you will find water mats broken down into inflatable and non-inflatable options. Telling the difference between these two is simple, and non-inflatable ones are much more convenient. After all, you can simply unroll them and put them on the water without taking the time to blow them up, and you don't have to worry about them springing leaks with regular use.
Some lake pads have designs for just lying down and floating along, while others can stay stable even when running or getting ready for watersports. We're fans of the latter since they're more versatile, but that call is up to you.
Benefits of Using Lake Pads
Having a non-inflatable lake pad is a convenient and fun way to enhance your enjoyment of the water. Since you don't need to spend time pumping air into them, it's simple to set them up and start having fun.
Additionally, the durable foams used in these products will help them last longer. Rather than tearing or springing a leak, you'll get much more use from them, and there's much less of a risk of suddenly sinking while you're trying to relax.
So long as the mat is durable, you can sometimes also use lake pads as launch points for smaller watercraft, like canoes.
Larger sized water mats are overall great for entertaining friends and family, and they can quickly expand the area you have to use on a pontoon or boat.
Drawbacks of Using Water Mats
While water mats are a lot of fun to have, you will need to keep them clean for them to last in the long run. Additionally, foam water mats can sometimes be bulky to store and difficult to handle, especially if you opt-in for a larger size. Larger lake pads also are less likely to fit into a pool, and your local area may have floatation device size restrictions
Inflatable water mats tend to have the opposite problems, in which they're easier to store, but they're much more likely to take damage that will put them out of commission.
Features
Lake pads can come with a variety of features, as well as some essential areas you want to perform well when making a purchase. Here are some that you should look out for.
Durability
Tear-proof protection is an excellent option, as it'll keep your water pad in use for longer. This feature is also a must when you plan to let kids and pets join in for the fun. Generally, foam is more durable than the plastics of inflatable models, but there are some higher quality options than others in both categories.
Connections
With locking connections, you can keep your lake pad secured to your boat or a dock, preventing it from floating off. Grommets are similarly helpful when you're in larger bodies of water.
It's also possible for some water mats to connect, creating a larger lounge area to enjoy. In some cases, you can even build walkways that connect boats, though you will need to invest in multiple mats for this to work.
Capacity
How many people do you want to have join you on your floating water mat? You may think you need only so much space, but don't neglect to account for friends you may invite. If you can, go big, but take note that larger sizes can make transport and storage more challenging.
Even if you only want a smaller water mat to relax on, it's still essential to pay attention to the weight capacity. Though some mats will intentionally let water onto the surface to keep you cool, there's no sense in purchasing a pad that will sink once you get on it.
Portability
Having enough space to seat friends and family is great, but you should also consider the ease of transport. When rolled up, will your chosen lake pad fit on your boat? How easy is it to carry? Is picking out an inflatable option a better idea for your current storage space needs? Can one person roll it up on their own, or are multiple people necessary to get the job done?
Accessories
Some water mats will have built-in pillows and other accessories, making it easier to relax and enjoy yourself. For the best results, though, you should look for mats with at least storage cables and a way to connect your water mat to a boat or dock. Grommets can also be a helpful addition.
Warranty
When a product of any kind has a warranty on it, it means the manufacturer is confident that it will last. If you're worried about your mat becoming damaged and not usable, a warranty can provide a replacement, depending on its terms.
A one-year warranty on floating water mats is the norm is available, but occasionally you'll find one that lasts for longer. A guarantee may not be a necessity when purchasing a lake pad, but it is a nice piece of assurance.
Using Your Floating Water Mat the Right Way
Even once you pick out your floating water mat of choice, you should familiarize yourself with the proper way to use it. For starters, always pay attention to the water you lay your pad on. You want the surface to stay calm, so you don't have the mat flip while you're trying to relax.
It's also best to secure your lake pad to a steady surface in some shape or form. Docks and boats make for excellent security points, or you can also use an anchor.
Lastly, pay attention to how deep the water is below your mat. If it's too deep, people will have a difficult time getting back onto the pad or your boat. Generally, a safe range of depth is up to seven feet.
Lake pads, while fun for children to play on, can still pose hazards. Children who can't yet swim can be at risk, and kids can also sometimes swim underneath the mat and get stuck. Always make sure children are using a water mat with supervision.
Installation
For most water mats, you'll only need to find an appropriate space in the water and unroll your mat. While some inflatable water mats don't need them, larger options will inflate much more quickly with an air pump to help.
Connecting the mat safely to a boat or dock will often involve using the provided connection cables to secure them.
Maintenance
As with any piece of water equipment, keeping your floating water mat clean will extend its life and help it look good whenever you unroll it.
While you may need to roll it up right away after use to bring it home, let it spend some time rolled out to dry, and regularly wipe it down to clean away debris. Washing it with dish soap post a dip in saltwater is also crucial. Use this time to check the state of the connection points.
Safety Tips
Even the most well-designed lake pads can be dangerous if not used mindfully. Here are some core tips to keep in mind:
Never let children play on the water mat unattended
Regularly check the security of the connections
Never use a water mat on choppy water
Clean any grime from your mat to prevent deterioration
Keep your water mat connected to a dock or boat or securely anchor it in place
Check the mat's owner's manual for specific safety instructions
Limit alcohol consumption while using the water mat
Want to understand more about water safety? Check out our interactive US Drowning Statistics, Worldwide Drowning Statistics, and Drowning Prevention resources.
Best Floating Mat for Lake Comparison Chart
Product Name
Price
Size in Feet (LxW)
Weight capacity (Pounds)
Distinct Features
Floating Oasis Lake Pad
$$




15x6

1500
Non-toxic polyethylene (PE)for safe and easy to clean with soap
SOWKT Floating Water Pad
$$$



18x6
1320
Fastener straps for secure storage
Rubber Dockie 18×6 Feet Floating Mat
$$$



18x6
1400
Resistant to scratches and slipping,Bright neon colors for safety
Goplus 12×6 Floating Water Pad
$$$



12x6/18x6
889
Easy to Anchor & Clean,Superior Load Bearing Capacity
Intex Giant Inflatable Floating Mat
$



9.5x7
660
Two distinct air chambers,Deflates and folds small for secure storage
WOW World of Watersports Inflatable Water Walkway
$$



10x6/6x6/30x6
680
Lightweight for easy transport,Heavy-Duty PVC Construction
Airhead Sun Comfort Cool Suede Pool Mattress
$



8x6
340
Removable pillows,Comes in double and single options
Removable pillows,Comes in double and single options
Island Hopper Water Walk Floating Foam Mat
$$$



20x6
2000
Built for heavy activity, Triple-layered XPE foam
O•Brien Water Carpet with Grommet Kit
$



18x6
1360
Safe for pets to enjoy, grommet kit and storage straps
Wrap Up: Best Floating Mat for Lake Adventure
Floating water mats can add a lot of fun to any time headed out on the water, whether it be in a pool, a lake, a river, or an ocean. Since there are various sizes and designs available, it's possible to pick out a lake pad that fits your needs, whether you want something for relaxing or for more intense playtime and sports.
We hope that working your way through this guide has helped you learn about the different floating water mats available. Now it's up to you to find the best fit for you and then take it to the water!
Frequently Asked Questions
What Are Water Mats Made Out of?
While many older water mats used inflatable plastic, many more modern ones use a high-density cell foam. Overall, this material is much more durable than its inflatable counterparts, and you don't need to worry about them becoming punctured or deflating.
The foam used in water mats is durable and buoyant, making it an excellent material.
For inflatable mats, they often use highly durable plastic to prevent punctures.
Why Are Water Mats So Expensive?
Compared to their inflatable counterparts, cell foam floating water mats tend to be the more expensive option. Part of the price increase is because of their more exceptional durability. Also, so the mats can support more weight, they need more material, which makes them thicker and can also impact the price.
The good news is that, though they cost more, you will get your money's worth, so long as you pick out a quality option. All the top picks on our water mat list should last you for some time, so choose with confidence.
Last update on 2023-11-30 / Affiliate links / Images from Amazon Product Advertising API