Have you ever wanted to swim with gentle sharks? Have you dreamed of exploring the wreckage of a sunken trade ship? Would you like to come face to face with an underwater, historical statue? Look no further than Florida!
Whether you want a guided adventure or a leisurely swim with the manatees, snorkeling in Florida is a nature lover's dream come true.
With over a thousand miles of coastline and coral reef plus national and state parks, Florida is one of the world's top snorkeling destinations. Whether you want to snorkel near the beach or venture out onto the water by boat, you'll find fantastic snorkeling in Florida.
Beginners and experienced snorkelers alike will enjoy exploring Florida's calm warm waters. If you're ready to set out on a snorkeling adventure in Florida, you've come to the right place. In this article, we list the top 19 snorkeling spots in Florida.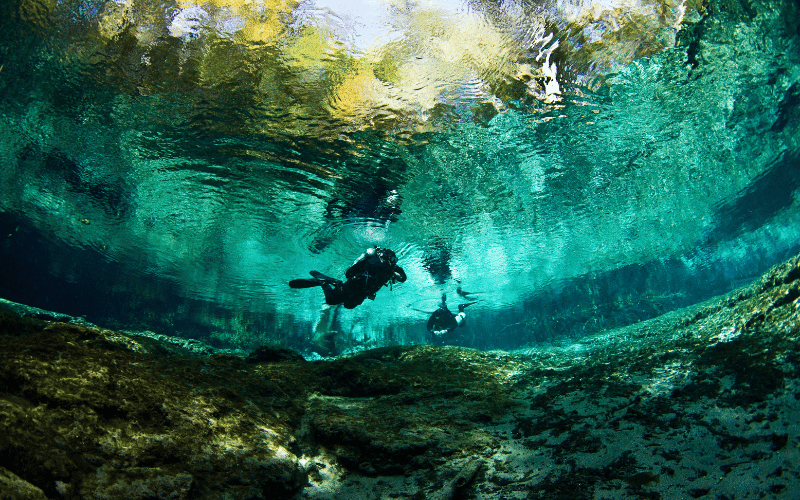 The 19 Best Snorkeling Spots in Florida
There are plenty of water activities in Florida, but check out our top recommendations for the best snorkeling spots.
1. Florida snorkeling spots: Sombrero Reef, Marathon
You'll need to hitch a ride to Sombrero Reef from Marathon, as it's located eight miles offshore from Sombrero Beach. Don't worry, though; there are plenty of charters available in Marathon, Florida, where the beach is located.
Why is Sombrero Reef one of the best snorkeling spots in Florida? First, it's the third biggest barrier reef in the world. The coral reef spans 30 acres of gorgeous natural topography. Sea fans, plumes, and sponges are home to barracuda, damselfish, and more.
Secondly, Sombrero Reef is just a great place to take the family. The snorkeling is second to none, with plenty of wildlife to observe and enjoy, but you'll have to come up for air at some point! When you do, Sombrero Beach boasts white sands, clear water, and picnic pavilions.
2. Biscayne National Park, Miami Area – Best Snorkeling Spots in Florida
Biscayne National Park is an incredible place in Florida for snorkeling. The park is 95 percent underwater, and when you snorkel here, you'll uncover some important maritime history. Namely, there are six shipwrecks along the Maritime Heritage Trail; these ships date back to 1878, and you can visit each of them on a three-hour guided tour.
If you're really just in it for the wildlife, Biscayne National Park can deliver. Loggerhead turtles, lobster, moray eel, angelfish, and parrotfish are just a few of the species you'll find offshore. Note that there is no access to the reefs from the land; you'll have to launch or charter a boat.
When you're ready for dry land, check out the walking trails and be sure to visit the Dante Fascell Visitor Center. This center features a museum and gallery, and your kids can earn a junior ranger badge.
3. Peanut Island, West Palm Beach – Best Snorkeling Spots in Florida
We've included Peanut Island on our list of the best snorkeling spots in Florida in part because it's so accessible. Take a short shuttle or water taxi ride from West Palm Beach to Peanut Island, then enjoy a full day – or weekend – in the 80-acre park. Camping is permitted on this human-made island.
Peanut Island is excellent for beginner snorkelers. Kids will feel comfortable trying their hand at snorkeling in the shallow lagoon to the southeast. More experienced snorkelers will love the breakwaters, home to lobsters, crabs, tarpon, and, of course, coral.
Peanut Island is the year-round home to manatees, and these gentle giants frequently visit the snorkeling-accessible areas. Alternatively, you can spot these animals from the island's mangrove boardwalk.
4. Regina Underwater Preserve, Bradenton Beach – Best Snorkeling Spots in Florida
We would be seriously remiss if we didn't mention that the Gulf Coast of Florida hosts some exciting snorkeling spots. In 1940, a large sugar barge, the Regina, sank during an unexpected storm off Bradenton Beach's coast. Today, visitors can explore what remains of the massive vessel.
Guests to Bradenton Beach will love that the "Sugar Wreck" is just 200 feet from the shore. That means that even inexperienced snorkelers can access the shipwreck easily, right from the beach. In fact, visitors can pick up a laminated tour guide; no professional guide is necessary.
While you're exploring the Regina, keep an eye out for dolphins, manatees, sponges, and small baitfish. The water is clear, and visibility is high, so bring your waterproof camera. Over the years, the ship has largely corroded, but there's still plenty to explore and photograph, especially at low tide.
5. Christ of the Abyss, Key Largo – Best Snorkeling Spots in Florida
The Christ of the Abyss statue off Key Largo is a Florida snorkeling must-see. This nine-foot statue was lowered into the seaward side waters off Key Largo in 1965; today, it's one of the most visited attractions in the Key Largo area.
The head of the statue is submersed around eight feet of water. To get up close and personal with Christ of the Abyss, you'll need SCUBA gear. However, even snorkelers will be able to see and photograph the iconic structure.
While you're snorkeling, be on the lookout for barracuda, rays, and other sea creatures. To maximize your adventurer, consider booking one of the local guided tours. You'll visit many spots and will have the opportunity to spot other species.
6. Dry Tortugas National Park, Off Key West – Best Snorkeling Spots in Florida
Offering some of the best snorkeling in North America, Dry Tortugas National Park is suitable for expert and novice snorkelers. Located 70 miles from Key West and the Florida Keys, this snorkeling destination is only accessible by ferry or seaplane. The pristine waters surrounding Fort Jefferson feature scores of tropical fish and coral reef.
The park is one of the best snorkeling spots in Florida, but adventure awaits for landlubbers, too. Dry Tortugas National Park covers 100 square miles; most of that is water. But the seven tiny islands are as much a treat to explore as the sea.
We promised you the opportunity to snorkel with gentle sharks. Dry Tortugas National Pork is home to the docile nurse shark. While it's best to keep your distance, you can easily observe the creatures in relatively close proximity.
The park features white sand beaches with water ranging from 5 to 15 feet deep. Nature lovers will enjoy exploring marine life in the waters off the beach, where you can swim with the marine animals that inhabit the reef. You may even come across stingrays or find shark teeth as you explore the waters at this national park.
As for the structural wonders of the Dry Tortugas National Park, snorkel your way over to the moat wall and the coaling pier pilings. Then, above water, explore Fort Jefferson, a 19th-century fortified harbor.
7. Red Reef Park, Boca Raton – Best Snorkeling Spots in Florida
If you'd like your snorkeling adventure to be a part of a bigger trip, Red Reef Park in Boca Raton is an excellent option. You'll revel in the prime snorkeling here, then have the opportunity to discover all that the Boca Raton area has to offer.
As with most of Florida's parks, you'll pay a per-car fee to enter, but the park is open for long hours, so you're only really paying a dollar or two each hour to park. Red Reef Park features a human-made reef that's close to the beach; even inexperienced snorkelers will have a blast here!
When you're done viewing eel, barracuda, snook, and bonefish, there's plenty to explore on the mainland. Golf, shopping, parks, nature centers, and luxury resorts pepper the Boca Raton map. There's truly something for everyone here!
8. Shell Island, Panama City Beach – Best Snorkeling Spots in Florida
The next hot snorkeling spot on our list is Shell Island. Shell Island and Panama City Beach are located on the Gulf of Mexico in Florida's northwestern part. To get there, first access St. Andrews State Park for a small per-person or per-vehicle fee. Then, take the Shell Island Shuttle to Shell Island.
Shell Island is seven miles long and features 700 acres of undeveloped nature. In the water, snorkelers can spot crabs, rays, and even sea turtles. Many visitors to Shell Island will also spot dolphins, both up close and from a distance.
You can skip the expense of the shuttle and bring your own boat to Shell Island. Alternatively, while the island is best for snorkeling, you can snorkel right along the beach at St. Andrews. Equipment is available for rent on the property.
(You might be interested in reading our article on Best Snorkeling Spots in Mexico)
9. Snirkeling in Sanibel Island, Cape Coral – Best Snorkeling Spots in Florida
If you're traveling light on your trip to Florida, Sanibel Island is another of the best snorkeling spots in Florida. Snorkeling equipment is available to rent at most hotels, or you can visit one of the numerous surf or beach shops on the island or in nearby Cape Coral.
Artificial reefs near the coastline of Sanibel are home to manatees and dolphins, as well as tarpon, snook, and nurse shark. You don't necessarily need a boat to get you to the good spots; you can snorkel from the beach. However, boat charters are abundant on the island, so feel free to explore further offshore.
Sanibel Island is quite family-friendly. When your day on the beach is over, you'll find yourself with many options for lodging, dining, and shopping.
10. Ginnie Springs, High Springs – Best Snorkeling Spots in Florida
Who said the best snorkeling in Florida was in the ocean? You can have just as much fun snorkeling in freshwater; just take a look at Ginnie Springs in High Springs, Florida. Ginnie Springs is a private campground, but you can purchase admission for a day.
There are three dive sites at Ginnie Springs: Devil's Spring System, Ginnie Ballroom, and the Santa Fe River. While you may not view as many living fish and other creatures at the first two of these dive sites, the river views are amazing. For even more adventure, rent SCUBA gear and explore the underwater caves and tunnels.
If you choose to camp at Ginnie Springs, you can choose from primitive tent sites or RV sites with water and electricity. Either way, you'll enjoy access to tubing, paddleboarding, canoeing, and kayaking.
Absolutely Magnificent for Snorkeling:
Best Snorkeling in Cancun: 10 Spots To Visit This Summer
11. Fort Zachary Taylor, Key West – Best Snorkeling Spots in Florida
Featuring crystal clear blue water, Fort Zachary Taylor is Key West's hidden snorkeling gems. The waters surrounding this state park lie at the intersection of the Gulf and the Atlantic Ocean. The waters off Fort Zachary are teeming with marine life with a rocky bottom, making it an ideal place to see tropical fish and live coral reefs while snorkeling.
Snorkeling at Fort Zachary Taylor is suitable for beginners and experienced snorkelers. If you take a break from snorkeling you can tour the historic fort, get a bite to eat, or explore the park's nature trails. Fort Zachary is an excellent location to witness the famous Key West sunset without the crowds.
12. Crystal River National Wildlife Refuge, Crystal River – Best Snorkeling Spots in Florida
Located in Western Florida, swimming with manatees in crystal clear water is what draws many snorkelers to the Crystal River. Hundreds of manatees move to the Crystal River's warm waters when temperatures drop in the Gulf of Mexico. Three Sisters Springs in the center of Crystal River is the only place you can legally swim with manatees in Florida.
Swimming with the manatees is a memorable experience. The water's spectacular visibility allows you to get unimpaired views of these gentle giants that weigh in at up to 1200 pounds. Morning is the best time for snorkeling with the manatees at Crystal River.
(You might be interested in reading our article on Best Snorkeling Spots in Mexico)
13. Bathtub Reef Beach, Stuart – Best Snorkeling Spots in Florida
Popular with snorkelers and scuba divers, tiny tube-building marine worms created the Bathtub Reef. The reef's name comes from the oval-shaped reef that resembles a bathtub and collects a large body of shallow water at low tide. Bathtub Reef's balmy waters make exploring this unique reef system an enjoyable year-round experience.
While snorkeling in Bathtub Reef beach waters, you'll see tropical fish, lobsters, groupers, and sea urchins. You may even see the colorful parrotfish moving around the reef. If you venture out a bit further, you can explore Georges Valentine shipwreck. The shipwreck has abundant marine life, including angelfish, kingfeel, eel, sharks, and more.
14. Cannon Beach, Key Largo – Best Snorkeling Spots in Florida
Located in John Pennekamp Coral Reef State Park, Cannon Beach in Key Largo combines history with stunning underwater views. Cannon Beach's name comes from the Spanish shipwreck found 100 miles from its shores. It's one of Key Largo's most popular beaches and worth visiting if you're in the area.
The calm and shallow waters off Cannon Beach feature abundant marine life, making it an ideal snorkeling destination. You can explore centuries old artifacts while enjoying views of tropical fish, crabs, shrimp, and other wildlife. The beach is a great family destination, and children of all ages can enjoy its waters.
15. Phil Foster Park, Riviera Beach – Best Snorkeling Spots in Florida
If you're looking for an underwater adventure, Phil Foster Park in Florida's Palm Beach County belongs on your list. The 14.65 acre park features a 200 feet snorkeling trail, making it a prime location for exploring Florida's marine life. The park's artificial reef that's home to over 300 unique marine species.
Among the sea animals you may encounter while snorkeling at the park are sea stars, octopus, and seahorses. You won't only see marine animals while exploring the park's snorkeling trail. The trail also includes small shipwrecks, shopping carts and three hammerhead shark statues. The water is shallow, ranging from between 6 and ten feet.
16. Red Reef Park, Boca Raton – Best Snorkeling Spots in Florida
You'll find Red Reef Park between South Beach Park and Gumbo Limbo Nature Center in Boca Raton. The park features saltwater snorkeling on a man-made reef located close to the shores, making it an excellent snorkeling spot for snorkelers of all levels. Eels, snooks, barracudas, sea turtles, stingrays, and many other tropical species inhabit the reef at Red Reef Park.
The reef also hosts colorful vegetation, including sponges, sea plants, and coral. One could easily spend a day exploring all the undersea water animals and plants Red Reef Park offers. The water is shallow, only reaching 10 feet at its deepest. There's also 40 acres to explore, so you're sure to have an enjoyable time.
17. St. Andrews State Park, Panama City – Best Snorkeling Spots in Florida
Located in Northwest Florida, St. Andrews State Park is a 1200-acre park with some of the best snorkeling in the area. The park's extensive shoreline and rock jetty offers snorkelers an opportunity to explore and study the area's marine life. The jetty acts as an artificial reef, attracting various sea life, including crabs, stingrays, and tropical fish.
If you get lucky, as you snorkel towards the open waters of the Gulf of Mexico, you may catch a glimpse of a sea turtle or bottlenose dolphin. When you need a break, you can relax on the white sandy beaches that surround the park.
Top 10 Spots to Snorkel worldwide:
Top 10 snorkeling Spots in the World (Most Lively)
18. Bahia Honda State Park – Best Snorkeling Spots in Florida
One of Florida's most scenic state parks, the 500-acre Bahia Honda State Park is one of the best places for offshore snorkeling in Florida. If you're ready for an underwater adventure, this park has a lot to offer. There are no corals near the beach, but there is a lot of marine life swimming in the park's shallow waters.
If you swim further out towards the soft and hard corals, you'll encounter various species of marine life, including barracudas, turtles, sponges, octopuses, bonefish, and more. The park features picturesque white sandy beaches and Elkhorn corals. It's an excellent destination for snorkelers of all levels.
Some other amazing Snorkeling Spots around the world:
Visiting Belize? These Snorkeling Spots are Perfect for Anyone
Get Snorkeling at the Best Resorts in the Caribbean!
The 10 Best Snorkeling Spots in Islamorada
19. Biscayne National Park – Best Snorkeling Spots in Florida
Located close to Miami, this Biscayne National Park is only accessible by ferry or seaplane. A great getaway from Miami's hustle and Bustle, this park is an excellent day trip while visiting the big city. There's a lot to explore at this national park, including shipwrecks, mangrove habitats, and coral reefs.
The Biscayne National Park Institute offers guided snorkeling tours, or you can set out on your own. Your snorkeling adventure will include clear beautiful water and various marine wildlife, including rays, dolphins, and sea turtles.
Some other amazing Snorkeling Spots around the world:
10 Must-Visit Snorkeling Spots In Thailand
Top 10: Best Snorkeling Spots in Central America
The 10 Most Beautiful Snorkeling Spots in Cuba
A Few Other Snorkeling Spots in Florida Worthy of Mention
Not all of the great snorkeling spots in Florida made our list. There are several more snorkeling destinations where you can explore caves, exotic marine life, vibrant reefs, and prehistoric fossils.
(Check our article on some other Best Snorkeling Destinations in Florida)
Some other amazing Snorkeling Spots around the world:
Incredible Snorkeling Spots in Mexico That You Just Have To Experience
These 12 Hawaiian Snorkeling Spots Are Pure Paradise
Best Snorkeling in the Caribbean: 20 Incredible Spots
Wrap Up: Best snorkeling places in Florida
If you're looking for some underwater adventure, look no further than the Sunshine State. Some of the best snorkeling spots in the United States are in beautiful Florida. Pack your gear, book your flight, and take off to the American south – you won't regret it!
Whether you're a beginner or expert snorkeler, Florida's diverse aquatic life is worth exploring. There are many ways to enjoy Florida's waters. You can take a ferry or seaplane to an offshore location to snorkel along some of the world's more awe-inspiring coral reefs. Or you can stay close to the shore, exploring the sea-life close to Florida's beautiful beaches.
If you want to travel back in history, you can explore the prehistoric remains of extinct animals. There are parks boasting almost miles of shoreline along the Atlantic ocean with unusual rocky outcroppings protecting a large variety of sea life. If you're looking for tranquility, exploring crystal clear turquoise waters may be more your speed.
Whatever you decide, you're sure to have a fantastic underwater adventure snorkeling in Florida. Florida's temperate climate means you can enjoy snorkeling in the Sunshine State almost year-round. There are many snorkeling adventures awaiting you in Florida.
Some other amazing Snorkeling Spots around the world:
Snorkel the Reefs and Islands of Indonesia: Our Best Snorkeling Spots
Best Snorkeling Spots in Florida: 19 Places You Can't Miss
Snorkeling Curacao: The 10 Best Snorkeling Beaches & Spots
We are sorry that this post was not useful for you!
Let us improve this post!
Tell us how we can improve this post?