Snorkeling is an enjoyable and reasonably easy sport. Easy because with sound equipment and some basic training, anyone, whether a swimmer or non-swimmer, who does it correctly can enjoy it.
And besides all the fun, it has various other benefits: It strengthens the muscles, has cardiovascular benefits, and improves joint mobility. However, conditions such as strong currents, heavy shore breaks, and high winds make it dangerous for snorkeling, so before going in, first assess the water and check with lifeguards.
Snorkeling Curacao: Did you know one of the best snorkeling spots in Curacao, Tugboat, borrowed its name from a shipwreck on the beach?
That said, there are many snorkeling spots in Curacao, and knowing which one to pick can be challenging. So to make it easier for you, we've listed the 10 best snorkeling spots in Curacao, outlining why each made it to the list.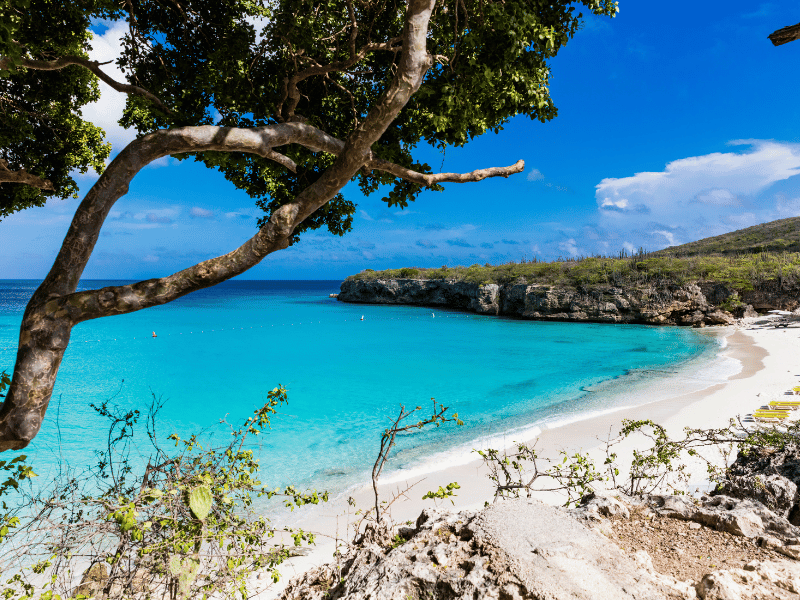 Snorkeling Curacao: Top 10 Snorkeling Spots & Best Beaches in Curacao for Snorkeling
We conducted extensive research and curated this list of Curacao's best snorkeling spots, outlining why each made it to the list.
To determine which spots qualify to be considered a top snorkeling spot, we considered various factors such as snorkeling depths, impressive shoreline cliff structures, underwater sights, and safety, making suitable snorkeling destinations.
We found some of these destinations going over and beyond by having a fascinating history tied to them.
1. Snorkeling in Curacao: Playa Porto Mari
Located on the northwest of Curacao, Playa Porto Mari has a sandy seedbed, turquoise-hued sea surrounded by coral patches and manchineel trees.
It's one of the most popular snorkeling spots adored by tourists and locals alike, mostly drawn by its double reef, which makes for exciting underwater activity.
It has two main snorkeling trails that delight swimmers who enjoy passing by Reef Ball clusters. These efforts to restore the double reef offshore have been met with great success, making for a delightful underwater experience.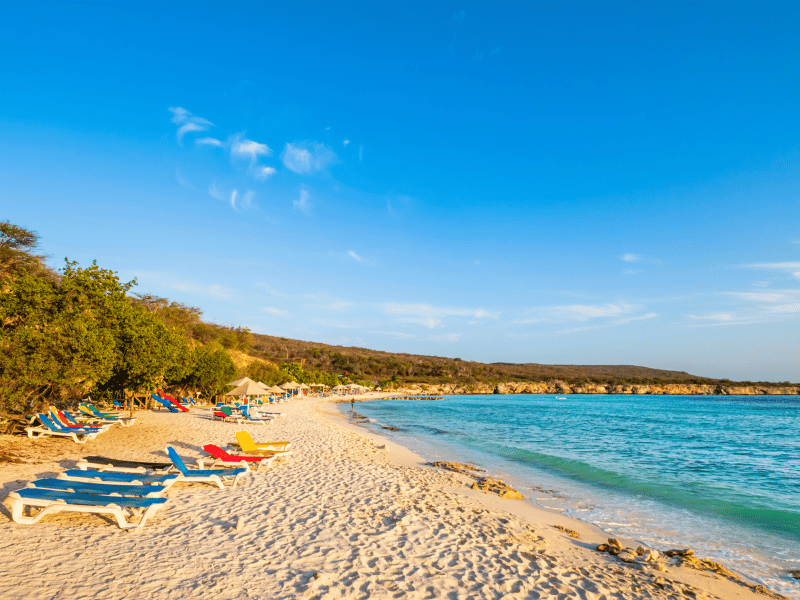 In the first trail, snorkelers can go as far as the raft, with the more seasoned swimmers heading further out to deeper waters. This trail is accessed from a jetty in the middle of the bay.
The second trail starts on the left side of the bay.
Next to the restaurant is Porto Mari Sports, where you can get snorkeling gear. Murals of the bay (by Suus Krediet) and a printed map of the trails are also available.
Explore Curacao's sister island Aruba and other Caribbean Snorkeling Spots too:
2. Snorkeling in Curacao: Playa Lagun
Playa Lagun, located on a fishing village along Curacao's West Coast, is a narrow cove that looks splendid with its rocky cliffs.
It's a popular snorkeling spot drawing many to swim with the sea turtles, sometimes present in the mornings as they hide along the sea beds. Wrasse, butterflyfish, green moray eels, snappers, and parrotfish are some of the many fish and sub-aquatic marine life you can find there.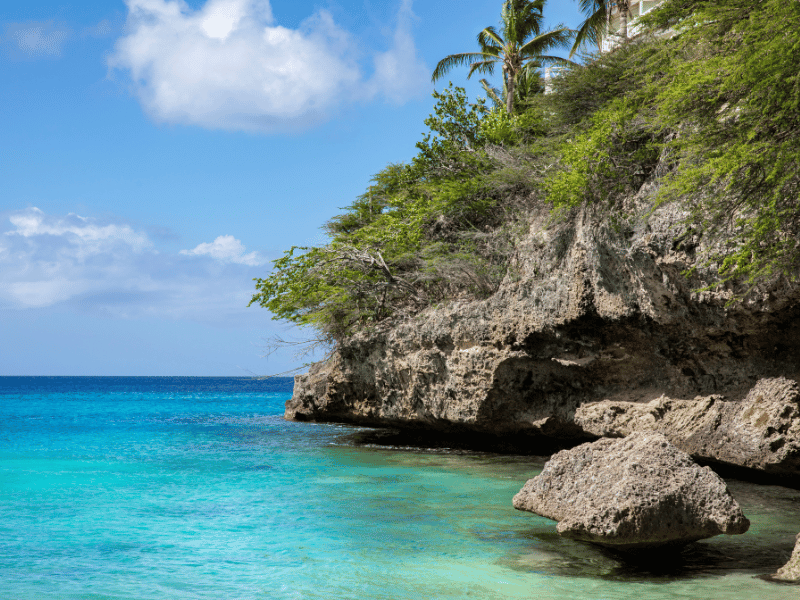 Occasionally, schools of juvenile silverfish hiding in the cove from bar jacks and trevallies can take your breath away. There is also a wide range of fish and sub-aquatic marine life.
You can easily access Playa Lagun by public bus or rental car.
3. Snorkeling in Curacao: Grote Knip
Grote Knip, also known as Knip Beach or Playa Kenepa Grandi, is an exquisite beach located on the north-western end of Curacao, two miles south of Westpunt.
It has a breath-taking view many consider as deserving of making a postcard out of it, nestled in a cove with a perfect view of the turquoise sea and fishing boats.
If you're looking for a fun getaway with your family, Grote Knip is the ideal spot.
If you snorkel along the cliff's sidewalls, you can enjoy observing a wide range of colorful fish species. You might even spot small sharks.
There's a snack shop on the beachfront where you can relax and get a bite after your excursion. They have beach chairs for rent and even serve hamburgers and French fries.
Related posts:
4. Snorkeling in Curacao: Klein Knip
Klein Knip, also known as Playa Kenepa Chiki or Little Knip Beach, is a pristine rural beach along Curacao's west side.
It offers breathtaking views and turquoise water but with fewer people around.
On the bay's left side are some huge boulders, and you can view amazing underwater life, including patches of elkhorn coral and various colorful Caribbean fish.
Klein Knip also has hard and soft coral, unique sponges, and a great many fish. Near the boulders are schools of sweepers, blue-green Chromis, barracudas, cowfish, blenny, and damselfish. There generally aren't turtles, but it's possible to find some.
Related posts:
5. Snorkeling in Curacao: Playa Forti
Playa Forti, also known as Sweet Alice, is a stony beach located in Westpunt. It's nestled between Westpunt high cliffs.
It has a reef that drops gently with a stunning array of marine life, mainly sponges such as elephant ear sponges and tube sponges, sea whips, sea rods, cup corals and plate corals, morays, hamlets, spotted drums, and sea turtles.
It's no wonder that although this snorkeling spot has boat traffic you'd think would repel snorkelers, they don't seem to mind.
This snorkeling spot has a gently sloping rocky bottom and is renowned for its breath-taking sunsets.
Related posts:
6. Snorkeling in Curacao: Klein Curacao
Klein Curacao is a small coral island (about 6 miles long) located on the main island.
It's about 10 miles southeast of the main island, and to get there, you must take a bus, a ride worth taking to a destination where you get on a boat trip with plenty to offer.
You'll see various tropical fish such as Sergent major, juvenile blue tang, and bluehead wrasse. And although Klein Curacao's seabed is more on the dull side with some seagrass, making it less inspiring, it's awash with green sea turtles.
Because of the many turtles found on this small island, it's well known as the perfect spot to swim with green sea turtles.
Related posts:
7. Best Snorkeling in Curacao: Tugboat
Located off Caracas Bay Island, Tugboat is a popular snorkeling spot in a sheltered shallow bay on the island's southwestern coast, rich in marine life.
Interestingly, it got its name from a wreck found there. You can head out into the water starting from the beach's southern end to see the wreckage.
Tugboat has a downside; because it's adjacent to an industrial area, the beach is not set in an attractive backdrop. However, it makes up for the lack of beauty with the rich marine life and shipwreck found in it and is a snorkeling spot sought out by many.
Sponges, coral, sea fans, and countless bright reef fish such as grunt, butterflyfish, and parrotfish are some of the rich marine life found on the sheltered bay.
This spot is accessible by car, so you need not pay to access it unless you prefer a boat trip.
Related posts:
8. Curacao Snorkeling: Kokomo Beach
Kokomo Beach, found on Vaersen Bay, is a beautiful cozy beach with underwater coral.
It has a rich marine life you'll appreciate, including coral, parrotfish, and various tropical fish species.
Dropping into the water with your snorkeling gear can sometimes be challenging. Here, to make it easier, there's a dock complete with stair ladders. There are also chaise lounge chairs available.
Kokomo Beach boasts various other facilities such as a dive shop, massage tent, and a restaurant with diverse scrumptious meals for a more relaxing and memorable beach day.
Related posts:
9. Snorkeling in Curacao: Directors Bay
Directors Bay, located between the infamous Tugboat wreck and Small Wall, is a historical institution on Curacao Island that's a favorite spot for snorkelers, beachcombers, and divers alike.
A tidbit on Directors Bay; it was once accessible only to the Dutch Shell Group directors and the Dutch Royal family as their private haunt.
Thankfully, the public can now enjoy this exciting spot with its unique marine life, including flounders, sea horses, frogfish, and eels. Also present is several stunning corals and sponges mostly found on an old rotting fence beneath the bay.
Directors Bay also has novel creatures that reside there – an octopus who actually considers the underwater ruin his private dwelling, and a sea snail named Flamingo Tongue.
10. Snorkeling in Curacao: Santa Martha Baai
Santa Martha Baai lies close to Soto Village, and it's famous for a spectacular view of the island.
It has incredible underwater visibility. This is especially so to its left due to the wind and wave action from left to right.
Santa Martha Baai or Bay's shores are somewhat shallow and calm and are therefore free from boulders or other obstructions. This contributes primarily to its being an ideal snorkeling spot no matter the level of experience.
Parrotfish and trunkfish are the sea life you're likely to see in this snorkeling spot.
(You might also be interested in reading about the Best Snorkeling Destinations In The Caribbean)
A Few Other Curaçao Snorkeling Spots Worthy of Mention
Playa Cas Abao
Playa Lagun
Klein Knip (also known as Little Knip Beach or Playa Kenepa Grandi)
Playa Grandi (also known as Alice in Wonderland)
Playa Kaiki
(Looking for more snorkeling destinations near Curacao? Try reading our article on Best Snorkeling Destinations in Aruba)
Snorkeling in Curacao: Wrap Up
That wraps it up. For the most exciting snorkeling experience with excellent depths, amazing underwater life, and interesting shoreline cliff structures marine life, the best snorkeling spots in Curacao listed above have you covered. We hope you find this information helpful in choosing your next snorkeling destination.
We are sorry that this post was not useful for you!
Let us improve this post!
Tell us how we can improve this post?