Best snorkeling in Belize: Belize contains many of the world's most biodiverse regions and nature reserves. To experience the spectacular wildlife in-person, you must visit these 10 best snorkeling Spots in Belize throughout your stay.
Stay next to the Reefs in Belize:
If you want to stay next to the best places to snorkel in Belize you should see our guide: Where to stay in Belize for snorkeling? 10 Best Resorts
The Top 10 Best Snorkeling Spots in Belize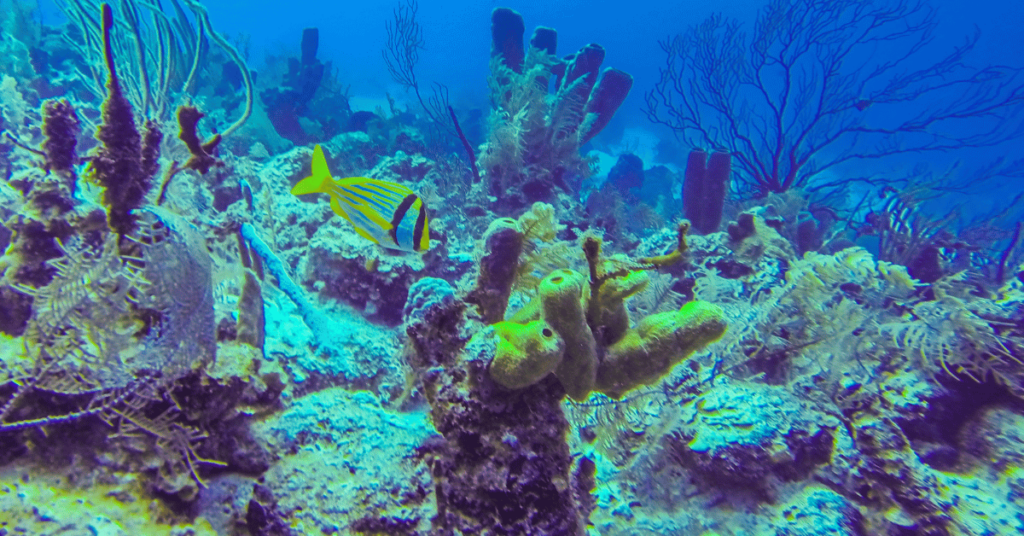 Belize is home to some of the most incredible habitats on Earth, from historic pirate hideouts to whale shark migration stops. Visit the sites below to see for yourself.
1. Snorkeling in Belize: Tres Cocos in Ambergris Caye (Best place to Snorkel in Belize for Children)
You'll most likely see this snorkeling spot combined with Mexico Rocks, another site within the Ambergris Caye. Whether you visit Mexico Rocks as well or Tres Cocos on its own, this location is one of the best options for snorkeling with small children.
(Explore more snorkeling destinations in Mexico at Best Snorkeling Spots in Mexico)
The water here is very shallow, approximately 4-8 ft deep. Even if there are no children in your vacation party, adults with little swimming experience will be comfortable in these waters as well.
No matter which depth you're at, the Tres Cocos snorkeling destination is teeming with marine life. Its beautiful star and elk coral patches provide shelter to numerous fish species like the parrotfish and fairy basslet.
Interestingly, Tres Cocos is home to several eye-catching crustaceans and invertebrates as well. Here, you'll find shrimp, sea urchins, lobsters, and spider crabs. Perhaps you'll see these critters traveling and hiding between the stretches of brain coral that can grow up to 20 ft tall.
Tres Cocos is a place of wonder, welcoming to those who need aren't quite comfortable enough with venturing out to the deep sea. For children and weak older swimmers, this is the best place to go for snorkeling in Belize! 
2. Belize Best Snorkeling: Hol Chan Cut in Ambergris Caye
Hol Chan Cut is one of Belize's most beloved and well-respected snorkeling sites. It comprises the heart of the Hol Chan Marine Reserve, established in 1987. Officials have divided the Reserve into four zones:
The reef
The seagrass beds
The mangroves
Shark ray alley
When swimming through the currents of Hol Chan, you'll discover spectacular marine views. Amongst the elkhorn coral, you're welcome to feast your eyes on the abundance of ocean life, including moray eels, green sea turtles, nurse sharks, and stingrays.
Different portions of the Cut vary in depth, so make sure to check with your guide if you're worried about getting into water that's too deep. Overall, it ranges from 3-25 ft, and the resident wildlife will change depending on the area's depth you choose to snorkel in.
Some other amazing Snorkeling Spots around the world:
3. Best Snorkeling Belize: Shark Ray Alley in Ambergris Caye
Another one of Ambergris Caye's most popular areas, Shark Ray Alley is the last zone belonging to the Hol Chan Marine Reserve. The area once served as a central location for local fishermen to clean their catches.
However, sharks and rays became so enamored by all the fish scraps that the fishermen notified San Pedro dive authorities. The area then quickly evolved into a tourist location.
Shark Ray Alley is located only one mile south of the Cut, so you can knock out both locations in one day if you like.
Though its name only mentions sharks, the Alley is home to a plethora of marine species. Along with nurse sharks, you'll also encounter:
Jacks
Groupers
Snappers
Angelfish
Barracuda
Eels
Thankfully, this location is known for its high visibility, so you'll have a relatively easy time spotting all the remarkable sea life swimming by. For an unforgettable dive that you'll cherish for a lifetime, it's best to add Shark Ray Alley to your Ambergris Caye adventures!
4. Snorkeling in Belize: South Water Caye Marine Reserve
South Water Caye is world-renowned as the second-largest protected marine habitat in Belize. It expands over 117,875 acres, an enormous expanse of diverse oceanscapes. The site has been preserved by Belize's Fisheries Department since 1996 and has thrived under governmental protection.
Some of the features that make the Caye a priority in ocean conservation for the country of Belize include:
Resilient reef ecosystems (these are recognized as some of the least impacted by human activity in the region)
High diversity of marine wildlife, both commercial and non-commercial, including the queen conch and lobster
Unique habitats such as the seagrass meadows and mangroves
If you're lucky, you might even get to set your sights on some of the world's most unique species, the manatee and crocodile. (No, you won't be snorkeling in Belize with crocodiles, but you might spot them on tour!)
For a trip to one of Belize's most treasured, historic sites, visit South Water Caye Marine Reserve.
Some other amazing Snorkeling Spots around the world:
5. Snorkeling in Belize: Half Moon Caye in the Lighthouse Reef Atoll
Half Moon Caye is another shallow location, suitable for inexperienced swimmers and young children. The waters average about 4-6 ft deep, so you won't have to worry about significant risks while you're enjoying the sea's wildlife.
This site is among the most visited of Belize's Lighthouse Reef islands, in part because it is designated as a Natural Monument and a vital piece of Belizean natural history.
Half Moon Caye is Belize's first-ever wildlife preserve. The unique colonies of red-footed boobies and magnificent frigatebirds that nest in the area inspired officials to defend the ecosystem in 1981, and the habitat has been healthily sustained ever since. (It's not only Belize's first protected area, but the whole of Central America's as well.)
(Try reading about more Central America's Snorkeling Destinations)
Here, you can expect to find species like octopus, lobster, yellow-line arrow crab, queen triggerfish, and hogfish.
For the best chance to see all that Half Moon Caye has to offer (including the spectacular bird species), visit during December.
Some other amazing Snorkeling Spots around the world:
6. Snorkeling in Belize: Carrie Bow Cay, Mesoamerican Barrier Reef
The Carrie Bow Cay is a highly important site for marine research and conservation. In fact, there is a scientific field station located on a small island near the snorkeling sites. (With this in mind, divers and snorkelers must be extra careful here to preserve the habitat's health and security.)
The area available to snorkelers is quite small, all things considered; however, it still offers a fantastic experience for all who visit. It's located on the fringes of one of Mesoamerica's most valued mixture of environments, including:
Seagrass habitats
Mangroves
Coral reefs
Some of the most interesting organisms you'll find here include various sponge species like the black ball sponge, queen triggerfish, and trumpetfish. If you're looking to visit an area marked by global conservation and academic significance, Carrie Bow Cay is the snorkeling site for you.
Some other amazing Snorkeling Spots around the world:
Get Snorkeling at the Best Resorts in the Caribbean!
The 10 Best Snorkeling Spots in Islamorada
Even better as the Best Snorkeling in Belize: The Top 10 Spots to Snorkel worldwide:
Top 10 snorkeling Spots in the World (Most Lively)
7. Best Snorkeling in Belize: Glover's Reef Atoll
Glover's Reef earned its namesake from the pirates, John and Roger Glover, who lived in the 1750s. They're rumored to have used the cays as a base, specifically to bury treasure, as evidenced by the pieces of Mayan pottery that have been discovered in the area over the years.
However, these discoveries also point to the fact that Mayans used the Atoll as a primary fishing location.
The reef is nestled into the overarching Glovers Marine Reserve yet has been designated as a privately owned 9-acre World Heritage Site.
To ensure the habitat's safety against damage or overfishing, officials categorized 30% of the Reserve as a "No-Take Zone." Park Rangers patrol the site to ensure no one – even tourists – violate the laws.
With all these protections in place, you are sure to enjoy plenty of gorgeous sights under the sea and experience the reef's tangible historical significance. There are over 700 patch reefs to visit in the lagoon, where conches and coral reefs abound. You'll also find:
Mackerel
Barracuda
Yellow jack
Black durgon
To be transported to another historical period filled with pirates and Mayan culture, add Glover's Reef to your travel list.
8. Best Snorkeling in Belize: Caye Caulker
At this point, you know that Belize is rich with marine reserves, and Caye Caulker is no different. Designated as a protected area in 1998, Caye Caulker is home to an amazing collection of ocean habitats, including:
Mangroves
Littoral forests
Lagoon marshlands
Seagrass meadows
Coral reefs
Some of the species you're most likely to encounter here include the very rare black catbird, elkhorn and staghorn corals, manatees, and even saltwater crocodiles and sharks. Aside from these incredible animals, there are more than 170 species of fish alone, so you'll never run out of critters to gawk at when snorkeling in Caye Caulker. 
Thanks to the conscious, careful management under the Belize coastal authorities, the Cay Caulker Reserve will remain as one of the most biodiverse, beloved spaces on Earth.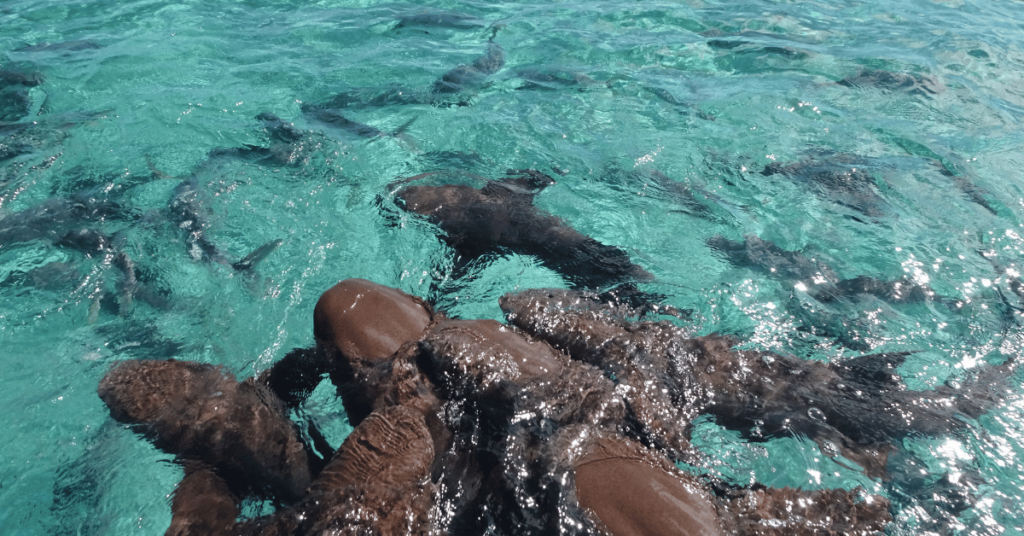 9. Best Snorkeling in Belize: Turneffe Islands
As one of Belize's three atolls, Turneffe is one of the largest and most sensational snorkeling sites on the planet. Many fish species use the 400+ islets dotting the Turneffe Atoll as spawning sites, so you'll never fail to catch the area teeming with vibrant life.
Some of its primary habitats include mangroves and lagoons, which serve as a home for species like:
Manatees
Turtles
Eagle rays
Whitespotted toadfish (which can only be found here in the Turneffe Atoll!)
Goliath grouper
If you're lucky, you might even get lucky enough to see hammerhead sharks and bottlenose dolphins! These are best seen in the south lagoon, along with spotted dolphins, so be strategic about your visit.
More than 70 sites are available for snorkeling in the Turneffe Islands, so ask a local guide for more information on which animals reside in specific areas. This way, you can ensure that you get the precise snorkeling experience you've been dreaming of.
10. Best Snorkeling in Belize: Gladden Spit
Get ready for an experience to knock your fins off. Snorkeling at the Gladden Spit is unlike any other underwater adventure you'll ever have. Why?
Not only will you find the famous Blue Hole and mind-blowing Barrier reefs here in the Gladden Spit, but one of the world's most stunning creatures: the whale shark. That's right, this corner of the Belizean waters is home to the world's largest living fish on Earth, reaching lengths of up to 40 ft long.
Despite their massive size, these "whales" (they are not true whales, but earn that name merely due to their mass) are gentle giants. The most you can expect from them while you snorkel is a few gentle waves and not much more.
You'll see fish such as the cubera, mutton, and dog snappers, along with these whales. To see them all in action, visit during the spawning season, March-June. Chances to swim with the whales are few and far between, so plan your trip accordingly.
Other Great Snorkeling Spots in Belize that make Snorkeling in Belize Amazing
Pompion Caye
Rendezvous Caye
Colson Caye
Mexico Rocks
If you want to stay next to the best places to snorkel in Belize you should see our guide: Where to stay in Belize for snorkeling? 10 Best Resorts.
Don't miss these incredible snorkeling locations on your upcoming Belize getaway. After your stay, your memories will overflow with manatees, whale sharks, and pirate treasure troves for years to come.
We are sorry that this post was not useful for you!
Let us improve this post!
Tell us how we can improve this post?