Belize is one of the most beautiful places on Earth. The adventures are plentiful in Belize. Between the resorts and the country's tourism, they offer something for everyone.
With extraordinary white sandy beaches adorned with crystal clear turquoise water, historic ruins, abundant wildlife, and the world's second-largest barrier reef, Belize offers a lifetime of adventurous memories for you and your partner, your family, or a friend.
The Belize barrier reef encompasses 185 miles of the great Mesa-American Barrier Reef System that stretches miles from Mexico to Honduras, with Belize and Guatemala in the middle. That means Belize's entire coastline remains pristine, protected, and teeming with sea-life.
But, where to stay in Belize for snorkeling?
If you're in search of the best snorkeling resorts in Belize, you'll be justly rewarded by staying at any of the top 10 Best Belize Snorkeling Resorts we've listed below.
The 10 Best Belize Snorkeling Resorts
Belize is a coastal country with various beachfront hotel resorts offering overwater bungalows, beachfront cabanas, and traditional hotel stays. There are numerous spots for snorkeling in Belize. So we've amassed a selection of the best snorkeling resorts in Belize just for you.
The Tranquility Bay Resort offers access to world-renowned snorkeling just feet from their beaches. They offer guests snorkeling gear to rent; however, they advise you to bring your snorkel-gear to observe a sea of color from an unimaginable amount of marine life.
The resort lies on the Ambergris Caye—a small island—inside the Belize marine reserve, Bacalar Chico.
The staff and management at Tranquility Bay Resort aim to deliver on your experience during your stay, one of many reasons guests return. Although, they also return because the property offers seaside cabanas from affordable pricing to luxury suites.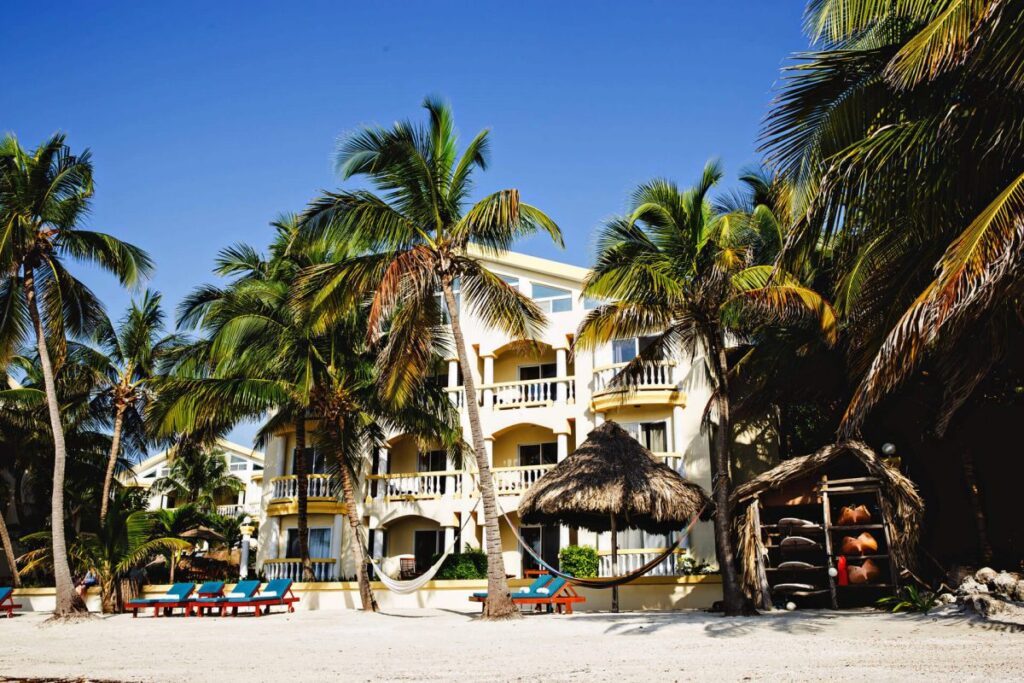 Pelican Reef Villas Resort is a unique luxury resort in size. As a boutique resort located in the town of San Pedro, you'll need to make additional arrangements on either a two-hour ferry ride from Belize City or a 20-minute flight—take your pick.
Once you've arrived, the staff and management teams work hard to ensure you feel right at home. The intimate beachfront resort offers two room-styles with either a beach view or a garden view, all with that Caribbean-style and comfort.
They combined a variety of adventures to choose from, that include snorkeling. They offer at least five snorkeling excursions.
Pelican Reef Villas's first adventure is the Mexico Rocks Snorkel and Beach BBQ, a full-day excursion with a morning and afternoon snorkeling and barbeque in between.
Guest's looking for a low-key day can take a morning boat ride to watch West Indian Manatees lumber along the mangroves, followed by lunch, ending with a short swim with dolphins.
For those looking for a break from snorkeling, checkout our Hol Chan Reserve & Shark Ray Alley adventures for a short 2.5 hours of travel and snorkel in all.
The resort's most affordable half-day excursion takes guests to the Belize Barrier Reef's north region near the Mexico Rocks and Tres Cocos.
The Pelican Reef sails off Caye Caulker for shopping and lunch, and then it's off to Shark Ray Alley for some snorkeling, then back to your boutique resort, which some consider the best snorkeling resort in Belize.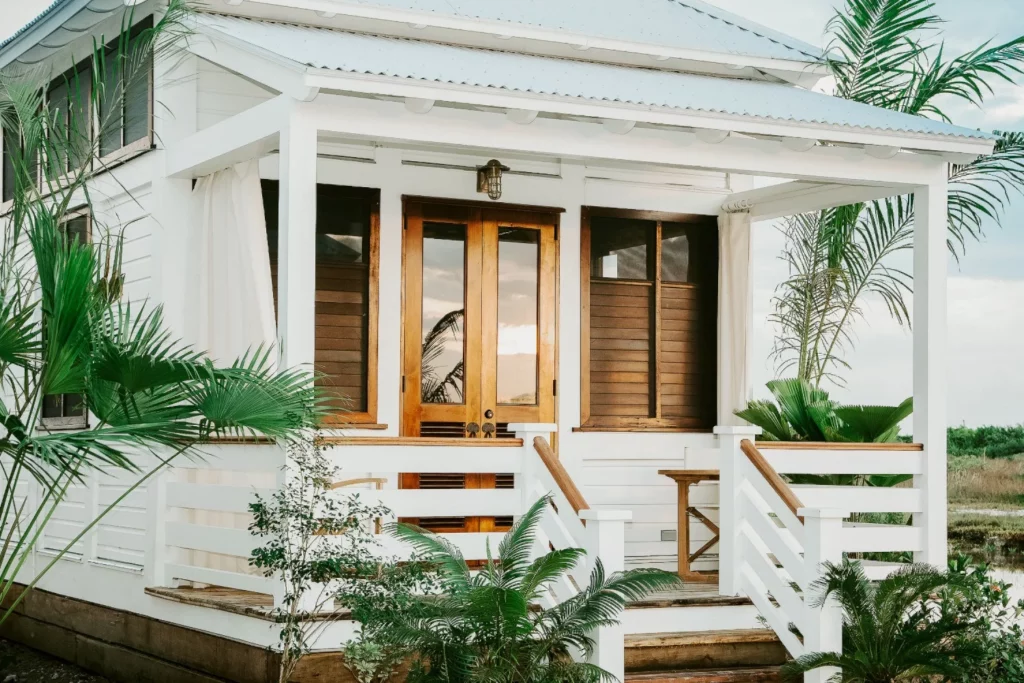 Mahogany Bay Village is Hilton owned, isolated on the tiny island of Ambergris—Belize's largest island at 25 miles long and approximately 1-mile at its widest point. They offer exceptional accommodations and a myriad of activities and services.
Guests can contact the Concierge's Desk when looking for something thrilling, low-key, or looking for a restaurant with local flair. The Concierge can also point you in the right direction for snorkeling excursions.
Many snorkeling adventures head out to the famous Shark Ray Alley to swim alongside nursing sharks, turtles, stingrays, and many other sea creatures. But you can also snorkel in the infamous Blue Hole of Belize—a unique opportunity to be taken by excursion or as an adventure accommodation package.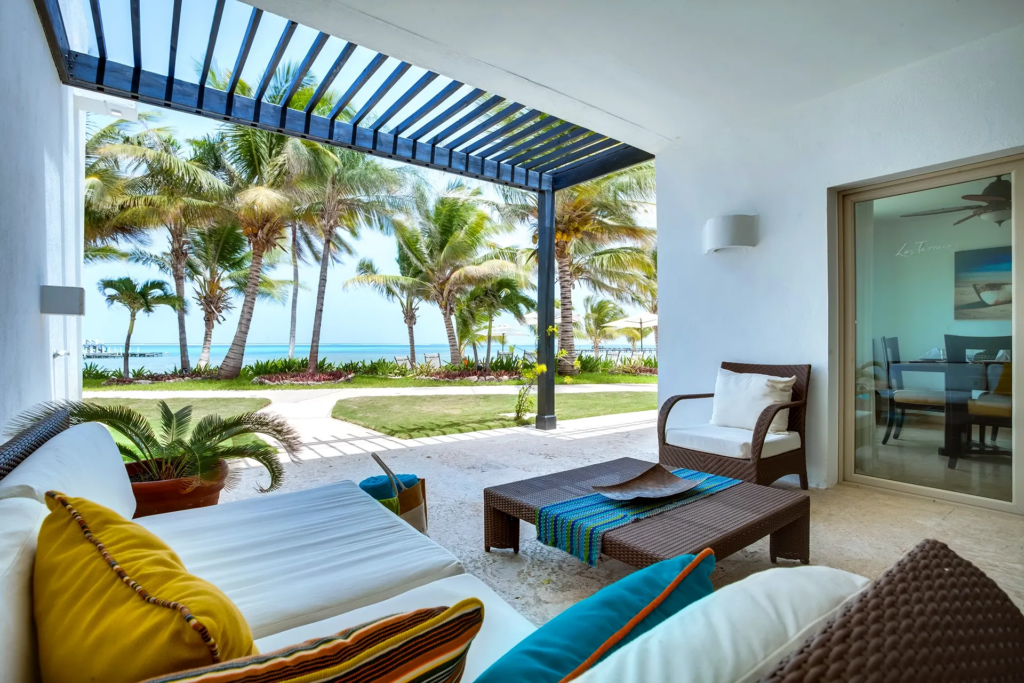 The Las Terrazas Resort is truly a luxury to behold, located in the town of San Pedro. The destination resort is only accessible by a two-hour ferry ride from Belize City or a 20-minute flight—take your pick. They offer five different room layouts, all with the comforts of home and lavish seaside amenities, specials, and adventures. While children are allowed, pets are not.
The resort partners with dive master's that offer training and knowledge to guide you safely and privately no matter what snorkeling excursion you choose from:
Blue Hole
The Elbow
Mexico Rocks
Sail and Snorkel Cye Caulker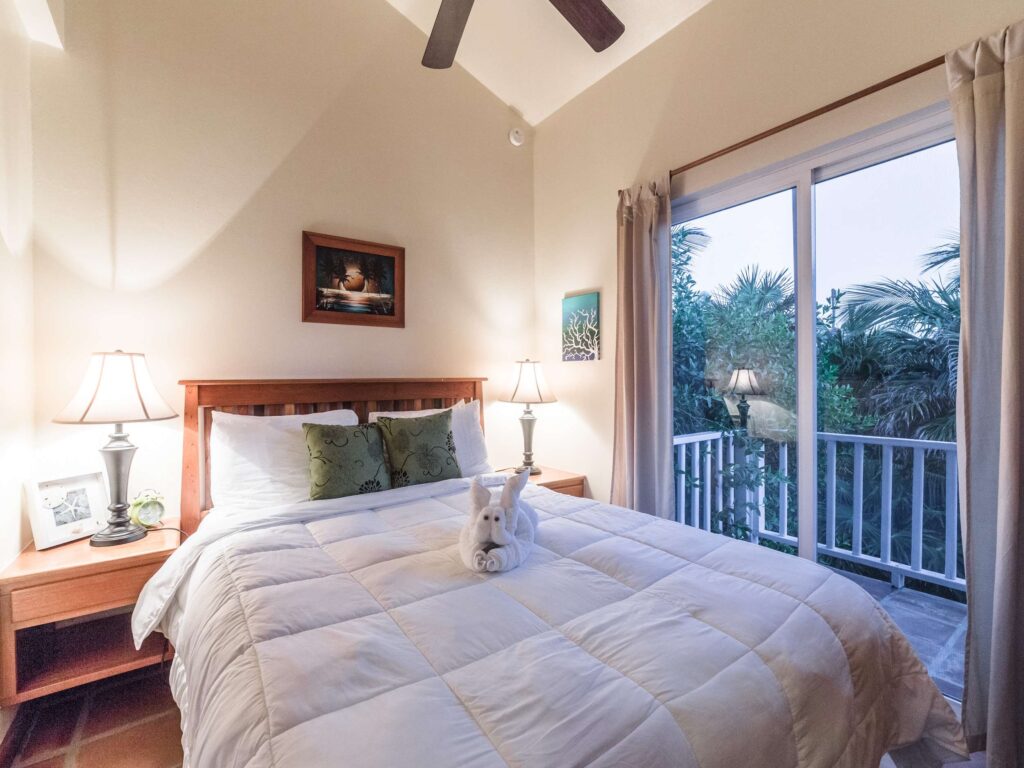 Some consider the Sapphire Beach Resort the jewel of the Ambergris Caye, or perhaps an ideal location for one of the best snorkeling resorts in Belize.
Although guests of the Sapphire can not access or exit the barrier reef from the resort's beaches due to ecologically protected seagrass that supplies the reef with oxygen, guests can make reservations with the resort's front desk for any of the following six snorkeling reserves in Belize.
Basil Jones is a lagoon that has closed off much of the wildlife from the rest of the barrier reef that they're not found elsewhere in the reef.
Punta Azul is quite literally the ocean's arches, caused by the crashing waves and wind exposure that have cut away at the limestone to form the arches.
Tres Cocos is home to some of the strangest named fish, such as the parrotfish, porkfish, trumpet fish, squirrelfish, and harlequin bass.
The notorious Blue Hole of Lighthouse Reef Atoll
Hol Chan Marine Reserve and Shark Ray Alley
Mexico Rocks are known for their boulder-sized coral.
6. Royal Palm Caye Resort Island (Shaka Caye All Inclusive)
The Royal Palm Caye Resort situated on the remote island of Saint George's Caye, Belize, is a distinct island of great adventures teeming with life above and below the water's surface.
As far as world-renowned snorkeling goes, the Royal Palm Caye Resort Island delivers on one of the best snorkeling resorts in Belize, with water temperature hovering around balmy 80 degrees. Royal Caye Palm Resorts offers snorkeling adventures to Hol Chan Marine Reserve, Shark Ray Alley, Gallow's Point, and Swallow Caye Reserve.
7. Tobacco Caye Paradise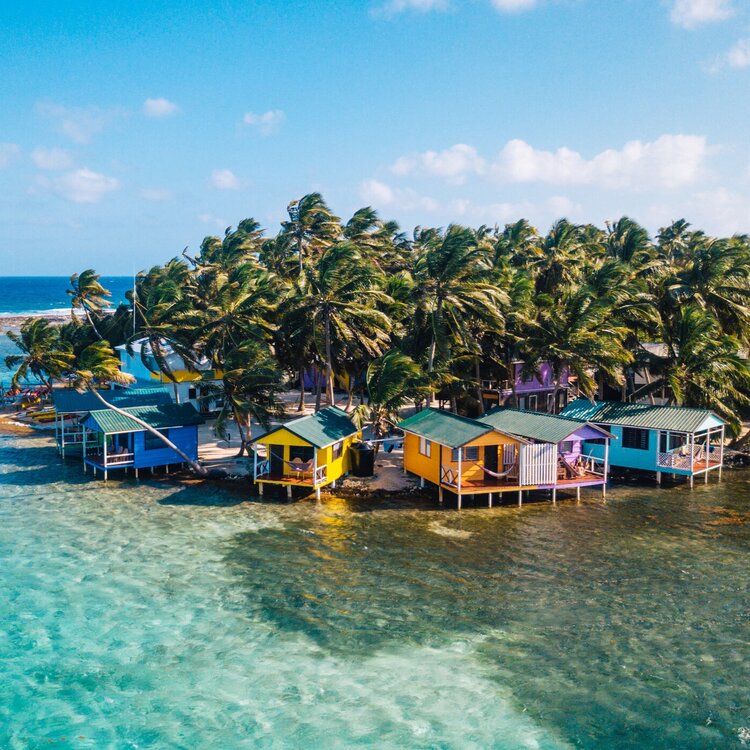 Tobacco Caye Paradise resort has over-water and beachfront cabanas. More like a Bed and Breakfast concept, the resort only has six cabanas and at this time doesn't allow children.
The property is a full-time residence for this privately operated family-owned resort. Getting there requires a privately chartered boat ride just 30-minutes off-shore from Dangriga.
They offer four snorkel trips, and gear is not required. They also provide coursework in other underwater sports and package deals. Each snorkeling tour has a professional dive instructor from the local diving experts at Island Adventure Ltd., part of the Belize Adventure Group.
Amazing Snorkeling Resorts in Mexico:
8. Robert's Grove Beach Resort
Robert's Grove Beach Resort tops our best-snorkeling resorts for families—sorry, Rover will have to stay at home since the hotel doesn't allow pets.
The beachfront resort is on the peninsula of Placencia, and you can get to the resort by one of Belize's domestic airlines, Maya Air or Tropic Air.
The resort can arrange almost any adventure you seek, from fly fishing, sea kayaking, and, best of all, snorkeling.
The resort offers nine room layouts that sleep as little as three people or as many as six people. Room rates vary, but the price guarantee is an excellent way to earn business by honoring another hotel's lower value.
Find a Resort next to the most amazing snorkeling spots in the Dom Rep.:
10 Best Resort for Snorkeling in Dominican Republic – Punta Cana
9. Belizean Dreams Resort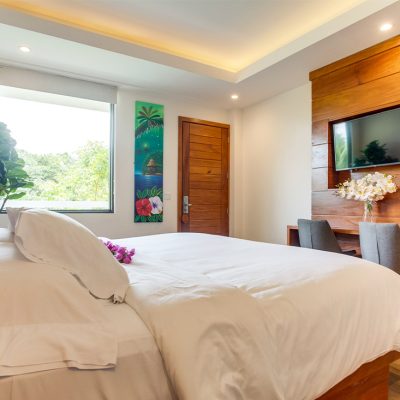 From Belizean Dreams Resort are 'all-inclusive' vacation packages. The resort is a two-hour car trip south of Belize City to Dangriga, a journey worthy of its destination. They customize vacation packages just the way you want.
One of the many things Belizeans are known for is their hospitality. A country that almost exclusively relies on tourism for income. And at Belizean Dreams, they've earned the reputation as one of the top 10 Hotels for Best Service in Belize.
The snorkeling adventures offered through the hotel start at a half-day and are suited for strong swimmers as young as five years of age.
(Try reading other Incredible Snorkeling Spots in Mexico)
8. Hamanasi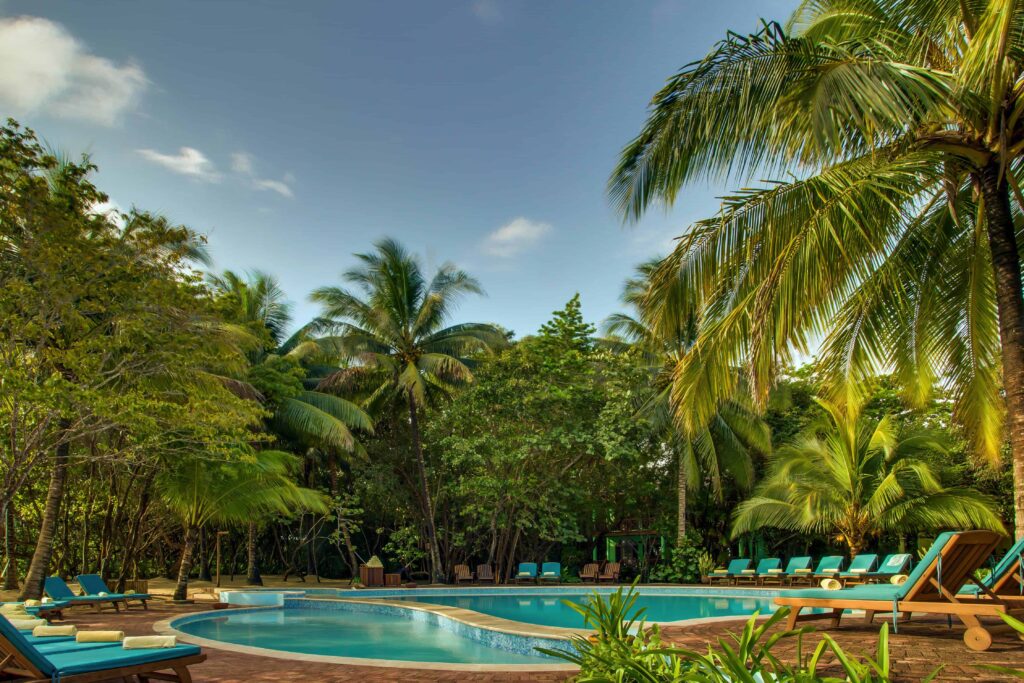 The Hamanasi is an adults-only hotel and a 40-minute drive from Dangriga Airstrip via Maya Air as recommended by the Hamanasi resort. They are a family-friendly resort offering six different room layouts and locations throughout the resort property.
A majority of snorkeling is a 35-minute drive within the South Water Caye Marine Reserve. All trips are accommodating by a certified Belizean tour guide.
Most snorkeling locations are easy to navigate and traverse without disorientation. Guides are also capable of seeing to the bottom of the reef floor as an added protection.
A Few Other Snorkeling Resorts in Belize worthy of Mention
Besides the ten we compiled above, Belize offers these other abundant resort gems—all that guarantee equally breathtaking snorkeling spots to suit your taste.
Blue Horizon Lodge
Turneffe Island Resort
Related: Where to snorkel in Belize?
Find the best Snorkeling Spots in Belize
Where to stay in Belize for snorkeling? – Conclusion
Ah, Belize! A tropical paradise with crystal-clear waters and vibrant coral reefs, perfect for snorkeling adventures. If you're looking for the best places to stay in Belize for snorkeling, you're in for a treat!
Belize's coastline has a legion of resorts with access to some of the best snorkeling locations on Earth. This amassed list of the best snorkeling resorts in Belize should assist you with planning a legendary vacation to Belize.
A visit to the coastal country, easier accessed by plane or skiff, should check-off one bucket list item for anyone planning a snorkeling trip to Belize.
Here are some exciting options:
Turneffe Atoll: For the ultimate snorkeling adventure, consider staying at Turneffe Atoll, a remote and pristine coral atoll off the coast of Belize. Immerse yourself in the underwater wonderland of Turneffe Atoll, teeming with colorful fish, turtles, and rays. There are dive resorts and private island lodges that cater to snorkelers, offering a unique and secluded experience.
Ambergris Caye: Imagine waking up to the sound of the waves crashing against the shore, stepping out of your beachfront resort, and diving into the turquoise waters to explore the famous Great Blue Hole. Ambergris Caye offers a plethora of accommodations, from luxurious resorts to cozy vacation rentals, all with easy access to fantastic snorkeling sites. For snorkelers the Tranquility Bay Resort is the best Snorkeling Resort in Belize in that area.
Placencia: Get ready to be mesmerized by the powdery white sand beaches of Placencia, a coastal village in southern Belize. Placencia is a gateway to amazing snorkeling sites like Silk Cayes and Laughing Bird Caye, where you can encounter a kaleidoscope of marine life. Choose from luxury resorts, beachfront hotels, or vacation rentals to make your stay in Placencia unforgettable. The Placencia Resort makes you snorkeling vacation in Placencia as comfy as poosible.
Hopkins: If you're seeking an authentic Belizean experience, Hopkins is a hidden gem. This quaint coastal village offers a laid-back atmosphere, friendly locals, and some fantastic snorkeling opportunities. Explore the pristine waters of Glover's Reef Atoll or South Water Caye and then relax in one of the eco-lodges, beachfront hotels, or cozy guesthouses in Hopkins. We recommend the Hopkins Bay Resort.
Caye Caulker: If you're a fan of a laid-back island vibe, Caye Caulker is your dream destination. This charming little island is known for its funky beach bars, sandy streets, and incredible snorkeling spots. Swim with nurse sharks and stingrays at Shark Ray Alley or explore the colorful corals of Hol Chan Marine Reserve. You can find cozy guesthouses, budget-friendly hotels, and unique accommodations on Caye Caulker.
But with its breathtaking snorkeling sites and diverse accommodations, Belize has something for every snorkeling enthusiast. Just remember to follow responsible snorkeling practices, and get ready for an unforgettable underwater adventure in this tropical paradise!
We are sorry that this post was not useful for you!
Let us improve this post!
Tell us how we can improve this post?