Many ocean enthusiasts and explorers share the bucket list goal of snorkeling in Fiji's waters. To ensure you pick the best possible destinations on your upcoming trip, check out this Top 10 list of Fiji's best snorkeling spots.
Best Snorkeling in Fiji Islands: Top 10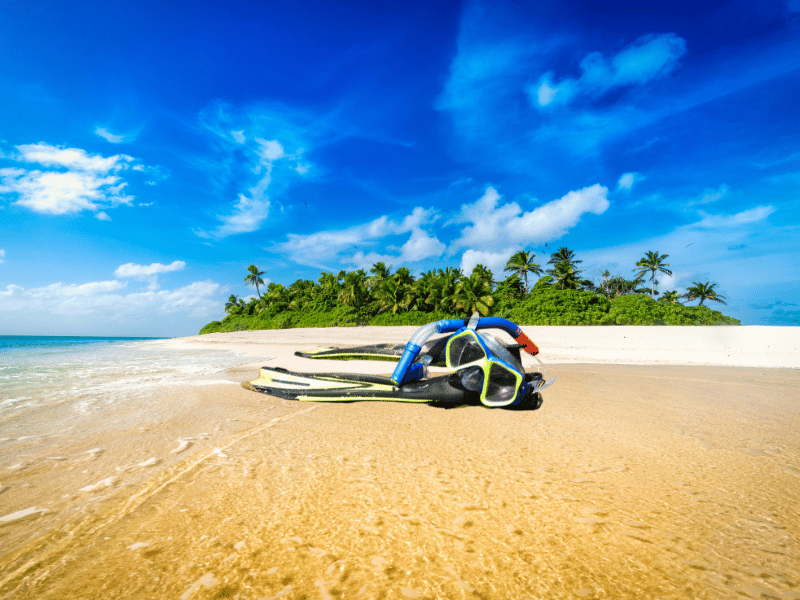 Fiji's snorkeling locations are known for their incomparable biodiversity in fish, invertebrates, rays, and sharks. Feast your eyes on this remarkable ocean wildlife at the following destinations.
1.Best Snorkeling in Fiji: Rainbow Reef, Somosomo Strait
The Rainbow Reef is affectionately known to many as the "soft coral capital of the world." This natural marine haven is home to many jaw-dropping ocean animals, including corals, fish, and everything in-between.
In addition to the beautiful wildlife, the area is known worldwide for some of the world's unique oceanic landmarks. One of these natural relics is the Great White Wall.
This "living wall" (a long stretch of coral grown on top of a sunken escarpment) is a remarkable stretch of stunning, delicate white corals. Scattered between the gentle corals are the homes of innumerable ocean creatures. From small, technicolored anthias to their larger, more intimidating neighbors, barracudas, and sharks.
The best time to visit Rainbow Reef is at low tide. Then, there is no current, ensuring gentler waters and a more lively underwater scene to enjoy with family and fellow snorkelers.
2. Best Snorkeling in Fiji: Namena Marine Reserve
The Namena Marine Reserve is recognized as Fiji's largest no-take ocean wildlife reserve, making it a hallmark of ocean conservation in the region.
Officials who oversee this area work alongside the Wildlife Conservation Society and the Coral Reef Alliance, ensuring that the site remains healthy and protected for the Earth, the local people, and your enjoyment.
The 70 sq km reserve surrounds the small island, Namenalala, and extends between the islands Viti Levu and Vanua Levu.
On a typical dive, tourists can expect to see all sorts of reef fish, along with endless invertebrate species and corals. However, these are not the only animals to call Namena home.
This reserve is the only recorded site for whale calving in Fiji, which further demonstrates the area's incomparable importance to the Islands and all its ecosystems. It also serves as a home to other endangered species, including the hawksbill and green sea turtles.
No matter when you visit, the Namena Marine Reserve is sure to blow you away!
3. Best Snorkeling in Fiji: Beqa Lagoon, Pacific Harbor
The Beqa Lagoon is world-renowned for its shark diving. Though it's open to both divers and snorkelers, the Lagoon has overwhelmingly welcomed expert divers from all around the world, passionate hobbyists and professional film crews alike.
Beqa Lagoon boasts eight distinct shark species, including:
Black- and whitetip reef sharks
Silvertip sharks
Nurse sharks
Sicklefin lemon sharks
Tiger sharks
Not up to see these man-eaters (an infamous title based on a widely debunked myth)? No problem! There are several other types of marine wildlife to quench your thirst for a magnificent snorkeling adventure.
The Lagoon is also home to fish like giant groupers and other ocean wonders like java morays and eagle rays.
The best time to visit this location is between July-September, when visibility is high, offering the best opportunities to see the amazing wildlife.
4. Best Snorkeling in Fiji: Great Astrolabe Barrier Reef, Kadavu Islands
The Great Astrolabe Reef is a place held near and dear to the hearts of many Fiji Natives. This area is extraordinary, as it is home to Fiji's first-ever marine conservation area, thanks to Mikaele Vunitaraga, a Waisomo Village local from Ono Island.
It was maintained primarily to preserve its position as a necessary "qoliqoli" (a designated fishing area for Fiji Natives) for Waisomo locals, and today it remains a focal tourist attraction.
The reef holds a substantial amount of historical significance. It is known for having capsized a French exploration vessel, "The Astrolabe," where it earned its name in 1827.
Fortunately, it's no longer known for tipping ships but welcoming wide-eyed tourists to see its local wildlife, including:
Spot eels
Sea horses
Octopuses
Dolphins
Sharks
Giant clams
Manta rays
The waters are nice and warm at any time of year, so you can visit the Astrolabe Reef whenever you like for an unforgettable experience.
5. Best Snorkeling in Fiji: Drawaqa Island (Manta Ray Island), Yasawa Islands
This island has become so well-known for its manta ray population that tourists and locals have renamed it "Manta Ray Island" and "Barefoot Manta Island."
One fantastic thing about this snorkeling spot is that the area is a certified member of the International Ecotourism Society. So, throughout your trip, you can rest assured that you are visiting one of the most well-protected ocean habitats in the country.
As the name suggests, the main attraction of this snorkeling site is the population of manta rays. Each year, they're drawn to the Yasawa Islands by the accumulation of zooplankton (microscopic marine organisms) that the ocean sweeps into the channel between Drawaqa and Naviti.
To catch a glimpse of these magnificent creatures, it's best to visit between May-October, known as "Manta Season."
6. Best Snorkeling in Fiji: Bligh Water Passage, Koro Sea
The Bligh Waters Passage is an immense ocean stretch that flows between Vanua Levu and Viti Levu islands. It is undeniably one of Fiji's most popular ocean-bound tourist attractions for both divers and snorkelers alike.
Due to the vast amount of water that passes through this area, the local ecosystems are incredibly well-nourished, clearly showing their beauty. All sorts of ocean wildlife call these waters home.
It is home to more than 1,000 unique fish species and over 300 variants of coral – and that hardly begins to scratch the surface!
As Fiji's number one diving location and one of the world's most biodiverse coral reef habitats, the Bligh Waters features numerous complexities that could pose a challenge to underwater guests.
With this in mind, know that it may not be suitable for beginner snorkelers. The strong currents may also make the trip quite difficult for inexperienced snorkelers as well.
7. Best Snorkeling in Fiji: Vatu-i-Ra Channel
The Vatu-i-Ra Channel is a massive expanse of several ecosystems, all coexisting in harmony. Here you can visit coral reefs, meadows of seagrass, mangroves, and so much more.
Notable aquatic species that grace these waters include loggerhead turtles, humphead wrasse, parrotfish, and white tip reef sharks.
Many of the locals have reported that humpback whales, pilot whales, and dolphins are regular visitors of the channel as well. Keep your eye out for these species when snorkeling through the ocean.
This area isn't just a tourist site, but a conservation park as well. It's sustained in part by visitor donations, all of which go straight to managing and preserving the habitat and the wildlife that call it home.
So, consider offering a few dollars to conserve the endless beauty of this ecosystem when you visit between April-October. (Like all of Fiji, you can visit year-round. However, if you want to explore the forests on land near the Vatu-i-Ra, it's best to steer clear of the rainfall during November-March.)
8. Best Snorkeling in Fiji: Ono Island
This is a beloved snorkeling spot specifically for visitors staying at the Oneta Resort. The site is located near the Astrolabe Reef, giving you convenient access to sightseeing and wildlife while staying close to your island getaway home.
The main feature of Oneta Beach is that it shares many of its ecosystems and organisms with Astrolabe Reef, given its proximity and location within the protected reserve. Yet, you and your guests can have everything the Reef offers with exclusive access.
You can rent out the property on Ono Island for a one-time tropical escape or as a permanent home for seabound adventurers looking for specialized access to the following marine wildlife:
Orange clownfish
Barracuda
Stonefish
Manta rays
If you want to witness the beauty of the Great Astrolabe Reef without the hustle and bustle of a crowd of tourists, then Ono Island is perfect for you.
9. Best Snorkeling Fiji: Malolo Island, Mamanuca Islands
Malolo Island is widely appreciated for its remarkably calm, warm waters – a welcome snorkeling environment for first-timers and casual swimmers. Diverse ocean wildlife is abundant, filling the underwater scene with spectacular colors and sights.
Some of the animals you might get lucky enough to see in the Malolo waters include:
Parrotfish
Coral trout
Angelfish
Zebrafish
Blue damselfish
Wrasse
The surrounding coral reef is full of rich colors and an incredible collection of creatures that share the ecosystem with the species listed above. It's therefore a must on this List of the Best Snorkeling in Fiji Spots.
One of Malolo's best snorkeling features is that the nearby Six Senses resort is ompletety secluded from the Crowds, and highly recommended. There's no one better to guide you through your Fiji snorkeling experience than these hosts. Plus, if you want to venture out further to sea, they're happy to take you to uncommonly explored corners of the Malolo waters.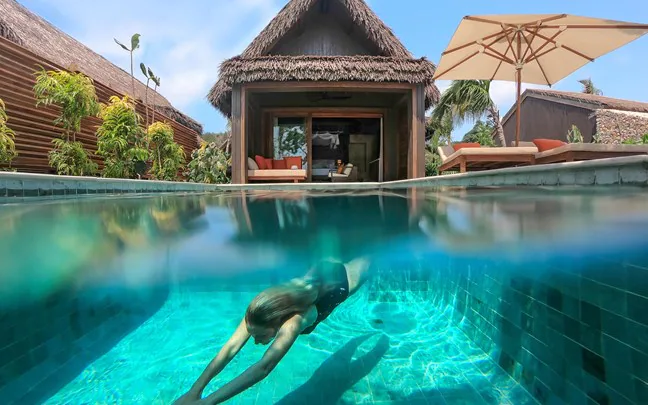 10. Best Snorkeling in Fiji: Moyia Reef, Yasawa Islands
The Moyia Reef is known globally to be one of the world's best locations to swim with the infamous beasts of the sea: sharks.
Here, you can share crystal clear waters with a variety of sharks, such as the bull shark, reef shark, and blacktip shark. This location is particularly great for families that don't have their own snorkeling gear or don't intend to buy any while they're exploring Fiji.
The local guides provide this equipment with their services and even offer pool noodles to not-so-confident swimmers. So, if you're looking for a shark hotspot, but aren't too comfortable in a pair of flippers (or don't own any), this is a great place for you.
Keep in mind that not all the sharks swim near the surface (especially bull sharks, which you'll probably only see if you SCUBA dive). So, if you're worried about swimming with too many sharks at once, let that be a mild consolation.
Your best bet is to visit Moyia during January-April – this is when Fiji's shark population is at its peak.
(Explore more snorkeling destinations near Fiji; Try reading The Most Astonishing Snorkeling Destinations in the World)
Best Snorkeling in Fiji: Other Snorkeling Spots worth exploring
Rakiraki, Viti Levu
Natadola Bay
Nadi, Denarau Island
Natewa Bay
Before you head out on your trip to hunt down the best Snorkeling Spots in Fiji, make sure you've included some of these miraculous destinations on your travel list. Each site offers unique sights and experiences that you're sure to remember for years to come!
We are sorry that this post was not useful for you!
Let us improve this post!
Tell us how we can improve this post?