Indonesia is widely beloved as one of the planet's most biodiverse locations on Earth. With its nearly pristine waters and seemingly untouched coral reefs, the snorkeling spots below will fill your memories with experiences you'll cherish forever.
Best Snorkeling in Indonesia: Top 10 Spots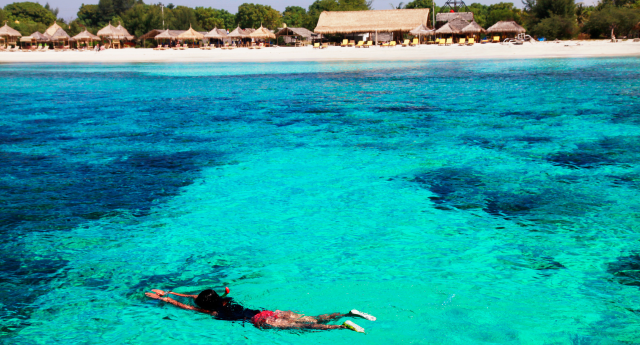 The following areas range from beginner- and child-friendly to moderately challenging. For details on where you should snorkel on your Indonesia getaway, see the list below.
1. Raja Ampat: Best Snorkeling in Indonesia
Raja Ampat is one of the most special places on Earth for scientists, wildlife enthusiasts, ocean explorers, and everyone in-between. Located in the Coral Triangle, the area is objectively known as the marine habitat with the most biodiversity on the planet.
More than three-quarters of all coral species in the world live here in Raja Ampat (that's the equivalent of 10x the coral diversity in the whole Caribbean!).
The waters here are among the clearest in the ocean. You'll hardly ever need to squint in your mask to see the ocean life teeming under the water's surface.
Some of the most notable species you'll encounter here in Raja Ampat include:
Cardinalfish
Jamal's dottyback
Mandarinfish
Denise's pygmy seahorse
These don't even begin to scratch the surface of what you'll find in these waters, as the area is home to more than 1,000 varieties of fish alone.
Known historically as the "species factory" where renowned scientist, Alfred Russel Wallace, visited, this snorkeling spot is a must-see for all who visit the country and want the best snorkeling in Indonesia.
2. Komodo National Park
This National Park was established back in 1980, initially to protect and sustain the local population of Komodo dragons, which are endemic only to Indonesia. Six years after its birth, the United Nations Education, Scientific, and Cultural Organization (UNESCO) declared it to be both a World Heritage Site and a Man and Biosphere Reserve.
Komodo National Park is home to three primary islands:
Before you head into the water for your snorkeling experience, keep an eye out for animals like the orange-footed scrub fowl and the Timor deer.
Then, as you descend into Komodo's waters, you'll encounter various habitats, including mangroves, seagrass beds, and bays. More than 1,000 species of fish, 260+ coral, and 70 sponge species call this place home. Keep your eyes open for the unique dugong, manta rays, whales, and so many more animals here, too.
Komodo National Park overflows with sea life. It is not to be missed while you stay in Indonesia.
Some other amazing Snorkeling Spots around the world:
10 Must-Visit Snorkeling Spots In Thailand
Top 10: Best Snorkeling Spots in Central America
The 10 Most Beautiful Snorkeling Spots in Cuba
3. Wakatobi National Park
Most of Indonesia's seagrass species (9 out of 12) can be found here at Wakatobi National Park. It lives at the heart of the Coral Triangle and stretches over 1.4 million hectares from the southeastern edge of Sulawesi.
Wakatobi doesn't only serve as a popular tourist destination. It is essential to the local communities as well, as this is a major site for fishing.
Aside from popular commercial species like the grouper and snapper, this area is home to the highest number of reef and fish species worldwide. The immense barrier reef measures only second to Australia's Great Barrier Reef. It contains over 50 distinct locations for you to dip your fins and snorkel mask into.
Here, you'll find dolphins, turtles, whales, and one of the largest concentrations of coral reef species in the world. The Park is said to contain 750 out of all 850 have the world's coral varieties and 942 species of fish.
For a remarkable introduction to Indonesia's stunning biodiversity, don't forget to stop at one of Wakatobi's show-stopping snorkeling sites.
4. Nunukan Island
Located on the north-eastern verge of Indonesia's border with Malaysia, Nunukan is among Indonesia's most remote islands. So, if you're looking for a quiet, almost exclusive snorkeling event, this is the spot for you.
This site offers an exciting mixture of diving experiences, from tranquil coral reef dives to shark dives that will have your heart pumping swiftly. You can enter from the sandy beaches or off one of Nunukan's jetties to visit ocean wildlife living amongst the soft and hard coral species.
Boats are also available to take you to reefs like Nabucco, known as "Big Fish Country" in English, Kakaban (also referred to as "Jellyfish Lake"), and Sangalaki ("Manta Point").
As their names suggest, some of the most common creatures you'll find around the Nunukan waters include jellyfish, manta rays, and a vast range of fish. Another interesting species you'll encounter is the coconut crab and land- and sky-dwelling animals like the flying fox and monitor lizards.
For a trip that oozes with biodiversity and wonder, stop by the Nunukan Island snorkeling spots – you won't regret it!
5. Bangka Island
Bangka is located near Sulawesi's Northern point, surrounded by gorgeous white sands and overflowing with spectacular marine life.
There are several different options for snorkeling in Bangka. You can choose to jump into the waters with a professional guide provided by the local resort or wade into the ocean water on your own when you wake from your oceanside cottage.
No matter which you choose, there are over 30 unique snorkeling and diving locations to choose from, all boasting the following habitat types:
Volcanic sandy bottoms, home to numerous fish and invertebrate species
Coral-covered pinnacles (also known as "seamounts," a sort of pillar that rises straight up from the ocean floor)

Note: If you choose to visit a pinnacle, be aware that moderate to strong currents often surround these oases.

Mangroves distinguished by invertebrate residents like sponges, snails, small fish, and flatworms, and the extraordinary dugong
Hard coral reefs that support an immeasurable amount of biodiversity
You can snorkel in Bangka's ecosystems all year-round, but to guarantee the best possible experience, stop by during April-November.
6. Alor Island
Admittedly, visiting Alor Island can be a tad confusing, as the name is given to the main island as well as the archipelago and a regency.
Make sure you know which you're asking your travel guide to visit, as the archipelago contains 20 islands. You don't want to travel to the wrong area mistakenly!
Still, feel free to branch out in where you explore the waters surrounding Alor, as there are more than 50 separate snorkeling and dive spots between this island and the neighboring Pantar Island.
Many who visit this site claim that it rivals the sights characterizing the Caribbean. This widespread perspective places Alor Island at the top of most adventurer's bucket lists for diving and snorkeling.
Indescribably colorful marine life pattern the Alor ecosystem, stemming from organisms like corals, sponges, and anemones.
You'll find the most-liked species here is the banded sea krait, which lives alongside masses of reef fish like the damselfish and anthias. For a breathtaking underwater adventure you'll never forget, make sure to stop by Indonesia's Alor Island.
7. Menjangan Island
Menjangan Island is an excellent child-friendly location to go snorkeling. Many have compared the site to the reef habitats in the movie Finding Nemo, thanks to the notable species including:
Clownfish
Blue regal tang
Yellow tang
Moorish idol
Sea stars
Pufferfish
Sea turtles
One crucial factor to keep in mind is that this area is quite a distance from Pemuteran Beach, so you can only access it with a professional guide.
Because of its relatively remote location, it's one of the world's most pristine marine habitats, nearly unspoiled by excessive human activity. For a good time reminiscent of the days when nature was untouched by humankind, visit Menjangan Island.
8. Cenderawasih Bay
Cenderawasih Bay is one of the only locations in the world where you can share the ocean water with Earth's most enormous living creature, the whale shark. On par with this incredible animal's size, Cenderawasih is also home to Indonesia's biggest marine park.
The best part about your chances of seeing whale sharks here is that their visits are not restricted to any particular season. These massive animals swim by Cenderawasih's snorkeling and dive spots daily, coming to feast on small fish known locally as "ikan puri."
Local cruises report visits from up to 12-15 whale sharks at a time! Aside from these amazing creatures, you'll also encounter more than 1,000 fish species and 500+ corals throughout the waters of the Cenderawasih.
If you go anywhere during your Indonesia vacation, you must go to Cenderawasih Bay!
9. Sulawesi Island
Once known as Celebes, Sulawesi is home to panoramic views of Indonesia's most beautiful natural phenomena, such as extensive coral reefs (healthier than most on the planet), gliding sea turtles, and schools of fish.
If you're particularly interested in witnessing the crowds of schooling fish, then heading up to Bunaken National Park in the Northern portion of Sulawesi is your best option.
Other areas within Sulawesi where locals and tourists love to snorkel include:
Siladen
Gangga
Manado Tua
Bangka (described above)
Sulawesi is the eleventh largest island on the planet, distinguished by its shape that resembles the non-capitalized alphabet k with a slight wiggle on its head.
The area is home to 70+ freshwater species, over 55 of which are endemic to the island. Frogs abound in the habitat, alongside several types of shrimp and crabs, including the Maros karst. Some of the animals are specially adapted to cave-living, so keep an eye out for opportunities to venture into hidden corners of oceanscapes.
10. Batu Bolong
Batu Bolong (whose name, literally translated, means "hollowed rock") is among Indonesia's top sites for both snorkeling and diving. It's nestled within the greater Komodo National Park, a tiny island that is easily underestimated based on appearances alone.
One thing to note about Batu Bolong is that it does host strong ocean currents from time to time. So, if you have small children or inexperienced swimmers, this may not be an ideal spot for you.
Those comfortable with the currents will swim alongside:
Barracudas
Giant Trevallies
Whitetip reef sharks
Tuna
Blue-ring octopus
Hawksbill turtles
Admire the sponges and tunicates scattered within the stretches of coral gardens as you swim along Batu's waters, and you'll never forget its beauty for the rest of your days.
(You might also be interested in reading about the other Most Astonishing Snorkeling Spots In The World)
Other Great Snorkeling Spots in Indonesia
Gili Islands, Lombok
Bunaken Island, North Sulawesi
Dampier Strait, West Papua
Manado Tua, North Sulawesi
Before you set your Inodesian itinerary in stone, refer to this list to ensure you've got the perfect trip to ease your itch for snorkeling!
We are sorry that this post was not useful for you!
Let us improve this post!
Tell us how we can improve this post?