The Caribbean Sea is full of extraordinary creatures and great places to jump into the emerald waters and do some snorkeling.
The Caribbean Sea is a popular tourist destination for cruisers or those who just want to take a fun tropical trip. It's easy to get to both from the United States and Central American countries, so it's an excellent place to have a quick weekend trip. Of course, you can't beat the snorkeling! We've listed the top nine best snorkeling destinations in the Caribbean, plus a few additional hidden gems.
Top 20 Spots: Best Snorkeling in the Caribbean
See the best of the Caribbean Sea with these fabulous snorkeling destinations.
Booby Cay is a little island that offers snorkeling novices a great chance to see impressive sea life. The water is clear and turquoise, and the cay itself is full of amazing creatures. There's even a shipwreck right near the cay, so if you have your PADI certification, you can explore the depths and maybe even find some buried treasure.
This island was named for the small birds that use it as a nesting ground, but the most exciting animals aren't in the air; they are in the water. Visit Booby Cay, and you can see incredible coral underwater caves and tons of tropical fish, as well as sea urchins and the odd stingray.
Some other amazing Snorkeling Spots around the world:
10 Must-Visit Snorkeling Spots In Thailand
Top 10: Best Snorkeling Spots in Central America
The 10 Most Beautiful Snorkeling Spots in Cuba
Bonaire is simply surrounded by reefs, making it a fantastic destination for snorkelers of all different types of levels. You could easily spend an entire day exploring the brilliant Bonaire reefs. While the coral formations themselves are enough for most people to flock to Bonaire, it's the animals that really steal the show.
Angelfish are abundant off the coast of this island. What's more, many of them are human friendly and won't be adverse to a swim with a snorkeler or two. You can also see gobies, groupers, and possibly eels in this region of the Caribbean Sea. Bonaire's coral is protected, so make sure that you take care as you swim around it.
Anguilla is a small island with a lot of character; it is one of the best beaches in all of the Caribbean. Shoal Bay East is an amazingly long beach with a great reef teaming with both plant and animal life. You don't have to swim out too far to get in on the action. Snorkelers will catch a glimpse of snappers, sea fans, wrasses, and other animals.
You can also find stingrays, tangs, and parrotfish right off the coast of Anguilla. Those who prefer to check out the sea life from the dry comfort of a boat can always go on a glass-bottomed boat tour, but Anguilla's wonderful sea life is really best spotted from the ocean itself.
There are a few different places to snorkel on Anguilla, and it's a great spot for snorkelers of all levels. Experienced snorkelers will not get bored.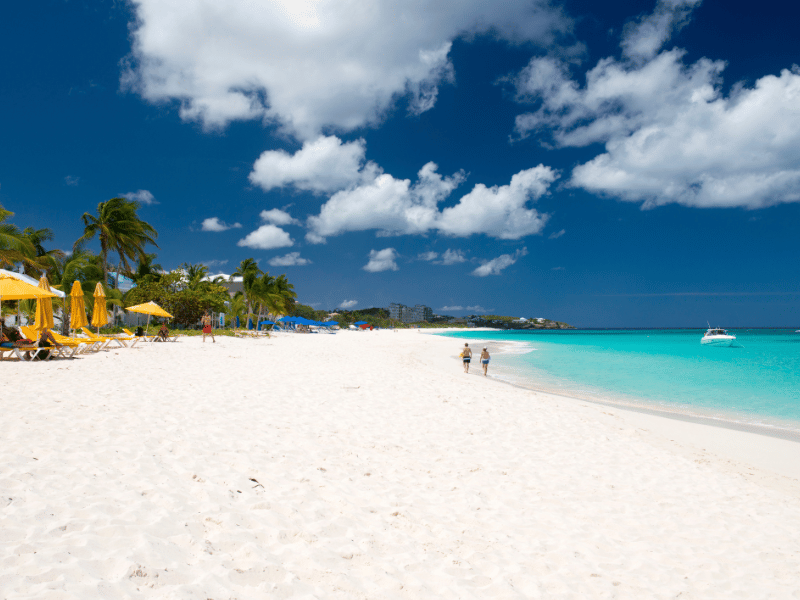 Some other amazing Snorkeling Spots around the world:
Snorkel the Reefs and Islands of Indonesia: Our Best Snorkeling Spots
Best Snorkeling Spots in Florida: 19 Places You Can't Miss
Snorkeling Curacao: The 10 Best Snorkeling Beaches & Spots
The Cayman Islands are excellent spots for both snorkeling and diving, as there are multiple reef formations around and several wrecks to explore. If you love history and don't mind exploring the depths, you can always check out the Wreck of the Cali, a shipwreck right outside of George Town. Since this wreck is close to shore, it's easy to get to for snorkelers of all levels.
The Wreck of the Cali is teeming with sea life. Expect to see octopuses, sea urchins, eels, and plenty of tropical fish. You can also visit Cheeseburger Reef, a popular place for sea turtles to congregate.
Stingray City is another massive draw. This site is popular with both snorkelers and divers, and you can swim and play with the gentle rays. It's a memorable experience that is appropriate and safe for snorkelers of all experience levels. If you visit one place in the Caribbean, make it this one!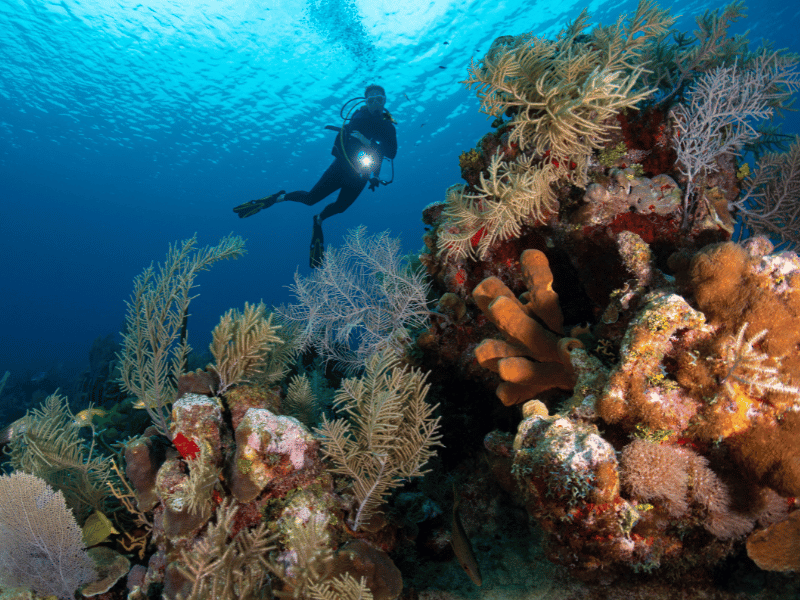 (Explore more Snorkeling Destination In The Cayman)
St. John is a snorkeling goldmine for one specific reason; Trunk Bay. This island might be one of the smallest of the Virgin Islands, but it packs a massive punch with its 673-foot-long snorkel trail. The trail is marked with signs and is almost like a free form museum. You can learn all about the coral and sea life that you're spotting beneath the waves.
If you love to mix your adventure with a little bit of learning, Trunk Bay is exactly up your alley. Additionally, St. John is slightly off the tourist map, so there's a possibility that you might have the joys of the snorkeling site almost all to yourself.
Since most of the reef and creatures are only 20 feet under the waves, Trunk Bay is a good place for skilled novices and intermediate snorkelers, although experts will like it as well. Plan to see plenty of colorful coral, tons of fish, and maybe a nurse shark or two.
6. Caribbean Snorkeling on Norman Island
Some other amazing Snorkeling Spots around the world:
Incredible Snorkeling Spots in Mexico That You Just Have To Experience
These 12 Hawaiian Snorkeling Spots Are Pure Paradise
Best Snorkeling in the Caribbean: 20 Incredible Spots
Norman Island is where you can find The Indians, snorkeling sites that make this lesser-known Caribbean Island a genuine hotspot for snorkelers in the know. The Indians are made up of four rock formations that you can swim under, through, and around. These formations are the secret dwelling of many sea fans, reef fish, and other areas. You can also see an abundance of coral.
Since The Indians are comprised of several systems of nooks and crannies, they are most appropriate for experienced snorkelers, and you should make sure that you go with a guide. Many people find that they can happily spend an entire day at The Indians.
If you love caves and have the time, you can also check out Treasure Point; a triad of caves that was actually used by old-time pirates. Although the loot is gone, the lore remains, and you can certainly hear some great stories.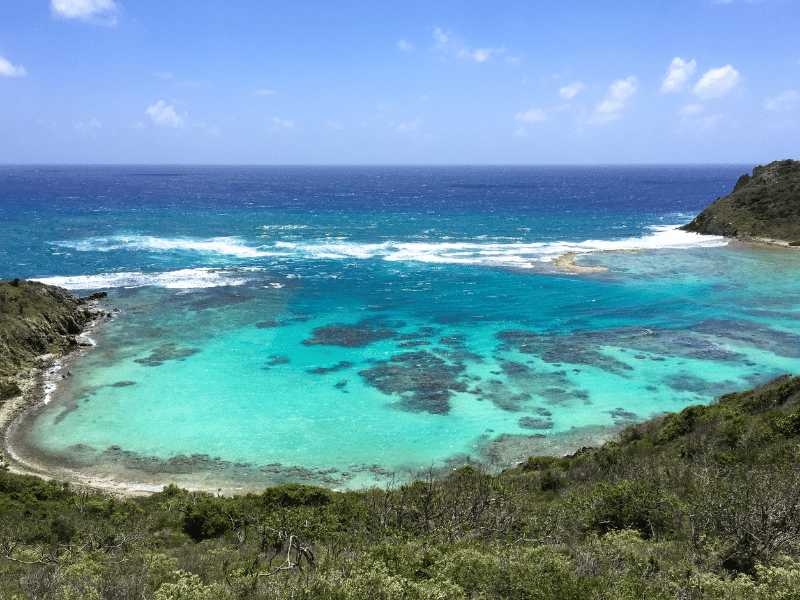 Some other amazing Snorkeling Spots around the world:
Visiting Belize? These Snorkeling Spots are Perfect for Anyone
Get Snorkeling at the Best Resorts in the Caribbean!
The 10 Best Snorkeling Spots in Islamorada
7. Caribbean Snorkeling in Curacao
Curacao is not one of the most touristic islands in the Caribbean. Still, it doesn't need too much flash or typical touristic draws because it has some of the most amazing marine life and snorkeling in the entire Caribbean sea. There are plenty of shipwrecks in the waters right off Curacao, so if you fancy a dive, you can certainly check out some fantastic sites.
Snorkelers will love Curacao as well. There are tons of fish and sea turtles living right off the shore, and you can swim right up to, and with, many of them. There is also an abundance of gorgeous indigo-colored coral and eagle rays.
Since there are comparably fewer visitors to Curacao than other islands, you might just get the snorkeling destination all to yourself.
Top 10 Spots to Snorkel worldwide:
Top 10 snorkeling Spots in the World (Most Lively)
8. Caribbean Snorkeling on St. Martin
St. Martin's French side is known for the best marine life because it's protected and pristine. Visit this area of the island, and you can check out astounding creatures, like neon-colored tropical fish and green sea turtles. If you're lucky, you might even get a chance to see a hawksbill sea turtle. Visit Turtle Reef for the best turtle sighting. It's a good spot for snorkeling enthusiasts of all aptitudes.
Happy Bay is another popular St. Martin hotspot. It's got a great beach and crystal clear waters to snorkel in. Like Turtle Reef, Happy Bay is appropriate for any type of snorkeler, and you might have it all to yourself, especially in the low season.
9. Caribbean Snorkeling on the Bahamas
The Bahamas are the crown jewels of the Caribbean Sea . They consist of 700 islands and more snorkeling and scuba diving opportunities than you can imagine. You will see all sorts of animals in the Bahamas, including nurse sharks, starfish, dolphins, parrotfish, and even swimming pigs.
Additionally, Bahamian coral is fabulous and found in deep purples, yellows, and oranges all over the hundreds of islands that make up this fantastic archipelago. Put the Bahamas on your snorkeling bucket list.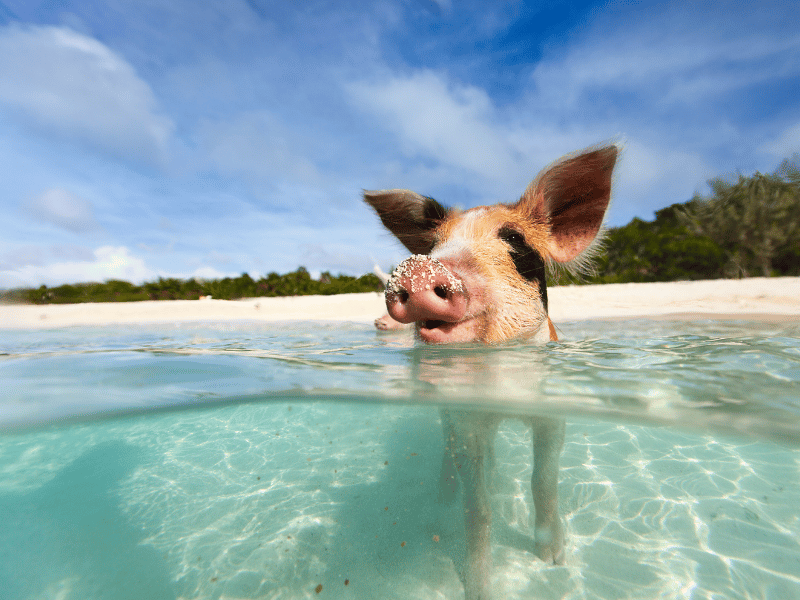 Are you looking for your next tropical snorkeling adventure? Then you've come to the right place. In this post, we'll be covering the most awesome snorkeling spots in the Caribbean., which some consider the best places to snorkel in the Caribbean.
The Caribbean sea has some of the most captivating marine life in the world, and the number of good snorkeling spots is endless. However, there are a few breathtaking locations and you shouldn't miss the opportunity to explore them. No matter which part of the Caribbean you plan to visit, there's a majestic underwater landscape for you to explore.
Without further ado, here are the best snorkeling spots in the Caribbean.
Puerto Rico has some of the most beautiful waters in the world. You can explore various reefs littered with sea creatures. Some reefs are easy to access where others require a short boat trip. Whether you're a beginner or a snorkeling veteran, Puerto Rico should be on your snorkeling bucket list.
10. Boqueron Beach
Only about 125 miles away from San Juan Boqueron Beach is an unforgettable paradise loaded with relaxing shores, vibrant wildlife, and of course, amazing snorkeling. Several travelers enjoy this location because it's a nice escape from the busy tourist areas near the fancy island resorts. At Boqueron, you get a nice private vibe while you set off into the water.
You can ask the locals to take you out to the best spots for less than $20, and there you'll find beautiful reefs full of magnificent sea creatures. Other than snorkeling, you can partake in other activities such as kitesurfing, scuba diving, basketball, or bike riding around town.
11. Carlos Rosario
Carlos Rosario is a popular beach located on one of the small islands off the coast of Puerto Rico. You can take the ferry from Fajardo directly to the island for around $5 and head right over to one of the many snorkeling rental companies at the main beach.
Carlos Rosario beach is much more secluded than the neighboring tourist-filled Flamengo Beach, so you can have more privacy. As for the snorkeling, the reef is amazing and full of life. The crystal clear blue waters add a nice touch while exploring this underwater landscape, and the amount of fish you can spot is unimaginable.
12. Seven Seas Beach
Not everyone has the time or the funds to get on a ferry and spend the night on a small island off the coast. If this describes you, don't worry as Seven Seas Beach has all of the snorkeling magic you need. This small town is widely known for having some of the best ocean activities and snorkeling throughout Puerto Rico.
There are several locations around Seven Seas Beach to get some snorkeling in. You can always speak with one of the local tour guides to find one that matches your preferences.
Explore more of the Best Puerto Rican Snorkeling Destinations here:
Cayman Islands
Without a doubt, the Grand Cayman Islands offers some of the best snorkeling throughout the region. The area is well-known for its easy waters, vibrant marine life, and beautiful sunsets. Life on the islands is also extremely safe and relaxed. There's little crime, the locals are friendly, and there is an abundance of nice hotels to choose from.
13. Devil's Grotto
Between Eden Rock and the Sunset House is Devil's Grotto, an extremely deep reef with several vibrant coral formations and ocean life. You can choose to dive deep and swim through the coral or stay at the surface and peek down. Devil's Grotto is most popular for having large schools of fish and colorful tarpons.
When snorkeling through Devil's Grotto, be sure to bring a light with you so you can see inside all of the small underwater caves. Several of the pre-diving centers come with lockers where you can store all of your belongings before hitting the water, and you can always rent gear if you don't have your own.
14. Spotts Beach
If you're looking for a more low-key spot that's not packed with tourists, Spotts Beach is only a 20-minute drive away from George Town. It's also a fantastical snorkeling location if you have a love for sea turtles as the spot has a high turtle population. After a day of snorkeling, you can enjoy one of the most beautiful sunsets in the world right on the beach.
For those looking for vibrant corals, this spot may not be for you. However, you can still find endless schools of sea creatures. Spotts Beach is notorious for having choppy water and strong currents, so it's only recommended for strong swimmers or experienced snorkelers.
15. Smith Cove
Although Smith Cove is a popular tourist destination, several locals come here to wind down after a long day's work and watch the sunset. The location has beautiful trees and rock formations surrounding the small cove.
For snorkeling, you need to swim out to the buoy, that's where the reef is located. If you're looking for soft colorful corals, you can glide along the shallow water near the coast. However, this is only for the brave as you're destined to see nurse sharks. All of the facilities near Smith Cover are extremely clean, contain bathrooms, and numerous benches to watch the sunset.
(Find more at Best Snorkeling Experiences in the Grand Cayman)
When you think of the quintessential island paradise, you're likely thinking about Aruba. This small island nation is a popular tourist destination that's cluttered with hidden gems and world-class snorkeling spots. However, the majority of the hot spots are in the open ocean, so snorkeling in Aruba isn't exactly beginner-friendly.
16. Mangel Halto
Some claim that Mangel Halto offers the best snorkeling on the island. You have calm waters, beautiful reefs, and endless amounts of sea life. However, it's not an ideal snorkeling spot for beginners and weak swimmers due to the strong currents. You also have to swim out a good distance to get to the best reefs.
If you tend to make it out to the outer reef, you'll find the most openings and sea life. Make sure to bring your underwater camera if you have one because here you'll have the chance to capture some breathtaking images.
17. Baby Beach
Baby Beach caught worldwide attention because there were a few deaths associated with this location. While some think Baby Beach is dangerous, it's quite safe if you're careful. The danger comes when people try to swim past the protected bay where the water becomes more aggressive. As long as you stay in the popular areas, you should be fine.
Although there are tons of fish to see, it's typically because somebody is feeding them. Therefore, you need to be on the lookout for sharks and other large and aggressive fish. If you're an adventurous and experienced swimmer, Baby Beach has a lot to offer. However, beginners are better off at one of the other locations.
18. Arashi Beach
If you visit Aruba, you have to check out Arashi beach. Not only for the amazing snorkeling but for the ultra-chill beach vibe that comes naturally to the area. Some people claim that Arashi Beach doesn't have much to offer in terms of snorkeling. However, all you need to do is find the right spots. We recommend reaching out to a guide if you want to see most of the action underwater.
The best reefs are at the right end of the beach. You won't find much in the center other than algae and sand. There should be a buoy marking the shallow reef where you can find the healthy corals and ocean life, so make sure to follow the marker.
Discover more of the Best Underwater Snorkeling at Aruba:
It would be tricky to talk about the best snorkeling spots in the Caribbean without mentioning Belize. With crystal blue waters, white sandy beaches, and endless tropical fish to discover, Belize is a prime destination for any traveler looking for an unforgettable snorkeling experience.
19. Glover's Reef
Glover's Reef is a must if you plan on snorkeling in Belize. You can explore over 700 patches of reef littered with exotic fish and soft vibrant corals. This location is also safe for beginners. However, we recommend you go with a group if you're new to snorkeling.
20. Lighthouse Reef
Lighthouse Reef is one of the most popular snorkeling spots in the nation. At Lighthouse Reef, you can observe over 200 species of fish along the reef. There are both shallow and deep spots, making it an optimal location for beginners and experienced snorkelers. To make the most of your experience, hire a local guide who can bring you to the best spots.
You can read more about the Best Snorkeling Spots in Belize in a separate article:
A Few Other Hidden Snorkeling Gems Worthy of Mention
Wrap up: Best Snorkeling Caribbean
There's tons of incredible marine life in the Caribbean, and what you happen to see depends mainly on where you visit. One thing is for sure; you won't be bored with the lack of variety in this part of the world. There are plenty of tropical fish, dolphins, sharks, eels, and even pigs in the Caribbean Sea.
Wild dolphins are a huge draw, and they tend to be reasonably social with people. Some even swim alongside boats. Dolphins are highly intelligent animals, and many people specifically come to the Caribbean to swim with them. Another unique animal is the Bahama Sea Star.
Sea turtles and nurse sharks are also very prevalent. Nurse sharks tend to be more docile than other varieties of sharks. If you want to explore nature and get your feet wet in a fun way, check out some of these best spots to snorkel in the Caribbean Sea.
The Caribbean is a magical place when it comes to ocean activities. There are virtually endless options for amazing snorkeling spots that we couldn't fit on this list. However, the locations above should offer everything you're looking for. Since the water is relatively calm throughout the region, it's an excellent place to do your first couple of snorkeling trips.
However, it's always safer to hire a professional guide or to go with a large group.
What do you think of our list of the best snorkeling spots in the Caribbean? If you know somebody that's planning a trip to one of the countries above, be sure to share this post with them. But there's more. Discover the Best Snorkeling Resorts In The Caribbean in a related post.
We are sorry that this post was not useful for you!
Let us improve this post!
Tell us how we can improve this post?