Simply viewing the ocean from above is a breathtaking experience. But going under the surface, even for a short amount of time, provides a whole new perspective on the ocean and everything it has to offer. That is why snorkeling stands out.
Snorkeling can be fun all across the world, with different parts of the planet providing attractive features that would make the ocean appealing.
Though many fish hide from snorkelers via camouflage to avoid predators, even seeing this process is a fascinating sight, as in doing so they change colors quickly.
In many parts of the world, snorkeling provides sights unique to their location. From penguins on a beach, underwater mountains, and even works of art, join us in our list of the top 10 Most Lively Snorkeling Destinations in the World, along with some notable honorable mentions.
Top 10 Snorkeling Spots in the World
Check out our list of the best snorkeling destinations in the world, featuring extensive coral reefs, fish unique to their location, and much more. The world's most unique snorkeling sites have a lot to offer!
1. The Great Barrier Reef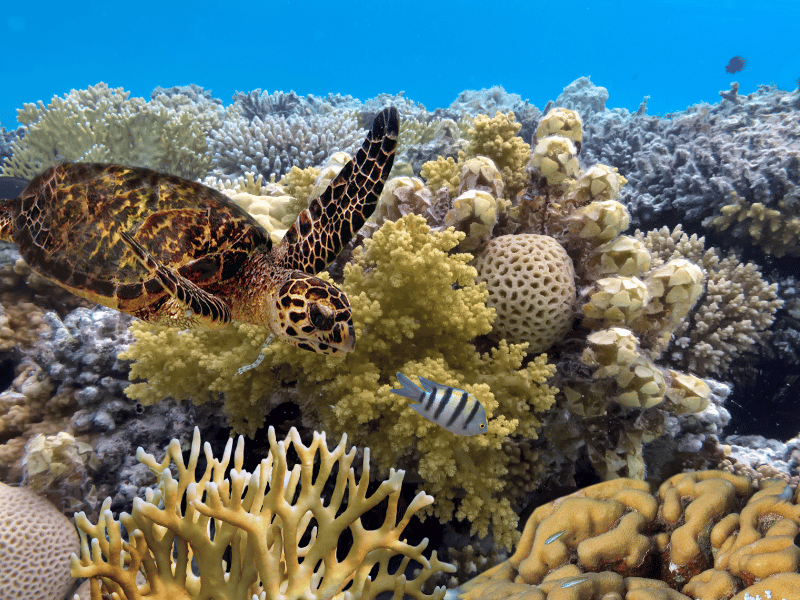 The largest coral reef in the world covers an incredible 133,000 square miles of area. Located off the coast of Queensland, Australia, this coral reef is so big that stating all of its amazing features would probably require a separate article.
The Great Barrier Reef is the most famous undersea coral formation in the world. Australia's Great Barrier Reef consists of a chain of 2,900 smaller reefs strung out over 1,400 miles of ocean just off Australia's east coast.
While the reef has experienced severe climate change problems, it made our list because its biodiversity is still legendary. You can see hundreds of coral species, brilliantly-colored fish, manta rays, barracuda, and more.
Despite all this: With 1625 species of fish, the Great Barrier Reef contains around 10% of the worldwide fish population. The reef is also home to 6 out of all 7 species of sea turtles. Furthermore, there are around 3000 individual reefs and 300 coral cays.
In addition to the underwater environment, you can also see the skeletons of sunken ships there. For centuries, the reef was very problematic for sailing vessels, which is why it's called "The Great Barrier Reef."
The water is warm and excellent for snorkelers of all experience levels to see one of the world's most extraordinary reefs.
With so many species of wildlife, it is hard to pick one unique feature of this place. Snorkeling allows the viewer to see wildlife at close range, like many species of rays, dolphins, whales, and sharks.
Snorkel with Dwarf minke whales at the Reef
One feature that does stand out is interacting with the dwarf minke whales, which are exclusively unique to the Great Barrier Reef.
Dwarf minke whales are present in this reef during June and July. These harmless whales often approach divers, and many tourist areas offer a chance to swim with these friendly whales.
2. The Galapagos Islands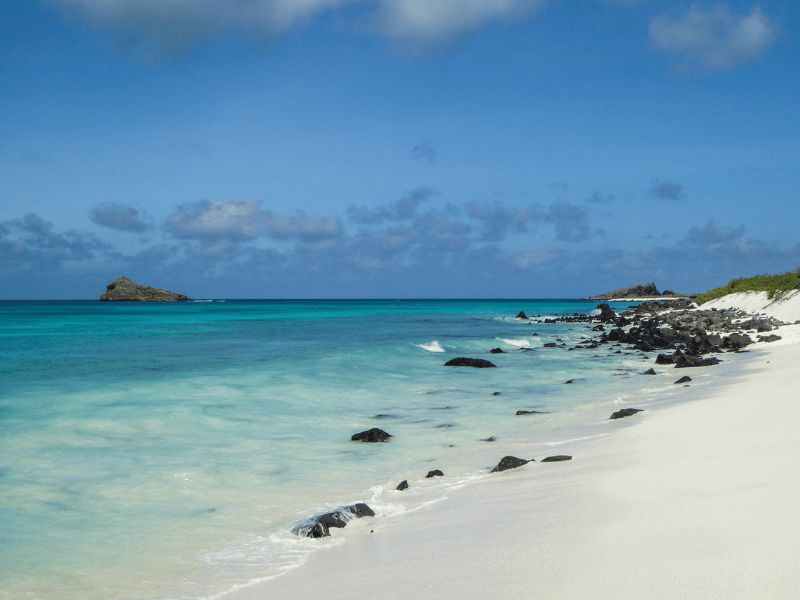 While the Galapagos Islands provide great wonders of the natural world on the surface, what snorkeling here can provide is just as impressive.
Common underwater sights here include the Galapagos fur seal and the Galapagos green turtle, both of which provide close and safe proximity to the snorkelers.
Even more impressively, Galapagos is the only place on Earth where iguanas swim, and snorkeling provides a chance to see them dive and swim for algae.
The Galapagos penguin is the only penguin in the world found north of the equator. As its name suggests, it's only home is in the Galapagos Islands. If visitors are lucky, they will have a chance to swim with these exotic penguins.
Finally, another unique feature found off the islands' coast is the large number of colorful wildlife in the waters, with many exotic and unique species of eels, rays, and more than 400 species of tropical fish.
3. The Big Island, Hawaii
Snorkeling off the coast of the largest island in Hawaii provides an intimate snorkeling experience with many marine wildlife species.
Many parts of the island offer snorkeling in areas where the manta rays can be seen, including the reef manta rays, which are the second-largest species of their kind in the world.
Hawaii draws all kinds of people from all over the world. Hikers, climbers, surfers, explorers, divers, snorkelers, and vacationers alike all enjoy everything from the deep blue ocean to the white sandy beaches and the jungles that make up the small island chain.
Honaunau Bay
Honaunau Bay's clear waters allow for the visibility of up to 100 feet of depth while also being close to volcanic rock. This bay also allows for the view of various species of fish and, if a visitor is lucky, an occasional octopus.
(Read about the other Best Snorkeling Spots in Hawaii)
Kealakekua Bay
Kealakekua Bay, at Big Island, is a popular snorkeling destination. You get some of the best of the snorkeling worlds here: Coral, dolphins, vibrantly colored fish, and sea turtles, among other marine life. You can only access the water three ways: On foot, through a jungle trail, or on a paddleboat or kayak.
Snorkeling from the Beach: Finally, the Big Island offers an amazing snorkeling experience for beginners at Kahalu'u Beach Park, a lifeguard on duty and shallow waters. This area features tide pools and sea turtles swimming up to the shore.
Big Island makes our list not just because of that, but because it's got some history as well. In 1779, local Hawaiians killed Captain James Cook, a British explorer and circumnavigator. The island has a bright white obelisk to memorialize him.
(Read about the other Best Snorkeling Spots in Hawaii)
4. Molinere Underwater Sculpture Park, Grenada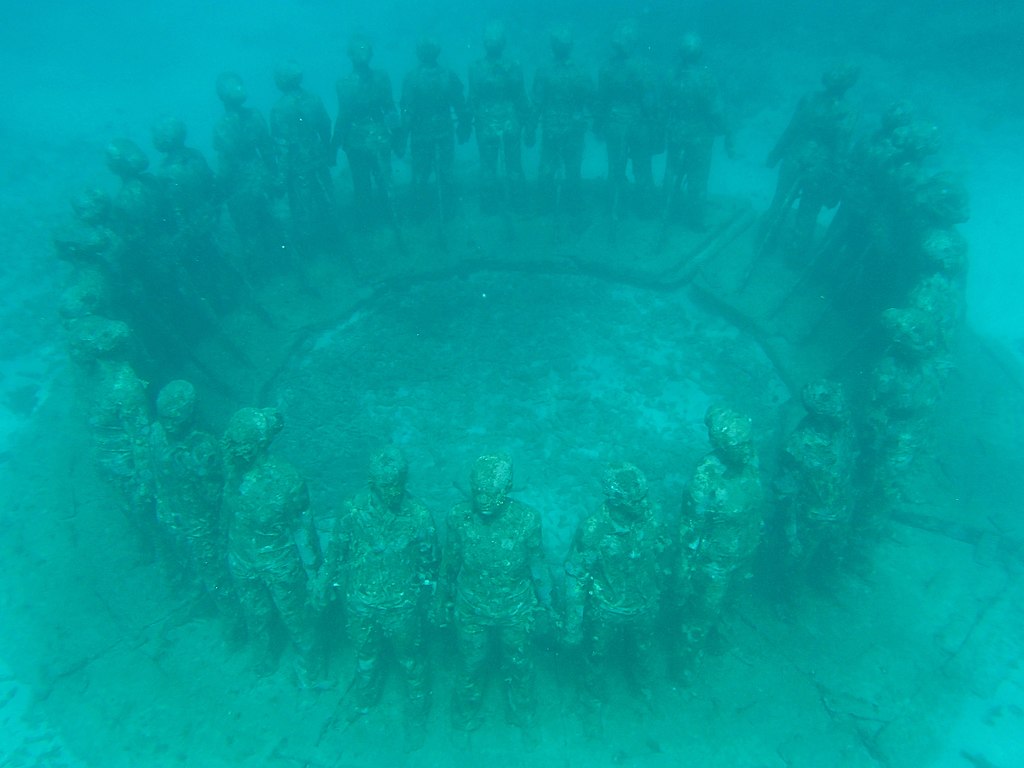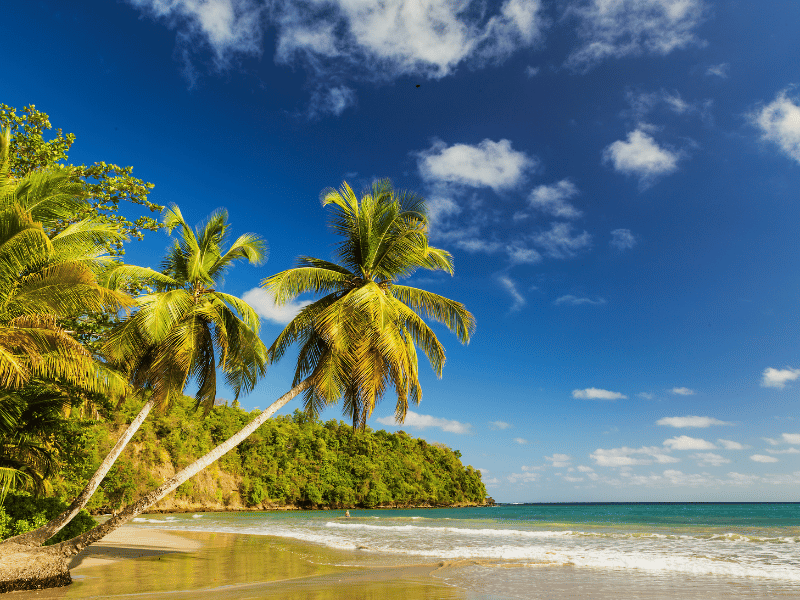 This island nation of a relatively small population offers a different snorkeling experience than other places on this listicle. Though there are spots for snorkeling with the marine wildlife in proximity, another underwater wonder is worth seeing.
Molinere Underwater Sculpture Park features sculptures of life-size figures made of cement, describing humans and their interactions for those who enjoy both being underwater and works of art.
Opened in 2007 as the world's first underwater sculpture park, this exhibit was designed by sculptor Jason deCaires Taylor to provide a sanctuary for corals, algae, and sponges, therefore adding a marine decoration to the already impressive underwater artwork.
5. Komodo, Indonesia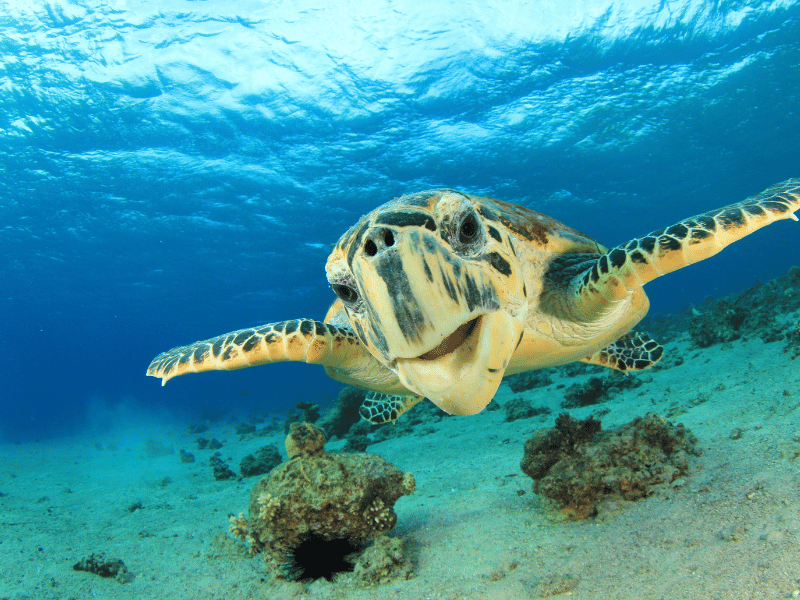 Have you ever heard of a hawksbill turtle? It's a type of sea turtle, and it's one of many that you can swim with and observe at Komodo Island. The island is already famous for its giant lizard, the Komodo Dragon, and Pink Beach has an underwater garden where you can see the turtles, rays, and groupers.
You can also swim offshore near Komodo National Park and see over 1,000 species of fish, 260 types of coral, and 14 endangered species, including whale and dolphin species.
Though Komodo is famous for its native Komodo Dragons, Komodo National Park's waters are as intriguing as snorkeling gets.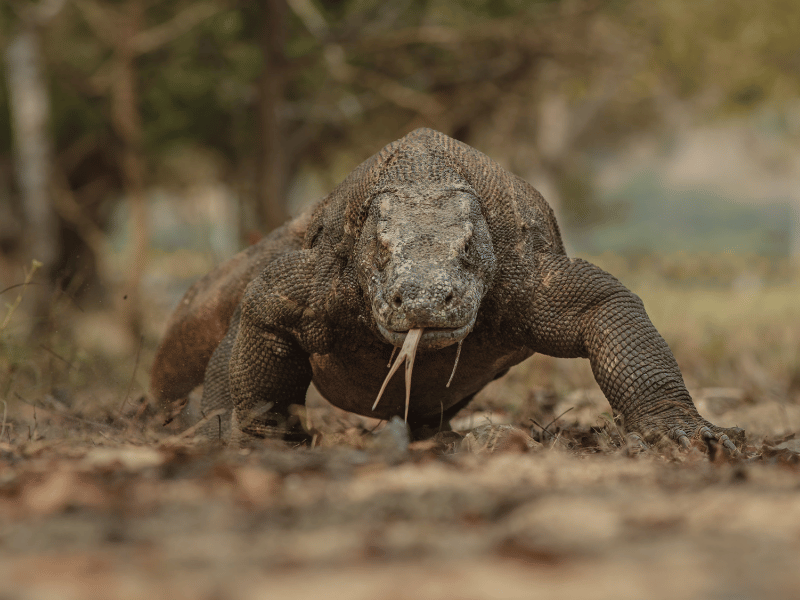 The extensive reefs of Komodo include native species of pufferfish, angelfish, cuttlefish, and lionfish. Much of the marine life in Komodo National Park has been noted by many observers to be larger in size than in other locations across the world.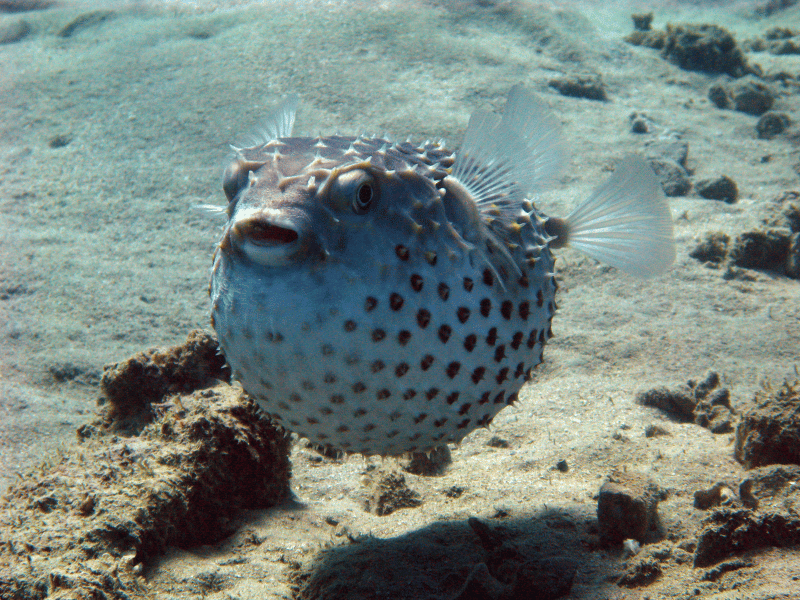 Komodo Island is on our list because it's a World Heritage site, so it's carefully maintained. There's a lushness and life there that's getting more difficult to find due to climate change.
Finally, Komodo features extensive amounts of both hard and soft coral reefs, which contributes significantly to the marine wildlife's diversity.
(Read about the other Best Snorkeling Spots in Indonesia)
6. The Maldives: Snorkeling Maldives!
One of the more popular vacation destinations in the world, the Maldives is an archipelago of small islands that are home to at least 700 species of fish like tuna wahoos and butterflyfish.
If those don't pique your interest, you can also see beautiful and strange sea anemones, sharks, turtles, and even octopi.
You can see coral, too, although there isn't as much in the Maldives as there is elsewhere. This chain of tiny islands made our list because, if you'd rather not go snorkeling one or two days while you're there, you can explore the undersea gardens that can only exist courtesy of the exquisitely clear water in the area.
So, this nation of beautiful ocean scenery should come as no surprise as one of the ideal places to go snorkeling. Its location in the heart of the Indian Ocean offers visitors a breathtaking experience underwater.
The Malidives are primarily composed of coral reefs and anemones. So there are many areas of depth in the Maldives, which can be discovered when snorkeling in the Maldives. These areas can be explored when the tide is right, but it is worth the wait, as snorkelers can get an up close look at life under the sea.
This is not to mention the incredible amount of fish often around this area, including rays, barracuda, whale sharks, giant clams, tuna, and octopus. Keep in mind that there are multiple species of most marine wildlife found in the Maldives.
7. Palau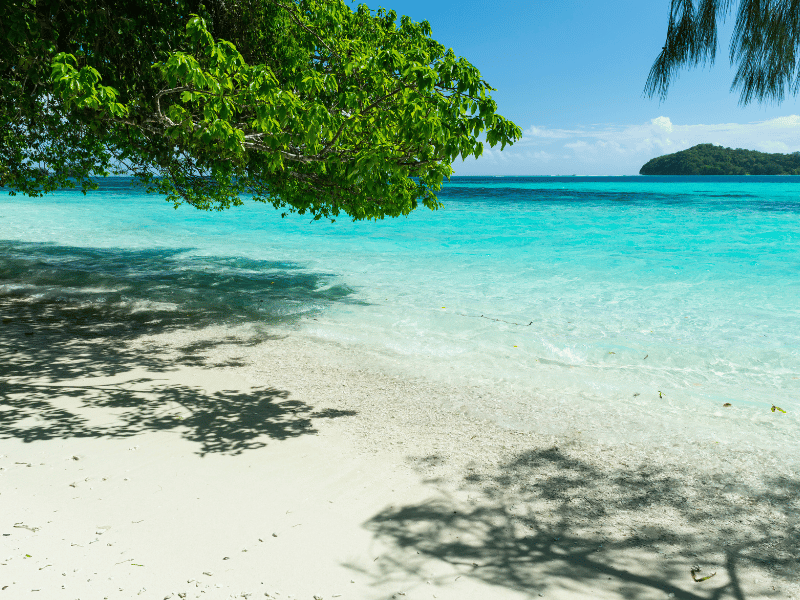 This pacific island country was the first to declare its national waters as a marine reserve in 2015. And after observing the stunning nature of these waters, it is not hard to see why.
With over 700 species of either hard or soft coral, along with many reefs being visible from just under the surface, simply taking a swim underwater will expose visitors to a vibrant, exotic area of the ocean.
Furthermore, Palau's coral reefs can withstand outside issues such as global warming due to the setting and conditions, ensuring plenty of lively and vibrant coral reefs throughout the area.
The marine life in the water is just as impressive. The renowned Jellyfish Lake allows snorkelers to interact with hundreds of small, friendly jellyfish.
There are also various species of sharks, sponges, parrotfish, and mandarinfish in the waters surrounding Palau. Interestingly, various species of sharks are more likely to be seen in Palau due to the nation's previous conservation efforts.
8. Phi Phi Islands, Thailand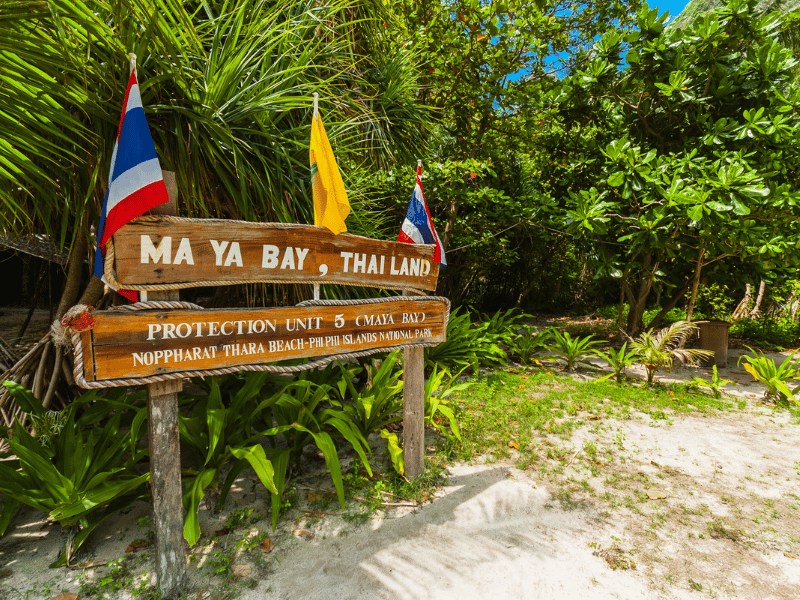 These islands filled with limestone provide a close-up view of coral reefs like no other. Featuring one of the world's most plentiful coral reef systems, along with clear waters, this is a magnet for cool and creative underwater photoshoots.
Marine life present in these islands includes small and harmless black-tip reef sharks and various angelfish, clownfish, and butterflyfish species. Rarer creatures like octopuses, the giant moray, and the black-spotted puffer are also present.
Hin Daeng and Hin Muang are two colorful underwater mountains filled with coral and sponges to create a large and vibrant setting. They are also a hotspot for the large whale sharks and manta rays, especially during the peak season.
Maya Bay, located in Thailand's Phi Phi Island, is another a popular snorkeling destination known for its turquoise waters, sandy beaches, and limestone cliffs.
Snorkeling in Maya Bay offers a chance to explore a vibrant underwater world with colorful coral reefs and diverse marine life, including clownfish, parrotfish, and angel fish. The visibility is usually excellent, allowing for up-close encounters with marine creatures. The limestone cliffs surrounding the bay are covered in lush vegetation and offer a unique snorkeling experience along the cliff walls.
It's important to practice responsible snorkeling by not touching or damaging the coral reefs and following any rules and regulations set by the authorities to protect the environment. After being closed to tourists for a period of time for coral reef recovery, Maya Bay is open to visitors again as of 2023.
Snorkeling in Maya Bay is a mesmerizing and memorable experience for those looking to explore the underwater beauty of Thailand's Phi Phi Island.
(Read about the other Best Snorkeling Spots in Thailand)
9. Fiji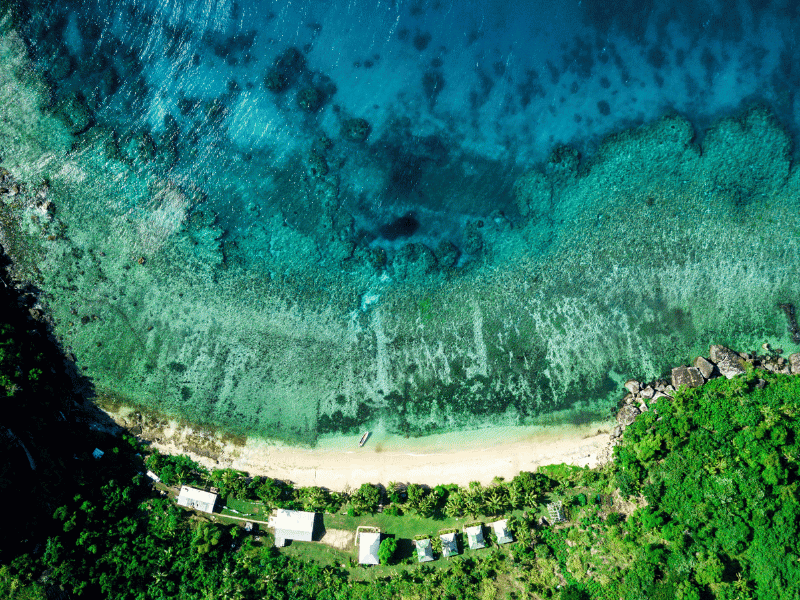 Fiji's island is already known worldwide for its breathtaking beaches and volcanos, but Fiji's beauty extends beyond the mainland.
Though Fiji hosts hundreds of soft coral species and is home to multiple extensive reefs, the Great White Wall is a sight to behold. Measuring 150 feet and depth and 200 feet in length, it is a giant wall of soft white coral.
Another spectacle of coral reefs located in Fiji is the Great Astrolabe Reef, the fourth-largest coral reef in the world, which hosts species such as marlins, sharks, manta rays, and snappers.
Other marine life includes various triggerfish, whales, turtles, and dolphins. One exotic species not found worldwide is the blue ribbon eel, known for its color-changing and its literal jaw-dropping reaction when a diver approaches.
(Read about the the Best Snorkeling Spots in Fiji in Detail)
10. Seychelles
This archipelago has taken measures to protect 60% of its wildlife, both in the mainland and off the shore, ensuring that viewing wildlife here provides a firsthand look at wildlife at it's finest, wherever a tourist may choose to go.
There are around 100 different dive sites located throughout Seychelles, while the island of Mahé allows for divers to view shipwrecks that have since been inhabited by marine life.
The coral reefs in Seychelles feature much rare flora and fauna, and everyone must see the species surrounding the coral reefs in real life. Many sharks can be found, such as whale sharks, tawny nurse sharks, hammerhead sharks, and grey reef sharks.
Other marine life present in Seychelles includes the exotic humphead wrasse and various species of parrotfish, tuna, and turtles. Large and small, friendly, and dangerous, Seychelles is the definition of an exotic sight.
Almost made it to the Top 10 Snorkeling Spots in the World
Now, where else should you snorkeling for an entirely unique and exciting experience that you'll never forget? Among the word's most unique snorkeling sites are also the following spots:
11. The Coral Triangle: Indonesia, the Philippines, and the Solomons
The Coral Triangle is a large area of ocean full of islands that stretches across Borneo and Bali to encompass much of Indonesia and the Philippines. It landed at the top of our list because a stunning 75 percent of all known coral species in the world live there.
In other words, The Coral Triangle is where to go if you want to see as much coral as possible.
You also don't have to dive deeply to see the massive variety of fish that live among the reefs. They like to swim just below the water's surface, making themselves quite visible to even the newest snorkeler.
12. Ilha Grande, Brazil
Roughly halfway between Rio de Janeiro and Sao Paulo, off of Brazil's coast, sits an island that seems uninhabited. The waters in which it sits likewise appear untouched by the hand of man, but in reality, this wilderness paradise is filled with underwater coves and jungles, along with hundreds of different marine species.
Ilha Grande made our list because if you've ever wanted to see seahorses up close and personal, you can swim with them in the blue waters here. You can also see schools of brightly colored tropical fish and enjoy the nearly 80-degree Fahrenheit water temperatures while you swim.
Another thing that makes Ilha Grande stand out from most other snorkeling destinations is all the shipwrecks you can see from the days of the Portuguese wars with pirates.
Some other amazing Snorkeling Spots around the world:
10 Must-Visit Snorkeling Spots In Thailand
Top 10: Best Snorkeling Spots in Central America
The 10 Most Beautiful Snorkeling Spots in Cuba
13. Silver Bank, Dominican Republic
One of the most dramatic sights in the world is a humpback whale breaching the ocean's surface and then falling back in with a spectacular splash. If you think you have to go to Alaska to see this wondrous sight, take heart. You can see them near Silver Bank in the Dominican Republic between December and April.
Silver Bank is off-limits to large ships, including cruise ships, because the water is so shallow. That makes it excellent for humpback whales because they don't have massive, floating steel and iron structures disturbing their habitat there.
We put this spot on our list because of the unique opportunity to see the humpback whale in warm waters. It's also part of the Caribbean, so it has warm weather pretty much all year round.
(Read about the other Best Snorkeling Spots in Dominican Republic)
Some other amazing Snorkeling Spots around the world:
Snorkel the Reefs and Islands of Indonesia: Our Best Snorkeling Spots
Best Snorkeling Spots in Florida: 19 Places You Can't Miss
Snorkeling Curacao: The 10 Best Snorkeling Beaches & Spots
Top 10 Spots to Snorkel wordwide:
Top 10 snorkeling Spots in the World (Most Lively)
14. Mauritius
Mauritius is an island nation in the Indian Ocean, just east of Madagascar, off Africa's coast. We put Mauritius on our list because of the clear water that adds to the snorkeling experience and because you can go snorkeling right from the beach. At many destinations, you need to take a boat out.
This part of the Indian Ocean serves as the home of many very brightly colored exotic fish, including clownfish like Nemo from Disney's "Finding Nemo." You'll also see angelfish, parrotfish, damselfish, and more while you're swimming around.
Mauritius has a bonus: You can also watch planes take off and land quite close to the shoreline. The airport there was recently renovated and is some of the most interesting airport architecture you'll see.
Some other amazing Snorkeling Spots around the world:
Incredible Snorkeling Spots in Mexico That You Just Have To Experience
These 12 Hawaiian Snorkeling Spots Are Pure Paradise
Best Snorkeling in the Caribbean: 20 Incredible Spots
15. Palau, Micronesia
Palau, a chain of islands in Micronesia in the South Pacific, hosts a variety of exotic fish, sea turtles, sharks, and manta rays. Seeing all these species together on a shallow, healthy reef makes any snorkeling trip worth it.
But what sets Palau apart, and why it's on our list, is that you get the unique opportunity to snorkeling with jellyfish that don't sting. Jellyfish Lake is a boat ride and short hike away from wherever you're staying, and you can swim with thousands of jellyfish without getting a painful, poisonous sting.
You can even touch a jellyfish and find out how weird they feel since you don't have to fear them.
Some other amazing Snorkeling Spots around the world:
Visiting Belize? These Snorkeling Spots are Perfect for Anyone
Get Snorkeling at the Best Resorts in the Caribbean!
The 10 Best Snorkeling Spots in Islamorada
16. Whitesunday Islands, Australia
Bait Reef in the Whitesunday Islands of Australia is another area of coral reefs, which are common in that part of the world. However, this reef makes our list because it's the best place to see interesting and rare coral formations, like the Stepping Stones.
The Stepping Stones are 20 flat-topped pillars nearly 80 feet tall that line up in an incredibly precise way. Some describe them as looking like soldiers in formation. But even better is the fact that they are entirely covered in coral.
Such large coral growths give you a rare opportunity to see many coral species up close and personal, as long as you don't touch any of them. However, you should be careful exploring the Stepping Stones because small fish like to dart in and out of the coral near the tops of the pillars.
Additional honorable Mentions
Great Blue Hole, Belize
Barracuda Point, Malaysia
Bali, Indonesia
Florida Keys
Top 10 Snorkeling Spots in the World: Where to Snorkel Next?
Wrap-Up
Regardless of which of these destinations you choose for your next (or first) snorkeling trip, you're sure to have an incredible experience full of wonder and the sheer beauty that is the undersea world.
Whether you want to see big marine animals like whales and sea turtles, small, colorful marine life, undersea formations, coral, or some combination of all of that, you'll find it in at least one of these places.
Don't forget to check out other parts of these snorkeling destinations, too. The snorkeling may be why you're there, but there are many other things to see, also, on land and at sea. You'll bring home a world of memories (and a million pictures) after one of these trips.
The ocean is a vast, mysterious place full of life. We can almost picture it as another world entirely compared to the planet we live on. Even though it once seemed that we could not explore this world, we have defied that notion and made it possible.
This possibility allows us to learn and experience a place that cannot be compared, and the locations on this list are a listing of all the ventures and sights that the ocean has to offer us mainland folk.
Therefore, we highly recommend readers consider visiting one of the many locations where the ocean shows its immensity.
Snorkeling isn't just a fun sport; it's a great way to see the sheer wonder of the environment below the surface of our oceans. When you snorkel, you can see sea turtles, coral, manta rays, dozens of fish species, shallow undersea formations, and so much more.
We are sorry that this post was not useful for you!
Let us improve this post!
Tell us how we can improve this post?