The vast ocean is home to many of the world's most incredible and awe-inspiring creatures, and snorkeling is one of the best ways to get up close and personal with the wonders of the ocean. Of course, the waters aren't without their fair share of dangers, and it's essential to take proper safety precautions when you enter the water.
A quality snorkeling life vest is one of the most critical pieces of equipment to pack when you're headed out for a day of snorkeling fun, and they can help keep you safe while also making your adventure even more enjoyable.
Since life jackets for snorkelers are specialized equipment, most beginner and novice snorkelers aren't sure where to start, or what to look for. We have you covered. Read on as we take a closer look at seven of the best snorkeling life jackets, and share some helpful advice on selecting the best personal floatation device (PFD) for you.
(You might be interested in reading our article on Best Extreme Water Sports Life Vests)
[product table]
The Best Life Jackets for Snorkeling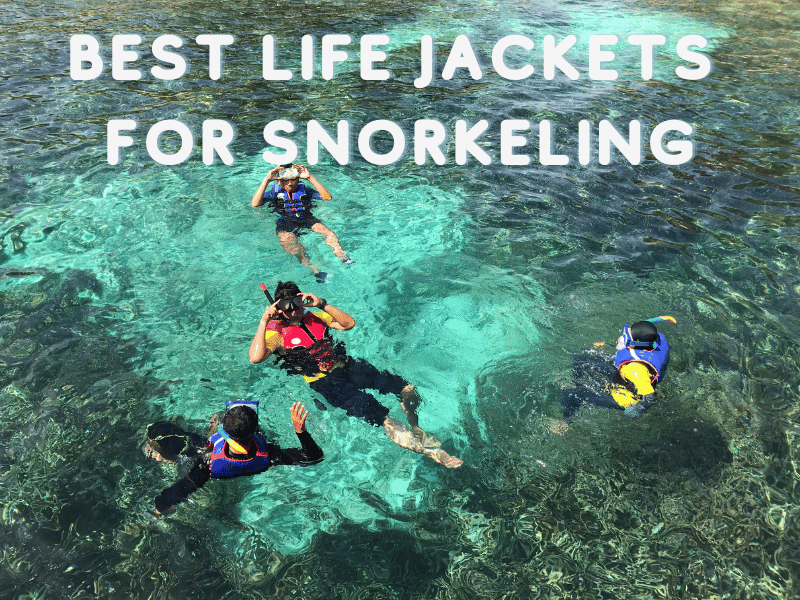 Let's jump right in, shall we? Below, you'll find our exhaustive list of the seven best snorkeling life vests on the market this year. Depending on what you need from a snorkeling life vest, you should find at least a few different options that fit the bill below.
If you're looking for a classic horse collar style vest that's simple and effective, this jacket from SeaPro might be the right snorkeling life vest for you. 
This blow up life jacket is made from durable nylon with a TPU composite air membrane for added durability and leak-free operation. The high-visibility neon yellow color makes you stand out like a sore thumb, so other snorkelers and boats can see you.
The oral inflation tube is long and placed in the perfect spot for hands-free inflation, allowing you to use your hands to make other adjustments instead of focusing on securing the inflation tube. When it isn't in use, the tube secures to a collar on the jacket to keep it out of the way until you need it next.
Adjustable pinch buckles at the waist and crotch allow you to secure the vest to you without having to worry about it riding up when you're in the water. When you're finished with your adventure for the day, this vest packs up into the size of a T-shirt, so it's easy to travel with.
Pros
Secure straps keep the vest in place
High visibility yellow color
Easy to inflate/deflate
Composite membrane for added durability
Cons
Not compatible with adults over 220 pounds
Straps might not be long enough for tall people
(If your height and weight is above average, you should rather try Big and Tall Life Jackets)
For folks who prefer the coverage of a vest style PFD, this model from Jetty is one of the best snorkeling PFDs on the market. This snorkeling life vest is loaded with high-end features that are sure to delight beginners and experienced scuba divers alike. 
The first thing most people notice about this jacket when they wear it in the water is that it provides a much better balance than most other snorkeling PFDs. Air chambers are balanced throughout the torso section of the vest to keep you floating effortlessly at the surface as you explore.
The inflation tube is long, and optimally located for hands-free operation. The tube also features a locking mechanism to prevent leaks once the jacket has been inflated.
Instead of a crotch strap, which most people find uncomfortable, this jacket is tightly fitted to the body to prevent it from riding up in the water. Jetty makes this vest available in four different sizes to fit a variety of wearers, and there are six different adjustment points to ensure a custom fit once you put the jacket on.
Pros
More balanced flotation than other PFDs
High-quality inflation tube
Spandex side panels for added comfort
Cons
No size available for especially small or large scuba divers
Takes two hands to secure the inflation tube once the vest is inflated
This model from Deep Blue Gear is worth a closer look for larger scuba divers who have a hard time finding an acceptable PFD.
This horse collar style inflatable life jacket features a 210D nylon shell for added durability, and ¼" RF welds to ensure airtight operation for many years to come. When it's time to inflate, the inflation tube is intuitively located for hands-free operation, and there's a strap for securing the inflation tube out of your way when it isn't in use.
This snorkeling life vest is available in black and high visibility yellow. For safety reasons, we recommend opting for the yellow color to keep yourself seen while you're in the water. Unlike most inflatables, which are only available in one size, Deep Blue Gear makes an XL version for scuba divers over 220 pounds. So, if you're on the larger side, this vest should be ideal for you.
Pros
Available in two sizes to suit the needs of every snorkeler
Durable 210D nylon shell with RF welded seams
Easy to inflate/deflate
Cons
Crotch strap has a bit of play in it – might slide up while in the water
Not as comfortable as some other vests
For scuba divers who are having a hard time deciding on a vest or horse collar style PFD, this jacket from OMOUBOI may be the best of both worlds. This jacket combines both styles to provide a PFD that offers optimal flotation without compromising on fit.
This jacket style snorkeling life vest features a full mesh back, so it's not ideal for snorkeling in colder waters, but it also ensures you won't be overheating if you wear this jacket in tropical waters. 
The Quick-Blow inflation tube is ideally located for hands-free use, and its intuitive operation makes it easy to inflate the vest and secure the tube out of the way with only one hand. To inflate the vest, simply pull up on the valve stem. Once inflated, push down on the stem to lock the valve and prevent unwanted deflation.
This jacket features a waterproof front zipper with a waist strap for keeping the vest secure while you're in the water. It also features garter-style leg straps to help prevent the jacket from riding up on you. The leg straps aren't exceptionally comfortable, and they can easily be removed if you prefer not to use them.
Pros
Available in four high-visibility colors
Easy to inflate/deflate
Blends the best characteristics of horse collar and jacket style inflatables
Cons
Leg straps are uncomfortable, but the jacket is more effective when they're used
Not for divers above 200 pounds
For serious divers who demand the most from their equipment, the Dive Skin vest from ScubaPro is a snorkeling life vest you'll want to take a closer look at. 
This jacket style inflatable snorkeling life vest makes use of a variety of materials and construction methods to produce a PFD that's unparalleled in terms of comfort and performance. This vest features a durable nylon front panel and air bladder with a neoprene lining and back. 
The result is an exceptionally comfortable PFD that also provides an added bit of warmth for colder dives and UV protection in warmer climates.
This dive vest is available in five sizes to suit the needs of practically every diver. A side zipper with velcro straps allows divers to achieve a custom fit that doesn't ride up while they're in the water.
Rounding out this high-quality PFD is a protected pocket that allows divers to secure their valuables while they're enjoying a day of snorkeling.
Pros
Available in two high visibility colors
Five different sizes fit virtually all divers
Zippered pocket for securing valuables
Full neoprene back for added comfort and UV protection
Cons
Divers who are most concerned with fit and safety are sure to appreciate this vest from Innovative Scuba Concepts, as it's available in a broader range of sizes than most, and it also features an integrated emergency whistle to alert people that you're in danger.
This simple horse collar style snorkeling life vest is available in a variety of high visibility colors, including neon yellow and hot pink, and it's available in three sizes: one for children, one for adults, and an XL size for adults over 220 pounds. 
The vest is constructed of durable 210-denier nylon with a waterproof urethane coating to provide reliable operation and an air-tight seal. The inflation tube is optimally located for hands-free operation, and the tube screws down in place to ensure an air-tight seal. This vest is also available with an optional metal inflation valve for added durability.
Rounding out this vest is a bright orange safety whistle, which is attached to the inflation tube for added safety while you're diving.
Pros
Available in sizes for kids, adults, and large adults
Integrated safety whistle
Available in many high visibility colors
Durable materials
Cons
Requires two hands to close inflation tube
Takes more breaths to inflate compared to the average inflatable PFD
This easy to use and affordable horse collar style PFD from Promate is ideal for snorkelers of all sizes, thanks to the wide variety of sizes they manufacture. So, this vest is perfect for anyone hoping for a more custom fit than what horse collar PFDs traditionally provide.
This snorkeling life vest is available in a children's size as well as three different adult sizes, so divers of all sizes will be able to find the perfect size PFD for their next trip. This jacket comes in a variety of high visibility colors, and it features reinforced construction, which adds a layer of durability that most horse collar vests are lacking. 
The inflation tube is optimally located and easy to inflate. Once inflated, a simple twist of the mouthpiece is all it takes to lock the air in place and prevent leakage. The waist strap and crotch strap are triple stitched to reinforce the most vulnerable areas of the jacket, so it should provide you with many years of enjoyment.
Pros
Available in four sizes – suitable for children to adults up to 340 pounds
High visibility colors
Easy to inflate/deflate
Reinforced stitching at critical wear points
Affordable
Cons
Requires two hands to lock inflation tube
Crotch strap is uncomfortable when adjusted properly
Related:
Top 7: Best Life Vest for Non Swimmers For 2023
Snorkeling Life Jacket Buying Guide, Knowing What to Look For
While each of the snorkeling life vest on our list should make an excellent choice for you, it's helpful to evaluate each vest you come across based on the criteria below. Depending on how important each factor is to you, you should have a much better idea which snorkeling PFD is going to serve you best on your next dive. 
What is a Snorkeling Life Vest or Jacket?
Practically everyone is familiar with what a life jacket is, but snorkeling life jackets are a bit of a grey area. Unlike a traditional PFD, which is designed to keep you afloat in the event you fall overboard while on a boat, a snorkeling life jacket serves two purposes. These devices help keep you safe from drowning, but they also make it easier and more enjoyable to snorkel.
The additional buoyancy that a snorkeling PFD provides helps to keep you right at the surface of the water, so you can enjoy your dive without having to focus your energy on swimming and staying afloat.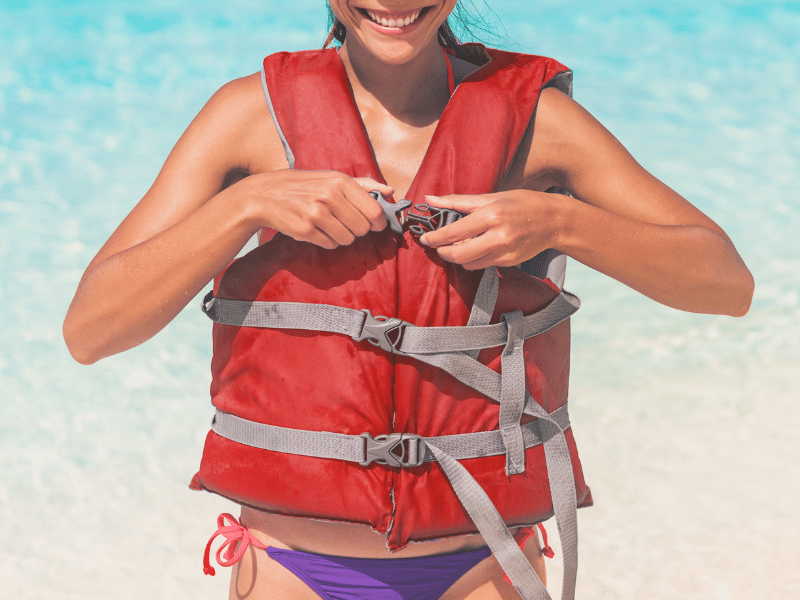 Types of Snorkeling Life Jackets
Unlike traditional PFDs, which come in many different styles and configurations, virtually all snorkeling life vests fall into one of two categories: horse collar and jacket style. Recently, a few manufacturers have also rolled out hybrid models that bridge both categories.
Horse Collar PFDs
Horse collar style snorkeling PFDs are the most popular of the two, as they're effective, affordable, and easy to pack and store.
These life vests look a bit like a baby bib, and they're worn by merely sliding the device over your head and securing the waist and crotch straps to keep the PFD in place. Inside the vest is an air bladder that the snorkeler inflates manually with the help of an inflation tube located on the jacket's chest.
Most horse collar PFDs are a universal size intended for all adults. Some manufacturers also make children's sizes, as well as a large size for bigger adults.
Most people are well served by a horse collar style jacket, but people who are exceptionally tall or short may have a hard time finding a good fit for them. If you're having a hard time finding a horse collar vest that's your size, a jacket style PFD may be a better option for you.
Jacket Style Snorkeling PFDs
Jacket style vests are similar to traditional life jackets in the sense that they provide full coverage for your torso. These vests offer some UV protection, and they can also keep you warm if you snorkel in colder waters.
This style of jacket is preferred by those who snorkel in colder waters, as well as anyone who is looking for a more custom fit than what a horse collar PFD can provide.
Hybrid Snorkeling PFDs
More recently, some companies have begun producing hybrid jackets that bridge the differences between a horse collar and jacket style PFD. Depending on the manufacturer, the term "hybrid" can mean that they've incorporated some foam into the jacket to provide a level of flotation even when the jacket hasn't been inflated.
Other manufacturers offer hybrid models that are more akin to a horse collar style, but with an added back.
Popular hybrid options, like the OMOUBOI offering in our round up above offer a horse collar style inflatable that includes a mesh back and zippered front for easy entry and added comfort when you're diving.
Snorkeling Vest vs. Life Jacket
Many people just getting their start with the snorkeling hobby are curious about the differences between a snorkeling vest and a traditional life jacket.
With a snorkeling vest, the primary function is to keep you at the water's surface so you can enjoy your adventure with less fatigue. Should you find yourself in danger during your snorkeling trip, a PFD designed for snorkeling will also protect you against drowning.
Traditional life jackets are designed with a single goal in mind: to keep you on the surface in the event of a maritime accident. Conventional life jackets are much more buoyant than a snorkeling vest, as they're designed for safety instead of enjoyment.
While it may be possible to wear some traditional PFDs when snorkeling, the additional flotation of these devices makes it challenging to keep yourself oriented correctly in the water for snorkeling. Plus, they're much bulkier than a snorkeling jacket, so it's more difficult to swim while wearing one.
Benefits of Wearing a Snorkeling PFD
Snorkeling vests are an indispensable piece of equipment, as they help to keep you safe while also making it easier and more enjoyable to snorkel.
Most importantly, a snorkeling PFD provides some safety against drowning. Each year, thousands of people lose their lives in aquatic accidents, and many of them could have easily been prevented with the use of a PFD.
Our resource library is packed with interactive information on U.S. drowning statistics, as well as worldwide drowning statistics. Perhaps more importantly, you'll find plenty of helpful information on what you can do to prevent drowning accidents.
If safety alone doesn't underscore the importance of a snorkeling PFD, perhaps the fact that they can make your snorkeling trip more enjoyable will.
When you snorkel, you expend a great deal of energy swimming and keeping yourself afloat. After some time in the water, fatigue starts to set in, which can cut your snorkeling adventure short while also increasing the risk of drowning.
A snorkeling life vest keeps you in prime position at the surface of the water so you can enjoy snorkeling for more extended periods, without experiencing the fatigue you would if you had to expend more energy staying afloat. Plus, they make swimming easier in general, so you can focus all of your attention on the wonders of the ocean below.
Sizing and Fitting a Snorkel PFD
When it comes to life vests, fit is the most important thing to consider. Not only will a properly fitting PFD be more comfortable for you, but the proper fit also ensures that the vest will function appropriately in the water.
With horse collar styles, manufacturers usually make two sizes, one for children and one for adults. Some manufacturers also offer an XL size for larger adults, or even several different adult sizes to suit the needs of divers both small and large.
When you're shopping for a PFD, the first thing to do is ensure that the model you're looking at is going to be compatible with your body weight. If you're heavier than the manufacturers' recommendations, the vest won't provide proper buoyancy.
Horse collar PFDs usually have a strap that goes around your waist, and another that goes between your legs. When trying on a PFD, you'll want to make sure that these straps can be adjusted to provide the fit you need. You'll also want to ensure that the straps are heavy-duty and won't loosen when you're in the water.
A poor-fitting horse collar vest able to slide upwards on your body won't function properly, and it can also be dangerous. Meanwhile, if the straps are adjusted too tightly, it will be uncomfortable to swim, and chafing becomes a possibility.
Unlike the one-size-fits-all horse collar style, jacket style PFDs are sized like a shirt is, and most manufacturers have four or more sizes available. When sizing a jacket style PFD, start with a jacket that corresponds to your shirt size, and try it on for fit. Most jacket style life vests have several adjustment points that can be tightened or loosened to provide a more custom fit.
As with horse collar styles, the most important thing when sizing your PFD is ensuring it won't ride up on you during your trip. A jacket pfd should fit snugly, similarly to how a suit vest would fit. If there's too much room in the jacket, it will easily slide up on you when you're in the water.
Features to Look For in the Best Life Jacket for Snorkeling
Depending on what you're looking for out of a snorkeling PFD, these are the critical features you'll want to look for before making your selection. You'll want to consider factors such as material, color, ease of use, and build quality. Read on as we cover these important features in detail.
Material of the Best Life Jackets for Snorkeling
The material the PFD is made from is a significant concern, especially if you're looking to get many years of use from your jacket.
Virtually all snorkeling PFDs are made from nylon, as it's a waterproof fabric that feels comfortable against your skin. Look for vests made from high denier nylon, as the higher the denier, the more durable the jacket will be. Thick, durable nylon will help protect the vest against punctures or tears, which could render your life jacket useless.
With jacket style PFDs, a layer of neoprene is often incorporated to provide a layer of warmth for the wearer. If you plan on snorkeling in colder waters, a jacket style PFD with a neoprene back will likely be best for you.
Visibility of the Best Life Jackets for Snorkeling
While it may be tempting to opt for a life jacket that matches the rest of your gear, it's always better to opt for a jacket in a high visibility color like neon green or orange.
Keep in mind that a snorkeling PFD is a safety device, and bright colors add an extra layer of safety by making you more visible to others in the water, as well as rescuers. It can also be helpful to choose a vest that features reflective piping, so you'll be more visible at night when even bright colors are tough to see.
Packability of the Best Life Jackets for Snorkeling
While some of us are fortunate enough to live within walking distance to the ocean, most snorkelers can only enjoy their hobbies while on vacation. Of course, space comes at a premium when you're packing for a trip, so you'll want to opt for the most packable PFD possible if you'll be taking your jacket on trips with you.
Horse collars PFDs are usually the smallest and easiest to pack, and they occupy about as much space in your luggage as a T-shirt would.
Fasteners of the Best Life Jackets for Snorkeling
Practically all PFDs are adjusted by a system of buckles and clips, and these fasteners are responsible for the fit and function of your PFD. If they fail, so does your life jacket. So, it's critical that the jacket you select offers heavy-duty fasteners that will be able to stand up to years of use.
Not only is it essential that any buckles and clips are made from high-quality materials, but you'll also want to ensure that they stay put once they're adjusted. If the buckles or clips don't stay in place, they'll compromise the fit and performance of your vest, and allow it to ride up on you while you're snorkeling.
Inflation Tube of the Best Life Jackets for Snorkeling
The last feature you'll want to consider when selecting a snorkeling PFD is the inflation tube. This tube is how you'll control the level of buoyancy the vest provides, and it's essential that the tube functions properly and is intuitive enough to be used without hands.
You should be able to reach the inflator tube using only your mouth, and you should be able to inflate or deflate the vest without removing it, or needing to use both hands. The inflation tube should also lock securely in place to prevent it from leaking air as you snorkel.
Storage of the Best Life Jackets for Snorkeling
For some snorkelers, storage is an important feature. With pockets, you'll be able to keep essential valuables or a waterproof camera safely stowed away when you don't need them.
Horse collar style PFDs usually only have room for a single pocket and many manufacturers forgo pockets altogether. So, if you're focused on storage, you may want to look towards a jacket style PFD.
Safety and Maintenance Tips for your Best Snorkeling Vest
Your snorkeling PFD should provide you with many years of enjoyment, all while keeping you safe from the potential dangers of the ocean. You should always follow these important tips to ensure that your vest is functioning correctly.
Remember that snorkeling vests are specific equipment that's only intended to be used for snorkeling. Do not use a snorkeling PFD in place of a traditional life jacket.
Keep your snorkeling vest inflated at all times. You never know when an emergency will arise, so it may be too late to inflate your jacket if you leave it deflated until you're in danger.
Always inspect your PFD carefully before use. Check for any rips or tears in the shell of the vest, and make sure the vest inflates and deflates properly before hopping into the water.
Avoid older model PFDs which rely on an internal cO2 cartridge for inflation. These vests are potentially dangerous, and they aren't as effective as today's modern models.
Allow your PFD to thoroughly dry before you store it away to prevent mold and mildew growth.
Store your PFD away from direct sunlight to prevent fading and damage to the fabric.
Never allow children to snorkel unsupervised, even if they're wearing a PFD.
Snorkeling Life Jacket Comparison Chart
| Product Name | Price | Sizes | Safety | Unique Features |
| --- | --- | --- | --- | --- |
| SeaPro Inflatable Snorkeling Vest | $ | M, XL | Buoyancy protection in the outdoor and indoor waters | Composite membrane for added durability |
| Jetty Inflatable Snorkel Vest | $ | S, XL | High-quality inflation tube | Spandex side panels for added comfort |
| Deep Blue Gear Snorkeling Vest | $ | S, L, XL | Adjustable waist and crotch strap for secure and customizable fit | Easy to inflate, deflate, and travel |
| OMOUBOI Inflatable Snorkel Jacket | $ | L, XL | Ripstop polyester outer layer and thickened PVC inner liner ensure life | Blends the best characteristics of horse collar and jacket style inflatables |
| ScubaPro Dive Skin Scuba Safety Vest | $-$$ | S, M, L, XL | High-Visibility for Surface Safety | Durable Nylon & Stretchable Neoprene Provide Maximum Comfort & Snug Fit |
| Innovative Scuba Concepts Inflatable Scuba Vest | $ | XS, M, XL | Integrated safety whistle | Available in many high visibility colors |
| Promate Snorkeling Vest | $ | S, M, L, XL | Waist and crotch straps keep the vest secure | Reinforced stitching at critical wear points |
Wrap Up of the Best Life Jackets for Snorkeling
Snorkeling is one of the most fun aquatic activities on earth, and it's a great way to connect to the beautiful world that lies beneath the surface. Like all water activities, there are some inherent dangers you'll need to protect yourself from, and the best way to do that is by wearing one of the best snorkeling life jackets at all times.
We've covered seven of the best of the Best Life Jackets for Snorkeling in our roundup above, and based on the criteria in our buying guide; you should have no trouble finding the perfect PFD for your next snorkeling excursion. 
We are sorry that this post was not useful for you!
Let us improve this post!
Tell us how we can improve this post?