Best Life Vest for Non-Swimmers
Onyx
❤️ What we love about this product:
The Paddle Vest offers advantages such as freedom of movement, large armholes, buoyancy, stability, and practical features, making it an ideal life vest choice for non-swimmers engaging in paddle sports like canoeing or kayaking.
Best Life Vest for Non-Swimmers
❤️ What we love about this product:
The Paddle Vest offers advantages such as freedom of movement, large armholes, buoyancy, stability, and practical features, making it an ideal life vest choice for non-swimmers engaging in paddle sports like canoeing or kayaking.
Safety is vital when you are out on the water. For every person, safety practices can include using a life jacket or personal flotation device (PFD). These flotation devices are essential for non-swimmers.
If you cannot swim, you need to choose the best non-swimmer life vest that provides the necessary protection and is the proper size.
Some types of flotation devices are ideal as non-swimmer life jackets. Other options, however, work for swimmers, but will not provide the necessary protection for children or others who cannot swim.
Regardless of your swimming ability, you need to arm yourself with safety knowledge before you head out onto the water.
Our website has resources that include US Drowning Statistics, Worldwide Drowning Statistics, and Drowning Prevention. This information can give you the knowledge to protect yourself and your family from danger on the water, and it can help you decide what type of protection is necessary. Read on for details on the best life vest for non swimmers available.
(You can also read the reviews on Best Boating Life Jackets)
Best Non-Swimmer Life Jacket, Life Vest, and PFD Reviews (Our Editor's Picks)
Here are the non-swimmer life jackets, vests, and flotation devices for non swimmers, that our editor recommends. Note that there is no specific ranking for the products that we chose. They are all the editor's picks based on the best life jackets and water safety products available. 
The best non-swimmer life jackets, vests, or PFDs are the ones that meet your size requirements and safety needs. 
Sale
Best Life jacket for Non Swimmers: The Onyx is the perfect life jacket for non-swimmers. With its high level of buoyancy, it keeps non-swimmers afloat, providing peace of mind and confidence in the water. The Onyx suitability for various water sports makes it a versatile option, accommodating different adventures. The unique mesh design at the bottom of the back adds comfort, making it especially ideal for kayakers. Non-swimmers can enjoy the freedom of movement, convenience of pockets for gear, and the added comfort of the mesh design. Stay safe, comfortable, and confident in the water with this best life jacket for non swimmers.
The Paddle Vest is an ideal non-swimmer life jacket for use in a canoe or kayak. This PFD doesn't have any neck cushioning, so it offers plenty of freedom of movement. It will not rub against your back or upper body while you are paddling.
It also has large armholes to provide freedom of movement to the arms, which is necessary when engaging in paddle sports.
At the same time, this vest offers the buoyancy to keep an adult afloat if they find themselves in the water unexpectedly during a kayak or canoe trip. Kayaks and canoes can be unstable, so a good life vest is vital, especially for paddlers who cannot swim.
The Universal Paddle Vest also has some practical features. It has pockets that can hold equipment and gear, such as bug repellant or sunglasses, while paddling.
Pros
Offers freedom of movement for paddling
Very comfortable for extended use
Lightweight
Extra pockets for holding gear such as sunglasses
Cons
Can ride up if not well-fitted due to absence of bottom strap
It may make users hot on warm days
Ideal for paddling, but not the best option for other applications
The Promate Snorkeling Jacket Vest is a versatile PFD for non-swimmers who is planning to go on the water. The Promate has a simple design with two available colors: orange and yellow.
Despite its simplicity, it does its job effectively. It's ideal for snorkeling or flotation in situations where you need to keep your chest in the water. Non-swimmers who want to snorkel can use this product to stay afloat in water.
Also, because it allows users to position themselves face down in the water, this vest is ideal for people who want to learn how to swim. The Promate can provide the necessary buoyancy and act as a safety net for people who are learning how to swim without getting in the way while they practice their swimming strokes.
This option is for snorkeling, so it lacks the design to keep you in the face-up position like some other life vests. Also, it doesn't come inflated. You will have to do that yourself. For this reason, it is not a life jacket for use on boats.
(You can check the other snorkeling vest option on Best Snorkeling Life Vests)
Pros
Very easy to handle and wear for both adults and children
The inflation and deflation is easy
It is comfortable and allows for a range of motion when inflated
Places user face down in the water for swimming or snorkeling
Cons
Since it's an inflatable, it can get punctured
It doesn't automatically place the wearer into the face-up position
It is for swimming and snorkeling, but not ideal for use in boats
O'Neill Men's Reactor USCG Life Vest,Black/Black/Black,Large
USCG Approved Personal Flotation Device; Perfect for Wake Sports, Waterskiing, Tubing, and Swimming
Segmented Foam Core And Anatomical Flex Points Allow Unrestricted Movement
Quick Release Safety Buckles And Heavy Duty Front Zipper Create an Unparalleled Sense of Security
This non-swimmer life vest is one that you can rely on whenever you're in the water. Not only is it approved by the USCG, but it also features a combination of high-quality materials, including polyester and neoprene.
The Reactor Life Vest is quite comfortable if you get the correct size. It offers plenty of freedom of motion, so it is a good option for people who need to move around while wearing it.
This option also stands out to people looking for an attractive life jacket. The makers paid attention to the design. It also has quick-release safety buckles, so it is easy to take on and off.
Pros
Very comfortable and lightweight
Allows freedom of movement
Great for water sports and activities because of the range of motion
USCG approved
High-quality materials
Cons
It tends to be a size larger, so you may have to buy a size smaller for the correct fit.
Expands when it gets wet
May fit too tightly for some users
TRC Recreation Kids Super Soft USCG Vest
The Texas Recreation super-buoyant and comfortable children's sized vest is US Coast Guard approv
This vinyl vest is lightweight and designed to stay dry and water resistant
This USCG-approved vest is specifically for children. The design fits snugly and comfortably on those who typically wear small and extra small life vests.
Kids Super Soft is foam-based, meaning there is no inflation mechanism to worry about for non-swimmers. You also do not have to worry about punctures.
It has a proprietary "Kwik-Snap" clasp around its front that makes putting on the vest and taking it off very easy. The buckles on the front ensure a secure fit so that the child does not slip out. This clasp provides peace of mind for parents who want to be sure that their children's life vests are secure and will not come undone while the child is in the water.
The Recreation Super Soft also has plenty of colors to choose from, including Flamingo Pink, Orange Breeze, Marina Blue, Lime Green, and Yellow.
Pros
Highly durable and comfortable
Buoyant foam design ensures flotation
Comes in different colors
Easy to adjust straps and buckles
Fastens securely
Cons
Only for children under 50 pounds
Tight fit
Not for larger children
(If you want to purchase a life jacket for teenager, you should probably visit: Best Teenager Life Vests)
Sale
This general-purpose boating vest works for other activities as well. It is versatile and allows for enough motion for swimming, fishing, sailing, and paddling. It is comfortable enough to wear for long periods.
This Onyx product comes in two colors and offers different sizes for adults, kids, and infants. The design is straightforward but effective, with chest straps and a belt that users can easily adjust for a snug and secure fit.
The jacket is foam-based, and it has a life-saving design that can keep people in the face-up position while they are in the water.
Pros
Bright colors
Comfortable enough to wear for long periods, such as during daylong fishing trips
Lightweight
Available in different sizes
Cons
Only two colors available
Design is quite generic
No pockets
Fit One Size Fits All, Red/Gray
FEEL THE MOVEMENT - High mobility, non-restrictive cut. Higher placement of upper buckle helps reduce ride up. Thinner back panel to reduce seat back interference
INNOVATION MEANS BETTER - All foam corners are rounded and sculpted compared to many 3-buckle PFDs. Box-stitched webbing is also more durable than bar-tac stitching used by other Economy PFDs
COAST GUARD APPROVED - Safety is our number one concern for open water explorers. Safe is exactly as you'll feel as this PFD is approved for paddlers over 90 pounds to enjoy paddling, general boating, and use on personal watercraft
This life jacket has a beautiful design and all the necessary safety features. It boasts three adjustable buckles, a sheer back panel for breathability, and an ultra-lightweight design that allows for freedom of movement.
The straps are box-stitched, making them highly durable, and the vest itself features high-quality nylon that will stand up to rough conditions. You can use this jacket for watersports such as jet skiing or wakeboarding.
Not only is this jacket USCG approved, but it can also fit a variety of sizes, including people weighing above 90 pounds and with chest sizes between 30 and 52 inches.
Pros
It has a loop over the top to help with storage and drying
Freedom of movement
USCG approved for a variety of situations
High-quality nylon
Cons
Only two colors available
The vest isn't suitable for children under 90 pounds
Snug fit may not be ideal for some users
The Stearns Adult Classic is a universal fit jacket designed to suit most users, regardless of body size or shape.
It's also versatile enough to protect users during a variety of activities, including swimming, kayaking, and even water skiing and other tow sports. The front has three adjustable straps, which allow for a snug fit regardless of the user's size.
The Stearns Adult Classic is quite durable. It has a nylon covering, and it comes in blue and red color options. The interior of the vest is durable foam that can provide buoyancy. The Adult Classic has approval from the US Coast Guard, and it has the durability to stand up to many seasons of use.
Pros
Versatile enough to be used in a variety of settings
Offers a comfortable fit for users, regardless of their size
It has three adjustable straps for a secure fit
Coast Guard approved
Cons
It isn't suitable for very slim, tall, or large people
Limited color choices
Bulky body limits movement in some situations
(If your height and weight is above average, you should consider Best Big and Tall Life Jackets)
Do Life jackets Work if you Can't Swim?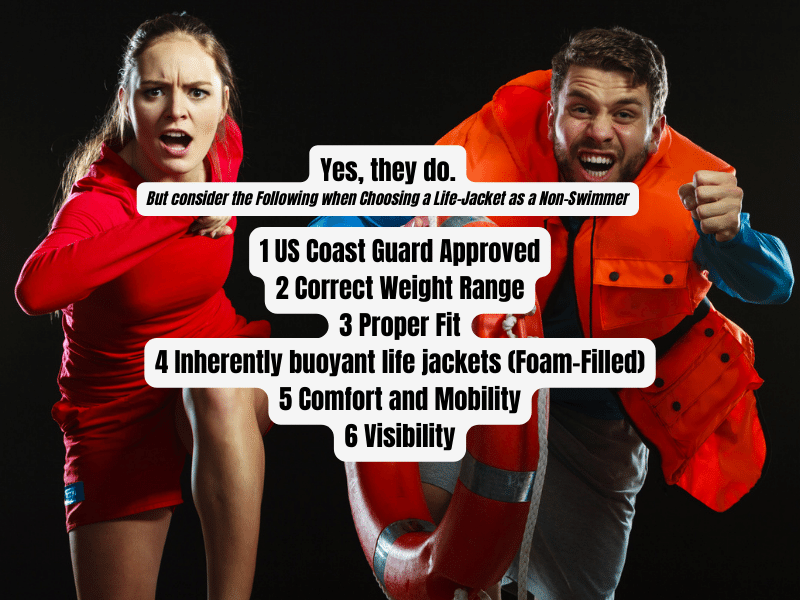 Yes, life jackets can be effective for non-swimmers as they are designed to provide buoyancy and keep the wearer afloat in the water. Life jackets are made of buoyant materials that help to keep the wearer's head above water, allowing them to breathe and reducing the risk of drowning. This makes them particularly useful for individuals who cannot swim or have limited swimming skills.
Types of Life Vests and PFDs
If you are a non-swimmer or have non-swimmers onboard your boat, then non-swimmer life vests or personal flotation devices are a necessity.
To pick the right non-swimmer life jacket, you'll need to understand the different types of PFDs that are available.
While there are lots of different standards on the market for PFDs, the best are those that have been approved by the United States Coast Guard (USCG).
There are two main things you should consider when deciding which kind of PFD to purchase: the buoyancy and the types of activities you plan to do.
The Best Life Vest for Non Swimmers need high Buoyancy
In this US, buoyancy gets measured in pounds. Buoyancy ratings with higher pound amounts float better than those with lower pound ratings.
The rougher the conditions, the heavier the wearer and the wearer's clothing, and the longer the time the wearer is likely to wait for rescue, the higher the buoyancy rating required.
Uses of Best Live Vest for Non-Swimmers
You should also consider the type of activities you will be doing. Perhaps you may want a life jacket that you will only wear when things get rough. On small lakes or when you are traveling near shore, you may just want a simple life vest that complies with the USCG's requirements.
Or perhaps you want something that gives you freedom of movement so you can participate in activities or water sports.
As far as US Coast Guard standards are concerned, there are five types of PFDs: Type I, Type II, Type III, Type IV, and Type V.
Type I PFDs (Offshore PFDs)
Type I PFDs are heavy-duty life vests that you can use in all waters, including rough and remote ocean waters, where you are likely to wait for a long time before being rescued.
Type I vests come in foam types and inflatable varieties. Since the inflatable types need to get filled with air, they are far less bulky than foam types. However, they are prone to puncturing, and non-swimmers may struggle to fill them if they are already in the water.
These PFDs have the highest buoyancy rating, with an average of 33 pounds of buoyancy. By comparison, the average human requires 33 extra pounds of buoyancy to keep their head above the water.
Other features of Type I PFDs include reflective tape, bright color, and the ability to turn people face up when unconscious. Because of their bulkiness, Type I foam jackets are uncomfortable to wear, and they get stowed and worn only when needed.
Type II PFDs (Near-Shore PFDs)
These life vests are for calmer waters inland or near the shore, where rescue is likely to arrive quickly. They do turn unconscious wearers face-up, but they may not do so for everyone.
These life vests are less bulky than Type I jackets, but they can still be uncomfortable. Type II foam jackets provide 15.5 pounds of buoyancy while the inflatable jackets can provide up to 33 pounds.
Type III PFDs (Simple Flotation Aids)
These aids are for times when there is a high chance of rescue arriving quickly. They are ideal for sailing, fishing, or paddling because they provide freedom of movement, and they are lightweight.
It may be necessary, however, for the wearer to purposely tilt their heads back to avoid being in a face-down position.
Type III foam flotation aids provide 15.5 pounds of buoyancy, while inflatable types offer 22 pounds of buoyancy.
Type IV PFDs (Throwable PFDs)
These PFDs are either ring or cushion buoys. You do not wear them. Instead, they are for tossing to someone who is already in the water. Non-swimmers, therefore, should not rely on this kind of PFD. In some cases, a Type IV PFD can act as an additional life-saving aid to people who are in the water, but already wearing a life jacket or life vest.
In some states, boats need to carry a Type IV PFD in addition to vests for each passenger on a boat.
Despite their relatively small size, these cushions are quite buoyant. Cushions provide about 18 pounds of buoyancy, while ring buoys provide 16.5 pounds.
Type V PFDs (Special Purpose PFDs)
Type V PFDs are for use in specific situations. Type V PFDs include deck suits, kayaking vests, windsurfing vests, hybrid vests, and water skiing vests. In some cases, the Coast Guard approves these PFDs for specific purposes.
These vests and suits have buoyancy ratings ranging from 15.5 pounds to 22 pounds for the foam varieties and 22 pounds to 34 pounds for the inflatable types.
Finding the Right Size of Non-Swimmer Life Jacket
PFDs only work if you wear them correctly, and so it is essential to get one that fits and fastens securely.
A well-fitting PFD should feel snug. If you can't fasten it into a tight fit, then it is too big, and if you can't comfortably secure it, then it's too small.
There are generally three sizes of PFD: Child, Youth, and Adult, though every manufacturer has different sizing standards in these categories. The best non-swimmer PFDs, vests, or jackets have adjustable straps that you can use to get a secure fit regardless of your size and body type.
The best way to tell if a PFD is the correct size is to try it on. You can also measure your chest and compare it to the sizing recommendations given by the manufacturer for the PFD.
Other Things to Consider When Purchasing a Non-Swimmer Life Vest
Here are some other things to consider when buying a PFD.
The Material of the Best Life Vest for Non Swimmers
The material of the life vest is an essential factor to consider. Life vests contain neoprene, nylon, or polyester. Usually, the most durable option is nylon.
Neoprene is comfortable, and it increases buoyancy, but some manufacturers do not choose it because of its cost. Others opt for a mixture of nylon and neoprene.
Extra Features of the Best Life Vest for Non Swimmers
Extra features are the bells and whistles of the life vest. These include moisture-wicking systems, mouthpiece tubes for inflation, adjustable straps, pockets, and other traits. Look for a life vest with the features that meet your needs.
Protection of the Best Life Vest for Non Swimmers
The whole point of a life vest is to protect you in the water. It is essential to consider the life vest's ability to protect you in the situation and conditions that you will encounter when you go in the water or on a boat.
For example, you can make sure that the weight capacity of the life vest corresponds with your weight. Also, consider the buoyancy rating of the life vest to determine if it is suitable for the particular activity for which you want to use it.
Also, you need to ensure that the life jacket or life vest fits properly. For non-swimmers, the proper fit is easier to achieve if you have suitable fasteners that you can adjust to provide a snug fit.
Drawbacks and Disadvantages of a Life Vest
There are some disadvantages to having a non-swimmer life vest.
Foam Jackets
These jackets have less buoyancy than inflatable life vests, which can matter if you have to stay in the water for a long time.
They are also much less comfortable to wear while sailing pr paddling, especially when the weather is warm.
Inflatable Jackets
The most significant disadvantage of inflatable life jackets is that there are several points of failure. They aren't always reliable, they may puncture, and you may have to inflate them manually.
Also, if not correctly fitted, they may be uncomfortable to the point of debilitation.
This type of life jacket is not suitable for non-swimmers unless they can inflate it in a controlled setting. Some inflatable life jackets, such as those specifically for snorkeling, do work for non-swimmers.
When Should You Wear a Life Vest?
Ideally, you should wear a life vest at all times when in, on, or near water, especially if you are a non-swimmer. A life jacket or other PFD is a must for non-swimmers in the following situations.
When you're on, in, or near the water alone
When the water temperature is low
In foul weather
Whenever you have a 'bad feeling' about the water or weather condition
How to Use a Non-Swimmer Life Jacket or PFD
Start by loosening all the straps on the PFD, and then put it on and zip it up. If it's an inflatable PFD, either clip it around your waist or put it over your head.
Start tightening the straps from the waist, or the lowest strap, and move upwards. The vest or jacket should ultimately feel snug, but not tight. For a standard foam PFD, you can have someone pull it up at the shoulders. If the front of the vest reaches your nose as the person pulls up, the vest is too loose or too large.
What Features Should You Look For in a Non-Swimmer Life Vest?
Some standard features you should look for in your PFD include:
A bright color or reflective tape to make you more visible from afar.
Built-in vents to allow body heat to escape in case you are in a hot location or engaging in a strenuous activity like paddling.
Tabs are also useful as they allow you to stow strobes, whistles, knives, and other accessories.
If you do a lot of fishing, look for a life vest with fishing-related features, such as drop-down pocket tables for use with flies and lures, multiple tool hangers, and loops for fishing rods.
Does the Law Require You to Wear a Life Vest?
Federal law stipulates that there be a USCG approved, wearable life vest on a boat for each person, and that's it. This law does not include kayaks and canoes, but vessels that are at least 16 feet long should also have a throwable ring buoy.
The law also requires that children under the age of 13 wear a life jacket at all times. Note that individual states may have additional requirements over and above the federal law.
How to Test Your Non-Swimmer PFD
It is essential to test your PFD in shallow water or a pool to make sure it works before taking it to deeper waters.
First, make sure it is well-fastened and fits well. Then, check the buoyancy by tilting your head back and relaxing your whole body. Your chin should remain above the water, and you should be able to breathe easily. If your mouth doesn't have a comfortable clearance above the water, then you should get a PFD with a higher buoyancy rating.
The very best test for a PFD is to jump feet first into a pool from a platform of about the same height as a standard vessel. The vest or jacket should not go over your head.
Safety Tips
Only buy USCG-approved PFDs. If you are on a vessel, Coast Guard approval is usually part of the law.
Try the PFD on first to see if it fits, then test it in shallow water to make sure it functions and fits.
Make sure the PFD does not ride up or try to pop off over your head.
Purchase a PFD that has a rating for the water in which you are likely to need it. It may not perform the same in rough seas as it might in calmer waters.
Never put heavy objects on a PFD as it loses its buoyancy when crushed.
Ensure that everyone on your boat has a PFD that is readily accessible should they need it.
Only assign inflatable PFDs to those over 16 years of age, and train non-swimmers to inflate them if necessary.
Regularly check the PFDs onboard for rot or moisture. Try pulling forcibly on the straps. If a seam comes off, or the strap tears off, replace it. Replace PFDs if you notice shrinkage, mildew, holes, or rips.
Always relax your legs and arms when wearing a PFD in the water. This posture increases the chances of the PFD moving you into a face-up position.
Choose PFDs with bright colors or reflective tape for improved visibility.
Other Frequently Asked Questions
Here is some additional information about choosing a non-swimmer life vest or life jacket.
What is the difference between a PFD, a life jacket, and a life vest?
A PFD is any device designed to keep the wearer afloat in water. Life vests, jackets, rings, belts, flotation aids, and so on are all types of PFDs. Life jackets and vests happen to be the most common type of PFD used.
Should I clean my PFD after use?
You may want to rinse your PFD with clean water after use. This type of maintenance is especially crucial if the PFD has mud or sand on it, or if you used it in saltwater.
Once rinsed, you can air dry it outside. Do not use a hairdryer or other form of direct heat. Once the PFD is completely dry, store it in a dark and dry place.
How long does a PFD last, and how do I know when to replace it?
There isn't a set expiration for a PFD. As long as the foam isn't broken up or brittle, the straps work fine, there is no permanent mold, and the cover doesn't have any holes or tears, the PFD should be usable.
The sun may cause the color to fade over time. This fading does not affect performance, but it may cause the vest to become less visible to rescuers.
Where should I buy a PFD?
PFDs are available from a wide range of stores and merchants. Make sure you buy them from a reputable retailer and a known brand.
How does an inflatable life jacket work?
All inflatable life jackets have a CO2 cylinder or some other source of compressed gas. They also have a gas holding chamber and an inflation mechanism that discharges the compressed gas from the cylinder to the gas holding chamber.
The mechanism gets triggered when it gets submerged in water or manually by pulling a ripcord. When this happens, the CO2 cylinder gets punctured, and the gas will escape into the gas chamber to fill it and provide buoyancy.
Non-swimmers will only use such inflatable products in specific situations, such as when they are on large vessels. They may not inflate quickly enough to help if the user finds themselves in the water unexpectedly.
What if I inflate an inflatable life jacket? Should I replace it?
Auto-inflatable life jackets have a CO2 gas cylinder, which gets emptied when the jacket inflates. These jackets are for emergency use only.
After you inflate a jacket, you will need to replace the cylinder. However, you do not need to throw out the entire product. Many inflatable life jackets come with rearming kits. Unless the jacket itself actually gets punctured, it should be usable again and again.
Best Life Vest for Non Swimmers Comparison Chart
Product Name
Price
Size
Safety
Unique Features
Promate Snorkeling Jacket Vest
$


Check Price

S, M, L, XL
Waist and crotch straps keep the vest secure
Comfortable and allows for a range of motion when inflated
O•Neill Men•s Reactor USCG Life Vest
$$


Check Price

M, XL, XXL
US Coast Guard Approved
High-quality materials, including polyester and neoprene
Onyx Universal Paddle Vest
$


Check Price

XL, XXL
US Coast Guard Approved
Lightweight, Comfortable for extended use
TRC Recreation Kids Super Soft
$


Check Price

XS, S, M
US Coast Guard Approved, Fastens securely
Buoyant foam design ensures flotation
Onyx General Purpose Boating Vest
$


Check Price

M, XL, XXL
Chest straps, belt adjust for snug and secure
Lightweight, Comfortable to wear for long periods
Stohlquist Fit Life Jacket
$


Check Price

XL, XXL
US Coast Guard Approved
High-quality nylon, Freedom of movement
Stearns Adult Classic Series Vest
$


Check Price

M, XL, XXL
US Coast Guard Approved, three adjustable straps for a secure fit
Nylon construction, Three buckle design
Conclusion on the Best Life Vest for Non Swimmers
Life jackets are essential for non-swimmers. They can save you from drowning and make you feel safe while you are on the water.
However, to get the safety and peace of mind, you need to ensure that you have the right non-swimmer life jacket and that it performs as you need it to for the given activity and in the current conditions.
We are sorry that this post was not useful for you!
Let us improve this post!
Tell us how we can improve this post?
Last update on 2023-05-29 / Affiliate links / Images from Amazon Product Advertising API