You've got to do your homework before setting out on your next fishing, boating, canoeing or kayaking trip. Of course, you need a life jacket to keep yourself safe when you're by the water. That's why we've reviewed the best teen life jackets, vests, and puddle jumpers to keep your adolescent protected when fishing, swimming, or boating.
There are few things more important than a well-fitting personal floatation device (PFD), or "life jackets" as they are more commonly known. However, if you're a teen, there are special considerations that must be kept in mind when shopping for the best teen life jacket.
(If your age is between 7-12 years, you should view: Best Youth Life Vests)
Are you searching for the best teen life jackets for 2023? If so, we've got you covered. In this article, we're going to take a look at some of the best teen life jacket reviews and will take a deep dive into the various things to keep in mind when shopping for a life jacket.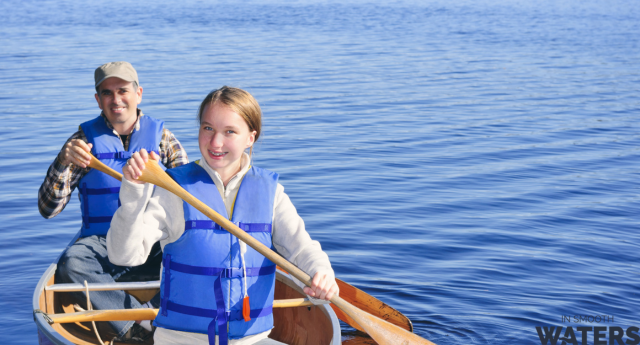 The Best Teen Life Jacket Reviews (Editor's Picks)
Let's take a look at some of the safest, most reliable, and most comfortable life jackets for teens currently on the market. Please note that these teen life jackets are numbered, but aren't ranked in any particular order—each of these life jackets is a great option for teens.
To kick things off, we've got the Hardcore Water Sports High Visibility USCG Life Jackets. These fluorescent jackets are designed in the style of an adult's life jacket, so teens won't feel embarrassed by having to wear anything resembling a kid's jacket. The Hardcore Water Sports jackets are mature in appearance and fit snugly for a comfortable and safe trip to the lake.
This jacket is made with durable polyester Cordura fabrics, which make them ideal for getting soaked when you're down by the water. The jackets are designed in the United States and are compliant with US Coast Guard regulations for persons weighing over 90 pounds. In other words, they're the perfect teen life jacket. 
A three-cord clip system makes the jacket fit properly across the user's mid-section without slipping or riding up. If it fits loose, you can easily adjust any of the three straps using a single hand. Plus, it's breathable and lightweight. For these reasons, we cannot recommend the Hardcore Water Sports vest enough.
Pros
US Coast Guard Type III PFD Approved
High visibility panels on all liquid surfaces
1" adjustable straps easily maneuverable with one hand
Accommodates teens with a chest size up to 52 inches
Cons
Fits slightly snug in the waist area
The bottom strap sometimes slides out of place
Rides up slightly in the back for some larger teens
O'Neill Teen Reactor USCG Life Vest Dayglo/black/flint,75-125 lbs
USCG Approved Personal Flotation Device; Perfect for Wake Sports, Waterskiing, Tubing, and Swimming
Segmented Foam Core And Anatomical Flex Points Allow Unrestricted Movement
Quick Release Safety Buckles And Heavy Duty Front Zipper Create an Unparalleled Sense of Security
The O'Neill Teen Reactor USCG Life Vest is one of the best teen life jackets on the market if you're looking for a higher-end model that doesn't compromise on style. This durable nylon teen life jacket is 100% USCG approved to meet the highest safety standards for wake sports, boating, fishing, or any other water activity.
What we love most about this teen life preserver is that it allows for complete mobility of the arms, neck, and waist. The O'Neill Teen Reactor hardly feels like you're wearing a PFD because its foam core moves with your body, not against it.
The mobility factor is what sets O'Neill's life vest from most others on the market, and it's one of the reasons why we recommend this life jacket for watersports such as wakeboarding and waterskiing where range of motion is crucial.
If your teen needs room to move freely in their life jacket, you might want to consider checking this model out. Not only is it highly visible with two distinct neon color schemes (green and blue), but it also has flex points around the underarms which makes overhead movement seamless and natural—it's almost as if you aren't wearing a life jacket at all.
Pros
Super relaxed fit for additional mobility
Ideal fit for wakeboarding and other wake sports
Heavy-duty zipper prevents jams and snags
High-visibility green panels
Cons
Rides up slightly at the back
Runs a bit smaller than some other brands
Foam core is a little bulkier than some others
Next up, we have the Stearns Adult Classic Series Vest, which has a classic look and feel reminiscent of the life preservers of yesteryear. However, this teen life jacket is anything but outdated. The Stearns Adult Classic is an excellent, US Coast Guard-approved life jacket for larger teens who may have outgrown their old "tweenage" vests.
Whether you're out on the boat or having a beach day, your teen will have no problems wearing this vintage-inspired life jacket appropriate for both adults and teens. Since many teens are averse to wearing teen life jackets that resemble kids' jackets in their design, this one might be a superior choice given that it looks mature and "grown-up" from a teens' perspective.
Around the midsection, the Stearns Classic Series has a three-buckle design. In our experience, the buckles are far easier to fasten than a conventional zipper, which is a significant selling point if you happen to struggle with doing up zippers that snag or jam.
Pros
Timeless three-buckle design for a more "mature" look for your teen
Durable nylon construction
US Coast Guard-approved to the highest safety standards
Excellent for wake and tow sports
Cons
The interior PE foam may be too bulky for some smaller users
Adjustable chest belt may take some getting used to
Fits a little larger than some others
Sale
O'Neill Wetsuits Child Reactor USCG Life Vest, Black/Pacific/Dayglo, 1SZ
The O'Neill Child Reactor Life Vest is the perfect life vest for days out on the boat and on the beach.
The life vest is US Coast Guard approved and is designed to fit little ones between 30 and 50 lbs.
To ensure security, this vest also has an adjustable leg strap for a snug and safe fit.
Younger teens who need a smaller-fitting vest may opt for the O'Neill Child Reactor life vest, which is one of the best teen puddle jumpers and life jackets on the market. Although it comes in at a higher price point than some of its competitors, the O'Neill Child Reactor Life Vest is a fantastic option for stylish teens who haven't yet grown into an adult-sized life vest.
Constructed with durable nylon material and a dual-safety system consisting of two large buckles and a front zipper, the O'Neill Child Reactor is one of the most sophisticated vests available today for teens. This life vest is built for competitive wake sports and tow sports, such as tubing and waterskiing, but is appropriate for any water activity.
One of the main selling points of this vest is that it offers a greater sense of security due to its unique combination of adjustable straps, buckles, and a zipper. Since this vest tends to fit snugly on the body, the additional straps and zipper ensure that your teen will be safe and sound in this US Coast Guard-approved teen life jacket.
Pros
Stylish design looks both sleek and secure
A relaxed fit makes it easier to move around the arms
Segmented core allows for full hip mobility
Nylon material keeps the vest feeling light and comfortable.
Cons
Not as Hi-Vis as some other models
Takes longer to remove than simple zipper designs
Not appropriate for larger teens
Airhead Swoosh Kwik-Dry Neolite Life Jacket, US Coast Goard Approved Type III Life Jacket, Adult and Youth Sizes
US COAST GUARD APPROVED – this personal flotation device meets USCG requirements for a Type III Life Jacket. Closed sides, buckle and Zipper closures built for secure fit for water sports enthusiasts where large range of motion is key. The light, segmented, hinged design allows freedom of movement in all directions
COMFORT – Less bulky design for use when a quick response is likely. Light, breathable, Quick-drying, and super soft KWIK Dry Neolite material and tagless offers the ultimate comfort
WATER ADVENTURES – The Swoosh Kwik Dry Neolite Life Jacket provides a secure fit and all day comfort for boating and water sports alike. Keep your water adventures fun, safe and comfortable with this Type III USCG Approved Life Jacket
The SWOOSH Kwik-Dry life teen life jacket by Airhead is a great option for parents of teens who want a chic, comfortable, and secure life jacket. One of the key features of this life jacket is that it does not include a sole zipper system, which makes it significantly easier to remove and put on. Instead, this teen life jacket utilizes a basic dual-buckle system to secure the jacket onto the body and a heavy-duty zipper for easy removal.
Perhaps the main distinguishing feature of this jacket over other units is that it is constructed almost entirely out of patented "Kwik-Dry NeoLite" material, which wicks away water and moisture to keep the user dry. Best of all, this jacket is built and designed in the United States and is approved to the highest safety standards (Type III) by the US Coast Guard.
It's important to note that this jacket isn't designed to be worn by smaller teens. Technically, the Airhead SWOOSH is an adult's life jacket that should only be worn by older teens who have outgrown their child-sized jackets and need something to last into adulthood.
Pros
Manufactured in the United States
Approved by US Coast Guard to Type III safety standards
Appropriate for teens over 90 pounds
The sides of the vest are closed for extra protection and buoyancy
Cons
Dual zipper and buckle system may take longer to put on and remove
The sizing runs small (order up a size!)
Somewhat limited mobility in the arms for larger individuals
Next up we've got the Airhead Family Series of life preservers. For budget-minded shoppers, the Family Series is one of the best options if you want to get the most out of your money without compromising on safety or comfort. Although they aren't as sleek, stylish, or form-fitting as some other brands, the Airhead Family Series provides exceptional value for your dollar.
Available in two high-visibility color schemes, the Airhead Family Series is ideal for young teens up to 90 pounds. Therefore, it's most appropriate for tweens and 13-year-old girls who may not have grown into an adult-sized vest yet. 
Despite its low price, this teen life jacket doesn't compromise on safety. Unlike many other budget-friendly teen life jackets, this model is built with durable 200-denier polyester to completely shield the user from harmful UV rays and keep stains away. Plus, internal polyester material makes it lightweight and breathable.
Pros
Budget-friendly price point
US Coast Guard Type III-approved
Zipperless, three-buckle construction for easy removal
Cons
Not appropriate for larger or older teens
Simple design that may not look as stylish as others
Bulkier around the around and waist
Sale
Fit One Size Fits All, Red/Gray
FEEL THE MOVEMENT - High mobility, non-restrictive cut. Higher placement of upper buckle helps reduce ride up. Thinner back panel to reduce seat back interference
INNOVATION MEANS BETTER - All foam corners are rounded and sculpted compared to many 3-buckle PFDs. Box-stitched webbing is also more durable than bar-tac stitching used by other Economy PFDs
COAST GUARD APPROVED - Safety is our number one concern for open water explorers. Safe is exactly as you'll feel as this PFD is approved for paddlers over 90 pounds to enjoy paddling, general boating, and use on personal watercraft
Last, we have the Stohlquist Fit teen life jacket, which is made with a heavy-duty 200D nylon exterior and polyester interior for excellent buoyancy. The zipperless construction of the Stohlquist Fit makes it a great choice for teens who don't like using zippers or tend to get zippers jammed or caught in their seams.
The three-buckle fastening system makes it easy to take this jacket on and off without any delays or headaches. Regarding sizing, teens who wear an adult extra-small or large youth size will fit into this life jacket without any difficulty. However, larger teens may run into some issues with squeezing into this jacket.
This teen life jacket is a fantastic choice for boaters or jet skiers because it features thin padding on the rear of the jacket. The thin layer of polyester and foam reduces interference from seatbacks in boats and jet skis. Plus, a hanging loop at the back of the jacket makes it easy to hang and dry this life jacket once your teen is finished using it.
Pros
Easy to put on and secure without zippers
US Coast Guard approved for youth large and adult extra-small-sized users
Ideal for teens 90 pounds and up
Thin rear padding makes it more comfortable for boating and jet ski riding
Cons
Does not safely fit smaller teens less than 90 pounds
Shorter backside tends to ride up during canoeing and kayaking
Thicker and bulkier at the front than most other models
Related:
Top 7: Best Life Vest for Non Swimmers For 2023
Teen Life Jackets Buyer's Guide – Your Guide to Selecting the Best Product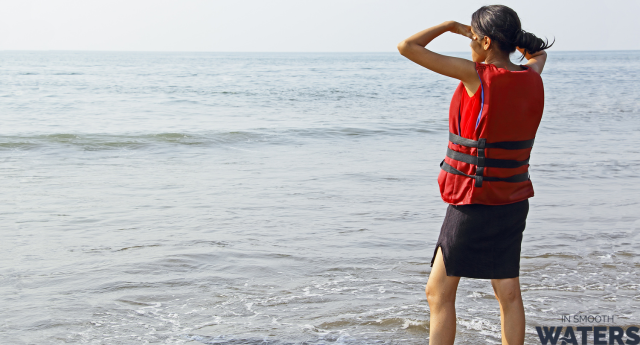 Purchasing a life jacket for your teen shouldn't be an impulsive or flippant decision. When your child's life is on the line, it's important that you do your research to find the highest-quality life-saving device for your teen. That's why we've put together this buyer's guide to help you know what to look for when shopping for a life jacket for your adolescent child.
Before delving into the details, it's crucial that you first understand the importance of purchasing a well-made life jacket. On our website, you can browse interactive resources for viewing drowning statistics in the United States and globally.
The facts don't lie. In a 2015 report based on over two decades of drowning data, the Red Cross declared that up to 85% of drowning victims were not wearing life jackets at the time of their death. In other words, wearing a quality life jacket may have saved their lives.
In the United States, 86% of boaters who drown don't wear life jackets. Therefore, it's paramount that you invest in a life jacket for your teen because wearing a life jacket is the biggest step you can take toward drowning prevention. If disaster strikes, the teen life jacket can make the difference between life and death. 
Types of Life Jackets
Believe it or not, there are five designated varieties of life jackets and personal floatation devices by the US Coast Guard. When we think of life jackets, however, most of us think of Type III, which resembles a vest. Below, we've listed the five types of life jackets so you can get a better sense of which variety is best for your teen.
Type I (Offshore Life Jacket): These life jackets are maximally buoyant and are customized to upright an unconscious user so their faces are pointed up and out of the water. These life jackets are designed to be worn in rough or erratic conditions and often in deep-sea environments where rescues cannot be performed quickly.
Type II (Near Shore Buoyancy Vest): These life jackets are highly buoyant and are also designed to turn a user's face out of the water. However, these jackets are not meant to be worn in rough waters and instead are to be worn close to shore (i.e., kayaking or canoeing trip).
Type III (Floatation Aid): Type III life jackets are designated floatation aids meant to assist with ensuring one's safety during sports activities such as wakeboarding, waterskiing, and tubing. They are meant to be worn inland and are often inflatable. If the wearer leans too far back, they may flip upside down.
Type IV (Throwable Device): These life preservers are throwable devices that are meant to be used in calmer waters in which rescue operations are available. When an individual falls overboard or is at imminent risk of drowning, Type IV life jackets are thrown into the water and are held onto to assist the wearer with staying above water.
Type V (Special-Use Devices): Type V flotation devices are meant for use during water-based activities and often consist of inflatable vests that automatically open upon contact with the water.
To determine the type of life jacket you're interested in, read the label or the product details on its online listing. There you should find the US Coast Guard approval details for its respective type (i.e., Type I, Type II, etc.). On the label, you will also find information about sizing and the life jacket's intended uses.
International Life Jacket Standards
There are two main international standards that determine the suitability of a device for safe consumer use. Below, we've listed both of them and touch on their respective differences.
International Organization for Standardization
If you're buying a personal floatation device for your teen, it's important that you take the time to familiarize yourself with the life jacket standards established by the International Organization for Standardization (ISO). The ISO is a global governing body that regulates the standards used on consumer and industrial products, such as teen life jackets.
European Standard (EN): CE
In European markets, the European Standard is designated by the "CE" initials. The CE symbol is often found on garments or products produced within the European Union or the European Free Trade Zone. For this reason, they're rarely found on American products. It's important to note that CE-approved standards are not consistent with US Coast Guard standards.
CE & ISO Standard Types
The CE and ISO standards are virtually the same. However, they are categorized according to the following four-tier scheme.
50N (Buoyancy Aids): These standardized life jackets are designed to assist swimmers and wearers in sheltered water environments, such as in swimming pools. They hold 50 Newtons (i.e., 11 pounds) of flotation capacity and are only designed to help conscious swimmers who have the wherewithal to help themselves.
100N (Life Jacket): A 100 Newton standard is a conventional life jacket, which is used to assist swimmers and non-swimmers in finding relief from the threat of drowning in still or calm bodies of water. These jackets will not always self-right the wearer, which makes it insufficient to protect an unconscious user.
150N (Life Jacket): A 150 Newton life jacket is appropriate for use in a variety of water conditions, including in poor or rough waters. Jackets of this rating are able to provide some support to wearers who cannot help themselves. These life jackets provide 33 pounds of flotation assistance.
275N (Life Jacket): A 275 Newton lifejacket is rated to provide 61 pounds of flotation assistance to non-swimmers and swimmers alike. These are highly sophisticated devices that are designed to offer maximum protection from drowning and to self-right users in most cases.
For a life jacket to be compliant with international standards, look for the "ISO" letters printed on the vest's label. Sometimes, the ISO initials are mentioned on a life jacket's product listing. You should refrain from purchasing any life jacket that isn't up to the official ISO or CE standards. However, the gold standard is the US Coast Guard approval. You should not buy a life jacket for your teen unless it has received approval from the US Coast Guard.
Benefits of A Good Fitting Teen Life Jacket
Your teen must always wear a life jacket when they are out in the water. This is especially true if they aren't a strong swimmer or if they are participating in wake sports. In the event of an emergency or a sudden adverse weather event, a life jacket can save your teen's life.
However, life jackets do more than merely help your teen float comfortably on the water. Below, we've listed some of the main benefits of wearing a life jacket.
They keep your core body temperature warming in cold water
Most CE and ISO-rated life jackets (150N+) was designed to self-right the wearer in case they lose consciousness in the water
They help alert boaters and passersby that there's a person in the water
They can help search and rescue personnel locate the wearer
They can provide the confidence necessary for a teen to learn to become a strong swimmer
Features of Life Jackets for Teens
The anatomy of the life jacket is straightforward and relatively simplistic as far as life-saving devices go. However, to help get you up to speed with the various components of teen life jackets, we've listed each of them below.
Pockets
Although pockets are increasingly rare on teen life jackets, some of the best teen life jackets include zip-up or velcro pockets on the side panels or breast. These pockets can be used to store keys for a jet ski or lockbox or to hold a whistle in case of an emergency. 
Ventilation
Most modern life jackets include ventilation systems through the core of the jacket to improve airflow and to reduce heat retention. If you are fishing, paddling, or boating in hot climates you can overheat in a life jacket. However, a ventilation feature lets heat escape from between the jacket and the wearer's skin to help cool them down.
Inner core
The inner core of a life jacket refers to the material used inside the jacket to provide buoyancy. Often, the inner material consists of a foam substance or a polyester blend. Many classic life jackets featured a cork core, although these have been largely phased out over the years.
Tabs
A tab is a small hook on the front or back of the life jacket that allows wearers to attach peripheral devices, such as a whistle or pocket knife. Although these add-on devices are unnecessary for most casual wearers, they are important features for those on survivalist trips or on multi-day canoeing trips in the wilderness.
Color
The color of the life jacket is important because it determines how visible the user is in the water. A dull blue color, for example, will not help differentiate the wearer from the water.
However, a neon yellow life jacket will stand in stark contrast to the surface of the water, which will make the wearer more visible to onlookers and boaters. Therefore, brighter colors not typically found in nature (such as yellow or orange) can help make the user safer.
Flotation number
The flotation number—measured in Newtons (or "N")—refers to the force of buoyancy provided by the jacket. Typically, teen and adult users only require about eight to twelve pounds of additional flotation to keep their chin above water and remain afloat. A US Coast-Guard approved life jacket will always provide sufficient Newtons above the 10-12 mark.
Fishing features
If your teen is a fishing enthusiast, you should look out for life jackets that have tool hangers or cargo pockets. These features allow users to carry additional lures, tackle, or bait on their person and reduce the number of items carried in their tackle box.
Reflective Tape
Many high-visibility life jackets include reflective tape on the front, side panels, and rear of the jacket. A layer of reflective tape helps the wearer stand out in the water, which makes them less likely to collide with a boat and more likely to be found from the air in the event of a search and rescue operation.
Buckle or Zipper System
Life jackets are fastened with a series of adjustable buckles and straps, or with a front-facing zipper. Since zippers cannot be adjusted, they can make it difficult to put on and take off the jacket, especially if the jacket is tight-fitting.
Although many swimmers, fishers, and boaters prefer a buckle system for its ease of use, the safest option is a buckle and zipper combination which virtually guarantee that the life jacket will stay on regardless of water conditions.
Maintenance and Safety Notes
Now that we know everything there is to know about the anatomy and classification of teen life jackets, let's briefly touch on some of the most important maintenance and safety tips. After you have purchased your teen life jacket, follow these general ground rules to make your jacket last longer and to ensure that the wearer is safe in the water.
First, that you do not purchase a life jacket that your teen has to "grow into". Although this may sound like a good money-saving decision, it may cause your teen to slip out of the jacket if they hit the water with speed, which can endanger their life. Every life jacket should fit snug onto the body.
Next, ensure that your teen is comfortable in the jacket and instruct them not to panic if they find themselves in distress in the water. Teach your teen to remain calm and to gently lean back if they feel frightened or threatened.
Last, it's important that you throw away any life jacket that no longer adequately fits your teen, has accumulated wear and tear, is leaking air, or has built-up rot, mold, or mildew. When the jacket is not in use, hang it up to dry and ensure that its zippers and buckles function properly.
Best Teen Life Jackets Comparison Chart
| Product Name | Price | Sizes (Fit for) | Safety | Unique Features |
| --- | --- | --- | --- | --- |
| Hardcore Water Sports High Visibility USCG Life Jackets | $ | 30-50 lbs | US Coast Guard approved Type-III PFD | Adjustable straps easily maneuverable with one hand |
| O•Neill Teen Reactor USCG Life Vest | $ | 50-125 lbs | Heavy-duty zipper prevents jams and snags | Super relaxed fit for additional mobility |
| Stearns Adult Classic Series Vest | $ | 50-90 lbs | US Coast Guard approved to highest safety standards | Durable nylon construction,Excellent for wake and tow sports |
| O•Neill Child Reactor Life Vest | $ | 30-50 lbs | USCG Approved and Behind- Neck Safety Loop | Nylon material keeps vest feeling light and comfortable |
| Airhead Adult SWOOSH Kwik-Dry Neolite Flex | $ | 50-90 lbs | Approved by US Coast Guard to Type-III safety standards | Sides are closed for extra protection and buoyancy |
| Airhead Value Series Life Vest | $ | 29-70 lbs | US Coast Guard Type-III approved | Zipperless, three-buckle construction for easy removal |
| Stohlquist Fit Life Jacket | $ | 16-90 lbs | Easy to put on and secure without zippers | Rear padding makes comfortable for boating,jet ski riding |
Wrap Up of teen life jackets
When it comes to drowning prevention, there's no better safety precaution than a US Coast Guard-approved teen life jacket. The next time you're out on the water with your teen, ensure that they're wearing a snug life jacket that is built to ISO or CE standards with at least 100N of buoyancy. This way, you can play as a family in the water without having to worry about disaster striking. 
We are sorry that this post was not useful for you!
Let us improve this post!
Tell us how we can improve this post?
Last update on 2023-11-30 / Affiliate links / Images from Amazon Product Advertising API