Do you dream of snorkeling in warm, crystal-clear waters? Do you imagine underwater seascapes with lush coral reefs and colorful marine life? Jamaica is more than reggae music. It's the best snorkeling of your life.
Some snorkeling opportunities in Jamaica are available close to shore. You can only reach others by boat. Even on a budget, you don't have to stay near the shore. Choose between pricey adventure packages or small boat owners who will take you out to a reef for as little as $10-$15.
10 Dream Locations for Snorkeling in Jamaica
We've listed the top 10 dream snorkeling locations in Jamaica and a few extras to help turn your dreams into reality.
1. Montego Bay Marine Park
Montego Bay Marine Park is a 9-square-mile marine sanctuary and park dedicated to restoring and conserving its natural marine environment. There are lots to explore in this park even before you start snorkeling. Montego Bay features beautiful blue lagoons and a thriving reef teeming with a variety of marine life.
You can wade in waist-deep and then immerse yourself in an environment filled with schooling tropical fish and various coral species. Fish you may see include angelfish, trumpet fish, stingrays, parrotfish, and curious and personable pufferfish.
Places to explore in Montego Bay include Doctor's Cave Beach, Coyaba, Seaworld, and Royal Reefs.
2. Snorkeling in Negril Coral Reef
This west Jamaican coral reef is in the middle of Jamaica's largest coral reef restoration projects. The area has a 7-mile-long beach, but the water is shallow, with only a few reefs close to shore. Your best bet near the coast is at Half Moon Beach (for more fish) or Rhodes Hall (for better corals).
The best snorkeling at Negril Coral Reef is about 20 minutes out by boat, so be sure to get your reservations in early. The reef swirls with marine life, including butterflyfish, clownfish, eels, gobies, lionfish, sea horses, thimble jellyfish, and wrasses. Because of the restoration project, you will find a fantastic variety of coral reef species, including brain coral, cup coral, sea fans, star coral, and torch coral.
Other Negril snorkeling options include Pristine Cove at Rockhouse Hotel, Booby Cay Island, and The Cave Beneath the Caves.
3. Doctor's Cave Beach
Doctor's Cave Beach is one of Montego Bay's most popular beaches to snorkel Jamaica. You have to pay $6 to use the beach, but the convenience is worth it. You can rent snorkeling and other beach equipment for maximum beach enjoyment.
You will enjoy a safe area, calm waters, and easy snorkeling in warm water. Fish come right up to you, and you can even feed them. The amenities at Doctor's Cave Beach include lifeguards on duty, shower and changing facilities available, spa facilities with saunas and steam baths, and a gym. There are even cheap places to shop and eat nearby when you're finished.
If you don't mind the crowds, prefer comfort, and like not having to overthink your adventures, Doctor's Cave Beach is your best bet.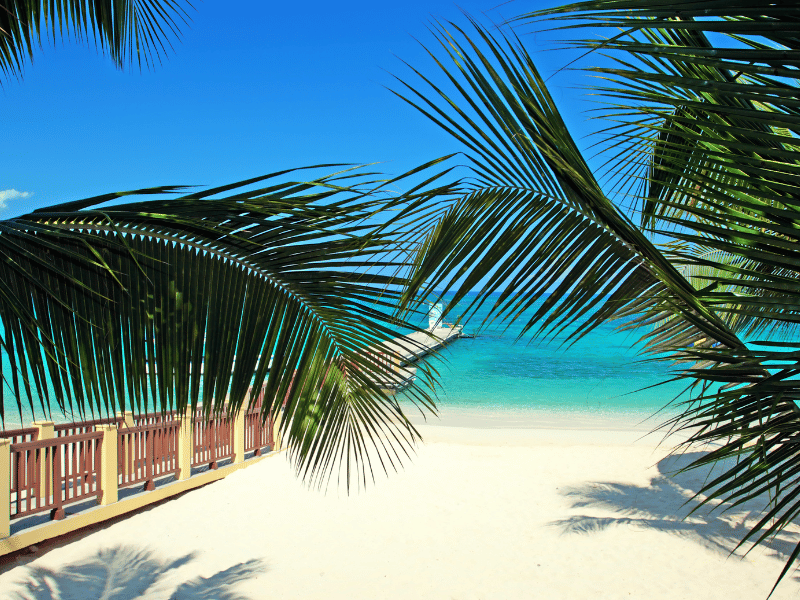 4. Runaway Bay
Many consider Runaway Bay to be one of the most beautiful places in Jamaica. Runaway Bay has a designated snorkeling area near shore. The site is soft and sandy, with a beautiful coral reef in about 4 or 5 feet of water. Snorkelers often bring bananas and bread to feed the fish during an amazing Jamaica Snorkeling trip. You can also hire a boat to take you farther out.
You will likely see shads, needlefish, stingrays, and barracuda on the Runaway Bay reefs.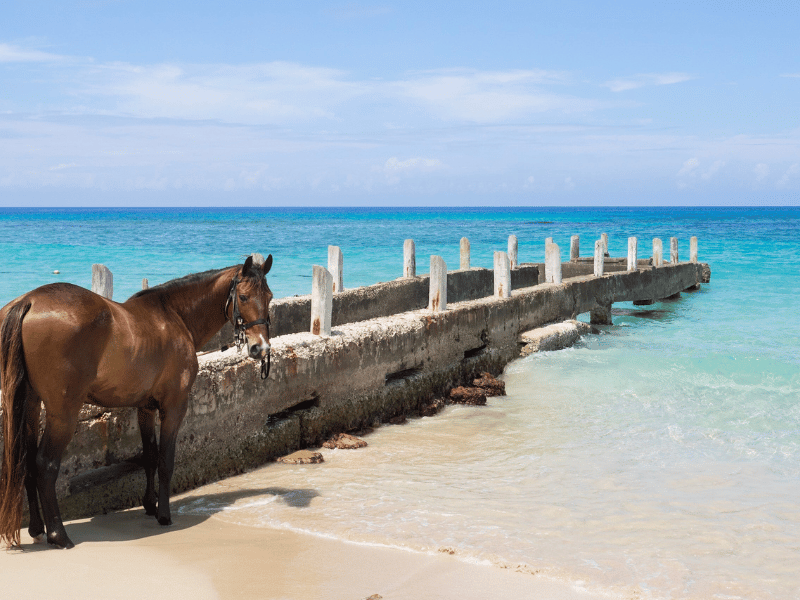 Other Snorkeling Spots near the Cayman Islands:
5. Ocho Rios Beach
Ochos Rios is a popular resort area known for its eight rivers that flow into its bays. Ochos Rios is an excellent place for snorkeling right off the beach in the northern part of Jamaica.
You can choose to snorkel in the trenches near the shore, or you can swim out even farther to the more open areas of the reef. Some of the best snorkeling sites are near the cruise ship port.
The water is home to eels, manta rays, jacks, electric rays, Caribbean reef octopuses, crabs, and butterflyfish. The reef contains anemones, corallimorphs, star coral, and brain coral.
You will find that The best and safest snorkeling in this area is early morning and late afternoon to avoid jet skis.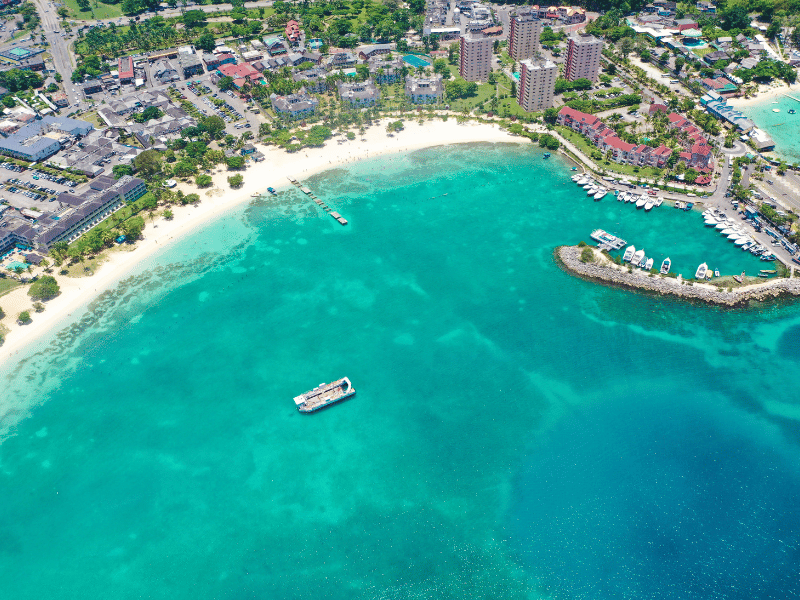 6. Rockhouse Hotel
If you dream of staying and snorkeling in paradise, look no farther than the Rockhouse Hotel. The Rockhouse Hotel includes eight acres of beautiful gardens, a regular hotel, and 34 cliffside bungalows. The clear, turquoise waters near the hotel are on the Negril Coral Reef, making them an ideal place to snorkel.
Not only are you staying in a piece of paradise at Rockhouse Hotel, but you are also able to snorkel and enjoy the variety of sea life and corals from the Negril Coral Reef conservation efforts. Nearby snorkeling includes the Negril Reef, Pristine Cove, Half Moon Beach, Booby Cay Island, and The Caves.
At the Rockhouse Hotel, you can rent snorkeling equipment for a small fee. Plus, staying on the beach makes it more convenient for changing clothes between swims.
Rockhouse Hotel reserves snorkeling for guests only. Non-guests have reported being able to snorkel after eating in the restaurant or having a few drinks there, but you'd be taking your chances to try.
7. Port Royal, Kingston
If an underwater pirate city appeals to you, Port Royal will be your dream destination. An earthquake decimated Port Royal in 1692, and two-thirds of "the richest and wickedest city in the New World" sank into Kingston harbor. This underwater time capsule, the Pompeii of the Caribbean, shares space with a coral reef and the tropical fish that have taken up residence there.
Special government permission is required to dive into restricted ruins areas, and scuba diving is the best way to see the shipwrecks in the area. However, there are still great places to snorkel.
Both the north and south shore in Port Royal provide excellent snorkeling opportunities in warm, shallow waters. You can expect to see vibrantly-colored schools of tropical fish, sea horses, sea turtles, and other sea creatures. You can also hire out a boat to take you farther out onto the reef.
8. Booby Cay Island
If you visit the Negril area, be sure to paddle yourself or hire a glass-bottomed boat out to Booby Cay Island (also known as North Seymour Island).
You can stop to snorkel at a reef along the way. You will enjoy the vibrant colors of the reef and all its inhabitants. Since it is off the beaten path, there are fewer boats to disturb your snorkeling experience.
The water around Boobly Cay is rocky and not so great for swimming. However, the waters are beautifully blue and clear. Visitors to the island enjoy lobster or jerk chicken cooked over a beach fire with reggae music playing in the background.
9. Luminous Lagoon
The dreamy water that glows after dark in the Luminous Lagoon is a rare phenomenon that only occurs in four places in the world. The Luminous Lagoon is the largest and the brightest of these four places. Millions of microorganisms called dinoflagellates live in the lagoon and emit a flash of phosphorescent light when fish or people swim nearby or touch them.
The water is only 5 feet deep, so you can walk around, swim, or snorkel to enjoy this hauntingly beautiful experience. Viewing the glowing blue-green water from above and below is a unique encounter you will never forget.
Some packages for the Luminous Lagoon experience start with a rum drink onshore, hopping aboard a boat for a 45-minute tour of the Luminous Lagoon, and then entertainment upon your return.
10. Portland
Portland, Jamaica, is home to beautiful, lush beaches with picturesque, secluded coves. If you dream of a more private snorkeling adventure, Portland may be the perfect place for you. You won't believe this place is real because it looks like it's straight out of an idealized Instagram picture.
You can choose from both public and private beaches, including Blue Lagoon, Boston Beach, Frenchman's Cove, Long Bay Beach, San-San Beach, or Monkey Island.
Spend your days exploring the shorelines of paradise. Expect to see a variety of beautiful, colorful schooling fish and marine life of all sorts.
A Few Other Dream Locations to Snorkel in Jamaica
Jamaica is full of places to snorkel. Other dream Jamaican snorkeling destinations include:
Bluefields Bay
The Throne Room
Pear Tree Bottom Reef
Bluefields Beach
Coyaba Reef
Navy Island
Frenchman's Cove
Boston Bay Beach
Seven Mile Beach
Cornwall Beach
Cave Beneath the Caves
(Looking for adventurous snorkeling destinations in the Caribbean? Try reading; Best Snorkeling Spots In The Caribbean)
The most popular snorkeling adventures are in areas like Montego Bay and Negril that are being transformed by reef conservation projects. However, there are many different options from which to choose.
You can choose one near your hotel and then try another the next day. You may decide to try one of the less popular locations to avoid the crowds. No matter where you go, you will see a stunning variety and different combinations of fish and coral species.
We are sorry that this post was not useful for you!
Let us improve this post!
Tell us how we can improve this post?