Aruba is home to some of the clearest oceans of the deepest and lightest blue and some of the world's best snorkeling spots. Whether you are a novice or have explored the depths of the oceans and seas before, there is a snorkeling experience waiting for you.
If you aren't comfortable in deeper waters, Aruba's coast consists of many shallow reefs, making your snorkeling experience exciting and safe. We have listed the 10 best snorkeling spots in Aruba for you to choose from, or take your time and experience them all.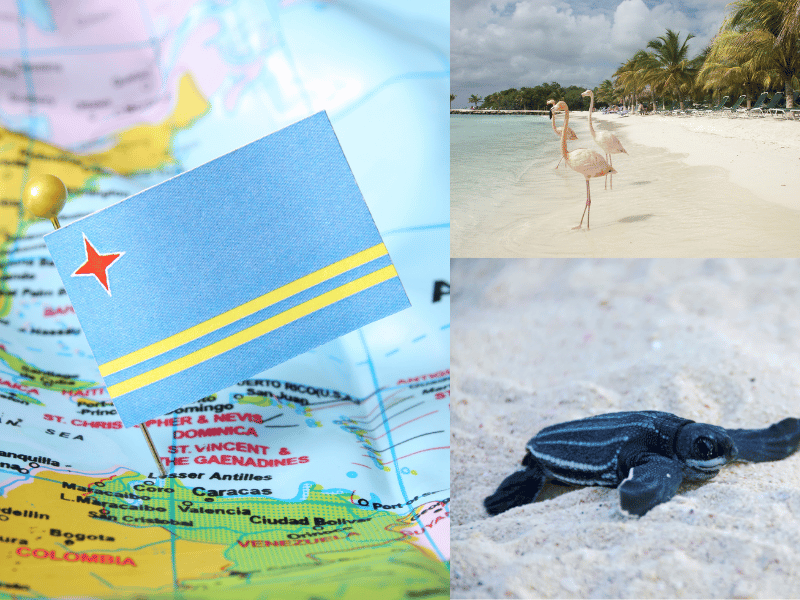 The 10 Best Spots for Snorkeling in Aruba
Your holiday budget, the amount of time you want to sightsee, and whether you are travelling with children will likely affect your travel destinations, but there are a lot of great choices when considering where to snorkel in beautiful Aruba, no matter what restrictions you may have.
Are you looking for the best snorkeling spot in Aruba? Check out our number 3 in this guide for an amazing tropical snorkeling experience. You can also snorkel with turtles in Aruba there!
1. Aruba Snorkeling in Arashi
Along the western coastline of Aruba, Arashi is crowned as one of the best snorkeling spots for its clear blue water, fine white sand, palapa huts that spot the sand to take a break from the sun, and a beautiful view of the California Lighthouse, a restaurant that is a favorite among locals and travelers alike. A smaller reef is off the jagged breakwater that separates Arashi from Boca Cataline, the next beach just south.
If you are so inclined, stroll the beach to find sand dollars, sea urchins, or even a starfish before you get into the water to explore the various species of exotic marine life that will swim around you.
2. Aruba Snorkeling in Boca Catalina
Boca Catalina features clear turquoise waters and white sandy beaches that are almost soft to the touch when dry. As you begin your snorkeling journey, countless different species of tropical fish swim around you immediately. You will see some of the beautiful underwater inhabitants are parrotfish, starfish, squid, and the ever distinguishable barracuda.
This is a popular destination, especially for families, because it's easy to access the beach and stunningly clear waters, so it's best to get snorkeling early in the morning, which happens to be the best time to catch the mellow sea turtle on the sands. While you are likely to be dropped off on the northern side of Catalina Cove by a snorkeling boat, you can always try your hand at going beyond the ropes to where there is an even larger variety of tropical fish to see.
3. Catalina Cove – Best Snorkeling in Aruba
Just a bit of a swim away from and north of Boca Catalina, you will find Catalina Cove. This is one of the best spots in Aruba for snorkeling, as there are bar jacks and blue tangs that love to hide near the rocks for you to find. Shallow, clear waters make it easy to see sea turtles making their way slowly along the bottom of the water, and any snorkeling adventure is complete with these mellow sea creatures. This is a popular destination among tourists and locals, so the early morning would be best if you're not into the crowds.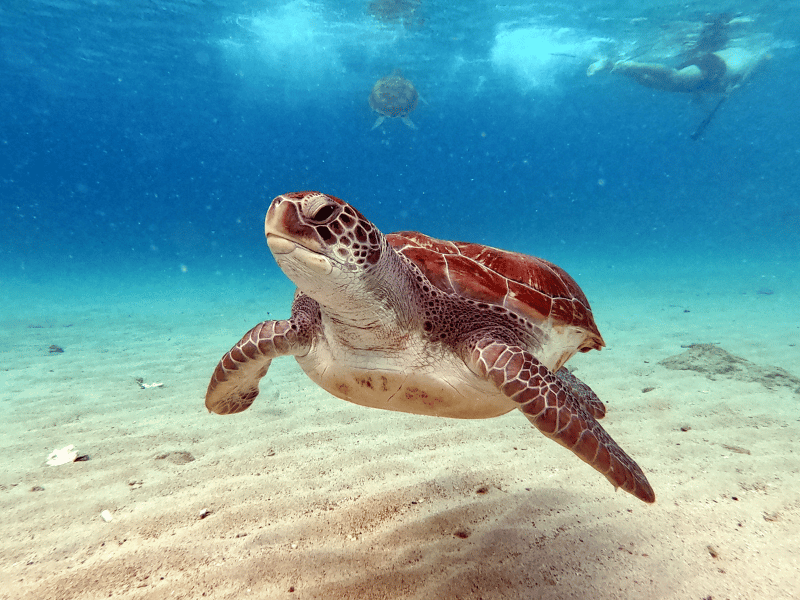 4. Aruba Tropical Snorkeling: Malmok Beach
North of Palm Beach is Malmok Beach, just past the high-rises on the northern coast of Aruba. This is a popular snorkeling beach and is inhabited by several tourists who are on snorkeling tours. This beach gets busy in the early afternoon, so it's best to get there in the morning and take your water shoes, as the shore can be a bit rocky in spots.
Snorkel along the coastline sees sea sponges and fish swimming, and even more tube sponges will be scattered on the bottom of the ocean a little further out. This spot is perfect for seashell and coral lovers, as they are sure to see plenty. Some of the fish you will see are trumpetfish, goatfish, parrotfish, angelfish, and other tropical beauties are all around. There are a few cabanas along the beach that you can use if the sun is getting to be a bit much or to take a rest.
This beach has no facilities, so be sure to bring all of your equipment with you, including food and plenty of water.
5. Snorkeling in Aruba: Mangel Halto
Mangel Halto is one of the quietest snorkeling spots in Aruba due to the stronger currents on the reef's outer part, as beginners and novice snorkelers tend to stay away. But if you are experienced, you can try your snorkel at the outer reef, mind the boats and remember to conserve your energy for the swim back.
Even in the shallow of the reef, the marine life is breathtaking and easily visible through the clear water that offers visibility for a great distance. There are several entrance points along the reef; down steps, or a ladder, or entering right off the beach is a perfect start for a beginner to start snorkeling in the shallow water right away.
If you are not experienced, you are advised to keep within the bay, where you will get a great opportunity to see parrotfish, sergeant majors, deep water sponges, anemones, and much more. There are no facilities at the beach, so come prepared with your equipment, snacks, and water. The springtime offers a great opportunity to see sea turtles when they lay eggs in the sand.
6. Snorkeling in Aruba: Baby Beach
Near Aruba's south end, Baby Beach is a shallow lagoon that has calm, clear waters. It is a desirable destination for families because the water stays shallow due to the lagoon built by Lago refinery workers as a barrier from the deeper waters, which gives families a safe place to enjoy Aruba's beauty without worry. The reef inside the lagoon makes it easy to catch marine life doing what they do best; swimming and being colorful and amazing.
There are cabanas to relax beneath but bring your own snorkeling supplies as there is no place to rent them at the beach. There is, however, a snack shack and a restaurant in case you get hungry and can't wait to get back home or to the hotel.
7. Snorkeling in Aruba: Tres Trapi
Tres Trap, a tiny sandy cove on Aruba's northwestern coast, is a little bit of a gem that not everyone knows about; most people find out about it from local guides. It is a tiny cove with a small beach, only about 10 meters long, and is accessible by descending a small rustic step set.
Enjoy the calm, clear water as you go out to where the perfect snorkeling experience awaits you. Hundreds of red cushion starfish can be seen on the bottom of the sea, making it a great location for snorkeling and taking some amazing photos of other marine life that you spot swimming in the warm Aruba waters.
8. Snorkeling in Aruba: Natural Pool
Also known as "Conchi" and "Cura di Tortuga" – meaning turtles cove -, a Natural Pool is a rock formation created by volcanic rock circles and has frequent visits from turtles, as the name makes clear.
This area is a little tricky to get to because of the rugged terrain, but it is possible by horse, foot (if you're up for the trek), or you can book a day tour. The majestic scenery and rocky water that crashes against the protected cove's rocks makes this an amazing place to snorkel and well worth the out of the way trip.
9. Snorkeling in Aruba: Savaneta
This beautiful out of the way spot with crystal waters is perfect for anyone who wants to experience snorkeling without a crowd. You will see various marine life as you swim through the warm waters. While this destination is mainly for avid snorkelers, it is well worth the trip to enjoy solitude and the sounds of only the water and marine life.
10. Flamingo Beach – A mesmerizing snorkeling spot
Flamingo Beach is a beautiful location on Renaissance Aruba Resort's island with stunning landscape and white sand. Along with a great snorkeling adventure where you will see colorful fish through the clear waters, you will see the magical birds relaxing on the beaches, ready to say hi and take a sunbathing break with you. This is certainly a great place to spend a relaxing day and take some pictures that are worth a few thousand words.
(Try reading about other adventurous Snorkeling Spots In The Caribbean)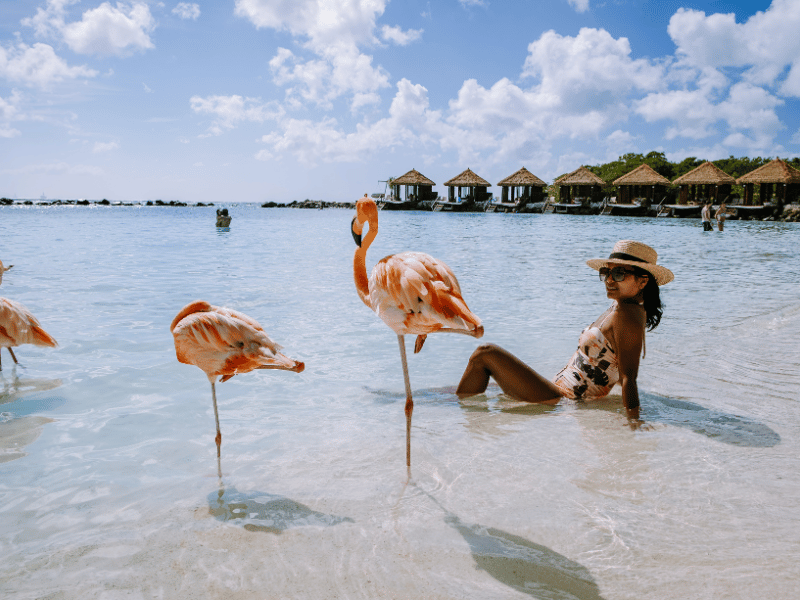 Snorkeling in Aruba safely
Now that you know the best snorkeling spots in Aruba, you can go forth and explore one of the most beautiful places on Earth, but stay safe. The key is to know where you are going and how to get there and have people with you. Even a shallow reef can pose its dangers, and you never want to be alone where oceans are concerned.
If you are an inexperienced snorkeler, it is recommended that you hire a tour guide who knows the area and can get you there and back safely. If you are an experienced snorkeler, you should still have someone with you as a backup if something goes wrong. Always follow any posted restrictions and obey the laws of the place you are visiting. It is important to honor culture and respect their natural wonders and the creatures that live there.
We are sorry that this post was not useful for you!
Let us improve this post!
Tell us how we can improve this post?