Perhaps when you think of snorkeling, exotic, tropical, and warm locations like the Caribbean Islands, Costa Rica, or Australia are usually the first to come to mind. Domestically in the U.S., snorkeling locations in Florida is a likely idea.
However, the California coast offers excellent spots to snorkel! The Pacific is the largest ocean on earth, and California's Coastal Preserves boasts an incredibly diverse array of aquatic life and exploration experiences not only limited to Southern California but the Northern coast as well and even lakes and rivers.
Get ready to discover what the waters of the Golden State have to offer. We've assembled ten exquisite spots for you to plunge into (eight saltwater and two freshwater honorable mentions).
We can guarantee surprises and delights for your next snorkeling adventure. So pack your wetsuit, grab your waterproof GoPro, and prepare to experience snorkeling in California the West Coast way!
Snorkeling in Northern California
It may come as a surprise that the chillier climates of Northern California make excellent snorkeling destinations. Your best bet for a comfortable experience both in terms of temperatures on land and in the water, as well as the conditions, is to plan your visit during the summer months. Still, you'll want to be sure to pack that wetsuit for protection and enjoyment.
Best Snorkeling in California Spot 1: Carmel River State Beach 
Carmel River State Beach in the city of Carmel is one of the most incredible places to snorkel in Northern California. You may be tricked into thinking you've been whisked away to the Hawaiian Islands! 
The area known as Monastery Beach (aka San Jose Creek Beach) is most popular with snorkelers and scuba divers. Depending on how deep you can go, snorkelers and divers have spotted sea lions, harbour seals, rockfish, calico bass, lingcod, sea anemones, and starfish amid the stunning underwater rock formations.
The views on land are breathtaking as well, with rocky ranges you're unlikely to see anywhere else. Carmel Bay is known for its beautiful bird sanctuary in a lagoon, so you might find yourself looking to the sky as much as underwater and be enchanted by the birdsong of the waterfowls.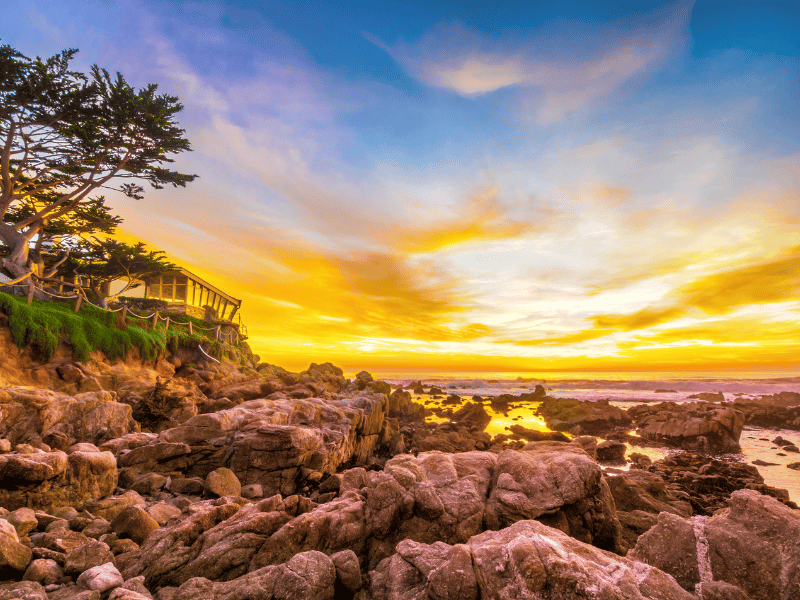 Snorkeling in California Spot 2: McAbee Beach
McAbee Beach is nestled in the famed Cannery Row area of Monterey Bay that has been featured in art and literature and has become a favorite tourist destination since the 1900s. Today, it is welcoming and accessible for snorkelers, divers, and kayakers. There's even a dog beach in case you want to bring your canine crew along!
One of the most exciting and unique features of McAbee Beach, particularly for snorkelers and divers, is the artificial reef that has formed around the old submerged pipelines. This product of modern, industrial times has become a haven thriving with undulating kelp forests, fish, and marine life.
Snorkeling in California Spot 3: Gerstle Cove
Gerstle Cove is located in Northern California's wine country of Sonoma County. Gerstle Cove State Marine Reserve is a protected part (no fishing or hunting) of Salt Point State Park.
Rocky beaches are one of the distinct features of beaches in this region, as are the hiking and biking trails. Snorkelers and divers will want to be sure to bring their wetsuits and water shoes. Nearby Stump Beach offers a sandy shores option.
You should be aware of the sometimes tempestuous waves crashing on the rocks, but during calm periods, tide pools collect and offer a rich array of sea life with up-close-and-personal viewing for snorkelers.
Southern California
Southern California has the benefit of year-round good weather, but the summer is still considered the prime time for snorkeling conditions. While the water is warmer than in the North, you still might want to consider a wetsuit for optimal comfort.
Snorkeling in California Spot 4: Catalina Island
One of Southern California's most charming destinations is Catalina Island. This glorious getaway is only 22 miles from Long Beach or Los Angeles, making it super accessible for a weekend adventure for locals and a quick trip from the airport for visitors.
It may be close to the hustle of Hollywood and L.A., but you'll feel that you have escaped to an island paradise straight out of the cinema!
Two Harbors Dive and Recreation Center has everything you need for your snorkeling or diving excursion, including all gear to rent, lessons, and guided tours. With crystal clear waters and a visibility range of 40-100 feet, it's no wonder that Scuba Dive Magazine voted it "The World's Healthiest Marine Environment." You're likely to encounter sharks, rays, and fish of all sizes.
And if you've feasted your eyes on all the fish you can handle, you might want to check out the highly unusual land species that reside on the island — American bison, aka buffalo! The Bison Expedition is a safari exploration of the island's rugged terrain and the descendants of a herd left by a movie crew in the 1920s.
Snorkeling in California Spot 5: Channel Islands
The Channel Islands, situated near the coast of Santa Barbara, offer breathtaking views and various land and sea wildlife across their five enchanting islands. Visibility (up to 100 feet) is immaculate thanks to the pristine waters. You can expect to see winged bat rays, striking yellowtail, garibaldi, sheephead, and more.
There are stunning sea caves that require entry by kayak. The best spots are around Scorpion Beach on East Santa Cruz Island. There you can easily access kayaks, rent equipment, and even hire a concierge boat transportation service to take you to the watery depths of the cave personally.
Snorkeling in California Spot 6: Laguna Beach
Laguna Beach offers exceptional opportunities for underwater explorations. The underwater landscape with its rocky reefs and craggy submerged cliffs is evocative of a mythical land from deep-sea fairy tales or Disney's The Little Mermaid. 
Its marine life is just as vibrant and magical. You can clearly view octopi, eels, leopard sharks, rays, lobster, garibaldi, and various species of bass.
Laguna Beach is quite vast, and anywhere will be a memorable experience, but the top spots for snorkeling are the aptly named Diver's Cove, Shaw's Cove, and the southern end of Thousand Steps.
Snorkeling in California Spot 7: Crescent Bay 
Crescent Bay, so-called for its crescent moon shape, isn't too far from Laguna Beach and has its own particular charms. The north side has tidepools and unique underwater topography that makes it an exciting spot to snorkel. 
The bay is teeming with aquatic life, including large sea stars, sea urchins, garibaldi, perch, rockfish, and even a few smaller sharks and rays. Watch for curious pelicans looking for a meal.
If you plan a weekend or extended getaway, it would be a particular treat to visit both and compare for yourself. You can even see great views of Laguna Beach's most swanky homes.
Snorkeling in California Spot 8: La Jolla Cove
Further south, not far from Mexico, you'll discover La Jolla Cove in sunny San Diego. There's a reason the best is saved for last. This snorkeling hotspot is consistently rated one of the top ten destinations to snorkel in the world. 
Vibrant schools of fish in every color of the rainbow dart to and fro in the Seven Sea Caves and Underwater Park. You're just as likely to encounter playful sea lions and dolphins, sea turtles, urchins, and starfish. Between June and December, thousands of leopard sharks congregate the largest gathering anywhere.
The underwater caves and canyons are some of the most extraordinary up-close experiences you'll ever engage in within the natural world. La Jolla Cove is an unmissable, one-of-a-kind snorkeling destination!
(You might also be interested in exploring the Best Snorkeling Destinations In Mexico)
Honorable Mentions: Freshwater Snorkeling in California
While snorkeling is generally associated with saltwater and beaches, freshwater snorkeling provides another kind of experience that shouldn't be dismissed or overlooked.
California has some majestic, serene rivers and lakes that offer an alternative spot to snorkel.
Snorkeling in California Spot 9: Klamath River
The Klamath River begins on the Southern Oregon, Northern California border and flows all the way to the Pacific Ocean, only after passing through five hydropower dams. Indigenous people have called the river home for thousands of years and continue to care for the river and depend on its many resources.
The best location for snorkeling is Blue Creek, where various salmon, trout, sturgeon, and steelhead fish reside. Klamath River is a popular place for fishing and kayaking too. Be sure to wear water shoes as the terrain is rocky.
Snorkeling in California Spot 10: Lake Tahoe
Lake Tahoe is renowned for its scenic beauty that transforms the landscape every season. Located between Reno, NV, and Sacramento, CA, it's been dubbed the No. 1 Skiing Destination by Orbiz and Rand McNally, No. 1 Travel Destination by TripAdvisor, and America's Best Lake by USA Today.
With such acclaim for its winter sports, it might surprise you to find that Lake Tahoe is a superb place to snorkel, only not in the snow, of course. During the summer months, temperatures rise to a comfortable mid-to-high seventies.
The pristine, shimmering blue waters provide incredible visibility underwater with the view of the Sierra Nevada Mountains as a breathtaking backdrop.
Bonus: Bay Area Snorkeling
Snorkeling in the bay area of California may not offer extensive opportunities compared to other locations. The currents can be significant and dangerous in some areas, especially around the mouth of the bay, and the visibility is often murky due to muddy bottoms. However, for those interested in snorkeling, a drive south to Monterey and Carmel unveils giant kelp forests and rocky reefs, providing a chance to encounter beautiful and graceful leopard sharks, among other marine life.
Exploring the underwater world of the Bay area in California through snorkeling is an adventure worth undertaking. While it's true that the bay may not have the same reputation for snorkeling as other parts of California, it presents its own unique charm and surprises. Despite the challenges of limited visibility and muddy bottoms, snorkelers can still encounter captivating marine life, such as the graceful leopard shark gliding effortlessly through the water. Admittedly, the currents can be challenging in some areas, but they also add an element of excitement and thrill to the experience.
One of the highlights of snorkeling in the Bay area is the opportunity to appreciate the smaller marine creatures that often go unnoticed. From vibrant nudibranchs to the iconic Garibaldi, the state fish of California, there is an array of fascinating species to admire. The chance to encounter playful sea lions, adorable otters, and unique rockfish adds to the excitement of exploring the underwater world of the bay.
Snorkeling in the Bay area also offers a sense of discovery and exploration. As you immerse yourself in the water, you'll be transported to a world that is often unseen from the surface, with surprises lurking around every corner. It's a chance to connect with nature, gain a deeper understanding of the marine ecosystem, and appreciate the resilience of marine life in adapting to different conditions.
So, if you're looking for a snorkeling adventure that is unique and off the beaten path, the Bay area is worth exploring. While it may have its challenges, the opportunity to uncover the hidden treasures beneath the surface is truly rewarding. With an open mind and a spirit of curiosity, you can create unforgettable memories and gain a newfound appreciation for the wonders of the ocean. Snorkeling in the Bay area is an invitation to embark on a thrilling underwater journey, brimming with surprises and awe-inspiring encounters.
Snorkeling California: Dive In
So, whether you're seeking to swim with the sharks, engage some octopi, go upstream with the salmon, smile at a sea lion, navigate underwater mountains, or plunge into a tide pool, California's coasts, rivers, and lakes have a plethora of exciting options for all of your snorkeling adventures!
We are sorry that this post was not useful for you!
Let us improve this post!
Tell us how we can improve this post?