The waters off the Costa Rica coast are clear enough for a snorkeler to see anywhere from 30 – 100 feet from them, opening up a world of magnificent beauty and awe-inspiring sea life. From whale sharks to dolphins, sea turtles, and humpback whales, to the beautiful coral flounces of the Caribbean Sea floor, there are limitless wonders to explore off the coast of paradise bordering on the Pacific Ocean and the Caribbean Sea.
With the two coasts having diverse ecosystems, you will see different fish species and wonders of the underwater world in both places. While one Pacific Oceanside has rocky features and the Caribbean Sea has fringed and colorful coral, it boasts many breathtaking places that count as some of the most beautiful snorkeling spots in the world, and below are some of the best snorkeling spots in Costa Rica for you to explore.
Costa Rica is a tropical wonderland with many wondrous adventures awaiting you. From deeper dives to a beginner's shallow, the Pacific Ocean and the Caribbean Sea beckon you to frolic in the depth of their waters and experience first hand the wonders of the tropical coast. Be sure to leave what you think you will find on the beach because your expectations will be blown out of the water. We've listed the 13 best snorkeling spots in Costa Rica, so be sure to have your camera ready.
13 Best Snorkeling Spots in Costa Rica
Here are the best places to snorkel in Costa Rica, if you could need some inspiration regarding "Where to snorkel in Costa Rica?"
1. Best place to snorkel in Costa Rica: Gandoca Manzanillo Wildlife Refuge – Southern Caribbean Coast
Off the Southern Caribbean Coast of Costa Rica is the Gandoca Manzanillo Wildlife Refuge. It is considered to be the most beautiful spot for snorkeling or diving experiences. This amazing wonder of the world is host to a great deal of marine life, including sea turtles, manatees, dolphins, and even crocodiles. Several other wondrous creatures lie in wait to be discovered, as rock formations and underwater crevices are filled with discoveries lying in wait.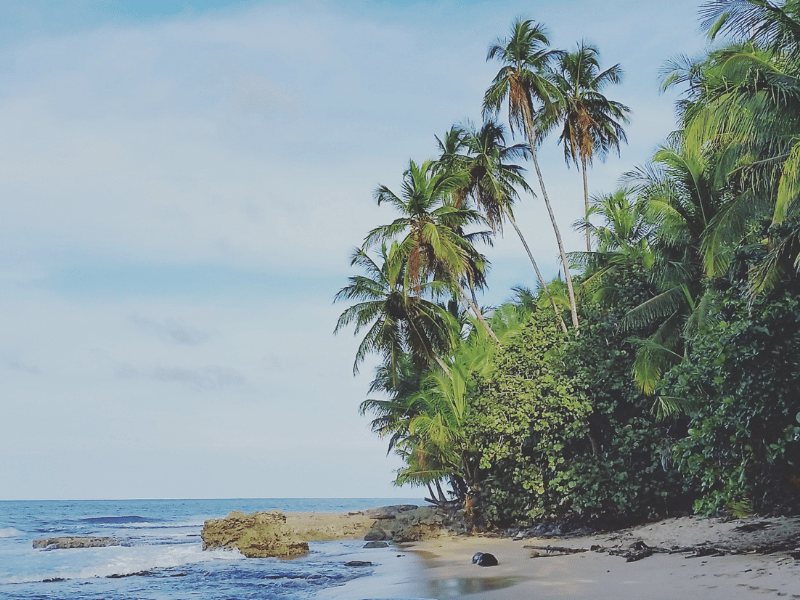 2. Costa Rica snorkeling from shore: Cahuita National Park – Southern Caribbean Coast
Cahuita National Park has the biggest live coral reef with more than 35 different species of coral. This park rests on the edge of a 5.6-mile trail that hugs the shoreline of the waters. One of the best snorkeling spots is Punta Cahuita, about 2.35 miles along the trail.
This park not only boasts several exotic marine creatures, but the park itself is home to sloths, vipers, crocodiles, leaf lizards, and dozens of others to meet and get to know about.
(Looking for adventurous snorkeling locations in the Caribbean? Try reading; Best Snorkeling Destinations In The Caribbean)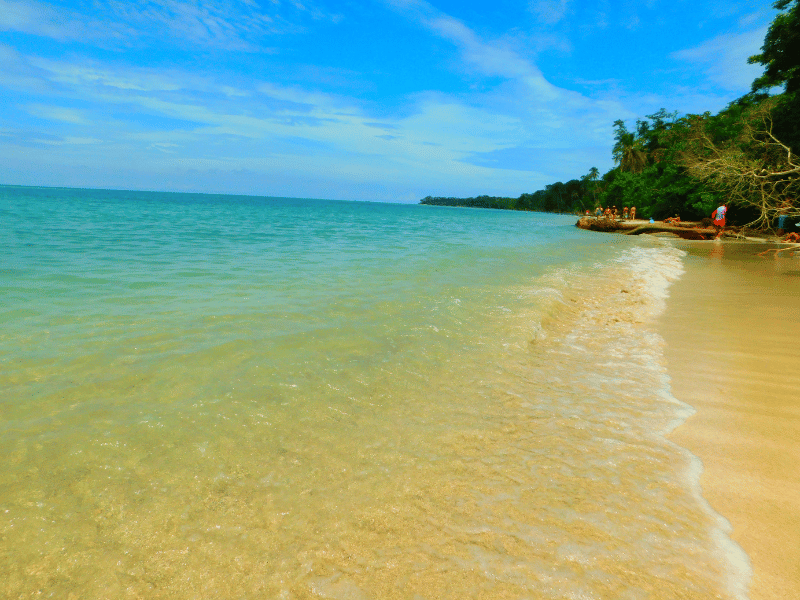 3. El Bajo del Diablo – Cano Island
Devil's Rock is just over one mile off the shore of Cano Island. The enormous rock is full of valleys and pinnacles where you can dive into finding various species of manta rays, shark species, and several tropical fish of brilliant colors that can be seen hiding between and jutting out from the rocks. Don't let the name scare you away, as this is one of the most serene and life-changing snorkeling experiences you will ever have.
Also absolutely Magnificent for Snorkeling:
Best Snorkeling in Cancun: 10 Spots To Visit This Summer
4. Cano Island Biological Reserve – Osa Peninsula
There are many beautiful spots for scuba divers to explore around the Osa Peninsula, but go deeper in the water's depth to find a truly breathtaking realm. The Pacific Ocean's clear waters offer a clear view of marine life for up to 100 feet beyond you.
You could see white tip sharks and bull sharks, spotted dolphins, barracudas, eels, and schools of tropical fish in the hundreds that will be more than your eyes can take in. A rainforest is ready to be explored along with the marine refuge and critters such as snakes, frogs, lizards, opossums, pacas, and a few others, but you need to keep your eyes out as they tend to be shy.
5. Cueva del Tiburón – Cano Island
If you are not a seasoned diver and want something appropriate for all levels, this snorkeling spot is for you. Here you will find all kinds of underwater fish and other species, including sharks. From the mouth of underwater caves, you can witness white-tip sharks sleeping inside. Due to park regulations (and because most people wouldn't have the nerve), divers are not permitted to enter the cave, but they can watch from a respectful distance.
Underwater rock formations, coral, and tropical fish such as pufferfish, goatfish, and even large rays on occasion, are all a wondrous sight for any diver that is fortunate enough to explore here.
6. The Coral Gardens – Southside Similan Island
If you are looking forward to exploring coral reefs and finding all the tiny species among them, this is the ultimate diving location. This is a shallow dive that most everyone can enjoy as they explore the beautiful underwater coral reefs and their inhabitants, such as parrotfish, porcupine fish, damselfish, and you might even be lucky enough to catch a glimpse of the eight-legged wonder of the waters; an octopus.
Visit this underwater haven and get a glimpse of what it would be like to see a rainbow in the water.
7. Paraiso – Cano Island
As the name implies, this underwater paradise is home to some of the most interesting species that exist. This formation made of volcanic lava is home to the infamous barracuda that goes on a hunt for tropical fish that congregate in schools; easy pray or brilliant defense? You get to see the live-action for yourself if you choose this diving spot on Cano Island, should you be bold enough to accept the near 65 foot dive. Paraiso is truly one of the most sought after dive spots in Costa Rica.
8. Catalina Islands for Diving or Snorkeling – Guanacaste
Snorkelers flock to the Catalina Islands in the Pacific Ocean to explore the giant volcanic rock formation. This area is called home by many wondrous ocean creatures, both cute and feared, including turtles, octopus, moray eels, seahorses, eagle rays, white tip reef sharks, etc. The serene waters and ocean life is what make the Catalina Islands one of the best snorkeling spots in Costa Rica.
9. Playa Ocotal – Guanacaste
Near Playas del Coco, Playa Ocotal is a sand beach and a top-rated destination for snorkeling in the area. Stick to the rocks, and you can see butterflyfish, porcupinefish, angelfish, and a slew of other fish species that are indigenous to the Eastern Pacific region. Keep your eye out for playful dolphins and serene sea turtles.
10. Best Snorkeling Costa Rica: Gulf of Papagayo for Snorkeling – Guanacaste
In the province of Guanacaste, the Gulf of Papagayo is the wondrous snorkeling adventure that awaits you. This beautiful peninsula is known for its calm waters due to the protective inlets and bays. There are hundreds of wildlife species in this tropical paradise that awaits you for a once in a lifetime adventure.
11. Best Snorkeling Costa Rica: Marino Ballena National Park
Along the South Pacific Coast of Costa Rica, Marino Ballena National Park is home to some of the world's most beautiful scenic trails and marine life. The park is a rainforest, so there is no limit to the beauty that you will see by taking a stroll through the landscape, along with the opportunity to run into cute critters such as squirrel monkeys, sloths, raccoons, and even the odd ocelot will make a meandering appearance.
If that wasn't enough to visit this wonder-filled heaven on Earth, there are humpback whales, false orcas, and pilot whales, to name a few of the marine animals that you could see. There are sea turtles, dolphins, and numerous other underwater delights waiting to see who is peering at them through a snorkel.
12. Best Snorkeling Costa Rica: Gulfo Dulce for Snorkeling – Osa Peninsula
If you love adventure on land as much as in the water, then the Gulfo Dulce at the Osa Peninsula is the perfect place for you. As this is the home of the Spinner Dolphin, you may get an impromptu show as the aquatic clowns of the ocean love to come and say hi. The coral reefs off the coast are home to several wondrous creatures that would take repeated visits to see them all. So take your time and enjoy the serenity and calm of the coral's brilliance and color.
13. Marenco Rock
Covered in bending black corals, Marenco Rock's area is home to snappers and grunts, and crustaceans such as the lobster, stalking the marine floor for a snack. You never know what other species of large fish will come to visit as this is also home to enormous amounts of plankton, teasing the larger fish to get dinner.
(You might also be interested in exploring more Incredible Snorkeling Spots In Central America)
Costa Rica Best Snorkeling Place: Snorkel Safely
While your snorkeling adventure should be nothing but thrilling, you are entering a vast world that has certain dangers, so you need to be prepared. Looking into acquiring travel insurance is a must if you end up needing emergency care, and following the basic snorkeling protocol and traveling in a group will help ensure your safety.
Check the beaches and shorelines for any restrictions, limitations, or warnings posted and heed their advice. Once you're all set, have fun enjoying the 13 best snorkeling spots in Costa Rica.
We are sorry that this post was not useful for you!
Let us improve this post!
Tell us how we can improve this post?