What do you picture when somebody says, "pontoon boat?" Perhaps a party on the lake or people sunbathing on the deck as the pontoon boat floats on the river come to mind. These recreational crafts certainly offer plenty of opportunities to relax, but in recent years another type of pontoon boat exploded on the fishing scene.
Inflatable pontoon boats enhance an angler's experience. They are portable, affordable, and easy to maneuver on almost any body of water. Many come with a variety of accessories and storage options.
We decided to tackle the challenge of finding the best inflatable pontoon boats for 2023. It wasn't easy, but we managed to compile a complete buyer's guide that includes a roundup of top products, a thorough breakdown of key topics, and a list of FAQs.
By the end of this guide, you should have all of the information you need to choose the best option for you. Let's get to it!
You might also be interested in reading about Best Inflatable Rigid Boats or a "4 Person Inflatable Boat". Both make great alternatives for the Best Inflatable Pontoon Boats.
Product Table
The Best Inflatable Pontoon Boats Reviews (Top Picks)
Let's start with reviews of some of our favorite inflatable pontoon boats. We couldn't pick an absolute favorite because they all have unique qualities that make them better in different situations. So, in no particular order, here are our top eight selections for the best inflatable pontoon boats of the year.
Best Inflatable Pontoon Boats with Motor Mount
Best inflatable pontoon boat for fishing and fly fishing: This inflatable pontoon boat has a lot to offer avid anglers. Capable of carrying two people and their gear, the Sea Eagle 375C has a full fabric floor, swivel seats, and a motor, so you don't have to paddle everywhere. 
The patented folding system makes for compact storage, so your craft fits in the trunk of a car. Additionally, you can mix and match accessories to customize your pontoon boat for maximum satisfaction.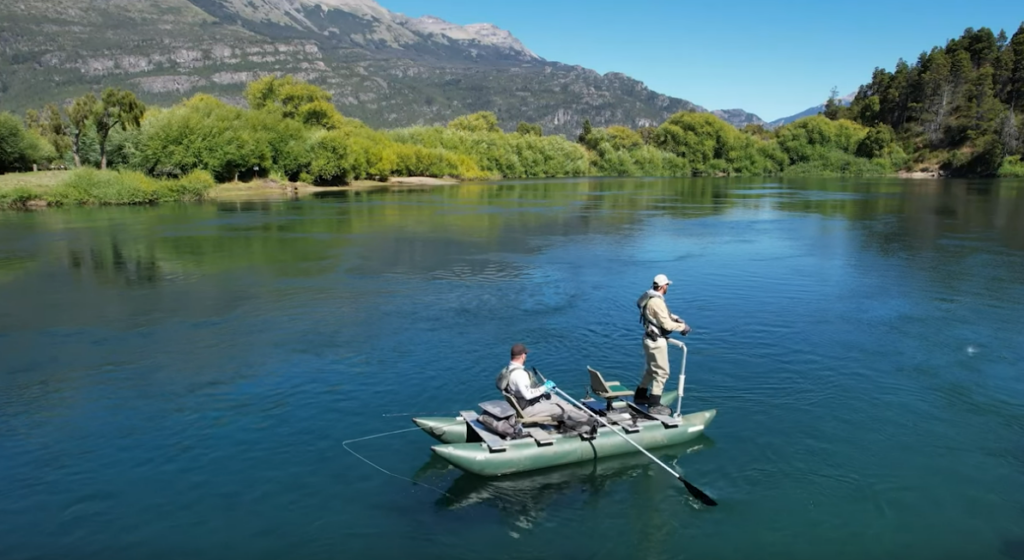 Specifications:
Weight: 75 pounds
Dimensions: 12'4" x 4'6"
Maximum weight capacity: 650 pounds
Engine: 3 hp gas or 70 pounds thrust electric motor
Pros:
Large and sturdy enough to carry two adults or up to 650 pounds
It's easy to breakdown and transport using the included carry bag.
You can select attachments and accessories to enhance your experience.
Choose between using the oars, an electric trolling motor, or small outboard.
Cons:
It's a bit on the heavy side if you want to use it alone.
It may be challenging for a solo angler to navigate
Classic Accessories Colorado XT Pontoon Boat
Colorado XT assembled size 108"L x 56"W x 28"H (to top of seat), Weight: 77 lbs.
Two-year limited warranty
Heavy-duty pontoon boat with abrasion-resistant PVC bottom, tough nylon top, powder-coated steel tube frame, bronze oar locks, cold and heat-resistant bladders and rugged 7-foot two-piece aluminum oars
The biggest perks for the Colorado XT are durability and your opportunity to customize the craft. It's made to resist punctures and tears. You also get a selection of pockets and bags that you can arrange as you see fit.
The anchor system, adjustable rod holders, adjustable footrests, and detachable foam fly patches are also helpful features. You can even choose between two different colors – orange or a sage and gray combination.
Specifications:
Weight: 68 pounds
Dimensions: 4' by 8'
Maximum weight capacity: 400 pounds
Engine: not included, but has a motor mount
Pros:
There is a lot of storage, including wire rear storage and battery platform plus a two-position motor mount for trolling.
It comes with removable gear bags, pockets, and drink holders so you can customize the function, look, and feel of your craft.
Folds down to fit into a convenient carrying case (included).
It comes with a 2-year warranty.
Cons:
The regular seat could use some work because it slides a bit and is difficult to adjust.
You have to purchase the trolling motor separately, and the company offers no suggestions about which type or size is best.
AQUOS Backpack Series 8.8ft Inflatable Pontoon Boat with Guard Bar, Folding Seat and Haswing Bow Mount 12V 20LBS Hand Control Trolling Motor for One Person Bass Fishing, Lure Fishing
The AQUOS FM 8.8ft Inflatable Pontoon Boat weighs 62 lbs (only the boat), it can be separated into several components so that can be packed easily into a car and handled by one or two! You can transport it on a larger boat, in an RV or the trunk of your vehicle to anywhere you want to go. The stainless steel grab bar can provide extra stability and safety, the swivel seat (Height Adjustable between 9.6" and 13") which will make your long boat rides more comfortable.
The maximum weight capacity is 450lbs and aluminum Floor Board Size is 27.5*63 inch, it can meet your different requirements. A few simple additions can turn your Fishme pontoon boat into a unique and fisherman-friendly angling platform. Newly added EVA anti-skid pad not only to prevent slip and fall hazards, but also to provide excellent resistance to cold and heat and will help you to enjoy long hours fishing trip. Kindly stick the EVA anti-skid pad according to your fishing habits.
Haswing Bow Mount 12V 20LBS Hand Control trolling motor can be used in freshwater and saltwater. W20 features Forward / Reverse with high and low speed control; At just 5 LBS it's easily portable and very compact thanks to its collapsible tiller handle (0 to 110 degrees). Depth height is easily adjustable, so you can motor in virtually and depth of water. The 0 and 90 degree of tilting position making it easy to stow and it also features a 3 levels of battery power.
This small but mighty inflatable pontoon boat accommodates one person and whatever gear you need. The materials are heavy-duty, including military-grade PVC for the tubes. Additionally, the three-step set-up process is quick and easy for one person to manage.
Specifications:
Weight: 55 pounds
Dimensions: 8.8' X 54"
Maximum weight capacity: 551 pounds
Engine: not included, though it has a motor mount board
Pros:
It's small enough to fit almost anywhere and easy to transport in the included carry bag.
Set up is a one-man job and takes less than 15 minutes.
Foot straps on the deck allow you to stand without fear of slipping or falling.
Four individual air chambers distribute weight more evenly for better balance on the water.
Cons:
It's small and may be too compact for some anglers.
There aren't multiple color selections, so if you don't like the color, there's not much you can do.
Best Inflatable Pontoon Boats for One-Man
The DAMA may be one of the most versatile inflatable pontoon boats on the list because you can use it to float quietly along a lake or river. It is handmade, not machine-made, and it is extra-light compared to other models.
Specifications:
Weight: 34 pounds
Dimensions: 76" x 39"
Maximum weight capacity: 380 pounds
Engine: none, and no motor mount
Pros:
It has a detachable sunshade for extra protection from the sun.
The chair is inflatable, making it comfortable, but it's also detachable in case you prefer to go without it.
The DAMA comes with an anchor system that can fit on either side of the craft.
Heavy-duty materials include abrasion-resistant PVC and nylon for extra durability.
Cons:
If you prefer the option of using a motor, this is not the pontoon boat for you.
There is no place to put your feet while paddling, they go in the water.
Sale
The compact Togiak provides all of the access without the bulk. It may be small, but it is comfortable and has plenty of storage available for a day on the water. If you're just getting started, the Togiak is an affordable alternative to the larger models.
Specifications:
Weight: 15 pounds
Dimensions: 55.25" x 47"
Maximum weight capacity: 300 pounds
Engine: none, and no motor mount included
Pros:
It's small but roomy enough to seat one person comfortably.
The Togiak has some neat features, including a fish ruler and lash tabs with D-rings for extra storage.
It's easy to pack up and transport.
Comes with a 1-year limited warranty.
Cons:
The size could be problematic for some users, especially with the weight limits and equipment needs.
There's no room for a motor, and it doesn't come with oars, so you have to maneuver with your legs.
What if you don't want to sit because it hinders your ability? Orvis created the Fish Cat to accommodate anglers who prefer standing. While you can sit to row and maneuver your position, you don't have to stay seated to fish.
One person can comfortably assemble and maneuver this pontoon boat. There are two oars, and you can purchase a smaller trolling motor to attach if you wish.
Specifications:
Weight: 68 pounds
Dimensions: 4'8" x 10'
Maximum weight capacity: 450 pounds
Engine: none, but it comes with a motor mount
Pros:
It's a sturdy design with high-quality components, including PVC pontoons and a 12-piece steel frame.
You can sit or stand, depending on your preference.
For an inflatable pontoon boat, this one can withstand rougher waters and works best in larger bodies of water.
It comes with a 5-year warranty, the longest of all of the products on the list.
Cons:
It only comes in blue, so you're not likely to blend in much with your surroundings.
Some people may feel a little cramped in the seat compared to other products.
It's more expensive than a lot of the alternatives.
Another small inflatable pontoon boat, the Wistar, provides anglers with a comfortable experience on the water. There is plenty of storage for fishing gear, and it's easy to maneuver, even in tighter spaces.
The Wistar is lightweight but durable with an aluminum frame and durable nylon tubes. It's easy to disassemble and transport in the carrying bag. You can even fit this pontoon boat into the trunk of a small car.
Specifications:
Weight: 24 pounds
Dimensions: 4' x 4'9"
Maximum weight capacity: 350 pounds
Engine: none, motors not recommended
Pros:
Compact but sturdy design that you can maneuver into tight spaces.
It's easy to transport and handle on your own.
Take advantage of several features usually only found on larger models, like storage compartments, oar holders, and a mesh storage compartment on the seatback.
Includes a 2-year warranty.
Cons:
It cannot accommodate a motor, so if you prefer one, you might want to move on.
You can't use this on fast-moving or rougher waters.
Best Two-Man Pontoon Boat
Outcast Fish Cat 13 Pontoon Boat (200-000328)
This affordably-priced two-person fishing boat has an aluminum frame and PVC pontoons.
Length x Width: 13' x 65"
Its durable materials and design can withstand rugged river conditions.
Though Outcast made their Fish Cat for two anglers, solo fishers can remove the front frame to use it alone. This pontoon boat includes two oars and plenty of space for two people. The front seat is slightly higher than the rear seat, but that dynamic balances the load.
Specifications:
Weight: 170 pounds
Dimensions: 13' x 65"
Maximum weight capacity: 750 pounds
Engine: none, you can purchase a motor mount separately.
Pros:
Large and sturdy enough to carry two adults comfortably
It is sturdy and capable of handling rougher waters.
You can rearrange the setup to fit your needs.
It's made with quality materials including heavy-duty PVC tubes and an 11-piece steel frame.
Cons:
Even if you remove the front frame, it's probably too heavy for one person to transport and assemble it.
You have to purchase an anchor, motor mount, and pump separately.
Inflatable Pontoon Boats – A Buyers Guide
What is a Pontoon Boat?
You may be familiar with the pontoon boats rolling over lakes and rivers toting partiers, fishers, and sunbathers. Pontoon boats are recreational vehicles that consist of flat decks attached to tubes. Some of the high-end, luxury versions have multiple decks and gadgets for almost anything.
Pontoon boats are popular with fishermen, especially for fly fishing. They generally seat one or two anglers and include rod holders and room to attach additional fishing accessories at various places on the boat. Users rely on oars for maneuverability.
The smaller, sleeker pontoon boats are easy to use and convenient for fishing excursions, even on whitewater. There are three basic styles, metal-framed, inflatable (frameless), and float tubes.
Inflatable Pontoon Boats with Metal Frames
Metal-frame pontoon boats consist of a traditional frame with a seat. The frame attaches to two inflatable pontoons. Since the deck is closer to the water than frameless pontoon boats, these crafts appeal to anglers who prefer that closeness. Be wary of carrying to much gear on these because it can throw off the boat's balance.
Frameless Inflatable Pontoon Boats
Frameless pontoon boats can have different types of seats attached to an inflatable base. These crafts cost more than metal-framed alternatives, but they are lighter and easier to transport. Set up and tear down is also easier, especially for solo anglers.
Float Tubes
The misfit of the category, float tubes look and function like inflatable pontoon boats. However, float tubes are just inflatable chairs with storage. Since they work well for fishing, it's impossible to leave them out of the discussion (especially since one made our list).
You can't really maneuver them like an inflatable pontoon boat, but they are cheaper and provide flexibility for those who want to venture away from the shoreline to fish. If you like to be in the water, a float tube may appeal to you. They also allow for lazy floating if you just want a break.
Classifications of Pontoon Boats
Fly fishers can also choose from four basic classes of pontoon boats. The functions and characteristics vary slightly, so before investing, you may want to decide which features matter most to you.
Standard One-Man Pontoon Boats
The most common of the four classes, the standard inflatable pontoon boats hold one man and can usually manage between 250 and 450 pounds. They are easy to assemble and disassemble for transportation and function as a floating platform for fly-fishers.
Two Man Pontoon Boats
While they aren't as easy to transport or set up, they fit two people and handle more weight. The downside is that they are larger and heavier, so you need a trailer to transport them and plenty of room to store them during the winter months.
(You might be interested in reading Best 4 Persons Inflatable Boats or Best 6 Persons Inflatable Boats)
Backpackable Pontoon Boats
Though other pontoon boats are packable, the backpackable versions truly fit in a backpack for convenient transport. They are still inflatable and handle one man plus gear. Some of the higher-end versions have plenty of perks. Unfortunately, they aren't the best option for rough waters or swift currents.
Pontoon Boat-Float Tube Hybrid
Merging the best of two worlds, the hybrids combine packable pontoon boats with float tubes to create a unique experience. They have a lot of cool features and move by kicking your legs instead of paddling.
Benefits of Using an Inflatable Pontoon Boat
Inflatable pontoon boats gained popularity because they have several benefits, primarily for anglers. One person can manage every step of the process, from packing and transport to assembling and maneuvering.
Design features support fly fishing, including special pockets and attachments.
These pontoon boats are portable and can easily fit in the back of a pick-up truck.
Assembly and disassembly is easy because there is no metal frame, just pump the craft with air and take off.
They are lighter but handle more weight than the metal-framed pontoon boats (between fifty and one-hundred pounds).
Inflatable pontoon boats perform better on rougher water than the metal-framed pontoon boats.
Frameless pontoon boats are more versatile than their framed counterparts, so you can do more with them.
Drawbacks
It's easy to understand why the frameless pontoon boats fare so well, but we'd be remiss if we didn't point out a few downfalls. Keep in mind that these may not be drawbacks for some users.
They are more expensive than metal-framed pontoon boats.
While they fare better on rougher waters than the others, they won't work well for whitewater use.
Most inflatable pontoon boats only carry one person.
Inflatable pontoon boats are more versatile than other versions, but they aren't the most comfortable for floating lazily downriver.
Tips for Choosing the Right Pontoon Boat for You
Shopping for a pontoon boat can be confusing because there are so many options. It helps to narrow down the features that are most important to you.
What Type Do You Prefer?
Everybody has personal preferences, but you may want to consider more when choosing the best type of pontoon boat for you. Account for where you'll store it when not in use, how you plan to transport it, and if you can assembly it on your own.
How Do You Want to Use It?
Will you only use the pontoon boat for fishing? Consider how you want to use it and where you plan to use it because both answers can help you determine which type works best for you.
What is Your Level of Experience?
Have you ever used a pontoon boat, or any kind of boat before? The inflatable pontoon boats are not complicated or especially difficult to use, but if you never fished from a boat before, it may be a daunting experience.
Know your limits and do your research before selecting a craft. Read the reviews and consider how much weight and bulk you can comfortably handle, especially if you're new to boating. On the other end of the spectrum, more experienced anglers may prefer a craft with more bells and whistles.
How Much Weight Do You Need to Carry?
You probably know how much you weigh, but what about all of your equipment. Don't forget to account for everything you plan to carry on the pontoon boat. You don't want to overburden your craft.
Don't forget to balance the weight capacity with the weight of the craft. Even if it can accommodate all of your gear, if it's too heavy or cumbersome for you to transport, it may not be the best fit for you.
Are There Special Features You Need?
Rod holders are common, but what else would help make your day on the river that much better? Features like cup holders and special pockets can make a big difference when you're out on the water for a day.
Storage is crucial for anglers, so make sure the pontoon boat can accommodate your supplies.
Do you want a trolling motor? Some products include one while others just have the motor mount.
Are rod holders important to you?
Mind the seat. Frameless pontoons have various seat options, including detachable ones.
Does it come with a carrying bag to protect the craft when disassembled? You may want the extra peace of mind, especially for offseason storage.
Hand pumps are helpful but not necessarily a standard addition to every inflatable pontoon boat.
An anchor or anchor system is necessary, but not every pontoon boat includes one. Without an anchor, you won't stay in one place for very long.
When it comes to features and accessories, you may want to pay special attention to pricing. Not every product comes with every feature as a standard. Factor in the added costs of purchasing the accessories you need (and want) to use your craft.
Is there a Warranty?
There is plenty of variety on our list, so make sure you know what you're getting into before making a purchase. You may want to ask what the warranty covers.
Maintaining Your Pontoon Boat
Your inflatable pontoon boat is an investment, and you want it to last. To make the most of your craft, you need to care for it properly.
Apply a 303 protectant spray to prevent breakdown from exposure to UV rays.
Keep your craft clean. Dirt, grime, and saltwater can breakdown the material over time. Warm water and a mild soap usually work well.
Avoid sharp terrain and excessive dragging.
Monitor air pressure, especially if you keep your craft inflated even when it's not in use. Temperature fluctuations can cause changes in the internal air pressure of the pontoons.
When in doubt, double-check with the manufacturer.
How to Store Your Inflatable Pontoon Boat
Unless you live somewhere you can use your pontoon boat all year, you need to know how to store it properly. Taking a few extra steps before packing up your inflatable pontoon boat helps prolong its life.
Clean your craft and make sure it is completely dry. Dirty and damp pontoon boats attract bugs and mold.
Deflate the pontoon boat for easier storage.
Choose a storage space that is dry, dark, and off the floor. You don't want to pull your craft out to find a nest of critters or damage from exposure to sunlight or the elements.
Safety Tips
Inflatable pontoon boats are generally safe, as long as you use them as advised. They aren't the best option for open water, like the ocean, or rapids, but they are stable crafts. Before setting out, make sure you're prepared for your excursion.
Don't forget your personal flotation vest because more than 300 people die each year in boating-related accidents. Visit our website for an interactive resource for U.S. drowning statistics and worldwide drowning statistics and drowning prevention.
Pack an emergency kit with a patch repair kit, first aid kit, and a knife. It may sound silly, but punctures and tears can happen to your or craft, and a sturdy knife can get you out of snags.
Hand pumps are helpful tools to keep with you, especially if you do have to repair your craft. It will need air too!
Always carry oars with you, even if you prefer using a motor.
Mind the weight capacities suggested by the manufacturer because overburdened or unbalanced boats can be dangerous.
Tips for Using Your Pontoon Boat the Right Way
It's easy to lose yourself in the excitement of getting out on the water, but before hopping on your inflatable pontoon boat, make sure you're prepared to take off. After all, it never hurts to double-check before setting off, right?
Look over your pontoon boat for any signs of wear or damage. It's better to patch up before you get started than to notice your losing air in the middle of a lake.
Assess your path to the waterfront. Are there any patches of rough terrain or debris? If you can't carry your pontoon boat to the water, you may need a dolly or trailer to get it there safely.
Make sure you have a good repair kit with you at all times. If your pontoon boat didn't come with a kit, you can purchase one or make your own.
Keep a hand pump with you, just in case. If you experience a tear, puncture, or leak and need to make a repair, you also need to refill the affected tube.
Best Inflatable Pontoon Boats Comparison Chart
| Product Name | Price | Size in CM (LxW) | Weight capacity (Pounds) | Distinct Features |
| --- | --- | --- | --- | --- |
| Sea Eagle 375C Inflatable Fold Cat Fishing Boat | $$$ | 377x140 | 650 | 3hp gas or 70 pounds thrust electric motor |
| Classic Accessories Colorado XT Inflatable Pontoon Boat | $$$ | 274x142 | 400 | Removable gear bags provide, motor mount |
| AQUOS Heavy-Duty Inflatable Pontoon Boat | $$$ | 365x121 | 551 | Stability and balance, facilitate fish landings, easy, and less stressful |
| DAMA Inflatable Pontoon Boat | $$$ | 170x76 | 380 | Heavy-duty pontoons with abrasion-resistant PVC bottoms |
| Classic Accessories Togiak Inflatable Pontoon Boat | $$ | 140x119 | 300 | Rear mesh storage platform and horizontal rod holder |
| Orvis Fish Cat Stand-Up Inflatable Pontoon Boat | $$$ | 142x304 | 450 | 5-year warranty, the longest of all other products |
| Wistar Inflatable Pontoon Boat | $$$ | 144x35 | 350 | Mesh storage compartment on seat back, easily maneuverable with fins on feet |
| Outcast Fish Cat 13 Pontoon Boat | $$$ | 396x165 | 750 | Durable materials and design withstand rugged river conditions |
A Few Thoughts on Choosing an Inflatable Pontoon Boat
Inflatable pontoon boats can enhance your fishing experience by providing comfort and access to more fishing spots. They are convenient and affordable alternatives to larger boats. Even if you like to fish with others, you can each have your craft customized to your preferences.
Frequently Asked Questions
In case we didn't answer all of your questions about inflatable pontoon boats, we assembled a few FAQs that might sate your curiosity.
Is an inflatable pontoon worth it?
Only you can answer this question, but many anglers and outdoorsy folks embrace the inflatable pontoons for a good reason. They are portable, durable, and inexpensive compared to alternatives.
A frameless pontoon boat allows you to access new fishing spots and explore waterways differently. If you long to fish in the middle of a lake, but hate the weight and bulk of a boat, an inflatable pontoon is a viable alternative. The seats provide comfort, and they have several other features to enhance your experience.
Can inflatable pontoons go in the ocean?
There are two issues to address with this question. First, going into open water with currents and tides can be problematic. Second, saltwater can affect your pontoon.
Navigating Open Waters
To address this issue, it's necessary to understand the different classifications of rapids. The lowest level, Class A, refers to still waters with no notable movements. After still waters, like a lake, the classes progress from one up to six. Class I is smooth sailing with little movement and the scale extends to Class VI, the most difficult courses.
Most inflatable pontoon boats note that they can handle Class I or Class II conditions. Some can manage Class III or Class IV if the operator is experienced and comfortable with the craft. What does that mean for ocean use?
A lot depends on how rough the ocean is at the time. Rough currents can make it extremely difficult to navigate with a smaller vessel. There is always a danger when taking to open waters because several issues can arise.
Storms roll in without much notice.
Other boats, especially larger ones, leave wakes that can throw you off course.
Rough water and waves can disrupt your navigation.
The Effect of Saltwater
Salt affects every type of boat, including pontoon boats, which weren't designed for saltwater use. If you want to use your inflatable pontoon boat in saltwater, take extra steps to prepare it ahead of time. Make sure your trolling motor can accommodate the saltwater as well.
Note: double check your warranty because some manufacturers don't cover saltwater damage.
What is the smallest pontoon you can buy?
Mini pontoon boats are the smallest options available. They accommodate one or two people and have narrower bases than the classic versions of the popular recreational craft.
Inflatable pontoon boats fall under the mini class and allow you to enjoy the feel of floating over water without the size and bulk. They are excellent for fishing and exploration excursions over smaller, calmer bodies of water, like lakes and rivers.
We are sorry that this post was not useful for you!
Let us improve this post!
Tell us how we can improve this post?
Last update on 2023-09-23 / Affiliate links / Images from Amazon Product Advertising API