Are you planning on going for a fishing excursion or a recreational trip on a lake with friends or family? You should consider investing in a 6 person inflatable boat. Apart from being inexpensive, inflatable boats are simple to assemble, durable, and easy to maintain.
❤️ What we love about this product:
This craft has it all:

- Nice aluminum floorboards and seats
- Uses thick material with double layer on the bottom
- The boat is amazingly sturdy
- Great for the money
- Strong resistant Material
- Fits 6 persons
Best Inflatable Boat for 6 persons
❤️ What we love about this product:
This craft has it all:

- Nice aluminum floorboards and seats
- Uses thick material with double layer on the bottom
- The boat is amazingly sturdy
❤️ What we love about this product:
- Great for the money
- Strong resistant Material
- Fits 6 persons
In this detailed review, we list some of the best 6-person inflatable boats in the market. We also give you some tips on what to look for when shopping, including comprehensive 6 person inflatable raft reviews, and guide you on how to take care of your inflatable raft. If you plan to use your inflatable boat on a river, you can also check out the 10 Best inflatable river rafts, which have a harder shell to withstand the harsh environment with stones and flotsam on the river. If you fancy something smaller might be interested in these Best 4 Person Inflatable Boats.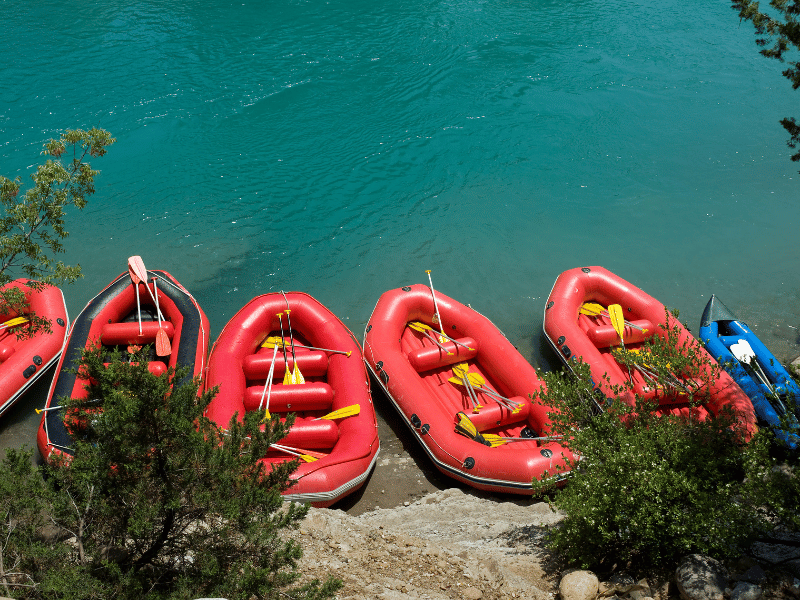 The Best 6 Person Inflatable Boats
Here are some of the best 6-person inflatable boats, in no particular order.
Sale
The Airhead Angler Bay 6-Person Inflatable boat is an excellent choice for anyone looking to bring their friends or family on a fishing trip. The inflatable boat weighs 900 pounds and measures140 x 66.5 inches, which makes it lightweight.
It has 32-gauge vinyl that is fitted with electronically welded seams to promote durability. You'll love its handling as the boat has an external and an internal grab line. The four drain valves remove any water from the boat. However, this is unlikely as the boat has high sides that don't allow water inside.
Angling lovers will find this inflatable boar convenient as it comes with molded drink holders, two-rod holders, and swiveling oar-locks. The boat is compatible with the Airhead trolling motor transom, made from metal arms and Marine grade hardwood. As a 6-person inflatable boat with motor it upgrades your fishing capabilities.
Another fantastic feature is that you can install a canopy for shade. Also, you can install another floor as it allows you to stand up as you fish.
Pros
Comes with rod and drink holders
Internal and external grab line for convenience and stability
Durable construction with RF welded seams and 32-gauge vinyl
It's compatible with an Airhead trolling motor transom
Cons
Some people found it too small for six adults
(You might be looking for Best Inflatable Islands if you love to enjoy with maximum people)
Sevylor Fish Hunter Inflatable 6-Person Boat
2 tunnel chambers add lateral stability on the water
2 inflatable seats, 2 fishing rod holders, chafing pads, and gear bag
4 swivel oarlocks; works with outboard motors up to 3 hp
The Sevylor Inflatable 6-person boat is the largest in the company's boat series. Apart from being cheaper than most, the inflatable raft is highly rated for its portability and stability. Its 32-gauge PVC material is thick to resist tears and punctures.
Moreover, it can handle a 3HP motor. Previous users had success in installing small gas and electric motors. Accessories like the stern and bow fittings are included as part of the package. The battery pouch is an extra addition.
As a fishing enthusiast, you'll love the two-rod holders, two inflatable seats, chafing pads, and the gear bag. There are also two tunnel chambers, four drain plugs, swiveling oarlocks, and two carry handles.
Sevylor inflatable 6-person boat comes with a 90-day warranty and a weight capacity of 1200 pounds.
However, some people who bought it found that it could only accommodate four adults as opposed to the six persons as advertised. Overall, the Sevylor inflatable boat is a quality and versatile boat.
Pros
Has a rugged durable and sturdy construction
Versatile
Fitted with extra features
Simple to inflate and deflate
Cons
May be expensive for those on a budget
Sale
Solstice Voyager 6-Person Inflatable Fishing Boat with Dual Swivel Oar Locks and Rod -Holder, Motor Compatibl
DESIGNED FOR COMFORT: The Voyager's spacious design paired with dual inflatable cushions create a comfortable boating experience. Recommended Persons: 6
BUILT FOR STABILITY: The Voyager sports a 4 Chamber, double hull construction for added stability. Heavy-Duty 20 Gauge PVC designed to last many seasons to come
PORTABILITY & STORAGE: Designed with Solstice inflatable Technology, the Voyager deflates and folds in minutes. Its lightweight (25 lbs), minimal design makes it incredibly easy to bring with you and store
If you're looking for an inflatable 6-person raft, you should consider getting the Solstice Voyager boat. The raft can sit three adults and three kids.
Find four chambers inflated through Boston valves, something which keeps you intact in case the boat gets punctured while you're in the water. Its PVC material is fragile, which means you have to be careful when laying it down.
You can also fit the bigger model with a motor mount. There are swiveling oarlocks that make paddling easier. Given the fact that this boat accommodates six persons, that's an excellent addition.
Find a fishing rod holder on the boat. Although the Solstice 6-person boat isn't designed for fishing, it's nice to have this addition if you're bringing a child who loves fishing along. The inflatable boat also has inflatable seats but lacks an air pump or paddles.
Another disadvantage is that the boat can't sit six adults comfortably, but it will fit three adults and their kids.
Pros
Comes with four air chambers, swiveling oar locks, and fishing rod holder
Allows you to fit a motor mount
Has inflatable seats
Perfect for those on a budget
Cons
Doesn't come with a pump or oars
The PVC material isn't durable
BRIS 1.2mm PVC 12.5 ft Inflatable Boat Inflatable Fish Hunter & Person Inflatable Raft Boat
30 Days money back guarantee. All of our boats come with 3 year manufacturer warranty. Guarantee begins when product is delivered.
Premium Quality Materials : BRIS this model is made by 2,000 Dtex 1.2mm PVC fabric with polyester support, having excellent resistance to tearing, tension and breaking . It is a much more heavy-duty PVC fabric than 1100 Dtex 0.9mm PVC boats .
All seams are HEAT WELDED for perfect seaming and guaranteed to last in fresh water, salt water and extreme humidity. Most seams are quadruple overlap for maximum strength and durability and will not fall apart .
The BRIS 1.2mm PVC inflatable boat comes with a thick PVC fabric, and it can support a maximum of six people. Whether you are a scuba diver, fish hunter, or a rafting enthusiast, you will love this inflatable boat.
Apart from the PVC fabric, this boat also adds polyester, which leads to resistance to tearing, breaking, and tension. You don't have to worry about the seams coming apart as they are heat welded to ensure durability in humid conditions.
Moreover, the seams have a quadruple overlap that translates into added sturdiness and durability. Unlike other boats, the BRIS inflatable boat has an aluminum floorboard to keep you stable.
Find integrated oarlocks for seamless rowing. The company uses Halkey-Roberts valves on the boat. Note that you'll need the right adapter if you have your foot pomp.
When it comes to design, the boat has an aggressive yet edgy look. It shows you that it's been built to speed through waters. Another aspect is the dual locket-like front design that is unique from other boats with a rounded design.
It has a black color that gives it that sleek look. However, the color can make the boat too hot under the direct sun, and the air insight might expand more.
The boat can handle engines of up to 25hp. Find a V-Keel for simple planning and maneuverability. On the sides of a boat is a grab-line and handles that you can grab and push the boat to the land.
When it comes to safety, Bris fits this boat with durable marine plywood outboard motor transom. Underneath the tubes are two layers of fabric to keep the lower tube protected from sharp rocks and abrasive sands.
You don't have to deal with trouble treading when handling harsh waters thanks to the grab lines. Other safety aspects include a single-path drain valve with a plug and three individual chambers.
The Bris 1.2 mm inflatable Boat is simple to assemble, and you can do it by following the instructions. The manufacturer also includes some accessories like a foot pump, repair kit, PVC hull, two aluminum bench seats, two aluminum oars, aluminum floor panels, and a carrying bag. You also get a 3-year warranty against manufacturer's defects. That doesn't include regular wear and tear.
An enthisastic customer uploaded this video of the 6 person inflatable raft from Bris on Amazon:
Pros
Comes with an array of accessories
Has a modern design
Sturdy and durable PVC material
Versatile
Cons
A Solid aluminum floor takes longer to set up.
Sea Eagle PF7K PackFish Inflatable Boat Deluxe Fishing Package
Deluxe Package Includes: PF7 Hull, Backpack, DKS Seat, A42 Foot Pump, AB254 Oar Set, Small Repair Kit
Load capacity: 1 person or 225 lbs - total max load capacity: 300 lbs. With gear
2-chamber bladder of 30 mil Polykrylar, 840D Nylon Protective Cover with overlapped and double-stitched seams. Two, deluxe, one-way inflation valves
The Sea Eagle 126SRK-D 6 person inflatable raft is a perfect choice for those looking for roomy space. It accommodates six persons, but it's portable enough to allow you to pack it under a deck, in the trunk of a small vehicle, and an RV.
It has a weight limit capacity of 1600 pounds and is fitted with a 20hp motor for maximum performance. The boat's lightweight to size ratio is useful, something which increases stow ability and lowers the overall hull weight.
The inflatable boat has rounded rear pontoons for rapid planning. It's also fitted with splash guards on the transom. The 5/8" grab line along the sides promotes safety.
Pros
CE and NMMA certified
Comes with rubbing strake for added protection
Has rounded rear pontoons for rapid planing
Accommodates six adults
Cons
Expensive for those on a budget
Newport Catalina Inflatable Boat - 12ft Marine Wood Floor,White/Gray
Why Newport: The crisp white PVC fabric of a Newport dinghy will earn you regular compliments at the dock, and makes you easy to spot while flying across the water at 15-20mph (depending on model & horsepower). Inflatable tail tubes allow for great stability and quick take offs, while the inflatable keel allows for excellent planing and steering. Very portable and easy to assemble or disassemble in 10-15 minutes,.
Features: Electric trolling motor compatible. 3-20hp Outboard Compatible (depending on model). Air Keel creates a shaped V hull for easy planing and improved steering. Sturdy carrying handles. 3x Stainless steel bow D-rings for towing. D-rings on bow/tail tubes for bimini & accessory attachments (not pictured). Self bailing transom drain valve. Easy grab rope + splash guard around edge limits water spray inside boat,.
Premium quality: Hull made from high quality crisp white PVC fabric w/ UV treatment, .9mm/1100D. Floor made from aluminum framed marine grade coated plywood provides a solid and stable surface for standing, casting, and planing. Seams are HEAT WELDED using the latest technology,.
When we updated the article, we noticed, that this product is currently not available.
The Saturn 6 person inflatable boat or the Saturn SD518 measures 8x 6 x 6 inches. It can accommodate six people, but it allows for four more people if you're looking for less optimized performance.
One impressive aspect is that it has a capacity of 2500 pounds, which gives you ample space for all your gear.
The Saturn inflatable boat is versatile, and you can use it for various occasions. As a hobbyist, you can take it for a crabbing or fishing expedition with friends or family. Professionals can use the inflatable boat for military and coast guard operations.
Its sectional aluminum floor enhances the boat's rigidity and stability. You can also break down the heavy flooring and place it beside the inflatable boat. When combined with rugged PVC material construction, its marine-grade plywood transom provides more protection along the keel and the bottom of the tubes.
The inflatable boat has a sturdiness that can withstand a motor up to 50hp. Fitted with 20 inches diameter tubes, the 6-person inflatable boat remains buoyant.
Saturn also adds three standard air chambers and air-tight flat air valves with pushpin design to ensure safety. You can take this 6 person dinghy into deep or shallow waters, thanks to its inflatable V-keel that comes with a durable rub strake protector. The multiple one-way drain valve regulates water intake.
Pros
Has buoyant 20-inch diameter tubes to keep you afloat
Spacious to accommodate six or more people
You can use it for your private or commercial actives
Portable
Quality and durable build
Cons
6-Person Inflatable Boat Buyer's Guide (Making the Best Purchase)
With the market flooded with different brands offering 6 person inflatable boats, you may find it challenging to pick the right one. Fortunately, we've done all the research on your behalf to help you find a boat that provides value for money.
Here are some timely tips to help you.
Determine the Type of Boating You Will Do
Before rushing to purchase any inflatable raft, you need to consider what type of boating you plan on doing. The market now has inflatable boats, kayaks, and rafts meant for a specific use. You need to decide what activities you'll participate in to find a boat with the specifications and features you need.
If you plan on going for recreational boating, the top boats listed above will work well as they have enough capacity to bring your family or friends along. Most have fishing rod holders and motor mounting capabilities.
When going for river boating, you need to find one with durable material that will withstand any tears when you push it against rocks. You also need to consider the capacity if you plan on carrying a lot of gear.
(You can read the reviews about the Best Inflatable River Rafts)
Fishing is fun, but it requires more space and higher weight capacity as you'll need to carry your fishing gear. An inflatable boat with a motor is an excellent addition, as rowing, a heavy boat, can be challenging.
(You might be interested in reading about the Best Inflatable Fishing Boats)
Although entry-level fishing boats lack a hard floor, you can build one by yourself. A hard floor makes boating simpler and convenient.
(Rigidity is your priority, you should be reading Best Rigid Inflatable Boats)
Whitewater rafting needs specialized inflatable boats as they can withstand sharp waves and rocks.
Decide How Often You Plan to Boat and Choose the Appropriate Material
How long will you use the boat? Knowing this will help you find a boat with sturdy construction and durable material. The most common material used in most inflatable boats is Hypalon, neoprene, PVC vinyl, and polyurethane.
Hypalon: for high end 6 Person Inflatable Rafts
Hypalon is a durable synthetic rubber that is resistant to abrasions, UV rays, mechanical abuse, and chemical spillages. It doesn't deteriorate over time and can withstand high temperatures when it's too cold or too hot. Hypalon also packs into the back of a car quickly.
On the downside, Hypalon needs intensive labor, and it's expensive compared to PVC.
PVC: Standard Material for 6 Person Inflatable Rafts
Many boats have PVC as it's simple to repair, affordable, and it's resistant to abrasion. PVC is compatible with any adhesive. However, when exposed to high temperatures, the glue may break down due to the material's heat reactivating property. PVC also deteriorates over time as it has a lifespan of 8-10 years.
Technology has added some advancements to PVC. Most inflatable boats with PVC material are welded. Also, some manufacturers add polyester as an extra layer for durability.
Manufacturers recommend coating the PVC boat with 303 UV protectant to guard it against harmful UV rays.
Polyurethane: Commercial Grade Material, used for 6 person inflatable boats beyond >3,000 $
A few boats have polyurethane, which is expensive, but sturdy and highly resistant to punctures.
Neoprene has some abrasion resistance and is UV rays resistant. Another advantage is that this material lasts more than PVC.
When looking at the material, you also need to check the decking material and design. You'll find inflatable, non-inflatable, and aluminum options. Aluminum and non-inflatable are excellent options, as they are convenient and durable. You may discover non-inflatable models less comfortable.

Ease of Use and Assembly of 6 Person Inflatable Rafts
You should opt for a simple to assemble inflatable boat. A tool-free assembly is preferred. A few models have self-inflating power, but some require an electric blower to get the job done.
Understand how the boat is inflated and ask how much time it takes to inflate and deflate the boat. Check if the manufacturer includes a manual or automatic pump with your purchase. Don't forget to add the weight of the raft and pump as you'll transport them together.
A few inflatable boats have separate chambers that you'll need to inflate; this provides added security. Having this feature means that you'll be able to get to the shore afloat in the event of chamber punctures.
Determine the Boat's Portability
It's essential to find out how simple or challenging it will be to transport the 6 person inflatable boat. That includes the size of the trunk in your vehicle and the distance you'll need to carry the boat before you start and end your activity.
Some manufacturers include wheeled cases, a bag, or a bag pack type for ease of transportation. Check to see if the boat takes less space when folded. The weight of the boat bag is another critical consideration.
Don't Forget the Balance and Safety
Safety and stability are critical when having fun on the water. Boats with a V hull design offer better balance during your riding.
Remember to concentrate on the type of material when considering safety. Durable and puncture-resistant material keeps you secure on the boat. Inflatable boats with rub-strake protection protect the boat against any damages as you drag it along the shore.
Consider the Storage of your 6 person inflatable boat
You can't afford to ignore storage space in the inflatable boat if you are planning to head out with a couple of friends. You might need to bring some snacks, water, extra clothes, bait, and more.
Find a boat with storage pouches and bins as this will come in handy for all extras that you plan to carry.
Another consideration is deciding where to store a 6 person inflatable boat. The boats are massive. While you can have your bag stored in an inflated manner, you'll save space in your home. If you plan on storing it inflated, ensure that it's in a spacious room and far from sharp items that can puncture it.
Check the Accessories Included
Most budget inflatable boats come with accessories like a carry bag, a set of oars, seats, a pump, lifting points, and a repair kit.
Apart from these features, find out if your desired boat has inflatable keels as they enhance directional stability. Optional fins and tabs improve boat handling. A boat with multiple air chambers come in handy during emergencies. A set of wheels makes portability easier.
Boats with extended tillers enable simpler rides as they help in transferring your weight forward.
Have a Budget in Mind
A 6 person inflatable boat is relatively inexpensive compared to full-bodied 6 person dinghy boat. However, you shouldn't choose the most expensive boat on the list. After reviewing all the above features, it's time to narrow down your options based on your budget. Check what features and accessories are available in a boat that you'd like to purchase.
Inflatable Boat Safety Tips
You need to take some precautions when using an inflatable boat. Here are some safety tips to remember.
Always Perform the Pre-Launch Safety Check
Your safety starts before you get into the water. Check the inflatable boat for any holes or tears. Listen for any air escaping from the valves or tubes and hissing noises.
Avoid Dragging the Boat
You'll quickly damage the boat when you drag it on the ground. Even if a 6 person inflatable raft is heavy, you have to carry the raft in and out of the water. Dragging the raft will damage the material and lead to punctures. If you have to move the inflatable boat around, use launching wheels when dealing with a heavy 6 person dinghy to carry it.
Have a Lifejacket On
Research shows that most boating fatalities are due to drowning. What's more, 90% of the victims didn't have a life jacket. The website has an interactive resource for US drowning statistics, worldwide drowning statistics, and drowning prevention.
If you are bringing kids along, ensure that they have their jackets on throughout. Adults are also advised to wear their life jackets, especially when going for white water rafting.
Watch out For the Weather
The air inside the tube shrinks and expands depending on the temperature. Cold temperatures result in lower air pressure inside. Although that won't make the boat sink, you'll find it less efficient and lead to extra drag in your water.
Direct sunlight causes the air to expand, something which increases the pressure in the inflatable tube, leading to over-inflation. You may need to let some air out to compensate. While over-inflation can't cause the tube to rupture, it can be dangerous.
Bring Some Essentials Along
If you plan to go for a long trip, you need to carry some items on board. These include:
A hand pump is a must-have when you are planning to be far from the base. It could help prevent a safety hazard.
You need to have a repair kit with you as it can help you make quick repairs before you get to the shore.
Other essentials include a phone with extra batteries, a whistle, flashlight, maps, first aid kit, and flares.
Best 6-Person Inflatable Boat Comparison Chart
| Product Name | Price | Size in CMs (LxW) | Weight capacity (Pounds) | Distinct Features |
| --- | --- | --- | --- | --- |
| Airhead Angler Bay 6-Person Inflatable Boat | $$ | 355.5x166.37 | 900 | Internal and external grab line for convenience and stability |
| Sevylor Inflatable 6-Person Boat | $$ | 356x149 | 1200 | Rugged durable and sturdy construction, Versatile |
| Solstice by Swimline Voyager 6-Person Boat | $$ | 337x142 | 1150 | Heavy duty PVC construction, Inflatable seats, swivel oar locks, Boston Valve |
| BRIS 1.2mm PVC Inflatable Boat | $$ | 152.4x91.4 | 1320 | Sturdy and durable PVC material, Versatile |
| Sea Eagle 126SRK-D Inflatable Boat | $$$ | 112x43.18 | 1600 | CE and NMMA certified, rubbing strake for added protection |
| Saturn Dark Gray Inflatable Boat | $ | 518x201 | 2500 | Portable, quality and durable build |
Wrap Up
A 6 person inflatable boat is inexpensive, lightweight, simple to maneuver, versatile, and powerful. Our list above has some of the top-rated 6-person inflatable boats in the market. When making a decision, don't forget to check the frequency of use, ease of assembly, durability, construction material, comfort, decking material, and ease of maintenance. Don't forget to have fun and practice safety.
Need a toy for your Kid? The best inflatable boat for kids are excellent toys for your child to enjoy while they're splashing around in the pool. They feature water guns, funny colors or a clear bottom to watch fish. Be sure to have a look! The best inflatable dinghies on the other hand are great for bountiful fishing trips or a fun trip with friends and family.
We are sorry that this post was not useful for you!
Let us improve this post!
Tell us how we can improve this post?
Last update on 2023-05-29 / Affiliate links / Images from Amazon Product Advertising API