To say that Utah is an outdoor enthusiast's paradise is almost an understatement.
Every year, its rugged mountains, lonely deserts, flowing rivers, and virtually endless network of high-altitude hiking trails draw hordes of spirited visitors eager to explore the vast beauty they find sprawled out before them.
One activity that's especially popular among the more daring is whitewater rafting, which gives participants the unique opportunity to blaze a trail right through the heart of some of the Beehive State's most breathtaking landmarks in the company of family or close friends.
When it comes to watersports, few locales worldwide offer the kind of scenic, high-speed excitement that characterizes the rivers of the American southwest. Here are the top Utah rafting Spots along with a handful of calmer waterways that are worth checking out once you've quenched your thirst for adventure.
Top 6 Top Utah Rafting Runs
1. Cataract Canyon — Colorado River: Exhilirating Whitewater Rafting in Utah
In case the name didn't tip you off (Dictionary.com alternatively defines "cataract" as "a waterfall, especially one of considerable size" and a "furious rush or downpour of water"), Cataract Canyon is one of the most intense and exhilarating whitewater hubs in North America.
The 46-mile canyon, situated in Canyonlands National Park, looms over the Colorado River as it snakes through Southern Utah, beginning as a gentle, meandering stream and gradually revving up to a raging torrent full of spraying foam, steep descents, and monumental boulders.
Of Cataract Canyon's 46 miles, 14 are marked by a series of whiplash rapids rated up to Class V in difficulty. While the hotspots are certainly accessible to less experienced rafters who want to get in on the fun by taking part in one of the area's many guided tours, they're an ideal playground for daredevils and seasoned paddlers who possess a solid technical foundation.
Related posts:
2. Whitewater rafting Utah: Grand Staircase-Escalante National Monument — Escalante River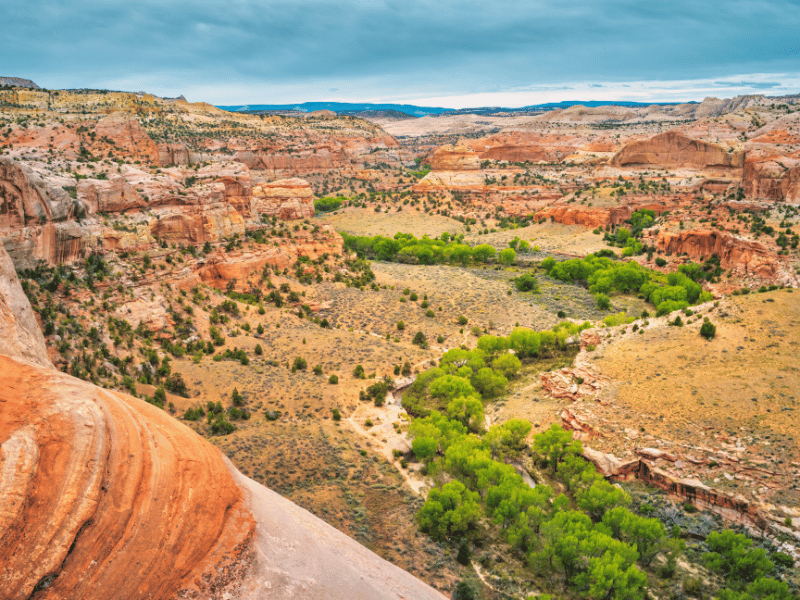 When the Escalante is running full force, it's like a liquid shooting star, appearing for only a brief few weeks in auspicious spring and summer seasons where snowpack runoff and rainfall are abundant before quickly receding back to a shallow, mostly dry stream.
The ephemeral character of this tributary of mighty Colorado is only one of the qualities that makes it arguably the most special waterway in all of Utah. Lying amidst the dreamily desolate backdrop of the high desert, the Grand Staircase-Escalante National Monument portion of the Escalante River is as far removed from the average commercial rafting expedition as you can get. Its awesome vistas and starry night skies are more dazzling than any light show.
Don't let the tranquility of your surroundings fool you, though. The river can get pretty hairy in some sections, especially when the water is high, and is thus a worthy challenge even for skilled boaters.
Note: The Escalante isn't deep enough to provide safe passage for ordinary rafts, even during its biggest swells, so you'll have to use a low-draft inflatable packraft if you want to see it for yourself.
Packraft Escalante River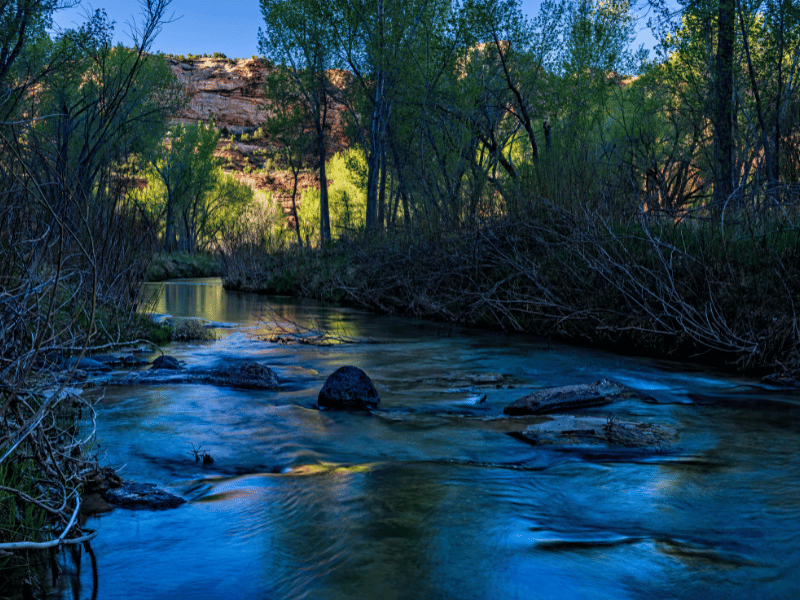 The Escalante River in southern Utah is a true gem for packrafting enthusiasts seeking an adrenaline-pumping adventure on the water! Imagine navigating through stunning canyons, riding thrilling rapids, and soaking in the breathtaking wilderness scenery. This 90-mile stretch from Escalante town to Lake Powell offers a perfect blend of excitement and natural beauty.
As you embark on your packrafting journey down the Escalante River, be prepared for an unforgettable experience. You'll encounter a mix of calm stretches that allow you to take in the awe-inspiring sandstone cliffs and lush vegetation, as well as exciting Class I to Class III rapids that will get your heart racing. It's the perfect combination of thrill and tranquility that makes the Escalante River a bucket-list destination for packrafters.
However, keep in mind that packrafting the Escalante River requires careful planning and preparation. The remote nature of the river, with limited access points and potential hazards like flash floods and quicksand, demands proper packrafting skills, including river navigation and swift water rescue techniques. And let's not forget about Leave No Trace principles, which are crucial to protect the pristine desert ecosystem.
So, gear up, and get ready for an unforgettable adventure on the Escalante River. Whitewater rafting in Utah on a wilderness river run will leave you with memories to cherish for a lifetime!
3. Utah Whitewater Rafting: Westwater Canyon — Colorado River
If you're looking for a trip that doesn't require as much commitment in terms of time or foot travel, look no further than Westwater Canyon.
At a scant 17 miles, it's the shortest outing on this list, but it's definitely not short on thrills.
Westwater Canyon is home to a number of renowned Utah rapids, including crowd-pleasers like Big Hummer, Staircase, and Funnel Falls, as well as the nail-biting Class IV, drop affectionately nicknamed "Skull." Each of these rapids winds its way through smooth-hewn tunnels of black rock carved out by the interminable flow of the ageless river. If you've got the guts, this is the Top Utah Rafting experience for the skilled guys among you.
Though Westwater Canyon is just the right length to run in an afternoon, you also have the option of posting up for the night along its sandy banks with your party if you decide you want to prolong your enjoyment beyond your Whitewater Rafting in Utah.
4. Gates of Lodore — Green River
"The Gates of Lodore" may sound like the setting for a scene in Tolkien's epic Lord of the Rings trilogy, but it's actually the mouth of a much-venerated canyon of the same name transversing Utah's northeastern border with Colorado. Even so, you may get the distinct impression that it's been ripped straight from the pages of a storybook the first time you lay eyes on it.
The Gates of Lodore stands out from other whitewater stops in a big way. Its steep, green-blanketed precipices and ancient atmosphere make it seem like a vision of another world, and in a way, it is indeed one of the lushest and most enchanting areas on the Green River.
Rafting The Gates of Lodor is a part adventure sport, part sightseeing trip. In the process of braving energetic rapids like Hell's Half Mile, Disaster Falls, you'll catch glimpses of elk, bighorn sheep, canyon wren, beaver, and other local wildlife.
5. Desolation Canyon — Green River
Another premier rafting attraction located along the Green River, Desolation Canyon, is not nearly as forbidding as it sounds. Quite the opposite, in fact—its waters are perfectly suited for parties with young children and families looking for a few days of uninterrupted aquatic leisure.
Desolation Canyon encompasses 88 sprightly but not overly demanding or dangerous miles of the Green River. At no point do the rapids here climb above a Class III rating, meaning they're a blast to just sit back and coast through while you soak up the summer sun. There's plenty to feast your eyes on along the way, from towering cottonwoods and careening eagles to the eerily quiet, uninhabited mountains from which the canyon takes its name.
Keep in mind that because of the length and chilled-out pace of this section of the river, the majority of trips through Desolation Canyon take around five days to complete. As such, it may not be your best choice if you're up against a stacked itinerary.
6. Bears Ears National Monument — San Juan River
Bears Ears National Monument in the upper of the San Juan is a place of great natural and cultural significance. In pre-colonial history, it was the home of several proud Native American tribes, including the Pueblo, Navajo, Ute, and Hopi. More recently, it's become the center of a serious debate concerning the increasingly-endangered protected status of indigenous lands within the southeastern United States.
The overwhelming grandeur of the Monument, and of San Juan county in general, is impossible to capture in a short description. In these 201,876 acres (1,351,649 acres prior to December 2023), you'll be treated to such stunning sights as the twin Bears Ears buttes, which rise 8,900 and 9,000 feet from the valley floor, respectively, and the Valley of the Gods a little further out.
If you're not in a hurry, make it a point to disembark long enough to bear witness to the millennia-old cliff dwellings and petroglyphs adorning the stone walls of the nearby hills, where the Pueblo people once made their homes.
(You might also be interested in reading Best White Water Rafting Spots in California)
A Few Top Utah Rafting Spots for Flatwater Deserving of Mention
Not all of the Top Utah Rafting spots are adrenaline-fueled dashes through churning whitewater. There are also countless stillwater stretches that are more than worth the time and energy it takes to get there. Some noteworthy highlights include:
Labyrinth Canyon
Ruby & Horse Thief Canyon
Yampa River
Little Grand Canyon
Little Provo River
Top Utah Rafting: Conclusion
Regardless of whether you're a veteran oarsman or a first-timer in the world of whitewater rafting, you owe it to yourself to experience the rush of navigating Utah's ancient untamed rivers the first chance you get.
Far more than just a fun ride, it's a call to immerse yourself in the natural wonders of one of the country's most unchanged historical preserves. Nowhere else in the world will you find a landscape so austere and yet so inspiring.
Sadly, it may not stay that way much longer, as every year, commercial and industrial development efforts threaten to overtake more and more of America's protected wilderness. But all is not lost—the increased awareness and interest generated by rafting and other forms of adventure tourism go a long way towards ensuring the ongoing protection of these sacred places.
So book your trip, grab your paddle and life vest, and prepare to put in. It's guaranteed to be a ride that you'll never forget.
We are sorry that this post was not useful for you!
Let us improve this post!
Tell us how we can improve this post?