Windsurfing is a uniquely challenging subject to film. Crews are entirely at the mercy of weather conditions for making filming possible, and smaller crews can't always afford indoor sets where they can create the conditions they want. Here are our favorite movies and documentaries about windsurfing, as well as some honorable mentions.
To make this list, films need to feature windsurfing as the primary subject or as a major component of the plot. If we only see a few people windsurfing in the background in one scene, that's not a true windsurfing film.
The Top 10 Windsurfing Movies And Documentaries
Here are our top choices, presented in no particular order.
1. The Windsurfing Movie
Don't let the generic name fool you. This award-winning 2007 windsurfing documentary features Johnny DeCesare's cinematography and was filmed in multiple locations throughout the world to capture footage of many of the best riders in history. In many ways, this is the defining documentary about windsurfing and worth a watch before anything else. It's rated 8,3 stars on IMDB.
That said, this is primarily an informative documentary about the sport, so it doesn't feature the same type of plot as dramas or comedies. That's not a problem, especially for a documentary shot as well as this one, but we believe it's important to know what to expect before you go in for most movies. However, there is one other thing to consider… and that's the sequel.
2. The Windsurfing Movie II
Arguably the only movie that can challenge The Windsurfing Movie as a documentary is its direct sequel. This film follows Levi Siver, one of the world's top windsurfers, over one year. Several other top windsurfers make appearances in the movie.
However, what sets this windsurfing ilm apart is the radical cinematography. Varied angles, including shots from helicopters, the water, and jet skis, all combine to provide a thrilling experience. We recommend watching this movie on the largest screen possible.
3. Meherio (Mermaid)
This short 2018 windsurfing documentary follows Mathilde Zampieri, a Tahitian professional windsurfer, as she shows off the female competitive world of windsurfing. While that's worthwhile on its own, Meherio goes further by showcasing shots set in the French Polynesia area of the South Pacific.
Although only about 37 minutes long, the skillful cinematography highlights the contrast of towering green islands and the rich, sparkling waters below. Meherio also includes some Mathilde's peers' appearances, including fellow professionals Aelan Vaast and Vaimiti Teiefitu.
Like both Windsurfing Movies, Meherio is a film to watch if you want to see the beauty of windsurfing and the areas people visit for the sport.
4. Planet Blow
Planet Blow stands out as a rare fictional film in this category, and therefore earns a spot on this top list almost by default. Set in Paris in 2049, the story follows Sylvain Demercastel as he shows us the coming impacts of climate change and how they're likely to affect sports like windsurfing.
This is a message that's hard not to pay attention to if you're at all interested in participating in windsurfing as a sport. If the world changes, windsurfing spots could shrink or even disappear entirely. The story itself is fiction, but the fundamental premise is arguably more serious than any of the real-life documentaries here.
As a 2011 film, this movie doesn't possess quite the same sharpness and detail as modern films shot in 4K. Graphics do matter when the environment itself is the focus, but Planet Blow still manages to get its point across.
5. The Chicama Way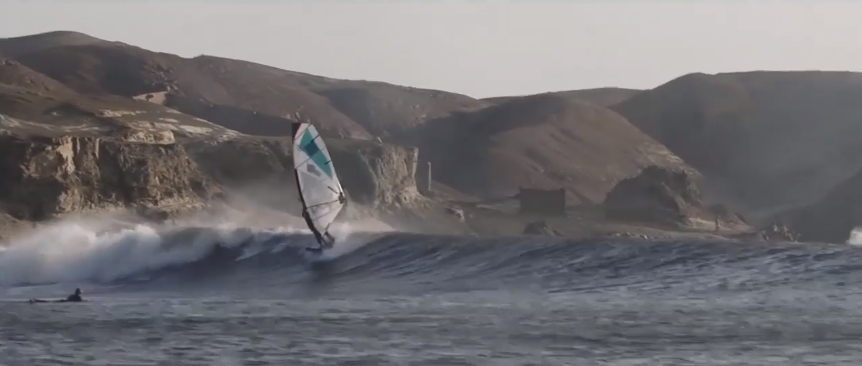 This 2015 documentary follows the story of a challenge from windsurfer Tom Juban to his brother, Camille, an American champion. The initial premise is simple: ride the longest wave ever. However, it soon becomes apparent that completing this challenge will prove to be much harder than initially thought.
The Chicama Way stands out from the other films on this list because of its focus. While many windsurfing documentaries emphasize the beauty of nature and the thrill of the action, The Chicama Way addresses the goal of pursuing new records in a highly competitive sport.
It also addresses a fundamental challenge that windsurfing has: how do you even find things like the longest wave? Windsurfing isn't like a stadium sport where things are fundamentally predictable and records are easy to keep track of. Nevertheless, Camille is a true athlete at heart and isn't going to give up so easily.
6. Don't Let Go
This 2013 documentary features footage captured from 10 different countries over two years. It's a powerful insight for anyone interested in pursuing professional windsurfing as it directly addresses experiences like traveling to remote destinations, competing in world tour events, and struggling to come back after serious injuries.
Don't Let Go is fundamentally an optimistic story that doesn't shy away from looking at the challenging aspects of windsurfing as a sport. That alone makes it a valuable viewing for anyone who's even slightly interested in competitive windsurfing.
The other reason to watch this documentary is the cinematography. Every surfing location is different, and the sheer variety of locations in the background of this documentary help show the rich diversity of destinations you could visit.
Few things are quite as inspiring as seeing what you can accomplish in a sport, so this is easily one of our top recommendations.
7. Wind Legends
Wind Legends is a 2008 windsurfing documentary that focuses on windsurfing stars, going from its early freestyle days to modern performances where athletes focus on speed, racing, and wave performance. As an in-depth look at the history of windsurfing, this is easily one of our top recommendations if you want to learn more about the sport.
What sets this apart is its focus on some of the best athletes in the history of windsurfing and their ability to tell stories and explain more about the sport. There's no substitute for expert input when you're trying to capture the true scope of a story, and Wind Legends doesn't shy away from pursuing the very best.
8. Children Of The Wind
This 2013 windsurfing documentary follows the story of two brothers, Tonky and Taty Frans, and their cousin Kiri as they dive deep into the elitist world of professional windsurfing. The three boys are natives of Bonaire, a small island about 50 miles north of Venezuela.
Born into poor fishing families, the boys began windsurfing early and started studying under Elvis Martinus, founder of one of their island's windsurfing clubs. More than merely competing in the sport, the three boys arguably revolutionized the slowly-declining sport when they burst onto the international scene in 2001.
This documentary stands out for both its honesty and its optimism for the future of windsurfing. The boys started with almost nothing, but through their own determination and a little guidance, they were able to achieve a lot for themselves, their families, their home, and their sport.
It's easy to stay on top when you start with every advantage in the world. As true athletes know, however, obstacles exist to be overcome. In that sense, Children of the Wind is more optimistic about the future of windsurfing than anything else on this list. As long as people love a sport, they'll find ways to continue it.
9. Big Wave
You can see a pattern in the names of movies and documentaries that focus on windsurfing, and this 1984 windsurfing documentary holds true to that choice. However, it's not quite correct to call this a windsurfing documentary. Rather, Big Wave presents a variety of outdoor sports people enjoy on the west coast of the United States, including paragliding, BASE jumping, and more.
This film stands out to us because it provides an outstanding look at how windsurfing compares and contrasts to many other sports. Understanding these differences is key to appreciating windsurfing to the fullest, especially when you're around people participating in other sports.
Although a bit dated now because sports have come a long way since its debut, Big Wave still works well as an insightful look at the history of different sports. We particularly recommend looking at it alongside some of the other history-focused films on this list.
10. Windsurfing Documentary: Dis.Traction
Although relatively brief at just 30 minutes, this documentary follows two-time world champion Marcilio Browne during his time on the Hawaiian Island of Maui as he goes from training sessions to contests to, finally, finding the newest spots for practicing.
Unlike many of the other films on this list, Dis.Traction largely stays in the same area throughout the entirety of its run. That gives far more opportunities to showcase different parts of the same gorgeous region of the world, and the cinematography alone makes this a must-watch for windsurfing.
A Few Other Windsurfing Movies and Documentaries Worthy of Mention
New Hawaii (2013)
Flip a Coin (2011)
We also have some other articles with the lists of related movies to hold your attention:
Wrap-Up of the Best Windsurfing Films
Unlike some other sports, windsurfing is a documentary-heavy category in film. Even the one fictional option on our list is a lot closer to being a documentary than a typical narrative film. That's unfortunate if you're looking for a fictional drama or comedy about windsurfing, but if you want to see great athletes doing great things, there's a lot to love with all the choices on our list.
We are sorry that this post was not useful for you!
Let us improve this post!
Tell us how we can improve this post?