Sailing brings adventure and excitement, and there's nothing like the wind in your hair and mist spraying your face as you glide across open water. Days spent on the water are some of the best. But if you can't get out to sea right now, why not bring sailing to your screen.
Whether you're a lifelong sailor or are interested in learning more about it, add these ten sailing movies and documentaries to your next binge-watching session.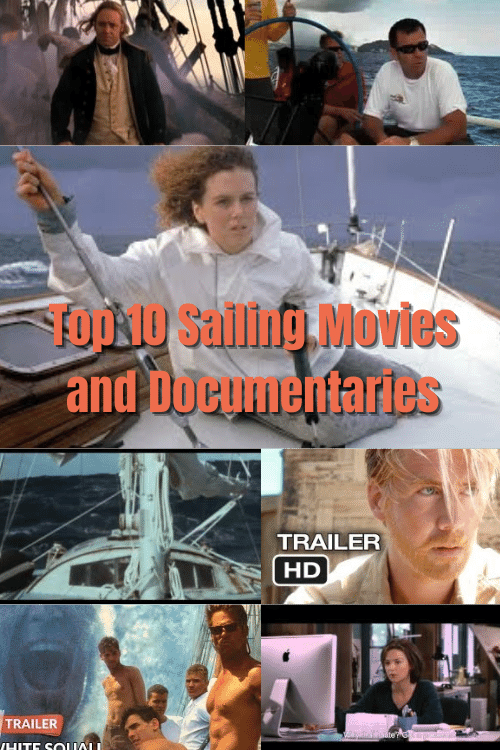 Top 10 Best Sailing Movies and Documentaries _ The Best sailing films
Sailing movies bring us right into the action and make our hearts race. Documentaries provide us insight into the ins and outs of harrowing stories on the high seas. Consider watching one – or all – of these top 10 sailing movies and documentaries to bring out your inner sailor:
1. Adrift (2018)
Based on a true story during Hurricane Raymond in 1983, Adrift invites you on a young couple's sailing adventure. An exciting trip across the ocean soon turns deadly as the couple's yacht faces a formidable and robust hurricane. The survival film features Shailene Woodley and Sam Claflin as the main characters aboard the schooner.
Adrift is an inspiring and gripping tale that demonstrates the grit and determination it takes to survive a catastrophic experience. While a lot of the film seems implausible (remember to take that Hollywood flair!), it's a reminder to persevere through any challenges you may face, on the water or land. Despite the frightening factors, it'll make you want to head out on the water!
2. Captain Ron (1992)
Life needs a good laugh, and Captain Ron is sure to provide it. This comedy is sure to bring a smile and laugh to any sailor or boating enthusiast. Chicagoan Martin Harvey (played by Martin Short) inherits an old yacht. He brings his family to the Caribbean to retrieve it. Captain Ron, a titular one-eyed character played by Kurt Russell, agrees to sail the boat to Miami with the family.
At one point, Captain Ron reveals he doesn't even know how to navigate! The rag-tag crew encounters various hilarious and daring adventures on the water and Caribbean islands that'll keep you on the edge of your seat. The antics between the Harvey family and Captain Ron will keep you laughing for hours. As one of the funniest sailing movies on this list, Captain Ron is sure to lighten the mood and entertain friends.
3. All Is Lost (2013)
Hollywood loves a good ocean survivor story. In All Is Lost, an experienced sailor is on a solo trip across the Indian Ocean when he meets all sorts of troubles. A stray shipping container tears a hole in his boat. He sails into a terrifying storm with no radio communication, and he must find his way to land with dwindling supplies and hungry eyes watching from below. Could anything else go wrong?
The film was nominated for an Oscar and won a Golden Globe Award for the Best Original Score. It's the ultimate story of sailing survival and the choices one must make in the face of death. Starring Robert Redford (who was nominated for a Golden Globe for his performance), All Is Lost is a frightening but inspiring story.
4. Movies with sailing: Dead Calm (1989)
On the other end of the entertainment spectrum is Dead Calm, a blood-pumping thriller starring Nicole Kidman, Sam Neill, and Billy Zane. Based on a novel of the same name and set in Australia's Whitsunday Islands, a couple grieving over the loss of their son take their yacht on an extended vacation.
The couple encounters a sinking boat and rescues one survivor, who claims the others perished from food poisoning. The twisted and haunting story takes you aboard the couple's yacht as they uncover a terrifying mystery. This psychological thriller will have you wondering what happens next at each plot twist.
5. Sailing documentaries: Deep Water (2006)
This critically acclaimed sailing documentary follows Donald Crowhurst, a British sailor competing in the world's first-ever nonstop solo racing trip around the world in 1968. While the film focuses on one sailor, it outlines the psychological toll and difficulties competitors had while trying to become a world sailing champion.
Deep Water uses actual audio from Crowhurst's voyage and works in archived footage and other historical pieces that bring the story to life. Sailing is a beautiful sport, but Deep Water shows its ugly side when months at sea alone turn into terrifying moments. Solo sailing is a thrilling and fulfilling experience that sometimes comes with psychologically challenging moments.
6. Kon-Tiki (1950, 2013)
Kon Tiki is arguably one of the best sailing movies out there. The 1951 documentary follows Norwegian sailor Thor Heyerdahl as he and five others sail from Peru on a wood raft to prove that South Americans settled in Polynesia. With only a radio aboard as their modern technology, the crew uses the stars and currents to navigate the ocean.
The Kon-Tiki Expedition was one no one should forget, so it's only fitting that they made the expedition into a documentary – twice. The 2013 remake follows the same story as the sailors essentially drift 4,300 miles across the open ocean for 100 days. As you watch, keep in mind that these sailors accomplished this incredible feat in 1947!
7. Master and Commander: The Far Side of the World (2003)
Starring Russell Crowe, Master and Commander: The Far Side of the World focuses on a bold 19th-century captain ordered to hunt down a French ship during the Napoleonic Wars. Crowe's character tests his crew's limits as they chase down the enemy warship. The movie features action and adventure aboard 19th-century ships as the crew sails across the ocean.
Directors of Master and Commander bring in great period details and dramatics to tell a harrowing adventure story aboard the H.M.S. Surprise. It was even nominated for 10 Oscars and won for Best Cinematography and Best Sound Editing.
8. Morning Light (2008)
Morning Light is a riveting documentary about 15 teenagers training to compete in the Transpac Yacht Race. These young and determined sailors spend six months training together for a challenging 2,300-mile trip. Each one is motivated by their passion for the open sea to join the crew. They hope to compete in – and maybe even win – one of the top races on the planet.
Every member of the Morning Light crew was between the ages of 18 and 23, creating an inspiring tale for impressionable minds. Sailing enthusiasts will enjoy watching the individuals become a cohesive crew as they discover adventure and friendship along the way. Based on a true story, Morning Light will have you feeling like you're right alongside the young mariners.
9. Turning Tide (En Solitaire) (2013)
This French drama displays the cutthroat competition of races and the determination it takes for sailors to complete a journey. Turning Tide stars Francois Cluzet as Yann Kermedac, who is making a harrowing three-month journey across the sea to race to the finish. Kermedac is a replacement sailor for another who had to withdraw from the Vendee Globe, a prestigious and harrowing race.
Follow Yann through challenges and surprises, and discover what it's like to be aboard a top-notch racing yacht. A broken rudder, a hidden stowaway, and more adventure than you can imagine. You'll be on the edge of your seat, wondering what happens next!
10. White Squall (1996)
White Squall follows the 1960 story of the Albatross, a schooner full of young boys in danger during a catastrophic Caribbean white squall storm. Based on a true story, a group of schoolboys set sail to learn about discipline and hard work, but things take a turn when the skies turn dark. In real life, the Albatross sank on May 2, 1961, because of a white squall.
The sailors must work together and pull their knowledge to save the boat – and themselves. This touching and terrifying tale takes you along for the ride as those aboard the Albatross learn discipline, camaraderie, and perseverance. Only by watching will you learn the fates of the crew aboard the Albatross when the devastating storm hits.
A Few Other Sailing Movies and Documentaries Worthy of Mention
We couldn't end this list without mentioning a few sailing movies that deserve praise. From stormy yacht trips to thrilling solo voyages, these four movies are also worth a watch:
Wind (1992)
Knife in the Water (1962)
Maidentrip (2013)
Waterworld (1995)
We also have some other articles with the list of related movies you don't want to miss:
Wrap-Up: Best movies about sailing
Adventure lies just beyond the horizon, and the best way to reach it is by sailing. The above sailing movies and documentaries tell tales of near-death experiences, perseverance, and determination in the face of adversity, and lighthearted, inspiring moments of achievement.
Some of the best sailing films on this list are not for the faint of heart, but they provide essential life lessons in perseverance. They may even inspire you to achieve your dreams! Whether you want to imagine yourself racing across the world with Yann in Turning Tide or help the schoolboys get back to safety in White Squall, there's something for every type of sailor. 
We are sorry that this post was not useful for you!
Let us improve this post!
Tell us how we can improve this post?