When you think of watching movies and documentaries, spearfishing may not be a subject that comes to mind. But if you're interested in it or learning something new, you should consider watching some spearfishing movies and documentaries.
You don't have to pursue spearfishing now or after you watch these spearfishing shows. But you can use this time to learn about the sport for your current or future interests.
Keep reading to learn which spearfishing movies and documentaries to add to your watch list.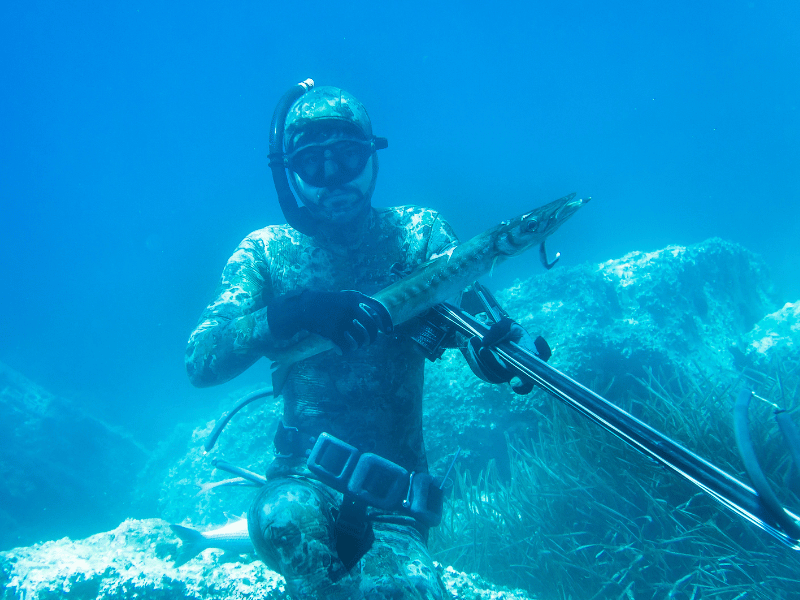 Top 10 Spearfishing Documentary Films and Spearfishing movies
Whether you love spearfishing or want to learn about it, watching movies and documentaries is a great option. You can use the time watching the movie to learn what spearfishing is as a beginner. And if you have spearfishing experience, you can learn about different experiences.
Some movies and documentaries are set all over the world, so you can view spearfishing from different cultural lenses. Consider some of these movies the next time you're looking for something to watch about spearfishing.
1. Agua Negra
Agua Negra is the best spearfishing movie out there. It focuses on David, a man who recently lost his friend to freediving. David travels to Cape Verde to go spearfishing and experiences a life-changing adventure.
The movie has some action, and it's not too short or too long. You can watch the movie on Vimeo, and it has subtitles in five languages. The movie is available for you to rent for 72 hours, or you can buy it to stream or download.
2. INHALE – The Azores in One Breath
Another excellent spearfishing movie to consider is INHALE – The Azores in One Breath. It's about a national spearfishing champion who shows a different side of the Azores in the Atlantic Ocean. This movie took five years to film, and it has great footage from that time.
Multiple people contributed to narrating the movie, and crowdfunding helped produce the documentary. You can watch the trailer on YouTube and find the full documentary on YouTube. Then, you can stream it at any time.
3. Myth and Fact – Spearfishing Movie
The movie Myth and Fact – Spearfishing Movie covers freediving and how that works in conjunction with spearfishing. In the movie, you get to see people go underwater and hunt on one breath using a spear.
This movie is available to watch on YouTube for free, and it's about 45 minutes long. While it's a newer movie, it already has some views and good feedback. It's a great option if you want to learn about spearfishing but don't have a ton of time.
4. Bajao Spearfishing Story
Another medium-length spearfishing documentary to watch is Bajao Spearfishing Story, which focuses on the Bajao people (also spelled Bajau or Badjao). The people live in Southeast Asia on and near water, and some people refer to this group as "sea gypsies."
You can get a look into their lives and how they go spearfishing. If you want to learn about spearfishing around the world, this is a good choice. It's just under 45 minutes long, so you can watch it almost any time.
5. OneFish Legends
OneFish Legends is quite a bit longer than some other spearfishing movies, at two hours. But it covers four people across four continents and their secrets and stories related to spearfishing. It focuses on Dr. Terry Maas from the USA, Barry Paxman for Australia, Mohammed Jassim Al-Kuwari of Qatar, and Rob Allen from South Africa.
You can learn about each person's experience with spearfishing and why they love it so much. If you're looking for some spearfishing inspiration, you can't go wrong with this movie. You can watch the trailer on YouTube and the full movie on Vimeo.
6. Guns & More
Guns & More is a movie about the development of a product called Bleu Tec. The product uses carbon-fiber and is cuttlefish-shaped, so it's more effective than prior spearfishing gear. You can watch the movie to learn more about the product to decide if you should use it.
You can watch the movie for free on YouTube, and it's just under 40 minutes long. Whether you're looking for a new way to improve your spearfishing or just for some entertainment, this is a good movie to check out.
(You might also be interested in reading about the Best Spearfishers to Follow on Instagram and Youtube)
7. Dive In Spearfishing
Dive In Spearfishing is the first film in a series of documentaries from Dive In about different watersports and activities. It focuses on five expert spearos from Montenegro and a few various cities in Croatia.
The movie shows how good the individuals are at their craft. This is a great movie to watch for inspiration, but it's important to know these people are experts, so take your progress slowly. You can watch the film for free on YouTube, and it lasts just over an hour.
8. Australia's Wild North
Catch produced the next spearfishing movie on the list, called Australia's Wild North. It's about the Aboriginal people in northern Australia and how they fish for food. The people use both spears and modern fishing poles, and they can have successful days.
This is a great movie to watch if you like learning about other cultures. Northern Australia is unlike other areas in the world, so it can be a great opportunity to see Aboriginal people in action. The movie is less than an hour long, and you can watch it on YouTube for free.
9. Fishpeople: Spearfishing Documentary Netflix
The next documentary to watch is Fishpeople. It covers more than just spearfishing, but it focuses on people and their relationship with the sea. The movie has beautiful footage, and it's not too long or too short.
While the movie has been on Netflix, you can watch the movie for free on YouTube. It's one of the best documentaries out there for various outdoor activities.
10. Blue Water Hunters
Blue Water Hunters is another documentary that isn't just about spearfishing, though parts are on the topic. Champion diver Terry Maas takes you under water as a hunter, and you can learn about the history of spearfishing and freediving.
Maas targets different prey throughout the world. If you're interested in spearfishing, you can even learn about the right gear to use. You can order this PBS special online to view it.
A Few Other Spearfishing Movies and Documentaries Worthy of Mention
If you can't get enough spearfishing, there are even more movies and documentaries you can watch. You don't have to be an expert spearfisher to enjoy these films. And if you didn't find any films you liked from the first 10, you can find more.
Some of these other movies aren't as produced or as long as the other spearfishing documentaries. However, they still have some educational and entertainment qualities. Here are a few more spearfishing movies and documentaries you can watch:
Ocean Bred: If you're looking for something really short, you should check out Ocean Bred. It comes from a group of friends who love spending time in the ocean. They take viewers through their life, including spearfishing. At just under half an hour, this documentary is great if you have a busy schedule or a short attention span. You can watch it on YouTube for free.
Earth Day Diary: Another short film to consider is Earth Day Diary. If you liked the other movie about the Badjao people and spearfishing, this talks about the same people. You can see the people dive 65 feet below sea level, and their hearts slow to about half the speed.The movie talks about how the Bajao people are able to do this for two and a half to five minutes in one breath. You can watch it for free on YouTube, and it's about 25 minutes long.
Spearo Australia the Movie: While not as professional as some of the other movies, Spearo Australia has footage from around 2000 to 2023 of spearfishing down under. You can see a variety of species, including wahoo and mackerel. Shane Braz filmed the movie in Australia, and it is available on YouTube to watch for free.
The Seagull or the Sardine: Anthony Dooley created the movie The Seagull or the Sardine about spearfishing. You can see Dooley prepare to go into the water, and you can learn about what spearfishing requires. Whether you're a beginner or are just curious, this is a good film to watch. You can find the movie for free on YouTube.
We also have a list of some other related list of movies that every angler needs to see:
Wrap-Up
It can be hard to find good spearfishing movies and documentaries, especially since it's a niche subject. As you can see from the list, many of these movies reside on YouTube, and you may be able to watch them without paying a dime. While some documentaries focus on professional spearfishers, others center around the history or day-to-day life of spearfishers.
So, whether you're an experienced spearo or just want to learn, give some of these movies a try. You're guaranteed to find at least one movie or documentary that'll hook your attention!
We are sorry that this post was not useful for you!
Let us improve this post!
Tell us how we can improve this post?