Kiteboarding, or kitesurfing, is a popular water sport with similarities to wakeboarding, waterskiing, and surfing. Anyone interested in learning more about kiteboarding, or just wanting to see some amazing kitesurfing feats, may want to check out any one of a number of kiteboarding movies and documentaries.
But with quite a few to choose from, you may struggle to select the best option. This list can help with that. Not only have we compiled the top ten kiteboarding movies and documentaries, but we've also discovered some nifty additional videos that kiteboarding fans are bound to enjoy.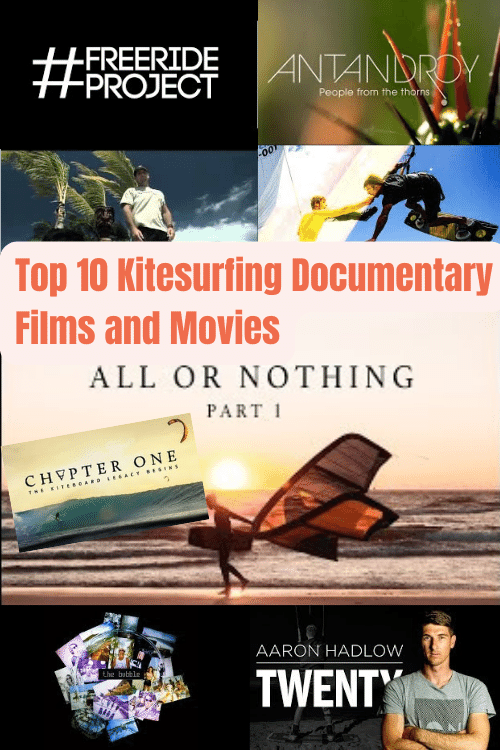 Top 10 Kitesurfing Documentary Films and Kiteboarding Movies
Here are our top ten picks for Kitesurfing Documentary films and Movies you're sure to love.
1. The FreeRide Project
The FreeRide Project began in 2012 and continued until 2016. It was an ambitious attempt to showcase the skills and talents of some of the world's most notorious professional kiteboarders. This video series showcases Sam Light, Aaron Hadlow, and a smattering of other riders.
Not only will you get to see a ton of sweet moves and action, but you'll also get to see a wide variety of environments. One of the coolest aspects of the FreeRide Project is that it shows professionals riding waves all across the world. As such, watching this series may make you want to travel just as much as it makes you want to start kiteboarding.
While there are hundreds of amateur documentaries and takes on kitesurfing, this kitesurf film is fantastically shot and edited. If you're looking for a high-quality series about kiteboarding, the FreeRide Project is a wonderful place to start.
2. Hidden Lines
Are you ready for a heart-racing, international blast from the past? If so, then you might be ready to watch Chapter One of the series Hidden Lines. Sadly, it's less than twenty minutes long, which means that it won't work as a great date night flick about kiteboarding. However, it is a fascinating look into the world of kitesurfing, and the world in general.
The first episode takes place in Chile, a South American country with a wide swatch of coastal areas. The gorgeous shots start coming and they don't stop as viewers enjoy Youri Zoon, Kevin Langeree and Nick Jacobsen's ceaseless adventures and fun-loving travels.
It's a relaxing and inspiring first step into a series that never disappoints. Of course, if the idea of kiteboarding at an exotic location gets your motor running, you might want to scroll down to the next item on our list.
3. ANTANDROY (People from the thorns) by F-ONE
Madagascar is one of the most removed places on the face of the earth. It's home to unique plants, animals, and peoples thanks to its insular geography and location. Madagascar also has resplendent, untouched beach paradises that would make any kiteboarder grab their gear.
ANTANDROY (People from the thorns) by F-ONE is all about mutuality. The visiting kiteboarders respectfully educate and entertain their hosts, and the patient hosts introduce the group to Madagascar cuisine and lifestyle. Overall, this twenty-four-minute video feels like peering into a new world while also enjoying a familiar one–Kitesurfing!
4. UPWIND LAUNCH OF A SPORT
It's relatively challenging to find a decent documentary covering the history of kiteboarding. Fortunately, every kitesurfing aficionado with a keen interest in the sport's history can check out UPWIND LAUNCH OF A SPORT, a near-hour-long documentary that delves into kiteboarding's beginnings and growth throughout the years.
While some of the footage used in the documentary might be a little underwhelming and grainy, it's crucial to remember that film technology and quality have advanced immeasurably over the last several decades. Overall, the old footage works well to convey just how storied the sport of kiteboarding truly is.
Thanks to move-length runtime, this documentary could be the ideal option for those hoping to kick back and soak up some knowledge–And a bowl full of popcorn, of course. Still, if you're not interested in discovering more about the origins of kiteboarding, you could always opt to watch the Cabrinha Team (starring Pete Cabrinha) have some fun in the sun.
5. DISGUISE THE LIMIT (A KITESURFING MOVIE)(Cabrinha Kitesurfing)
Still got that travel bug that you just can't seem to itch? Is it somehow tied up in your urge to kiteboard? Well, DISGUISE THE LIMIT might be the ideal option, especially if you've finished all of the above films.
It's a Cabrinha Kitesurfing film with plenty to offer, including takes on some of the best kiteboarding spots across the globe. Sure, the title is a pun, but if you can get past that small facet, you might just fall in love with the stunning cinematography and kiteboarding action found in this film.
The Cabrinha Kitesurfing Team knows how to blend artistic style with drool-worthy kiteboarding shots, resulting in a professional film that's always enjoyable and entertaining. At about thirty-six minutes in length, this video might work well as part of a streaming playlist of the best kiteboarding films.
6. Chapter One – The Kiteboard Legacy Begins
If you're working with a 4K or better device, the kitesurfing movies on this list might not allow you to get the most out of your high-definition screen and superior resolution. But Chapter One – The Kiteboard Legacy Begins is a paid film with unbelievable shots and a variety of perspectives.
This documentary seeks to examine the lifestyles, personalities, and talents of kiteboarders from all across the planet. The filmmakers went to great lengths to capture and edit together some of the most breathtaking kitesurfing shots ever captured on film, and it shows in the quality of the production.
7. The Bubble Film
When you're ready for a new take on kiteboarding, you might want to check out The Bubble Film. It's calming, invigorating, and everything you didn't know you needed from a kiteboarding video.
Starring Aaron Hadlow, Craig Cunningham, Colleen Carroll, Stefan Spiessberger, Tom Court and Noe Font, this feature-length presentation feels more like an arthouse production than a sports-driven series of trick shorts.
In short, The Bubble Film is just as thought-provoking as it is memorable for its kitesurfing action. Naturally, Aaron Hadlow is a seasoned professional when it comes to making kiteboarding movies. And the next entry on this list showcases his talent for all to see.
8. Aaron Hadlow | TWENTY
Hadlow has been featured in numerous kiteboarding videos, and it makes sense that he'd eventually develop his own film concerning himself and his passion for kiteboarding. Hadlow's thirty-six-minute-long presentation, TWENTY, addresses the origins of his love for kiteboarding as well as how he became one of the world's top kiteboarders.
If you're an aspiring kitesurfer or kiteboarder, you'll definitely want to set aside the half-hour or so to watch this film. Not only is it an inspirational documentary-esque piece of work, but it also features some amazing kiteboarding action.
9. All Or Nothing
All Or Nothing is one of the most recent additions to the kiteboarding film collection. Featuring Liam Whaley, this two-part short series introduces viewers to Brazil, big waves, and quick action.
Though this might be one of the shortest films included on this list, it's no less brilliant. Prepare to see physics-defying moves and shimmering surf!
10. Product Shoot – THE MOVIE (Cabrinha Kitesurfing)
Cabrinha Kitesurfing offers up yet another beautifully shot video featuring some of the sweetest moves in kiteboarding ever caught on camera. The Cabrinha Team (plus Nick Jacobsen and Liam Whaley) get plenty of sun and have quite a lot of fun in this docu-style video.
And while it's just shy of twenty-five minutes in length, you'll feel like you just enjoyed a feature-length presentation after watching Product Shoot – THE MOVIE. This video showcases some of the most jaw-droppingly gorgeous spots in Hawaii, as well as some of the most entertaining and wild kitesurfing athletes doing their thing.
Before you turn this short flick on, you might want to turn the heat up in your home and imagine that you're also relaxing in a warm, tropical locale. Not only will you feel like you're actually there, kiteboarding with the guys, but you might get a little sweat therapy out of it as well!
A Few Other Kiteboarding Movies and Documentaries Worthy of Mention
Once you've exhausted the above ten films on kiteboarding, you may still hunger for more kitesurfing videos. Fortunately, there are plenty of honorable mentions you can peruse to help you satiate any remaining kiteboarding passions. They are:
Extreme Kiteboarding in Ireland & Holland – Ruben Lenten 2013
YES WE LOVE KITEBOARDING
Out of the Box, Mauritius – Duotone Kiteboarding
118ft of Freedom
KNOT FUTURE: Death of Park
Should you ever run out of material to watch, you could always take up kiteboarding and start producing your own fun-to-watch content! In addition to a smattering of documentaries, short films, and stunt videos dedicated to kiteboarding, there are hundreds (if not thousands) of vlogs dedicated to the sport.
We also have some other articles with the list of related movies that'll make you miss the ocean:
Wrap-Up: Kitesurfing Documentary films and Kitesurfing movies
Kiteboarding and wakeboarding certainly share some similarities. But it might be impossible to recognize those similarities without the help of interesting documentaries, films, and series on the subject of kiteboarding.
Above, you will find the most fascinating, beloved, and highly-recommended pieces of video media concerning kitesurfing. Should you ever decide to take up the sport yourself, these helpful kitesurfing movies may help you learn new things while also getting you pumped to get on the water.
We are sorry that this post was not useful for you!
Let us improve this post!
Tell us how we can improve this post?