About 16 million adults suffer from back pain. This type of pain could hold you back from doing the things you love, including going to the beach. Additionally, sitting in a standard beach chair could do a number on your spine and result in aches and pains.
That's why it's essential to find the best beach chairs for bad backs. This article will explore some of the top picks for supportive beach chairs, as well as the things buyers should look for when shopping for a new seat. Hopefully, these beach chairs with back support reviews will guide you to the optimal option.
The Best Beach Chairs for Bad Backs (Top Picks)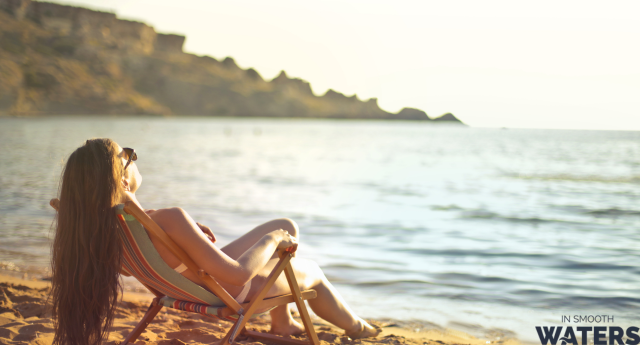 Without further ado, let's explore some of the top picks for beach chairs for bad backs. While these products are numbered, these numbers are not a ranking, so be sure to choose the chair that speaks to you (or your back pain) the most!
The STRONGBACK brand is well-known for its versatile folding chairs. More crucially, they're regarded as one of the best manufacturers of supportive beach chairs. This particular option is one of the most practical models, lacking any excess cushioning in exchange for superior back support.
If you're someone who enjoys laying out on a towel in the sand, but you hate straining your back when sitting upright, this chair might be the best choice. It sits low to the ground, only about four inches off the sand. The Low Gravity chair also has wide, lightweight feet to help maximize surface area and reduce sinking.
The lumbar support this chair offers isn't a cushion or a strange divet in the backing fabric. The support is built into the chair's frame, offering 20 inches of horizontal space to keep spines aligned and comfortable. Because intense pressure on the back can be painful, this chair also features a nifty bit of hidden padding to ensure maximum relaxation.
Pros
Available in both a reclining and stationary style, both of which offer built-in lumbar support
Protected by a competitive two-year warranty
Made of durable, UV-resistant, mildew-resistant nylon material
It comes in four colors for added personality and easier identification
Weighs less than ten pounds
Cons
The beverage holder is non-adjustable for various cup sizes
The lack of padding could make this an uncomfortable chair for your neck, buttocks, or legs
Nylon material could heat to a painful temperature if left uncovered in sunlight
ALPHA CAMP Oversized Camping Folding Chair, Heavy Duty Support 450 LBS Steel Frame Collapsible Padded Arm Chair with Cup Holder Quad Lumbar Back, Portable for Outdoor,Black
❤ 【Large Size】 Oversized Camping Folding Chair Size is 25.20" L x 36.61" W x 39.37"H, Weight is 13.2lbs, Large seat area with 600x 300D padded oxford fabric and padded armrest ensure comfort of this chair
❤【Maximum Loading Capacity】With hammer tone powder coating prevent corrosion and fading. four heavy duty steel frame were added to the bottom of the chair .sturdy steel frame construction make it can support up to 450 lbs and you're guaranteed a long lasting chair to enjoy outdoors all year
❤【Extra Storage Spaces】 Durable mesh cup holder and armrest at the perfect height allows you to relax in comfort.side storage pocket holds cell phone, notebook and maps,side cooler bag will keep you cool on a hot summer day!
Firstly, this ALPHA CAMP chair doesn't provide nearly as much lumbar support as the STRONGBACK option above. What it does do is keep seating users high off the ground (almost 20 inches), well-hydrated, and stable.
This neat folding chair can support up to 350lbs of weight thanks to a reinforced support structure. However, the feet aren't exceptionally expansive, so this chair may sink into the sand slightly upon sitting down. Still, with a wide, 37-inch backing, this beach chair could be an excellent choice for taller or larger individuals.
While this option is a bit heftier than others (weighing slightly more than 13lbs), it's also a fantastically rugged option that can stand up to general wear and tear. This is partially thanks to its reinforced steel structure and partly due to the strong synthetic fabric covering it.
Pros
A sturdy steel frame can support hundreds of pounds in weight
The wide design allows users of all sizes
Plenty of pockets and storage spaces
Padded neck support for more comfortable sitting
Cons
Lacks significant lumbar support
May sink several inches into loose sandy soils
This chair weighs more than 10lbs and could be burdensome to carry
Helinox Chair Zero Ultralight Compact Camping Chair for Relaxing, Foldable, Aluminum, Grey
Ultralight, compact camping and backpacking chair weighs just 1.1 pounds and packs smaller than a bottle of water (measures 4 x 4 x 13.5 inches packed)
Lightweight, folding chair frame is constructed from advanced DAC aluminum alloy to provide maximum strength at a minimum weight; holds up to 265 pounds
Seat and carry sack are constructed from durable, lightweight ripstop polyester that resists harsh weather and UV rays; material is machine washable
As an avid outdoor enthusiast, I've had the pleasure of testing the Helinox Chair Zero Ultralight Compact Camping Chair during various camping and backpacking trips. This chair has truly impressed me with its design, portability, and comfort. Here's my personal experience with this product:
The Helinox has great portability: One of the standout features of the Helinox Chair Zero is its incredible portability. When packed, it's about the size of a water bottle, and its weight is barely noticeable in my backpack. Setup is a breeze thanks to the single internal bungee cord system. I appreciate how quickly I can assemble the chair after a long day of hiking or when I just want to relax by the campfire.
The chair's frame is constructed from advanced DAC aluminum alloy, which strikes a perfect balance between strength and weight. It's remarkable how such a lightweight chair can support up to 265 pounds. The seat and carry sack are made of durable ripstop polyester, providing resistance against harsh weather and UV rays. I've used this chair on various terrains, and it has held up exceptionally well.
onsidering its minimal weight and compact size, I was pleasantly surprised by the comfort level the Helinox Chair Zero offers. The seat height is just right for me, providing a comfortable and supportive sitting experience. I've spent hours reading, enjoying meals, and socializing in this chair without any discomfort. The slightly reclined posture adds to the relaxation factor.
Whether it's camping, backpacking, hiking, or simply relaxing at a beach, this chair suits multiple scenarios. Its lightweight nature means it's always part of my essential gear list, and I've even taken it to outdoor concerts and picnics.
While the initial cost might seem steep, the Helinox Chair Zero is an investment in comfort and convenience for anyone who spends a lot of time outdoors. Its durability and portability make it worth the price, especially if you're someone who values having a comfortable seat while exploring the great outdoors.
Final Thoughts: In conclusion, the Helinox Chair Zero Ultralight Compact Camping Chair has become a staple in my outdoor gear collection. Its impressive combination of portability, comfort, and durability makes it a reliable companion for any adventure. If you're looking for a lightweight and comfortable camping chair that doesn't compromise on quality, the Helinox Chair Zero is an excellent choice.
Pros
Ultralightweight: Weighing only 1.1 pounds, it's incredibly light and suitable for backpacking and other outdoor activities where weight is crucial.
Compact Size: Packs down smaller than a water bottle, making it easy to carry in a backpack or bag without taking up much space.
Durable Material: Made from ripstop polyester that resists harsh weather conditions and UV rays, ensuring longevity.
Easy Setup: Features a single internal bungee cord for fast and simple assembly of the poles, allowing you to set up the chair quickly.
Strong Frame: Constructed from advanced DAC aluminum alloy, providing maximum strength while keeping the weight to a minimum; can support up to 265 pounds.
Comfortable Design: Despite its compact size, I find it surprisingly comfortable to sit in
Ideal for camping, backpacking, hiking, and biking.
Machine Washable: The polyester material is machine washable, making cleaning and maintenance easy.
Comes with a manufacturer's five-year warranty, indicating confidence in the product's durability.
Cons
Price: The chair is relatively expensive compared to other camping chairs on the market.
Low Seat Height: The seat height of 8.5 inches might be too low for some individuals, making it challenging to get in and out for those with mobility issues.
Stability on Soft Ground: Without the optional groundsheet or solid ground, the chair's legs might sink into soft or uneven terrain, affecting stability.
Limited Back Support: While comfortable, the chair's design might not provide the same level of back support as larger, more traditional camping chairs.
Not Suitable for Tall People: Taller individuals might find the lower seat height and compact design less comfortable for extended periods.
Vulnerable to Wind: Due to its lightweight design, the chair can be blown away by strong winds if not properly secured.
Limited Accessories: The chair's accessories, such as the groundsheet, need to be purchased separately, adding to the overall cost.
(Height and weight are above average? Consider reading Best Beach Chairs for Big Guys and Gals)
While many chairs advertise their lumbar support, not all back pain originates in the lower back. Sometimes, upper back pain is the culprit. In this case, a lumbar-focused chair might not provide a lot of comfort or relief. However, a high-back chair might.
This high-backed camping chair is tall enough to cradle even the lengthiest spines and sturdy enough to support 300lbs in weight. While you're likely to sink into the sand upon sitting (the feet aren't built for loose soils), at least your upper back can rest comfortably. This chair also accommodates larger, wider users, which is a huge plus.
Pros
Can support up to 300lbs in weight
A high back and a drawn-in lower back section make this option one of the most supportive
The woven mesh backing adds some ventilation to help keep users cool and dry
Included cup hold swivels out for use and is exceptionally stable
Cons
The feet are narrow, which may cause them to sink to soft sand
It weighs more than 10lbs, which could be cumbersome when walking across the beach
Seat width may not accommodate larger users
Sale
MARCHWAY Lightweight Folding High Back Camping Chair with Head Support, Stable Portable Compact for Outdoor Camp, Travel, Beach, Picnic, Festival, Hiking, Backpacking (Black)
High Back for Added Comfort: It supports your back, neck and head, allowing you to recline and fully relax for long periods. Proper tilt angle allows you to comfortably lean back while maintaining a normal sitting position. Wide thigh and waist area keep you free. Moderate seat height helps ease in and out. Stable base keeps you secure in most terrains.
Stable and Robust: Triangular base provides maximum stability both front to back and side to side. It won't tip over even if you wiggle in the chair. Aircraft grade aluminum frame is light yet strong. Solid construction, ripstop fabric seat, stout plastic joints and thick poles allow the chair to hold up to 330 lbs.
Lightweight and Compact: It weighs only 3.5 pounds and you can easily pick it up with one hand. It folds up into a compact carrying bag that is about 1/3 the size of a traditional camp chair, you can put it in suitcase and take it anywhere. The handy portable chair offers a good balance of comfort and convenience, ideal for camper, hiker, fisher, hunter, cyclist, kayaker, off roader.
If you're a practical person, then cup holders, armrests, canopies, and storage pockets might be out of your periphery. Should you desire the ultimate in practical beach chair design, the MARCHWAY High Back Chair should suit your needs.
Designed for optimal comfort and breathability, this chair lacks armrests, cup holders, and many other frills found in folding chairs. Instead, it offers a superior lightweight design, extra head and neck padding, and plenty of ventilation.
Pros
Super lightweight at only about 4lbs
It comes in four standard colors for customizability
This chair features tons of padding for the head and neck
Features a massive mesh backing for improved airflow
Cons
No armrest on this beach chair
The pointed feet of this chair might work well on hard surfaces, but it's bound to sink in the sand
It doesn't set up instantly and does require some time to install
Sale
This EVER ADVANCED beach chair is an average-priced option with equally average features. Many of the beach chairs we've chosen have some flaws but still excel in at least one feature or function. This example is a moderate one.
The included cup holder is prone to molding, and the storage bag is haplessly small, but nearly every other aspect of this foldable chair is worthy of praise. At about 8lbs, it's lightweight enough for easy carrying.
It comes with a duffle-like carrying case that can be slung across the chest or shoulders, making things even more convenient for beachgoers. With a slightly higher back than comparable chairs, this option might not provide the best lumbar care, but it does cradle the spine.
Pros
Provides an adequate seat width of about 24 inches
Stands tall above the sand with a seat that hovers about 17 inches from the floor
Fold-and-Go design is ideal for those who hate messy set-up procedures
Extended back with some cushioning for extra support
Cons
The feet of this folding chair are unsuitable for sand and may lead to sinking during use
Non-mesh cup holder can become mildewy or moldy over time
The side storage bag is quite small
FUNDANGO Lumbar Support Strong Stable Heavy Duty Folding Deluxe Camping Chair, One Size, Blue/Beige
STORAGE BAG AND ARMREST: A storage bag and a cup holder right side is used for books, magazines, cups and other small objects.
EASY TO OPEN AND FOLD: Tool Free!   With folding design, the chair is easy to open or fold in seconds when you need to use it at anytime and help you save much time.
4. FIRM AND DURABLE: High strength steel tubes bracket structure design makes the chair very stable. It support up to 136kg/300 lbs. 4 root tubes enhance the bearing capacity, at the same time fundamentally solve the problem of the structure stability.
The smart-looking camping chair might be one of the most practical foldable chairs to use. When you're ready to take a seat, all you need to do is unsheath this chair from its carrying bag, place the grouped feet onto a firm surface, and pull outward. Voilà!
Still, this chair isn't exactly suitable for sand, and its feet are prone to slipping and sinking. Additionally, users might have some trouble getting their favorite beverage to fit into this chair's awkwardly-sized cup holder. Still, you just cannot beat the convenient set-up this model offers.
Pros
A relatively lightweight option that weighs slightly less than 10lbs
Made of durable Oxford fabric
Easy to set-up or pack away
It comes with a multi-pocket seat storage accessory
Cons
Feet may effortlessly sink into loose soil
The cup holder is too small for large cups
Lumbar support cushioning quickly flexes outward
Kelty Low Loveseat for Camping with Portable, Heavy Duty Fabrics, Steel Frame, Alloy Steel, Tapestry/Canyon Brown
Camping friendly cuddle couch: low base 13.5 inches off the ground; relaxed, slightly reclining design with room for two (plus the family dog). 42 inches of seating space on Cushioned, insulated, nearly indestructible 600D weight polyester fabric.
The beach chair standard: you don't have to be at the beach to enjoy, but if you are, the low loveseat is the perfect way to chill in the surf without getting wet. Sturdy and durable steel frame makes this chair an outdoor chilling staple.
Insulated beverage holders: Each adjustable armrest includes an insulated beverage holder, with enough space left over for munchies, Marshmallows, or the drink on deck.
Camping alone can be a spiritual and rewarding experience. But camping with someone else is just as fun, if not more so. This fold-out loveseat is great for couples that love to go to the beach together. It's got plenty of room for two adults and can support up to 500lbs in weight!
Additionally, you can enjoy your own versatile cup holder (built to hold small and large cups and bottles) while you rest an arm on a sturdy, breathable armrest. The thick polyester material covering the rest of the chair is UV-resistant and bound to endure years of usage.
While the feet could be wider, they aren't rounded points that will sink several feet into the sand. Still, expect some sinking. And while this option's weight might not be an issue for a group of beachgoers, it could become a bit of a problem for two or fewer people.
Pros
A wonderful multi-person option
Supports up to 500lbs
Built-in armrests are relatively sturdy and super convenient
Features four total cup holders of various sizes for superior drink compatibility
Cons
One of the heaviest beach chair options, weighing 15lbs
It may not suit single beachgoers
Feet aren't wide enough to prevent the chair from sinking slightly
It was challenging not to populate the list of our top picks solely with STRONGBACK chairs, but fortunately, we found several worthwhile competitors. Still, this STRONGBACK beach chair has a lot to offer, including superior lumbar support.
While this particular model may be over-budget for some, it's also an item that could be worth saving for. Like other STRONGBACK chairs, this option is protected by a two-year warranty. It also features a structural form of lumbar support that goes far beyond cushioning.
Additionally, the armrests are sturdy and padded with comfortable material. If you've grown tired of lackluster armrests made of flimsy fabric, this chair could be your dream come true.
Pros
This chair offers strong lumbar support plus lower-back padding
Thanks to this model's wide feet, it hardly sinks into loose sand or soil
Firm, padded armrests ensure that your arms and your back are comfy
Cons
It may be too pricey for some buyers
Heavier than the average beach chair by about 2lbs
Beverage holder mesh may not accommodate large cups
Whether you're looking for a beach chair for yourself or a dual pair for yourself and a partner, KingCamp has you covered. Their Low Sling Beach Chair is a worthwhile option for singles or couples looking to get close to the sand while also enjoying some spinal support.
Available in three bright colors, there's little chance you'll ever lose this chair among the crowd. The bright fabric is not only eye-catching but also UV-resistant polyester, ensuring that your chair's material doesn't fade or wear away after hours in the sun. Still, there are a few things to note about this particular option.
The price difference between these options isn't staggering, though it is somewhat disheartening to pay more for features that are naturally built into other types of beach chairs.
Pros
Available in multiple colors, packs, and types
A low-sitting option for those that enjoy being near to the sand
Breathable mesh backing for added comfort
Wide footing for reduced sinking
Cons
When fully extended, the cup holder may tilt and allow the drink to spill
No direct lumbar support
Added features cost more
(Best Beach Chairs are still best options to check)
Best Beach Chairs for Bad Backs Buyers Guide (Your Guide to Selecting the Best Product)
Types of Beach Chairs for Bad Backs
There are several different types of beach chairs, and it's essential to consider these types before choosing a new chair. Otherwise, you might end up with something that isn't quite what you wanted, or that doesn't work for your intended usage.
For example, a canopy chair that provides plenty of shade might not be the best option for an outing on an overcast day. But it could work wonders on a hot, sunny, cloudless afternoon.
Additionally, some beach chairs (looking at you, folding lounge chairs) are notoriously heavy, challenging to maintain, and uncomfortable. When you're familiar with the common challenges of each typeface, as well as their unique benefits, you can feel more confident while browsing for a new support beach chair.
Some of the most common types of beach chairs include:
Folding Chairs
Folding Lounge Chairs
Padded Chairs
Canopy Chairs
Backpack Hiking Chairs
In this section, we'll explore each type in greater detail to discover what advantages and disadvantages it may have. Because our primary focus is finding the best possible beach chair for a bad back, we'll begin by examining sand chairs.
Folding Chairs
You're likely familiar with folding chairs. These types of chairs are often made with plastic or steel, and they typically feature a synthetic fabric covering. They're often used for camping, sporting events, patio areas, and cook-outs.
Folding chairs tend to be lightweight and easy to use. You can carry them easily to the beach or take a beach wagon, if you bring more stuff like a beach umbrella or some drinks and snacks.
However, one of the most significant drawbacks of this chair type is the lack of lumbar support. Fortunately, several beach chair manufacturers have recognized this issue and jumped in to fill that gap.
Some of the newest models of folding chairs include exceptional back support features. Of course, if sitting down isn't as alluring to you as lying down, you might want to opt for a folding lounge chair.
Folding Lounge Chairs
Folding lounge chairs are some of the oldest beach chairs in existence. Their earliest iterations were simply wooden frames with cloth canvas stretched over them, but contemporary versions are far more advanced.
Still, due to their increased size, folding lounge chairs can be a little cumbersome. Consequently, many beach resorts simply provide lounge chairs rather than expecting guests to bring their own.
But public beachside areas may not have some luxuries, prompting beachgoers to tow along a heavy chair for the ride. If you'd like to keep off the sand while still reclining to a fully supine position, you'll want that folding lounge chair.
Padded Chairs
When you need a little extra cushion, padded chairs have your back. They also have your arms, neck, head, buttocks, and thighs. That's because padded chairs offer far more cushioning to all these areas than standard lightweight folding chairs.
If some (or all) of your pain comes from pinched nerves and uncomfortable seating arrangements, a padded chair could be the ideal solution.
Canopy Chairs
Canopy chairs are often folding chairs, though not every folding chair is a canopy chair. The feature that sets canopy chairs apart from other types of chairs is the sun-blocking shade it provides.
These chairs often have an included bit of tarp or UV-resistant fabric that hangs above the seat. This allows you to enjoy the warmth and bright bliss of being at the beach without suffering a massive sunburn.
While it's always a good idea to add sunblock before heading outside, these chairs can keep you cool and shaded on even the hottest of summer beach days. As such, canopy chairs remain one of the most popular choices among beach lovers everywhere. Of course, the best beach tents and canopies for families provide even better shade.
Backpack Hiking Chairs
As the name of this chair type might suggest, backpack hiking chairs are typically used by hikers and backpackers who don't want to cop a squat on wet or uncomfortable terrain. These types of chairs tend to be lightweight, small, utilitarian, and durable.
They can be used as beach chairs, though compact hiking or backpacking chairs may not offer a wealth of lumbar support. Consequently, many beachgoers that suffer from back pain may want to select a different chair type.
Benefits of Using Beach Chairs for Bad Backs
There are a wealth of benefits you could enjoy by using a beach chair to help lessen your back pain. Perhaps the main advantage of such chairs is pain relief. But a bad back isn't only painful. It can also turn a fun and exciting day into a no-good, absolutely rotten time.
The right supportive beach chair could help make your beach time more enjoyable, primarily because it's helping to reduce back pain and the common symptoms of a bad back. Still, the most notable benefits of using beach chairs for bad backs are:
Reduced Back Pain
More Enjoyable Beach Time
Comfortable Seating
Less Sand in Your Pants
Shade and Shelter
With enough spine support, a beach chair could help lessen back pain. This type of comfortable seating is bound to help beachgoers enjoy their time more thoroughly and get less sand in their swimsuit or trousers. Some types of chairs may also provide shade and shelter!
Drawbacks
Even the smartest inventions and products can have flaws or drawbacks. While beach chairs for bad backs are primarily advantageous, they can have a few disadvantages. Generally, the most common drawbacks associated with beach chairs include:
Inconvenient Carrying
Maintenance and Cleaning
Poor Materials
Naturally, you could also add "poor lumbar support" to the list of common complaints surrounding beach chairs. However, because you'll likely be browsing through the most supportive beach chairs, this drawback shouldn't become an issue.
Instead, you may want to focus on your future beach chair's weight, ease of portability, materials, and potential maintenance routine. These factors could make or break a purchasing decision and influence the longevity of a beach chair.
Features
Before you go out and snap up the first beach chair that catches your eyes, you might want to take a moment to consider your ideal beach chair's features. What kind of back support would your perfect beach chair offer? Would it be a low-lying chair that gets you close to the sand, or would it keep you high and dry?
These are only a few of the questions that you may want to ask yourself before committing to a new beach chair. Some additional factors to mull over include:
Type of Support
Height
Width
Weight Capacity
Materials
Additional Features
After all, some chairs offer built-in structural support, while others only have well-placed cushions. Additionally, some chairs may lift users high off the sandy floor, while others embrace a position close to the surf and turf.
If you're larger or smaller than the average adult, you might also want to consider the width and weight capacity of your future beach chair. It's also crucial to think about the types of materials your chair is made of, as plastic may splinter and break, but metal can rust.
Finally, the additional features a share offers could help make it an ideal option or a terrible solution. Some chairs, for example, have shaded canopies and insulated drink coolers. Others have very few additional features to offer but provide exemplary lumbar support. Your preferences will help inform your final purchasing decision.
Maintenance
The proper way to maintain and clean your beach chair will likely depend on the chair type and material. A metal-based chair won't enjoy a water-based cleaning, and a nylon chair cover is bound to suffer some horrendous effects if washed with harsh chemicals like bleach.
Typically, manufacturers will provide specific recommendations concerning the best way to keep their products clean. However, if your chosen chair doesn't come with a neat set of maintenance instructions, there are a couple of things you can try.
Namely, you could:
Safely wash your chair fabric, and
Wipe its legs down
Both of these activities should leave you with a fresh-smelling and looking beach chair. Let's explore how you might best wash and wipe your supportive, back-friendly chair!
Synthetic Fabric Wash
When the fabric of your beach chair begins to get a bit moldy, off-colored, and dingy, it's time to give it a good wash. To do this, you'll need to unfold your chair to its most terrific expandable point and gather some helpful cleaning supplies.
This job is best done outside, as things may get a little messy. You can use dishwashing liquid or a color-safe detergent to start generating some soapy suds. Using a soft cloth or non-abrasive brush, simply massage your chosen washing liquid into the fabric of your chair, being sure to add water as you go.
When the entire chair is covered in white suds, you can rinse the chair down. A garden hose is an ideal tool for this step, though you can also use anything you might have on hand. An empty plastic milk jug, for example, could make an excellent rinsing tool once washed out.
After you've washed away any and all suds, you can let your beach chair dry. If you're working on a particularly warm and sunny day, you may want to allow the chair to air dry. However, if the weather isn't friendly, you may need to hand dry as much of the chair as you can before putting it into an enclosed room for further drying.
A small dehumidifier or set of fans could work wonders in preventing accidental mold growth during the drying process. Setting small bowls of baking powder near your drying chair may also help it to dry more quickly. Once your chair's fabric is entirely moisture-free, you can begin to focus on the legs.
Leg Wipe-Down
This maintenance task is far faster and more convenient than the last one. To wipe down your chair's legs, you'll need some water, some dishwashing or all-purpose soap, and three clean cloths.
You'll want to dampen one clean cloth, apply a pea-sized amount of soap, and begin scrubbing away at the legs. When you've rid them of any caked-on grime or dirt, you'll dampen your second cleaning cloth and rub away any remaining soap residue. Lastly, using your third cloth, you'll quickly dry the legs.
Some beach chair legs are made of steel, a material that can rust when exposed to moisture. To prevent rust build-up in your beach chair, it's essential to keep it as dry as possible. If you're not sure that you've removed all the moisture from your chair, try putting it in a room with a dehumidifier and waiting a day or so.
Safety Tips
When using a supportive beach chair, there are relatively few safety tips to keep in mind. But that doesn't mean there are zero safety hazards involved with using a beach chair for your bad back.
Some of the most crucial safety guidelines to follow include advice like:
If using a chair with slats, do not recline naked
Do not allow small children to play with folding lounge chairs, especially chairs with moveable plastic slats
Always apply sunscreen before sitting outside in a beach chair
Adhere to manufacturer weight limits to avoid breaking a chair or injuring yourself with one
When not in use, always store beach chairs in a dry, temperate environment
Still, most beach chairs are extremely safe. User error or misusage are the primary culprits behind any beach-chair-related injury, and injuries of any type are generally rare. The majority of stories surrounding beach chair injuries seem to stem from using them while naked.
Best Beach Chair for Bad Back Comparison Chart
| Product | Price | Size (LxWxH) | Weight Capacity (pounds) | Unique Features |
| --- | --- | --- | --- | --- |
| STRONGBACK Low Gravity Beach Chair | $ | 23.5" x 22" x 24 " | 300 | Made of durable, UV-resistant, mildew-resistant nylon material |
| ALPHA CAMP Oversized Camping Folding Chair | $ | 37" x 22" x 40.1" | 600 | A sturdy steel frame can support hundreds of pounds in weight |
| Tinya Ultralight Backpacking Camping Chair | $ | 22.6" x 21.3" x 26.3" | 300 | It comes in an easy-to-carry case, one of the most lightweight beach chair options |
| Timber Ridge Camping Chair | $ | 22.5" x 23" x 38.5" | 400 | A high back and a drawn-in lower back section make this option one of the most supportive |
| MARCHWAY Lightweight Folding High Back Camping Chair | $ | 17" x 6.5" x 5.5" | 300 | This chair features tons of padding for the head and neck |
| EVER ADVANCED Oversized Padded Quad Arm Chair | $ | 22" x 22" x 41" | 400 | Extended back with some cushioning for extra support |
| FUNDANGO Lumbar Support Folding Deluxe Camping Chair | $ | 22.8" x 22.4" x 17.7" | 400 | Made of durable Oxford fabric, easy to set-up or pack away |
| Kelty Low Loveseat Camping Chair | $ | 23.5" x 44" x 31.5" | 300 | A wonderful multi-person option |
| STRONGBACK Elite Folding Camping Lawn Lounge Chair | $ | 27" x 28.5" x 36.5" | 600 | This chair offers strong lumbar support plus lower-back padding |
| KingCamp Low Sling Beach Chair | $ | 22.8" x 23.2" x 25.2" | 400 | Available in multiple colors, packs, and types |
Final Thoughts
There are tons of excellent options when it comes to beach chairs for bad backs. We presented some of our top picks, each with something smart and useful to bring to the table. But the included buyer's guide could help you choose the best possible supportive beach chair now and in the future.
We are sorry that this post was not useful for you!
Let us improve this post!
Tell us how we can improve this post?
Last update on 2023-10-03 / Affiliate links / Images from Amazon Product Advertising API