There's nothing quite as exciting for kids as a fun family day at the beach. For parents, these trips to the seashore are a mixed bag; it's wonderful to build new memories with your family, but let's face it—trips to the beach can be a lot of work!
You have to remember to pack towels, changes of clothes, sunscreen, snacks, and your kid's favorite toys. If you have an infant, there's the additional diaper bag full of goodies to worry about, plus finding a place to change diapers and put the little one down for a nap.
There's also the issue of the sun—infants aren't supposed to be exposed to direct sunlight for long periods of time, so you'll need to find a shelter of some sort. Baby beach tents and canopies are designed to protect your baby from those harsh UV rays, giving you one less thing to worry about. These tents can also double as places for your little one to play, nap, or eat, helping the baby enjoy beach time as much as everyone else. The best baby beach tent ensures a good nap for your toddler.
If you are looking for a real baby bed to take to the beach our comparison of the best baby beach beds is better suited for your needs.
Baby beach tents and canopies can solve a lot of beach-time stresses, letting you get back to enjoying your time with your family. We've compiled a list of the 10 best baby beach tent and canopies options on the market, from simple pop-up beds to more elaborate shelters with mini pools included. As our baby beach tent and canopy reviews prove, these tents are durable and easy to set up, so you and your baby can make the most of beach days.
Decision-making on the best baby beach tent
The Best Baby Beach tent has UV Protection, durable skin and the build-up is so quick and easy that it feels like a breeze. But there's more to set the best baby beach tent apart from the rest. Here is what we considered on our hunt of the Best Baby Beach tent
Awesome feedback: We searched for the highest-rated beach tents and made this a priority when look for the best baby beach tent. Who would know better what's best than thousand of users with thousands of hours in experience combined?
Listened to what parents loved: We listened to parents to find the best baby beach tent. They told us what they loved about their beach tent (and if they would buy again!).
There is "no one size fits all" for the best baby beach tent: Because beach tents are available in a range of sizes, we highlighted different options. Which baby beach tent is best for your toddler depends on the baby's age, the number of babies you want to fit inside and how you want to use o the tent (only for shade, to breastfeed in private, as a playground for your baby and its peers). We, therefore, nominated different best baby tents like "The Best Baby Beach Tent for low weight" or "The Best Baby Beach Tent for quick set up time" to only name two options out of many.
UV Protection: We made sure every tent on the list had a UPF 50+ rating for protection against UV rays.
Bug Proof: Bugs and mosquitoes can be annoying on the beach. Thus, the best baby beach tent should be fully bug proof
Air Exchange through designated slots, Durability, set-up time and weight are also factors we considered on our hunt for the best baby beach tent.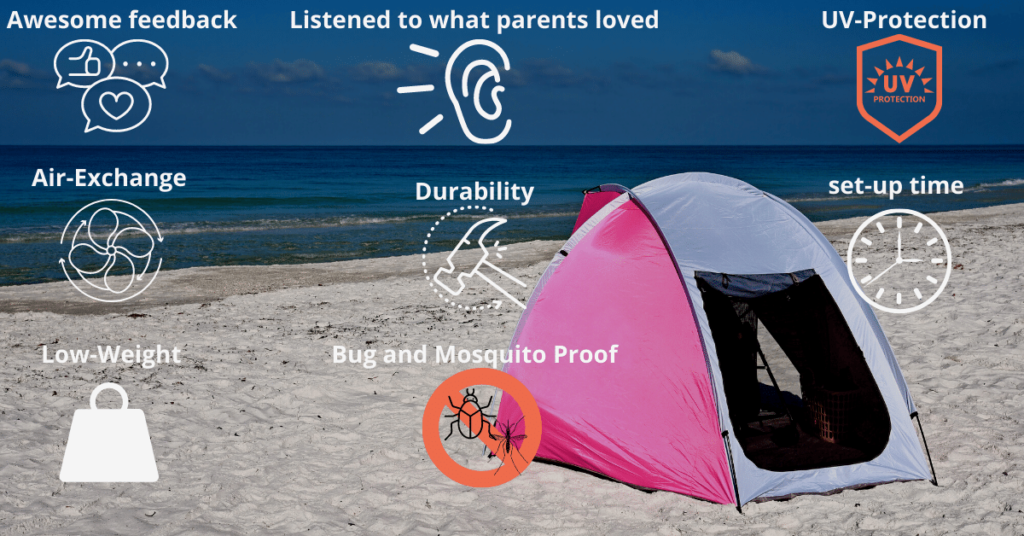 The Best Baby Beach Tent and Canopies Reviews | Editor's Picks
Let's check out reviews of the best baby beach tent and canopies picks available. Our reviews are in no particular order, but numbered for organization.
At just 42" L x 27" W x 20" H, the Overcrest Portable Pop Up Baby Beach Tent is the ultimate minimalist baby beach tent. Designed for providing your infant a place to nap or escape from the sun, this popup bed weighs less than a pound and is easy enough to set up that you can pop it up using just one hand. The set is so easy and the tent so lightweight that we decided to mark this pick as The Best Baby Beach Tent for low weight.
The bed is fully enclosed in mesh, so you don't have to worry about bugs. The flaps on all four sides close to protect your little one from the elements, but they leave about 20% of the mesh exposed to allow airflow and allow you to see in.
Overcrest thought of everything when designing this popup baby bed—they were even thoughtful enough to include an inner toy loop so you can hang your baby's favorite toy or mobile and keep them entertained for hours.
Pros
Ultra-portable
Weighs less than a pound
Full mesh protection from bugs
Inner toy loop
UPF 50+
Cons
Only large enough for nonmobile infants
No tent pegs included
Doesn't provide privacy for nursing
No padding
2. SUNBA YOUTH Baby Tent – The Best Baby Beach Tent for quick setup time
If you want a minimalist pop up baby bed, but the Overcrest model is too small, then the SUNBA YOUTH Baby Tent is just what you're looking for. It's 53" L x 35" W x 24" H, making it just tall enough for your baby to sit up in. At just over a pound, it's still light enough to add to your beach gear without it being too much hassle. This tent pops up in 3 seconds so we decided to mark this pick as The Best Baby Beach Tent for quick setup time.
The tent is fully enclosable, offering 50+ UPF and protective mesh to keep insects away. It also includes two tent pegs for protection against wind.
The main downside to using this tent for your infant is that the flooring isn't padded, so you'll need a mat, cushion, or blanket to keep the baby comfortable. Most families bring armloads of towels to any beach outing, though, so this shouldn't be a problem. You could also consider putting your baby in a hooded baby beach towel – This way your baby stays comfortable and is even cuter.
Pros
UPF 50+
Eco-friendly material
2 tent pegs included
Full mesh protection from insects
Pops up in 3 seconds
Cons
Only large enough for nonmobile infants
Doesn't provide privacy for nursing
No inner toy loop
No padding
The Trendy Pop Up Shark Tent is so cool, your kids will want to take it wherever they go, whether they need sun protection or not! This fun tent is large enough to accommodate three or four small kids comfortably. Adults can fit laying down, but it'd be a struggle to sit up.
The door, or mouth of the shark, isn't closeable, and there are large mesh panels on either side which don't have optional flaps for coverage. This is great for visibility and ventilation but not ideal if sun protection or privacy are priorities.
This tent is a fun option for babies and kids of all ages, but keep an eye on little ones to make sure they're positioned in a way that they're actually being shaded.
Pros
Fun shark design
Large enough to accommodate 3-4 children
Sandbags, ground stakes, and travel bag included
Cons
It doesn't protect against bugs
Offers minimal privacy
Minimal sun protection
4. Tent World Beach Tent– The Best Baby Beach Tent for several toddlers
The Tent World Beach Tent is probably better suited to the term "cabana" since it offers protection on only three sides instead of four. That won't be a problem as long as you position it correctly and as long as privacy for changing or nursing isn't a concern. To fold this tent up you need some practice, but after you have done it 2 or 3 times you'll get the hang of it. The tent is rather large and we think it's one of the The Best Baby Beach Tent to accommodate several babies at once.
This tent is 74.9" L x 39.4" W x 41.7" H, which is just large enough to fit an adult and a couple of kids or several babies or toddlers. The material is waterproof, making this a good choice for families looking for a multi-use tent and no more getting wet during sports games with this portable shelter!
The cabana includes sand pockets, pegs, and guide ropes to ensure a stable set-up that won't go anywhere when the wind blows.
(We've also compiled a list of Best Beach Tents for Families)
Pros
Large enough for adults
UPF 50+
Waterproof
Tent pegs and sand pockets included
Cons
It doesn't protect against bugs
No door—only protects on 3 sides
It can be confusing to fold and pack
If you're looking for a fun and colorful sun shelter for your baby, then the Pacific Play Tents Portable Play Tent and Sun Shelter are worth a look. It comes in four bold patterns to suit any style, and at 36" x 36" x 36", it's the perfect size to go from baby to toddler.
One side of this cheerful tent is solid, two are half solid and half mesh, and one side is a closable mesh door. This means that visibility and ventilation will never be a problem, and you're able to seal the baby away from pesky insects, too.
The walls are UPF 30, but you'll have to be careful about positioning since so much of this tent is mesh, which won't protect from UV rays. The tent is easy to assemble and disassemble, but you won't be able to do it while holding your little one, so keep that in mind when planning your beach trip.
Pros
Well ventilated
UPF 30
Closable door to protect against bugs
Easy assembly
Cons
Limited privacy
Limited sun protection
Can't set up one-handed
6. Schylling UV Play Shade – The Best Baby Beach Tent to breastfeed in private
The Schylling UV Play Shade looks more like a traditional camping tent than any other items on this list. All three sides are solid, with the fourth side being the entrance, which can be closed with two solid flaps. The rear wall has a mesh panel covered by a flap that you can open for ventilation and visibility. This beach tent offers as much privacy as a real tent and we'd recommend it for breastfeeding. Heck, the privacy is so good, why not give it the sticker The Best Baby Beach Tent to breastfeed in private.
This play shade is ideal for providing ample sun protection and a dark place for naptime. At 51" L x 39" W x 31" H, there's enough room for mom to pop in when it's time to nurse or pump.
The tent comes with stakes to keep it in place and is easy to set up. It compacts into a small bag that's easy to fit in with all the rest of your family's beach time gear.
(Finding a traditional camping tent with latest design, read our article on Best Beach Camping Tents)
Pros
Excellent sun protection
Large enough for nursing
Ground stakes included
Door flaps close for privacy
Cons
No sand pockets
No interior pockets for toys or snacks
Not completely bug-proof
If you want something roomier than a popup bed but aren't quite ready to go for one of the full-sized sun tents, you might look into the Bend River Pop Up Covered Playpen. This mega playpen provides total protection against bugs, thanks to the mesh sides and zippered mesh door.
This is one of the bigger tents to use for your baby. If you want to protect your infant from the sun – this is your tent. It is also a perfect choice if you want to keep it for longer when your baby is only a few months old. Even a 3 or 4-year-old baby can play inside this baby tent making it The Best Baby Beach Tent for years to come.
The top holds a removable sun cover that offers UPF 50+ sun protection. The sides of this playpen are completely meshed, though, so there will be limited sun protection even with the cover on. Keep this in mind, and keep an eye on your little one to make sure there's not too much sun exposure happening.
The playpen is 63" L x 53" W x 39" H, so it will be large enough for your baby to play in for years to come.
Pros
Large play area
Well-ventilated
Complete bug protection
Easy assembly
Cons
Limited sun protection
Limited privacy
Can't set up while holding a baby
8. Babymoov Babyni Playpen – The Best Baby Beach Tent for bug and mosquito protection
The Babymoov Babyni Playpen is a perfect choice for nonmobile babies who are alert and want to be entertained while on the beach. It's larger than a popup baby bed at 37" L x 37" W x 24" H and comes with three hanging toys.
Half of the top of this playpen is covered to provide sun protection, and the other half can be left open or covered with a mesh panel to keep bugs out. This is one of the few baby beach products that take comfort into account, going so far as to include a soft cushion for the baby to lie on.
This playpen is quite a bit smaller than the Bend River model but is still large enough for twin infants to enjoy comfortably.
Pros
Small and portable
Cushion included
Toys included
Fully bug-proof
Easy assembly and disassembly
Cons
Not for older children
No full coverage for naps
No room or privacy for nursing
If your baby is too young to join the rest of the family in the ocean, the NEQUARE Baby Beach Tent With Pool will provide all the water-based fun any kid could hope for! The bottom of this baby beach shelter includes a pocket that you can fill with water to form a sort of mini pool for your baby.
But if you're more interested in providing a sheltered place to nap and stay dry, you can just leave the bottom flat or put a blanket, towel, or cushion in the pool area for extra padding. As far as sun protection goes, your baby will be protected on three sides, with the front side open.
This baby beach cabana is the right size for babies up to two years old and can be set up in a few seconds.
Pros
Fun optional pool feature
UPF 50+
Two colors: blue or pink
Back panel for ventilation
Cons
No bug protection
Minimal privacy
No padding
The Bend River Automatic Instant Baby Tent with Pool is a combination of sun shelter and a fun wading pool for children. Like the NEQUARE mode, the floor on this sun shelter contains a pocket that you can fill with water, allowing your baby to get wet without the intimidation of the ocean.
This tent is 43" L x 43" W x 37" H, so it's large enough for mom to nurse in. The mesh door provides protection against insects while allowing full visibility and airflow. Two side panels allow you to let air in or keep the sun out as needed.
The easy two-step set up and tear down makes this tent extra convenient for busy parents trying to fit in a quick trip to the beach. It also comes with its own carrying case so that you can sling it over your shoulder and head to your next beach adventure.
Pros
Fun optional pool feature
Complete bug protection
Well ventilated
Excellent sun protection
Large enough for nursing
Cons
Mesh door limits privacy
Difficult to set up while holding a baby
Baby Beach Tent and Canopies Buyers Guide—Your Ultimate Guide to Selecting the Right Product
When it comes to buying anything for your baby, you want to make sure to take the time to do your research and get the best product for your needs. Baby beach tents are no different—it's important to find a reliable model that will last through multiple beach trips and do what you need it to.
Getting the most out of your baby beach canopy also involves making sure you set it up properly on a beach day and take care of it in between trips so it can last as long as possible.
Below, we'll cover the benefits of baby beach tents and canopies, how to select the right one, and how to get the most out of your purchase. First, let's start with the benefits of these lightweight sun shelters.
Benefits of Baby Beach Tent and Canopies you must consider when looking for the for the best baby beach tent
If you're reading this guide, there's a good chance that you already know how beneficial baby beach tents can be. But just in case you're on the fence, let's take a look at some of the biggest pluses to adding one of these canopies to your next beach outing.
Sun Protection – A must for the best baby beach tent
The most obvious benefit of baby beach tents is the sun protection they offer. The American Academy of Pediatrics recommends keeping babies out of direct sunlight until they're at least six months old, which can be difficult to do if you're outdoor at the beach.
A convenient popup tent can be just the thing to keep your baby protected while you work on your tan (although adults should limit sun exposure, too, of course).
Portability should also be considered when going after the best baby beach tent
If most of your family will be running around or catching some waves, you might not want to lug a huge tent or beach umbrella around. This goes double if you're vacationing on a crowded beach with little room to spread out. Also, if you are staying on a beach without sand, it can be hard to drive a beach umbrella anchor into the ground. A beach tent, however, can be popped up on almost any underground.
Baby canopies take up very little room when set up or broken down and weigh next to nothing, making them super portable. And if you're in charge of a family beach trip, you've probably already got enough to carry, so at least this one thing is easy to handle!
Bug Protection is a feature many baby beach tents do not have
People who don't spend a lot of time at the beach often forget that the beach isn't a bug-free zone. Far from it—biting insects like mosquitoes and horse flies love the beach, so investing in a baby beach tent with securely closing mesh sides can protect the baby from nasty bites and irritation.
Privacy is especially important if you are looking for the best baby beach tent for breastfeeding
Baby tents can offer a bit of privacy during diaper changes and breastfeeding if the tent is big enough for an adult to share space with the baby.
Sleep Spot
Every parent knows the difficult decision that comes when it's time for baby's nap, but everyone else is having fun—do you make everyone shut it down so you can all go home, or do you stay where you are and mess up your baby's delicate sleep schedule?
Baby beach tents solve this problem by giving your baby a sun-free place to nap, so beach day doesn't have to end early.
The Best Baby Beach Tent for a jocular and wet afternoon feature an integrated pool
A baby who's able to nap on schedule is a happy baby, which is a major benefit of baby beach canopies. But slightly older babies will also enjoy being able to play at the beach while feeling secure in a safe, partially enclosed area.
Many babies and toddlers are scared of going into the ocean, finding the beach's noise and activity overwhelming. A baby beach shelter with an included pool gives your little one a chance to be safe without feeling left out.
How to Select the Right Baby Beach Tent and Canopies which is best for you
If you took a look at a few of the selections on our list, you undoubtedly noticed that not all baby beach tents are created equal. And that makes perfect sense when you consider how different every baby and family is—this wide selection to choose from means that there's something for every need.
Unfortunately, the wide selection also means that it can be hard to make a decision. You can make it a little easier on yourself by considering the following before making a purchase.
Ultraviolet Protection Factor (UPF)
If your primary concern is sun protection, make sure to choose a canopy with a high UPF. UPF 30 blocks 96.7% of the sun's rays, while UPF 50 blocks 98%.
Don't assume that all fabric that creates shade blocks UV rays. A t-shirt, for example, only has a UPF of 7. Keep an eye out for the UPF rating on the tent's tag.
Portability
Baby beach tents are, by nature, meant to be portable. But some collapse down so much you can throw them into a duffel bag with your other beach gear, while others require their own carrying case.
Depending on how much space you have in your trunk and how much you're planning on carrying, even a few inches or ounces can make a world of difference.
Ease of Set-Up
Most baby beach canopies are easier to set up than traditional full-sized ones, but set-ups can vary widely. Some require driving stakes into the sand or filling side pockets with sand for stability, while you can pop others up with one hand.
Wind Protection
If you're expecting a lot of wind, it's not a bad idea to invest in a tent with stakes or pockets that you can fill with sand to keep the tent from blowing away or collapsing. These tents can take a little more effort to set up, but they're less effort than chasing a blow-away tent down the beach.
Shelters with walls that roll down and close completely can help keep sand and other debris from blowing into your little one's face during strong gusts.
Air Flow Options
Sun shelters keep the sun directly off your baby, but if it's a hot summer day, you'll also want to make sure there's plenty of ventilation to keep your little one from overheating. This is especially important if you're using a popup bed for naptime.
Make sure to check on your baby every few minutes when they're in a sun tent, whether the walls are open or closed.
Return on Investment
Something that many new parents forget to think about when shopping for baby items is how quickly babies grow. There are baby shelters for nonmobile infants up to toddlers and older kids, so keep that in mind when shopping.
If your baby is in between sizes, it's usually a good idea to size up so you can use it for a longer period of time.
The general return on investment is another factor—if you're planning to use it all summer long, it might be worth paying a little extra for a deluxe sun tent. But if it's for a two-day vacation, the budget model might be just fine.
Bugs
As we mentioned in the "benefits" section, biting insects like mosquitoes and horse flies love hanging out near the shore. If the beach you're visiting is infested with these pests, make sure that the shelter you choose has mosquito netting that covers all sides securely.
Durability
If you're going to invest in a baby beach tent to keep your little one safe and comfortable, you want to make sure it's durable enough to withstand:
Baby or toddler antics
Sun, sand, and wind
Multiple packing and unpacking
If you only need the shelter for a short while, durability might not be the most important factor in your decision-making process. But if you're hoping to get a lot of use out of the tent, make sure it's well-made.
Appearance
As with all baby and kids products these days, baby beach canopies come in all shapes, sizes, and designs. When choosing a tent, remember that it's probably going to make it into all your family's Instagram photos, so get one you love.
Choose colors that compliment your own beach items or fun, funky kids' designs—whichever reflects you and your family the best.
Extra Features
Are you only looking for sun protection in your baby beach tent, or do you want to provide a fun place to play? This will determine which type of shelter you get and whether you need extra features like a pool or pockets to hold beach toys.
How to Make the Most of Your Baby Beach Tent and Canopies
Now that you've narrowed down your baby sun shelter choices, let's make sure you know everything you need to in order to make the most out of your new baby beach tent.
Pay Attention to Positioning
The two things you need to worry the most about when positioning your baby tent are the movement of the sun and the direction of the wind.
Figure out the sun's trajectory before positioning your sunshade, so you won't have to keep moving it all day as the sun moves across the sky.
Also, be aware of the direction that the wind is blowing. Try to position the door of the tent away from the wind, which will make it less likely to blow over while shielding the baby from sand and debris that are blowing around.
Secure the Tent
If your tent comes with stakes, drive them deep into the sand at a 45-degree angle and cover them with rocks if you feel like it needs added stability due to wind.
Some tents have sand pockets along the sides, which are designed to be filled with sand to give the tent added weight and prevent it from blowing over.
If your shelter doesn't have stakes or sand pockets, try weighing down the corners with rocks, water bottles, or something similar.
Use Sunscreen
If your baby is going to be at the beach all day, make sure to apply generous amounts of baby sunscreen every few hours. Even if they're under a sunshade most of the time, they're going to be getting some UV rays, and it's better to be on the safe side.
Stay within Sight
Baby beach tents provide convenient areas where your baby can be set up for the day. But they're not babysitters, so always keep your baby in sight at all times. Even ducking out of view behind the tent for a minute can send your little one into a fit if they can't see that you're still there.
Add Some Toys
Being at the beach is plenty of fun as it is, with all the things to see and hear. But adding a few beach-appropriate toys to your baby beach tent will keep your baby from getting bored, allowing you and your family to spend that much more time at the beach without any tantrums.
Wash as Needed
It's always a good idea to hose beach gear off when you get home from a trek to the sea. The sand alone gets everywhere, of course, but it's also loaded with bacteria that it's best to get rid of.
Plus, if the baby had a snack or got their diaper changed in the tent, who knows what got spilled and will be extra unpleasant if you don't clean it off before the use.
Keep It Accessible
If your family enjoys impromptu joints to the seaside, it's not a bad idea to keep your baby beach tent in the trunk of your car so it's accessible no matter where you are. They can also protect your little one during picnics, sports days, and park outings.
Best Baby Beach Tents and Canopies Comparison Chart
| Product | Price | Size (LxWxH) | Item Weight (pounds) | Unique Features |
| --- | --- | --- | --- | --- |
| Overcrest Portable Pop Up Baby Beach Tent | $ | 42" x 27" x 20" | 0.9 | Light in weight, easy to set, fully protected from bugs and easy to fold |
| SUNBA YOUTH Baby Tent | $ | 21" x 21" x 0.5" | 1.8 | Fully protected from insects |
| Trendy Pop Up Shark Tent | $ | 71" x 33" x 35" | 0.04 | Easy to accommodate for more than 2 person |
| Tent World Beach Tent | $ | 51" x 32" x 24" | 0.8 | Large enough for more than two persons, water proof |
| Pacific Play Tents Portable Play Tent and Sun Shelter | $ | 36" x 36" x 36 " | 0.6 | Fully protected against bugs, easy assembly |
| Schylling UV Play Shade | $ | 20" x 15.7"5 x 15.75" | 2.2 | Have sun protection, door can close easily, protected from rays |
| Bend River Pop Up Covered Playpen | $ | 63" x 53" x 39" | 5.8 | UV protected, fully protected from bugs |
| Babymoov Babyni Playpen | $ | 37" x 37" x 24" | 12.8 | UV protected, have playmat for kids |
| NEQUARE Baby Beach Tent With Pool | $ | 41.5" x 30.5" x 22.5" | 2.2 | Have feature of pool, have UPF up to 50 |
| Bend River Automatic Instant Baby Tent with Pool | $ | 43" x 43" x 37" | 4.4 | Fully bug protected and sun protected |
Wrap Up of the Best Baby Beach tent
The right baby beach tent can work wonders to keep your baby protected from the sun and ensure everyone has a fun time at the beach. Whether you're looking for a simple sun shelter or a more elaborate shaded play area, there's a baby beach canopy to fit every need and budget. Find the one that works best for you and go make some wonderful family memories at the seaside!
We are sorry that this post was not useful for you!
Let us improve this post!
Tell us how we can improve this post?